Any celebrity can write a check for a good cause. But which celebrities stand for something beyond some typical good philanthropic PR?
Before getting all warm-hearted and generous with your PayPal account, there has been a fair number of celebrity charity scams—mainly, it being a tax writeoff—proving that it's not all virtuous. Take Wyclef Jean's foundation, which went under because of embezzled funds that were intended to help locals after the Haiti earthquake, or NBA player Lamar Odom's cancer foundation for children that allegedly never spent any funds on actual cancer research.
Before you donate to any celeb foundations, check their status on Charity Watch or Charity Navigator. In the meantime, here are some legit charitable celebrities who are making an impact in doing some good in the world.
The Titanic actor and climate activist founded the Leonardo DiCaprio Foundation, which has helped raise $61 million since 1998 in supporting over 65 organizations that help out with various causes from wildlife conservation to climate change awareness and indigenous rights.
The internet kingpin and nerd supreme took his Silicon Valley cash and decided to change the world in another good way. The Bill and Melinda Gates Foundation helps provide health care and education to those living in poverty in developing countries. They have donated $3 billion in grants to HIV organizations across Africa so anyone can get tested for HIV for free. They've also donated $2 billion in grants to help eliminate malaria with vaccines and preventative drugs for women and children. They are currently working on a family planning project which will bring birth control to 120 million women in developing countries by 2020.
The soul songstress has a namesake foundation devoted to assisting at-risk women and children in Los Angeles. The Chaka Khan Foundation has a number of education and professional development programs for children, teenagers and young adults. Among their programs, No Excuses is a mentorship program which connects youth who have recently served time in detention facilities with local business mentors in Los Angeles. The Scholars Building Scholars program, a partnership with the University of Southern California, provides one-on-one tutoring for 60 elementary school students in South Central who need to bring up their grades. Khan also helps fund programs with autism. The Chaka Supports Autism Initiative partners with the Autism Speaks to provide vocal training programs for autistic children who have difficulty speaking. Her nephew Tallon is autistic.
Elton John's AIDS Foundation helps victims of sexual abuse in South Africa, and has raised over $220 million towards HIV and AIDS-related causes and research. More than 95 percent is donated to research programs. The foundation claims to have helped 55,000 adolescents in 48 countries in Africa by providing them with a HIV test in 2015 alone. The foundation also helps victims of sexual abuse in a new HIV Adolescent Treatment Centre at the KwaZulu Natal Children's Hospital in Durban, South Africa.
The former actor has devoted his life to developing the Michael J. Fox Foundation for Parkinson's Research, which has raised $700 million towards finding a cure for the disease. The foundation, which was set up in 2000, has given 91 percent to funded research programs. Their top priority is to develop a treatment that could restore the damaged dopamine neurons in the brains of Parkinson's patients. The foundation also spends its money on creating a Parkinson's vaccine, which will slow the disease's progression on bodies which have been affected by the disease. They're now in the first stage of clinical testing. Researchers at the foundation are also working towards making the vaccine available on the commercial market.
Former supermodel Christy Turlington founded Every Mother Counts, a non-profit that assists women with their childbirth safety in Tanzania, Haiti and Uganda, among other countries. Women who live in rural areas rarely have access to trained healthcare providers, so Turlington's organization offers transportation vouchers for pregnant women who can get to a health clinic for prenatal care and to help guarantee safe childbirth. Turlington has invested $2.9 million into programs for the non-profit through donations, helping 400,000 women globally.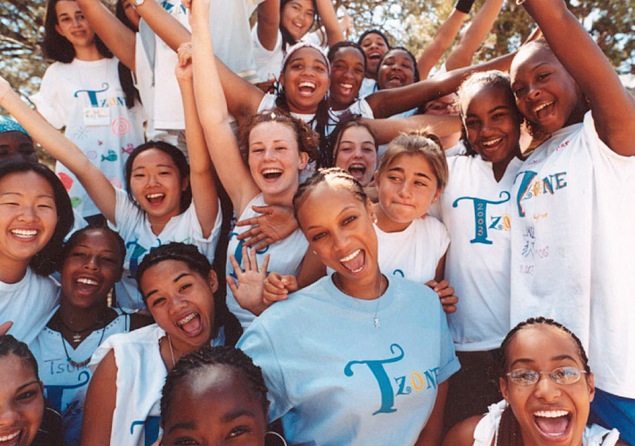 The reality TV icon and supermodel founded the TZONE Foundation, which helps young women realize their dreams with a self-esteem building program in Los Angeles. Since 1999, it has grown to help inner-city girls all over the country by fostering a discussion around body image, beauty and battling poverty.
The singer has donated $7 million to Temenos Place Apartments, a housing project in her hometown of Houston. The foundation provides affordable, furnished housing to the homeless community, as well as counseling to help the homeless try to become financially independent.
The feminist media personality, #freethebush trailblazer, and founder of the upcoming Amber Rose Slutwalk, also runs the Amber Rose Foundation. It's devoted to empowering women with the goal of promoting a discussion around women's rights, equality, and supporting women leaders. The foundation aims to fight against sexual violence, victim blaming and sexually derogatory labels. The foundation partners with Los Angeles Family Therapy and pays for therapy sessions for selected individuals every year.
The famed TV host and media mogul runs the Oprah Winfrey Leadership Academy Foundation, which supports university graduates as they enter the professional field. Currently, the sixth full class of students have graduated with the foundation. Every August, the group of 100 students meet up with 70 business leaders who work with them as mentors. Winfrey has donated over $50 million to her Chicago-based Oprah Winfrey Foundation, which also offers education programs for women and children.
In the 1980s, Ryan Lewis' mother Julie Lewis was injected with HIV after she needed a blood transfusion due to a complicated pregnancy. She outlived her prognosis and to celebrate, wanted to give back by helping others with the 30/30 Project, which has helped build 30 health care centers in poverty-stricken areas around the globe.
One half of former power couple Brangelina is often helping out the United Nations High Commissioner of Refugees. But when she's not, Angelina Jolie is co-running the Jolie-Pitt Foundation, which assists refugee camps in countries like Chad and the Darfur region of Sudan. Before they split, Jolie and Pitt donated $8.4 million to the foundation in 2008, though Jolie also partners with organizations which help orphaned and abandoned children be independent.
The guy who was good Will Hunting is also the co-founder of Water.org, a non-profit devoted to raising awareness about clean water globally and funding water sanitizing programs. Funded by grants, it helps partner with local organizations and helps find water cleaning technology so people in developing countries can have access to clean water.