Photo by Bill Clark/CQ Roll Call and screengrab via Yelp
After President Trump reportedly described Haiti, El Salvador, and various African nations as "shithole countries" last week, the Yelp pages for his hotels across the country were swamped with negative reviews—and almost every one-star post describes the properties using Trump's unique brand of profanity.
Like this smelly experience at the Trump International Hotel and Tower on Manhattan's Upper West Side:
According to the Washington Post, the rating for Trump International in Washington, DC, dropped from four to two stars in a week's time after the immigration meeting. The ratings for his properties in New York City, Las Vegas, Honolulu, Chicago, and Palm Beach—all swarmed by an army of shithole trolls on Yelp—have taken pretty serious hits, too. Yelp reportedly knows about the flood of negative reviews, and it's warned users it'll be removing any post that seems politically motivated.
Still, people are going apeshit, and getting personal.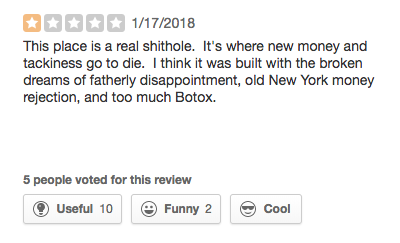 Some people broadside Trump in pretty general terms, while others—like this "guest" at his property in Vegas—tend to get a little more specific about their stays.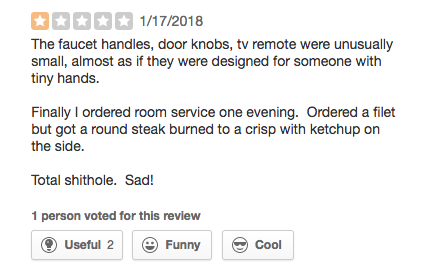 It's not clear if anyone making the reviews has actually set foot inside a Trump hotel—an obvious reason Yelp would want to delete their posts—but some people seem pretty good at faking it.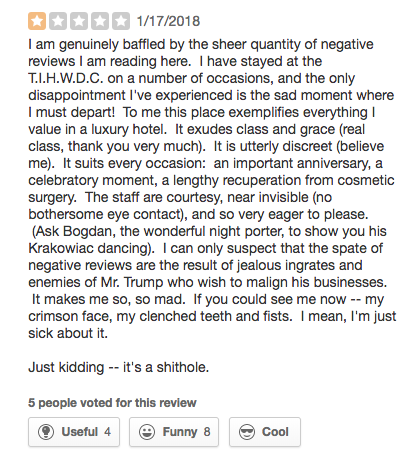 One commenter noticed the little things at Trump's Chicago hotel: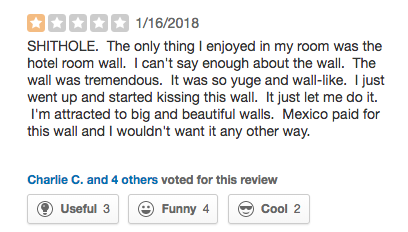 A few reviewers, apparently trying to outsmart whatever algorithm Yelp uses, have taken to calling Trump's properties "shit houses" and "snitholes." Some just steer clear of the whole "shit" thing altogether. And then there are those, like these folks who reviewed Trump's NYC hotel, who really didn't give a shit.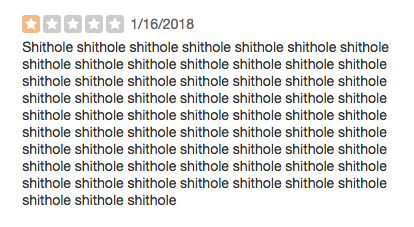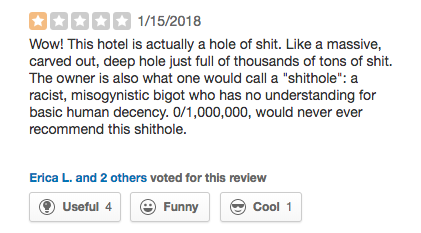 Follow Drew Schwartz on Twitter.