Bloomberg via Getty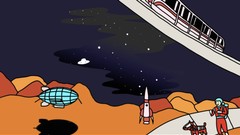 Moveable explores the future of transportation, infrastructure, energy, and cities.
One of the biggest problems with electric vehicles in the U.S. today is the public charging network. The user experience is bad, charging speeds are unreliable, and all too often they simply don't work at all. But the Tesla Supercharger network, which can only be used by Teslas, works well and charges fast. 
To date, this segmented charging market has been great for Tesla and bad for everyone else. But that may change, according to Elon Musk, who tweeted that "we're making our Supercharger network open to other EVs later this year."
This would be, as the saying goes, big if true. Superchargers account for more than half of all fast chargers in the U.S. As other automakers ramp up their EV offerings, giving those cars reliable charge points is a huge obstacle, and one largely outside of their control short of massive and time-consuming capital investments. If Tesla Superchargers became available to all EVs, it would in short order more than double the number of fast chargers available to all EV users, something that would otherwise take years to accomplish.
Currently, non-Teslas cannot use Superchargers in the U.S. because Teslas use a proprietary plug and the chargers block non-Teslas at the software level. In Europe, plug compatibility is not an issue, as newer Teslas are sold with the brand-agnostic CCS charging ports and Tesla sells a CCS-to-Tesla adapter to use older Superchargers. But non-Teslas are still blocked from using Superchargers on the software level. If Tesla opened Superchargers up to other EVs on the software level, it would simply need to sell that adapter in the U.S. too. 
This is hardly the first time the possibility of an open Supercharger network has come up. Musk has said for years he'd open the network to other automakers if they paid for the privilege, because Tesla has footed the substantial bill to build out the network. Tesla doesn't break down the Supercharger economics, but Industry experts believe Tesla loses money on the charging network overall. 
Last month, Tesla hinted it may be opening up its network to non-Teslas, but only in Norway, where the government is pressuring it to do so, and by September 2022. In response to a question, Musk tweeted last night that Tesla will open up chargers "over time" in "all countries." 
Of course, there's a big difference between allowing other cars to use Superchargers and encouraging them to do so. In addition to selling adapters, Tesla could make charging much more expensive for non-Teslas, deprioritize charging speeds either to save costs or ensure Tesla owners still receive a premium experience, or only allow non-Teslas at certain locations as a condition of receiving government funding. Or this could be just another thing Elon Musk says that never happens.