Image: ATTA KENARE/AFP via Getty Images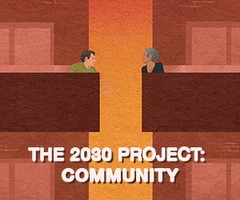 The pandemic has been isolating. How do we build community in a fractured world? VMG's 2030 Project residents interrogate how we can build a shared future, together.
Middle East Matters is unifying an activist community that's international and novel, and doing so while dealing with regimes that can be dangerous to activists and journalists—but they say the risks are more than worth it, and that they're willing to push issues further than anyone else ever has. 
The youth-run organization is based in the US but has created an international community that lives online with the sole purpose of bringing to light human right violations and current events happening in the Middle East. The group, made up of Iranian-American women, shares news that is rarely reported outside of domestic news outlets in the Middle East, and if reports do make it out, the news  often filtered through the lens of Western media outlets. The crew finds first-hand sources on the ground, and then amplifies their voices online primarily using their Instagram and Twitter accounts. The resulting community is rapturous and one that's never existed before: Middle Easterners, primarily new gen kids, standing up for each other across nations. 
"We never had the opportunity to show solidarity and unite and say, 'You know what, we are a region regardless of the political issues and everything else that is happening,'" Setareh Soroush, the organization's Women's Right Director, "Now, we need to unite in order to have a safe Middle East, and just to amplify the voices of the people inside the Middle East. We learn to show compassion for each other. And what Middle East Matters has done is it kind of wakes up that compassion in its audience."
Soroush is an Iranian-American who grew up in Dubai. She said that while older generations, like those her parents and grandparents belong to, stood up for their beliefs, a new generation of Middle Easterners are breaking down traditionally taboo topics of conversation.  
"It's a constant reminder of how powerful the internet is and how helpful it is in breaking taboos and starting conversations," Soroush said. "I remember the first time that the internet helped me break a taboo in my own family—there are certain things that I didn't necessarily talk about, like period poverty or violence against women. And I saw that being discussed online so normally. It was just in my head, I was like, 'Why haven't I been able to talk about this, with my family, with my friends, for such a long time, when there are people on the internet discussing it, like it's nothing?' And that kind of gave me the courage to go after topics that are considered taboo."
Still, with this courage comes risk. Though the organization has had digital run-ins with digital hecklers and inbox-trolls, Soroush and her team fear the larger Middle East Matters gets, the more dangerous their platform becomes. Their goal is to grow, but adapting on the fly and encountering larger opposition will become a necessity as their trajectory continues, Soroush said.
Recently, the organization was harassed by people reacting to their "Stop Femicide" campaign—an effort bringing to light femicide happening in the region. Soroush said this is a pitfall of the internet and how quickly information can spread—in many ways it's a double edged sword, particularly with activist groups like Middle East Matters who are focusing on politically tumultuous regions and sometimes authoritarian governments. 
However, their goal in laying the foundation for this new age of Middle Eastern activism remains steadfast. In fact, the group has seen a ripple effect as their followers have started taking to streets in the U.S. to protest police brutality, gender oppression, and unfair labor. This fuses a worldwide web of activists.  

"What I want as an individual in order for us to survive, in order for us to see the future, we need to unite," Soroush said. "And I feel like our generation understands that."