Andy Considine in his stag-do video.
"Yes, Sir I Can Boogie", the 1977 disco classic by Spanish duo Baccara, has found a new lease of life as a Scottish football anthem.
Last Thursday, Scotland beat Serbia in a significant victory that qualifies them for the Euros for the first time in 22 years.
Following the match, footage of the team jumping up and down in celebration, while singing along to "Yes, Sir…", went viral. As a result, it has now re-entered the iTunes top 40, almost half a century after its release.
Speaking to BBC Radio show Good Morning Scotland, Baccara singer Maria Mendiola said she was thrilled by this development. "With this pandemic, I have been sitting at home and this has uplifted me in a way you cannot imagine," she said. "I will always thank the Scottish team, and especially Andy Considine for making me so happy after 43 years."
So how did such an unlikely song achieve this status? And why is Mendiola so thankful to defender Andy Considine in particular? I asked Craig G Telfer, the very amusing host of BBC Scotland's football show View From the Terrace, to explain.
"The rise of 'Yes Sir, I Can Boogie' in the public consciousness stems from Andy Considine's stag-do in Amsterdam 2015," says Craig. "He dressed up in drag and mimed along to the song for a professionally-shot video - it truly has to be seen to be believed. It was shown at his wedding, and then somehow leaked onto YouTube. It's something that's always stuck with Considine and has become something of a meme."
"Fast-forward to the present day," he continues, "and Considine was handed an unlikely call-up to the Scotland national team at the age of 33. He didn't play in the win over Serbia on Thursday night, but after securing qualification to the Euros, the Scotland players were filmed all dancing to 'Yes Sir, I Can Boogie' in the changing rooms. From that point on, the song has become an anthem. It's also been given a degree of popularity by the Open Goal podcast – the panel bring up the song and sing it whenever Considine's name is mentioned – and this will no doubt have contributed to its ubiquity amongst Scotland supporters."
Straight, cisgender men dressing up in drag on stag nights can sometimes be perceived as transphobic or homophobic ("a man in a dress, lol!"), but Considine commits to the performance with such pouting intensity that it's hard to fault him for it. Un-ironically, I think it's good to see a straight footballer embrace androgyny and homoeroticism in a playful way like this.
So: does the reclamation of "Yes, Sir I Can Boogie" suggest that Scottish football – traditionally a bastion of masculinity – is embracing a femme identity fit for the 21st century? "I think there's something to that, aye," says Chris McQueer, author and columnist at the Glasgow Times. "A lot of the songs the fans sing in stadiums have changed in recent years, from songs filled with hatred to re-purposed pop songs. I remember, at a Celtic game last year, we all sang a song for a guy called Lustig to the tune of 'Whole Again' by Atomic Kitten."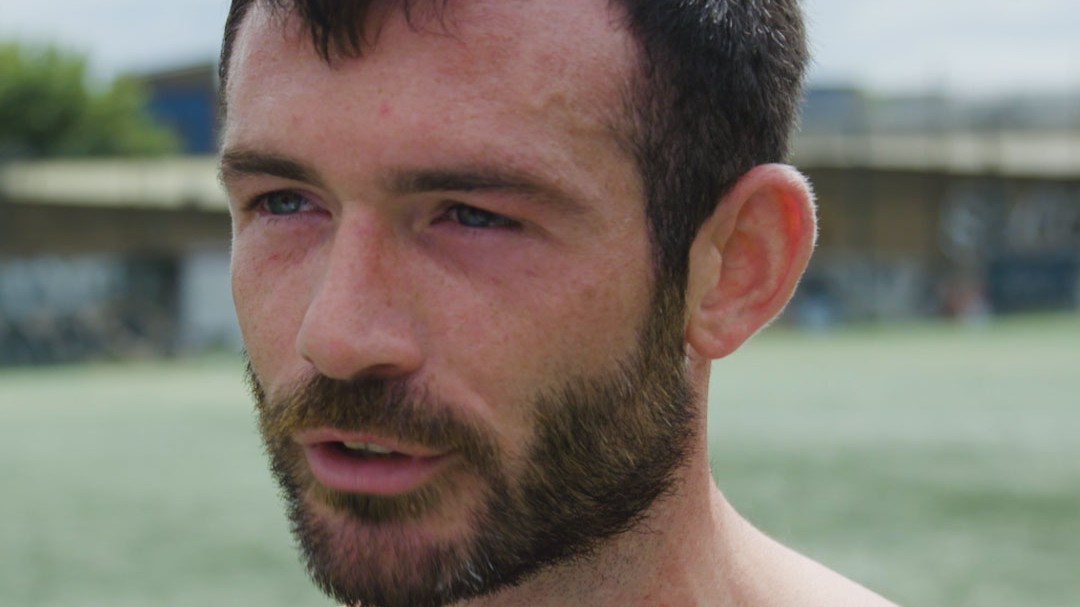 I ask Craig if he thinks the the song's popularity indicates a wider change in Scottish football culture – a greater tolerance for femininity, or gayness, or whatever you want to call it. After all, disco is historically a gay (and Black) genre.
"That's an interesting question, and it's one I'd probably agree with," he says. "There may have been a point in time where Considine would have been criticised or disdained for dressing up in drag and miming the song, but everything about that video has been embraced by the nation. There's probably work still to be done for the sport to fully embrace gay players, but I do think we'll reach the point soon when people just won't care anymore and footballers will be judged solely on their ability and nothing else."
This isn't the first time Scottish football fans have repurposed a classic song. Duncan McKay, also a contributor to View From the Terrace, says, "'Yes Sir, I Can Boogie' follows a long tradition of Scottish football fans co-opting songs as their own, from the Tartan Army's previous efforts with 'Doe A Deer' to Kilmarnock's adoption of Marie Osmond's 'Paper Roses', to 'Simply the Best' blaring out prior to Rangers running on the pitch at Ibrox."
"The thought of thousands of Scotsmen dancing and off-key singing along to it in the Trafalgar Square fountain is already clear in my mind," says Duncan. "The real risk is that the combination of football fans and internet culture will result in the song having the arse kicked out of it, and by June it's lost its appeal."
Let's hope Scotland can ration out the song until then.