Photo via Getty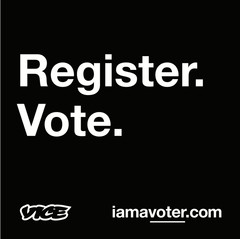 Registration, education and action. We're supporting voting in partnership with iamavoter.com, a nonpartisan movement encouraging voting, and civic engagement.
It's time to wake up. On Global Day of Climate Action, VICE Media Group is solely telling stories about our current climate crisis. Click
here
to meet young climate leaders from around the globe and learn how you can take action.
Rising seas. Unbreathable air. Suffocating heat. We're accelerating toward a new normal, rife with climate disaster on top of climate disaster. And while responsibility for the current apocalyptic state of the world lies with the governments and corporations who prioritize profit over people and planetary health, there's a lot of work to be done outside of those institutions—especially as the most vulnerable of us are left to flounder in the wake of the climate crisis.
Despite producing a disproportionately tiny fraction of emissions, Black, brown, and Indigenous communities are left to deal with the brunt of sea level rise, polluted air and water, and exposure to toxic chemicals as a result of environmental racism and redlining. However, organizations focused on climate justice can help fill the gap that politicians and companies have created.
When considering organizations to support, think about what you realistically have to give, and whether the organization is most in need of volunteers, money, or donated items. And for any organization—not just these listed below—be sure to do a little research on its history, keeping an eye out for any prominent donors and goals accomplished to see if they align with your intentions.
From hyperlocal orgs focused on water access and Indigenous rights to international ones centered on raising climate justice awareness and divesting from fossil fuels, here are 12 advocacy groups that help underserved communities and that are worth your time and money.
1.
Indigenous Environment Network
You cannot talk about climate justice without talking about the Indigenous people who stewarded the land for centuries before capitalism and racism poisoned the environment. The Indigenous Environment Network aims to "protect the sacredness of Earth Mother from contamination and exploitation by strengthening, maintaining, and respecting Indigenous teachings and natural laws," not just in the United States, but globally. A lot of its work is helping tribal governments develop techniques and mechanisms to exert their sovereignty in order to best protect the land.
2.
350.org
If you're just starting to learn about the myriad ways climate change intersects with other justice issues, 350 has incredible resources, from trainings to easy-to-understand explainer videos. Founded in 2008 by university students in the U.S. to encourage the end of fossil fuel usage, 350 has expanded to every continent (except Antarctica) with its various chapters. Curious about the number? It stems from the goal to get below 350 ppm, or the desirable amount of CO2 in the atmosphere.
3.
Black Millennials for Flint
It has been six years since the people of Flint have had clean water. Flint, a majority Black and poor city in Michigan, is now often considered the textbook definition of environmental racism. Despite the fact that high lead levels can lead to several health issues, people in Flint still report yellow, foul-smelling water and have to buy bottled water to ensure it's safe. (A $600 million settlement was reached in August, but it will take time for that money to be dispersed.) Black Millennials for Flint advocates for Black and Latinx folks in the area while promoting community building. Currently, the organization also is curating resources for those affected by COVID-19.
4.
California Community Foundation's Wildfire Relief Fund
The West Coast is going through hell right now. While not exactly an environmental organization, the California Community Foundation specializes in uplifting Los Angeles residents through granting funds in four areas: housing, health, education and immigration. This specific fund goes to immediate disaster relief as well as long-term recovery needs.
5.
The Center on Race, Poverty & the Environment
Founded in 1989, the Center on Race, Poverty & the Environment has long been a mainstay for those in California's San Joaquin Valley and across the country by providing legal, organizing, and technical assistance to grassroots groups focused on low-income communities or communities of color. The Center works on several climate justice issues such as energy, toxicity, agriculture, and community investment. The staff also publishes academic work in peer-reviewed journals on these topics, which can be useful for starting new conversations and creating policy.
6.
Labor Network for Sustainability
The Labor Network for Sustainability's goals are to protect workers from the harm capitalism, racism, and climate change produces. The Network also advocates for the right to a just transition for workers who will be hurt by the job loss created by the necessary pivot away from the coal, gas, and oil industries to renewable, sustainable ones. The Network also conducts surveys on climate and provides resources for workers and unions on how to organize, take political action, and, now, protect themselves from coronavirus while at work.
7.
The Nuestra Tierra Conservation Project
Created in 2017 by Latinx and Hispanic conservation advocates who were tired of being tokenized in the environmentalist community, The Nuestra Tierra Conservation Project offers opportunities for engagement for communities of color in the Southwest. Several of their initiatives focus on the ways that environmental racism has left communities of color without access to public lands, clean air, or clean water and provides avenues for equity.
8.
Pacific Environment
For more than 30 years, Pacific Environment has been partnering with grassroots organizations along the Pacific Rim to help protect all living creatures—from people to wildlife—by offering grants and training programs to local leaders. Their three specialization areas are community building (with an emphasis on Indigenous rights), promoting healthy bodies of water, and fighting the fossil fuel industry.
9.
Sunrise Movement
Young people are often at the center of the climate change discussions, and for good reason: we're the ones who will suffer the consequences of the previous generations' undeniable quest for constant growth. Sunrise Movement grew out of that anxiety in 2017, and helps young people across the country organize strikes and advocate for policies—like the Green New Deal—that may slow down climate change. Sunrise also offers trainings for youth activists on subjects like defunding the police and amplifying climate information on social media.
10.
Union of Concerned Scientists
What is the climate change debate without the research of scientists who brought the issue to light? The Union of Concerned Scientists is not an environmental justice organization, but rather an independent group of scientists trying to solve the toughest problems out there, including climate and racial equity. Without research, it would be much more difficult to create policy or determine what exactly to advocate for, but scientists often lack the resources necessary to do that research. The Union currently conducts original, peer-reviewed research—like this journal article, published in Nature, on the compound climate risks during the COVID-19 pandemic—on climate, energy, transportation and much more.
11.
UPROSE
UPROSE is Brooklyn's oldest Latinx community-based organization. Located in Sunset Park, a predominantly Latinx and Asian neighborhood, UPROSE views "just urban policy—ranging from transportation to open space—as the heart of climate adaptation and community resilience." In the past 54 years, they've been able to double the amount of open space in Sunset Park and provide opportunities to their Youth Leaders like scientific expeditions and networking connections with other activists. Much like the Labor Network for Sustainability, their work is centered in the premise of a just transition away from the extraction economy.
12.
WE ACT for Environmental Justice
The residents of West Harlem live in what is considered a high asthma prevalence neighborhood and that is no surprise for the folks at WE ACT for Environmental Justice, who have been fighting for clean air for three decades in the area and beyond. WE ACT aims to give people of color and low-income residents the information and language to be able to participate directly in environment and health policy making decisions so that they can fight against the environmental racism that has impacted them directly. Much of the activism revolves around trainings, as well as developing policy at the city, state, and federal levels.
Follow Izzie Ramirez
on Twitter.