It's not unusual for a Melbourne writer to have a few tattoos, but Fareed Kaviani's interest in getting inked extends further than most. He's a regular contributor to tattoo culture magazine Things & Ink, and the founder of Thing Gallery—which exhibits ornate tattoo art on highly realistic silicone heads and hands. Kaviani makes the creepily realistic body parts himself, inviting some of the world's most renowned needle-wielding artists to decorate them.
"It's interesting to look at tattoos that've been created with no client consultation whatsoever, and on a foreign yet lifelike medium," he explains to Creators. "For those who believe tattoos are mere representations of representations, well, here's another layer of representation for you—a hyperreal, lifeless simulacrum of tattoo."
Kaviani spent about a year researching and developing a technique for creating silicone body parts that could withstand a tattoo gun. The secrets to making realistic heads and hands, he learned, were kept fairly hush hush within the FX industry. But he resisted paying for expensive silicone classes, and kept things DIY.
"There's so many variables you need to take into consideration, and unless you know what they are, you're going to be wasting a lot of product before you get it right…I don't think people should pay thousands of dollars to learn how to cast a hand. So, if anyone wants to get into silicone moulding, shoot me an email and I'll be happy to help!"
It's impossible to truly replicate the texture of human skin, and the silicone body parts pose unique challenges for tattoo artists. "There's similarities and major differences," Kaviani says, "But they vary for each tattooist depending on equipment and skill level. For one, there's no skin to stretch. The ink doesn't appear on silicone with the same vibrancy as on skin, but there are ways to work around that."
When it comes down to it, the silicone models aren't meant to be all that human—think of them more as weird, skin-like canvases. "The moulds are just cool ways to showcase work or try abstract ideas you'd never dare do on a real hand or head. They're also the ethical alternative to pigskin," says Kaviani. "That was the main motivation, to reduce the use of pigskin, as well as the desire to see what these amazing artists would do with a fake hand."
Many people would argue that tattoos are works of art, and it's much easier to understand them as such when they're in a gallery. "It's interesting to see how tattoos hold up as dissociated works of art. Divorcing them from the body reduces the tattoos to an image," Kaviani says.
"And it looks sick."
You can see Kaviani's silicone head, as well as 22 silicone hands and two faces, at Melbourne's Rites of Passage festival from April 7-9. Check out more of his work below.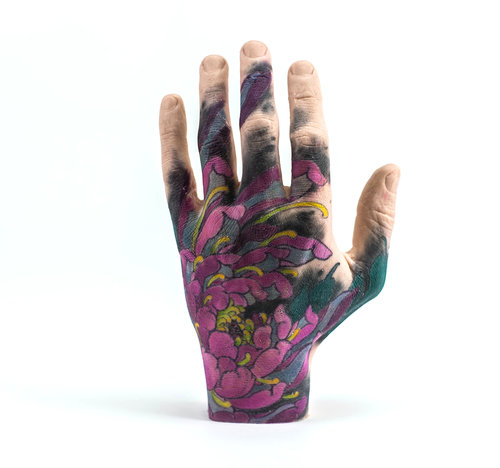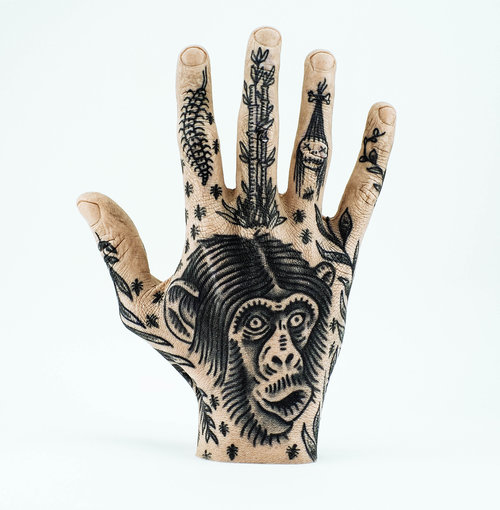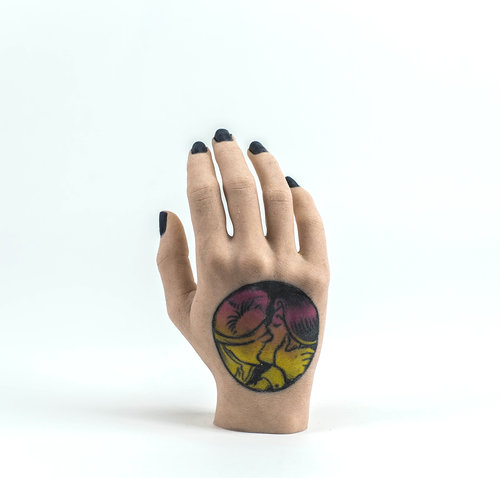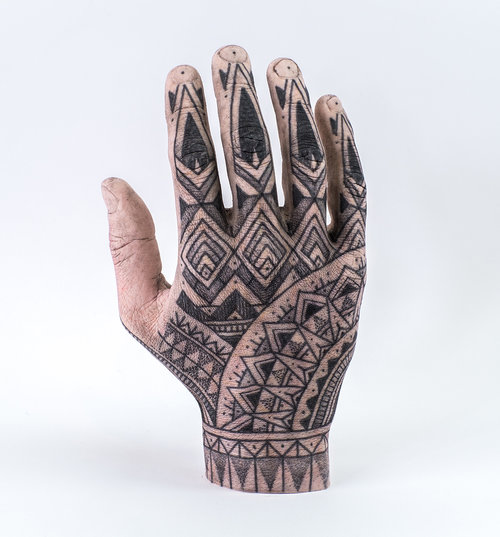 Related:
Meet France's Best Tattoo Artists in a Short Documentary Series