Photo by Frank Victores-USA TODAY Sports
In 2004, Terry Johnson returned to his home state of Indiana to work a Butler University summer basketball camp. Johnson had recently lost his volunteer assistant coaching job at Auburn after the Tigers fired their head coach. He was looking to earn some extra money, help the kids, and make some connections. He apparently made an impression.
Soon after the camp ended, Butler coach Todd Lickliter hired Johnson as his director of basketball operations. It was a homecoming of sorts for Johnson, who grew up an hour away in Anderson, Indiana, and played his final high school game at Hinkle Fieldhouse, Butler's famous on-campus arena. Still, as a kid, Johnson wasn't too familiar with Butler, which was overshadowed in its own state and even in its home city of Indianapolis by Indiana and Purdue, two Big Ten programs both about an hour's drive from Butler.
Johnson has been an assistant at Butler now for 13 years, interrupted only by a nine-month stint during the 2006-07 season as an assistant at Indiana University–Purdue University Fort Wayne, his alma mater. At Butler, he has worked under four head coaches and seen dozens of players come and go. The one constant throughout that time has been the Bulldogs' winning tradition.
Read More: Four Years After Realignment, the New Big East Is as Strong as Ever
On Thursday afternoon, Butler opens the NCAA tournament against Winthrop as the fourth seed in the South region, the best seeding in school history. Purdue, meanwhile, is the fourth seed in the Midwest, and Indiana didn't qualify for the tournament.
Since 1997, the Bulldogs have made 14 NCAA tournament appearances—the same number as Indiana and Purdue—and nine in the past 11 seasons. They are best known for reaching back-to-back NCAA championship games in 2010 and 2011 under current Boston Celtics coach Brad Stevens, but the program has been consistently successful for much of the past two decades. Still, the Bulldogs have remained a bit under the radar.
"All the coaches knew about Butler [before 2010]," Johnson said. "I just think the nation didn't really know, and still to this day, even though we're in the Big East, I think people still view Butler as a mid-major, which is fine."
By most accounts, though, Butler has arrived at the point where it should no longer be considered some plucky underdog. The Bulldogs have been in the Big East conference since 2013, they completed a $34 million renovation of Hinkle Fieldhouse in 2014, and today they are led by one of the most respected coaches in the sport in Chris Holtmann.
Holtmann arrived at Butler as an assistant in July 2013, shortly after Stevens took the Celtics' job—and just three months after signing a five-year extension as head coach at Gardner-Webb University. The move seemed curious, and Holtmann said he thought long and hard about the decision. Gardner-Webb athletics director Chuck Burch remembers Holtmann getting choked up when he told the players he had accepted the Butler job.
"I think there was about five minutes of silence," Burch said. "We gave him a hard time afterwards. My media relations guy and I said, 'Really? You've got to work on your delivery. If you leave here, you might be in bigger spotlights down the road. You've got to be able to handle that.' You could tell it was a difficult decision for him to leave."
Holtmann, though, thought coaching in the Big East at a school on the rise was better for his long-term future than remaining in the low-major Big South Conference. When he was an assistant coach from 1999 to 2003 at Taylor University, an NAIA school in Indiana where he was also an All-American guard, Holtmann attended numerous Butler practices and became friends with the coaching staff. As his career progressed, Holtmann continued to follow Butler and remained in touch with the coaches, including Stevens.
"It was the most difficult career decision of my life, by far," Holtmann said of leaving Gardner-Webb. "As much as anything, it was a chance to be at a special place like Butler."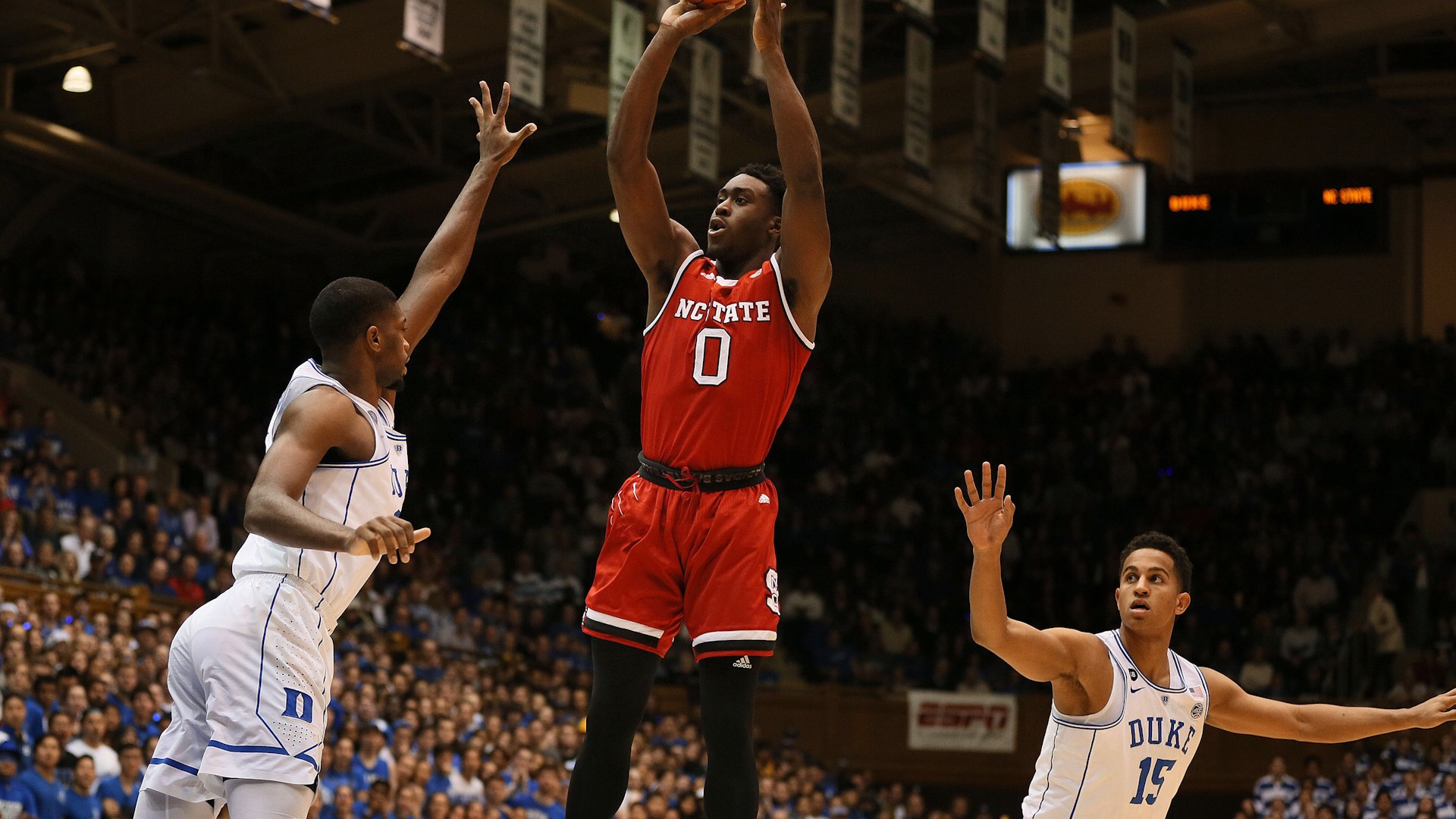 Holtmann's move to Butler didn't pay immediate dividends. With Stevens gone and former Butler guard and assistant Brandon Miller taking over as head coach, the Bulldogs struggled during the 2013-14 season, finishing 14-17 and missing the NCAA tournament. In October 2014, a month before the season began, Holtmann was named interim head coach when Miller took a medical leave for undisclosed reasons. When Miller didn't return, Butler hired Holtmann on a full-time basis starting in January 2015.
"If you'd have told me ten years ago that I was going to be the head coach at Butler, I wouldn't have believed you," Holtmann said. "To be here and to work with these kids and this staff and to be working for this administration, this university, is really special."
During Holtmann's first two seasons, Butler won 23 and 22 games and twice lost in the second round of the NCAA tournament. With All-Big East performers Roosevelt Jones and Kellen Dunham having graduated last summer, the Big East's coaches selected Butler to finish sixth in the 2016-17 preseason poll.
Instead, the Bulldogs (23-8) ended up second in a competitive league behind top-ranked Villanova, although they've been inconsistent. Butler defeated Villanova twice and beat No. 4-ranked Arizona in November. They also lost to lowly Indiana State and St. John's. The Bulldogs enter the NCAA tournament on a two-game losing streak, including a 62-57 loss to Xavier in the Big East tournament semifinals last Thursday night.
Still, Holtmann was named Big East Coach of the Year, and he's done a good job continuing what Stevens and others built. Since taking over at Butler, Holtmann has been in constant contact with Stevens, who provides guidance and support.
"I'll hear from him after not every game, but a lot of games," Holtmann said. "He'll text me and we'll communicate throughout the year. He has a great appreciation for Butler, and Butler has a great appreciation for him, for sure. It means a lot that he continues to stay involved."
Butler is winning this season despite not having any elite recruits. In fact, since ESPN began publishing recruiting rankings in 2007, the Bulldogs have had only one player, Dunham, ranked in the top 100 incoming freshmen. They've also signed two top-100 high school players for next season, but that could be an anomaly.
"Do we want to recruit some top-100 kids?" Johnson said. "Yes, if they fit. But you don't necessarily have to be successful with only top-100 kids. Sometimes it makes it a little bit easier, but we want kids that are going to be great teammates, play the same way, root for their teammates, and want to get to work and get coached. We have done that."
The Bulldogs have been successful under a few head coaches, all of whom left for higher-profile and higher-paying jobs. Barry Collier, Butler's current athletic director, was the school's coach from 1990 to 2000 before leaving for Nebraska. Current Ohio State coach Thad Matta then replaced Collier for a season before departing for Xavier. Todd Lickliter, Matta's replacement, spent six seasons at Butler before going to Iowa. And Stevens was at Butler for six seasons before heading to the Celtics.
Like his predecessors, Holtmann, 45, has been linked to a few open jobs. He reportedly received interest from Tennessee two years ago and turned down an offer from Georgia Tech last April. A month later, he signed a contract extension with Butler through the 2021-22 season, and he said he's comfortable from a career and personal standpoint there. He grew up in Lexington, Kentucky, around three and a half hours away from Indianapolis, and his wife's family lives around an hour from campus.
If for some reason Holtmann does decide to leave Butler someday, the program seems to be set up to flourish, just like it's done for most of the past 20 years. For a while, the Bulldogs have followed "the Butler Way," which "demands commitment, denies selfishness, accepts reality and yet seeks improvement every day while putting the team above self." It may sound a bit corny and cliché, but the players and coaches through the years have brought into it.
"It's a foundation," said senior forward Andrew Chrabascz, a first-team All-Big East selection. "Coach Holtmann's doing an unbelievable job. I'm not taking anything away from him, but the guys in the program, we just have a way about ourselves that we just carry on the culture that the Butler Way is. As long as we execute that for years to come, it's gonna be a very good program."
Want to read more stories like this from VICE Sports? Subscribe to our daily newsletter.