There have been endless hot takes in the lead-up to and aftermath of the Women's March on Washington—Saturday's worldwide protest against the misogyny and racism embodied by Donald Trump. But until now, one key voice—the voice of Minor Hockey in Windsor, Ontario—has been absent from the discussion.
Thankfully, Dean Lapierre, president of the Windsor Minor Hockey Association, has stepped up to express his views on Canadian women who marched in the protest.
In a searing bit of political commentary, Pierre wrote on Facebook "Any of those CANADIAN women who wanted to protest the President of the USA and got turned around. Good u dumb bitches," according to Postmedia News. "Worry about your own Country CANADA. And your (sic) protesting what?," he added.
Read more: Windsor, Ontario Residents Tell Us Why It's Not The 'Worst Place On Earth'
Lapierre, told Postmedia he shouldn't have made the post, but "everything on Facebook was blown up about this protest regarding President Trump." He noted that he's mostly received positive feedback about it, with the exception of three complaints. "But I don't even know them," he said of the people who criticized him.
Ian Taylor, executive director of the Ontario Minor Hockey Association, told VICE Lapierre's comments have "no place in minor hockey" and that the organization is looking into the matter internally.
"We aim to teach our players the value of respect and acceptance of all members of our communities. Although this was posted on Dean's personal page, we believe he holds a prominent position and has a public profile within the community."
The OMHA's code of conduct states members "shall refrain from comments or behaviours, which are disrespectful, offensive, abusive, racist or sexist. In particular, behaviour, which constitutes harassment, abuse or bullying, will not be tolerated." Failure to comply could result in disciplinary action, including being kicked out of the organization.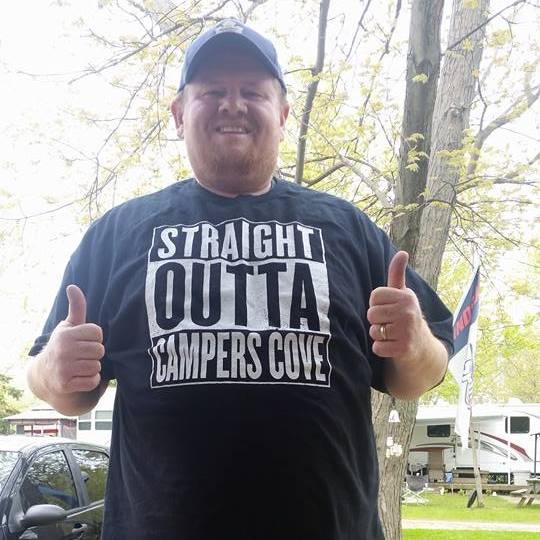 According to Lapierre's social media profiles, he's a bus driver who loves the Toronto Maple Leafs and wears a lot of t-shirts that say Straight Outta something that isn't Compton.
He isn't the only person who played himself by making disparaging remarks about the Women's March.
Republican Senator Bill Kintner, who had cybersex with a government computer, stepped down from his position Wednesday after retweeting a post that implied some of the women marching weren't attractive enough to be sexually assaulted. The tweet echoed Trump's remarks to the women who accused him of sexual assault prior to the election, who he dismissed as liars.
While Lapierre's fate remains to be seen, we can at least take solace in the fact that he lives in Windsor. Of course he does.
Follow Manisha Krishnan on Twitter.