The magic of the macro world of colored fluids is shown in its full psychedelic wonder in the latest video from Russian graphic designer and filmmaker Ruslan Khasanov. For La La La,Khasanovhas combined two of his previous works—video piece Odyssey and photography project Lucidity—into one glorious technicolor motion experiment.
Liquids and oil coalesce and repel, swirling and shining, exploding and dividing, dancing about in a chromatic sea that could be, well, whatever you want it to be. Sometimes it looks like CGI, other times it looks like some strange Yellow Submarine-esque whirling landscape. Khasanov shot the footage in 4K on a Sony FE 90mm f/2.8 Macro G and a Sony a7R II, Sonnar T* 55mm f/1.8 ZA with macro lenses and then tinkered with it in Photoshop and After Effects. See the hypnotic results below.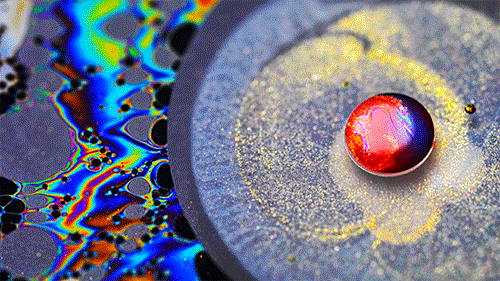 See more of Ruslan Khasanov's work at his website here or on his Behance page here.
Related
Macro Footage of Liquid Morphs in Susi Sie's New Music Video