This week, our friends over at MUNCHIES, VICE's food site, are exploring the state of the suburbs, the sprawl of strip malls, big-box stores, and unpretentious neighborhoods that many of us called—or still call—home. As our MUNCHIES writers explore, it's time to take the suburbs more seriously: Many 'burbs are home to some of the best regional restaurants around; others are brought to life by enclaves of immigrant communities, such as the LA-adjacent San Gabriel Valley; and many towns find tremendous benefit from having long-standing, local-institutional eateries that welcome all, are often run by families, and don't bend to every new trend. 
As Bettina Makalintal notes in the intro for the story series, for those of us who grew up in the American suburbs, our young lives often times revolved around the local mall and its reliable offering of chain restaurants, from the more grandiose (Cheesecake Factory, California Pizza Kitchen) to the humble, after-school-type spots where many of us had our first jobs (Mrs. Fields, Auntie Anne's, Hot Dog on a Stick). These chains have long dominated the conversation about what suburban food looks like, despite ample evidence that cuisine outside of major cities can be just as complex, authentic, and worth traveling for as its urban counterparts. While we look to the future to change our collective perspective on the value of food in the suburbs, we also recognize the importance that shopping centers have played in creating a shared experience from coast to coast. 
Despite their brightly lit, corporate aesthetics, mall food courts still live largely—and fondly—in our memories. (In 2019, MUNCHIES even eulogized the mediocre mall smoothie, once a status commodity in and of itself.) With that in mind, and with the closure of more and more suburban malls across the US every year as shopping increasingly moves into online spaces, we've put some thought into how we can bring the magic home. And by "the magic," of course, we mean the charmingly simple pizza, cookies, and corn dogs. (If you need the basics on concocting fancy hot dogs, pizza dough, or slushie summer bevs, please bop on over to our recipes section.) Enjoy a homemade cake pop while you read up on the 'burbs on MUNCHIES; then go out tonight and support your local mom 'n' pop sandwich shop, barbecue joint, pizzeria, or pho spot. 
Like DJing, but you're making pizza
It's oft been said that pizza is like sex: When it's bad, it's still pretty good. Like most adults, we've had some pretty terrible sex, so we can't say we fully agree with the premise of that expression, but we do concede that we've hardly ever had some pizza that wasn't at least somewhat enjoyable. And that includes mass-produced cafeteria and food court pizza. For the closest approximation at home, look no further than the Presto Pizzazz Plus Rotating Oven, an intriguing contraption that rotates your pizza (or plate of wings, mozzarella sticks,. marshmallows, pizza rolls, Bagel Bites, you name it) while it blasts it with heat. A weird gadget for sure, but the 4.5/5 star average from more than a whopping 12,000 reviews doesn't lie. Is it campy and kooky? Yes. Would Gordon Ramsey probably yell at it? Yes. Does that make us want it all the more? Also yes. "My son HATES so much food but I am telling you this IMPROVES the taste of some," writes one particularly impassioned reviewer. All the pizzazz you need. 
Presto 03430 Pizzazz Plus Rotating Oven, $53.89 at Amazon
Why so sErIoUs?? (about pizza)
OK, fine, so you want your pizza to be "good," maybe even "Neapolitan." Fine, fine, fine. This little guy may look unintimidating, but it packs almost-terrifyingly red-hot pizza power, reaching a whopping 950 degrees Fahrenheit in just 20 minutes so that it can churn out pizza after pizza in about 60 seconds each. BYO pepperoni—especially those curly little cups we loved so much on the suburban mall pizza we grew up eating. 
Ooni Koda 16 Gas Powered Pizza Oven, $499 at Ooni
Do not underestimate the mighty corn dog
What would a mall food court be without some sort of bread-wrapped meat on a stick? We all know that one never truly outgrows hammering a lot of corn dogs, and maybe at some point in adulthood, you may wish to "cook up to six delicious corn dogs in minutes." That's where this device comes in, which also makes cake pops. Bonus: It comes with 50 skewers and an assortment of surely intriguing recipes. 
CucinaPro Hot Dog on a Stick Maker, $34.95 at Amazon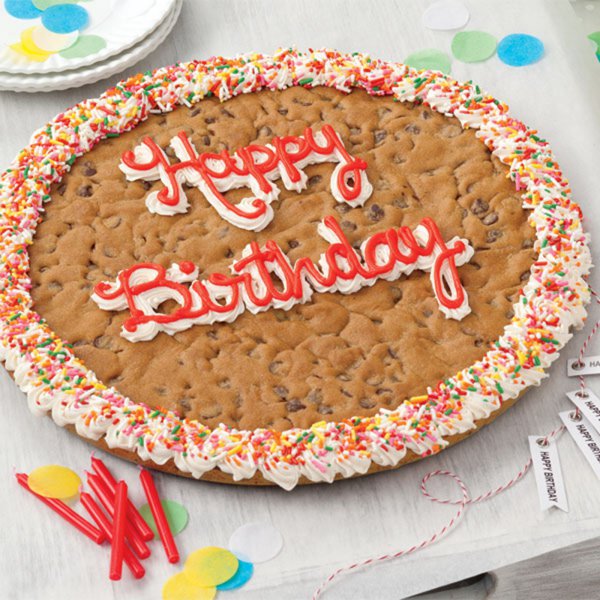 Yes, Mrs. Fields—brown-sugar-scented matron of malls everywhere—offers her universally beloved cookie cakes online. Solid 5/5-star reviews. We're not gonna forget this. It's your birthday? You're our friend? You're getting a Mrs. Fields cookie cake. 
Happy Birthday Cookie Cake, $44.99 at Mrs. Fields 
Where would we be without frozen mango chunks?
We don't know, but we do know that smoothies are somehow perfect for morning, noon, night, before playing sports, after playing sports, fixing hangovers, or pretending we're on a cleanse. We miss the berry blasters of yore, but a swing through the Trader Joe's frozen section, a splash of oat milk, and we're right back where we belong. If you wanna make the experience feel more like the realistic Saturday-afternoon-in-2003 experience, get a crappy Styrofoam cup and an enormous red straw. Badabing.
Ninja Professional 72 Oz. Countertop Blender, $79.99 at Amazon
Slushies? Margaritas? Painkillers?
The sky's the limit when deciding how to use and/or abuse this commercial slushy-making machine. Have 24/7 smoothies available for your roommates, make a fancy granita, or turn your home into a tiki bar. 
Commercial 2-Tanks Frozen Drink Slushy Making Machine, $985.99 at Vevor
Bring food court decor to your backyard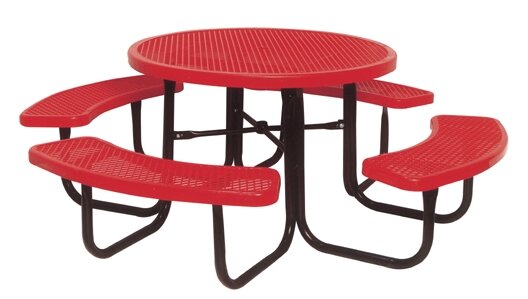 Once you've got a corn dog in one hand and a razzmatazz smoothie in the other, you're gonna need some proper food court seating. May we present: the iconic rounded metal picnic tables of malls and high schools past and present, perfect for conversation about whether to hit Hot Topic or JC Penney next. 
Larina Round 8 - Person 80'' Long Picnic Table, $1,259.99 at Wayfair
If you want to pipe in the authentic sounds of 80s radio hits played through tinny speakers in a cavernous space, YouTube has got you. You're welcome.
---
The Rec Room staff independently selected all of the stuff featured in this story. VICE may receive a small commission if you buy through the links on our site.