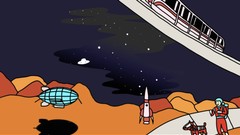 Moveable explores the future of transportation, infrastructure, energy, and cities.
The other day, I went to Target to buy tennis balls before playing with a friend, but the two Targets closest to me didn't have any. I asked an employee if they had any in the back, and she said no, they fly off the shelves almost as soon as they come in.
OK, I thought, if tennis balls are hard to find in stores now, I will buy a case of 24 cans online. Except, as I soon found out, nearly every tennis-specific online retailer's stock is on backorder.
Naturally, as an experienced investigative reporter, my next move was the highly advanced research technique of Googling "Tennis Ball Shortage?" There were enough hits on Reddit and tennis forums to confirm there are, at least in some parts of the country, indeed tennis ball shortages.
Manufacturers and distributors confirmed my eyes do not deceive me. 
"Yes, currently we are in the middle of a tennis ball shortage," said Nancy Zinn, a customer service representative for Fromuth Racquet Sports, a tennis equipment distributor. A customer service rep for Head Penn Racquet Sports also confirmed there is "currently a tennis ball shortage due to port delays." So did one from the Tennis Express customer service team, an online retailer, who said, "Most manufacturers are experiencing delays at this time in recovery from the Pandemic." A customer service supervisor from Tennis Warehouse, another online retailer, said it is a mix of shipping delays and COVID protocols at manufacturing facilities reducing staff availability and productivity.
Unlike other consumer product shortages, it is very easy to research the tennis ball problem because tennis balls were the subject of a high-profile tariff fight just two years ago, sparking several articles and op-eds about the supply chain. 
There are two dominant players in the tennis ball scene: Head (which owns Penn) and Wilson, which was recently bought by a Chinese conglomerate. But, ironically, it is Head that manufactures its tennis balls in China, while Wilson makes them in Thailand. Either way, both brands have to get their balls across the Pacific—Penn closed its Arizona factory in 2009—which, like all other products from China, is subjecting them to delays at port facilities on the west coast as more ships with more containers come to understaffed ports.
It's not clear when the tennis ball shortage will ease. The representative from Tennis Warehouse said they currently expect to re-stock tennis balls in mid-September, but that is based on timelines provided by the manufacturers which are subject to change. Demand falling as the summer ends, especially in four-season states, will likely help, too.