The self-proclaimed "Dean of American Rock Critics," Robert Christgau was one of the pioneers of music criticism as we know it. He was the music editor at the Village Voice for almost four decades where he created the trusted annual Pazz & Jop Poll. He was one of the first mainstream critics to write about hip-hop and the only one to review Simon & Garfunkel's Bridge Over Troubled Water with one word: "Melodic." On top of his columns, he has published six books, including his 2015 autobiography, Going Into the City. He currently teaches at New York University. Every week, we publish Expert Witness, his long-running critical column. To read more about his career, read his welcome post; for four decades of critical reviews, check out his regularly updated website.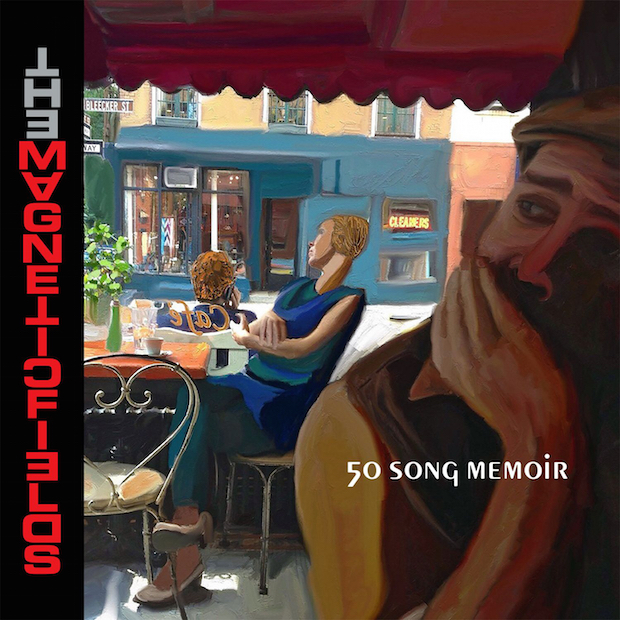 The Magnetic Fields: 50 Song Memoir (Nonesuch) You know the drill. Five 10-song CDs that'd fit onto two, and thereby cost less than 40 bucks, with each year of Merritt's life allotted one song and each decade one CD as neatly as 69 Love Songs's three 23-song discs add up to that magic number. But this edition of the Magnetic Fields is barely a band—with occasional aid from Thomas Bartlett, David Handler, and scattered others, Merritt plays over 100 instruments all told and assigns every lead vocal to his own depressive bass. Aptly autobiographical though 'tis, this is a negative, especially on disc two, which also honors John Foxx of Ultravox, who Merritt loved as a teenager and admires today—musically, there are numerous dead spots. Over the medium haul, however, every song is a grower, not merely because Merritt is quite a lyricist but because he's documenting an exceptional life that includes a childhood in a panoply of hippie communes and a young adulthood in a hodgepodge of bohemian penury. And some songs you'll connect with right away. Among my candidates: three-year-old loving a cat who hates him, five-year-old internalizing a Grace Slick rant, 13-year-old upgrading a duo called 1 1/2 into a trio who make the Shaggs sound like Yes, college man failing ethics, college grad loving Ethan Frome, twentysomething enjoying a live-in four-way, thirtysomething XXX-ing his ex, and fortysomething reaccessing a permanently impermanent NYC. But especially, 50-year-old kissing off the most horrendous of his stepfathers and 50-year-old emoting what kinda sounds like a love song. A MINUS
Craig Finn: We All Want the Same Things (Partisan) Finn's Americans are beyond politics. Barflies and hopheads, petty criminals unlikely to kill or maim, working stiffs with a hustle on the side, fuckups milking disability checks and insurance settlements, the musical lifers who bleed into all these categories—none of them are kids anymore, and of course, neither is Finn. My personal interest in this demographic has never been all that personal and continues to wane—I wish a few of his antiheroes had kids. But he sure can sing a sad story if you call that singing. And there's no denying the wah-wah hook of the opener, the musicality of the spoken-word "God in Chicago," the unrequited love at first sight of "It Hits When It Hits," or the secret love of "Rescue Blues." B PLUS
Sleater-Kinney: Live in Paris (Sub Pop) Proof that their now superceded farewell, 2007's The Woods, was actually a turning point: great punk band to great rock band. Half the tracks on a placeholder they've long since earned are from The Woods and 2015's No Cities to Love. Tempos are identical, arrangements unchanged; there's not a gift cover or a new song. But live and new, the old punk material does more than hold up—it changes, not exactly for the better but for the firmer. If Carrie is our Joey Ramone, Corin is our Mick Jagger. And you gotta love how Janet dominates the mix. She was always the genius musician here. B PLUS
Follow Robert Christgau on Twitter.