By the time Officer Michael Outlaw caught up to Clarence Thompson, the suspect was lying down, handcuffed, on the ground in West Philadelphia. Thompson had already been arrested by two other city cops and was—according to those same officers—under control and compliant, posing no threat to the police or anyone else. But Outlaw, a Philadelphia police officer since 2002, struck Thompson anyway, and then falsely accused the young man of resisting arrest, according to files from an Internal Affairs investigation obtained by VICE.
Following the attack on November 27, 2013, Thompson, then 18, had a busted and swollen upper lip and a cut on the side of his head, medical records show. But Officer Outlaw lied about the incident in his initial use of force report, lied to the Philadelphia Police Department's Internal Affairs Division, and lied once again on the stand at Thompson's trial.
"[He] basically made Clarence pay for questioning police authority," said Derek Steenson, Thompson's attorney.
After suing the city over the incident, Thompson eventually settled for $125,000, money he split with a relative whose own arrest that day precipitated his interaction with the police. (That suit was how Steenson obtained the Internal Affairs records, which he passed to VICE.) But somehow, over three years later, Officer Outlaw is still on the force. The strange case shows how even when cops break the infamous "blue wall of silence" and tell the truth about fellow officers who commit brutality, it's still easy for police to lie and get away with it in modern America.
In interviews with Internal Affairs, the two officers who witnessed the incident confirmed Thompson's claim that he was compliant when Outlaw struck him. But investigators didn't probe the discrepancy, concluding only that Outlaw had "failed to document his punches that he used on Clarence Thompson." That assessment is beyond generous: Outlaw didn't fail to document his use of force, but instead was clearly dishonest about it, writing, "I USED CONTROL HOLDS TO HELP SUBDUE THE DEFENDANT…NO OTHER FORCE USED BY POLICE."
Somehow, after Internal Affairs sustained the allegation that Outlaw had physically abused Thompson, a Police Board of Inquiry—a three-member panel that adjudicates findings against officers—found him not guilty of the same offense. And the office of District Attorney Seth Williams, who recently announced that he will not seek reelection in the face of a federal investigation into his finances, has so far declined to prosecute Outlaw. So Outlaw is still out there, still allowed to make arrests and still allowed to testify against suspects in Philadelphia.
Adding to the potential for harm, the DA's office conceded that it had not been informing defense attorneys of Outlaw's track record of apparent perjury—which seems like a violation of basic criminal procedure. Neither Thompson nor Outlaw could be reached for comment for this story.
In Philadelphia, as in other cities around the United States, impunity for police officers who lie is an old problem. In August 2014, while working at the Philadelphia City Paper, I reported that then officer Christopher Hulmes had lied under oath and even admitted to it, without apparent consequence. The incident has since put as many as 529 convictions in question. Ultimately, the DA charged Hulmes with perjury, but he was allowed to enter a diversion program in exchange for agreeing to never attempt to rejoin the police department.
But Outlaw's case suggests that years later after a national protest movement emerged against police brutality in the United States, Philadelphia law enforcement still doesn't take perjury by officers seriously. Indeed, the district attorney's office conceded in an email that it has no systematic way to review officer disciplinary history unless Internal Affairs "believe [the incidents] rise to the level of criminal conduct" and then refers the cases.  Under the Brady Rule, named for the 1963 Supreme Court case Brady v. Maryland, prosecutors are required by law to provide exactly this kind of potentially exculpatory evidence to the defense in pre-trial discovery. But in Philadelphia, they don't seem to be particularly concerned with whether any such evidence exists. In the case of Officer Outlaw, Williams's office claimed to be unaware of the Internal Affairs investigation until I sent it along. According to Ellen Yaroshefsky, director of the Monroe Freedman Institute for the Study of Legal Ethics at Hofstra University's Maurice A. Deane School of Law, that's not how it's supposed to work: Prosecutors must proactively identify Brady material. "It's a constitutional violation, and it's also very poor management practice not to do that," Yaroshefsky told me of the Philly DA office's conduct.
 
Thompson's ordeal began at his family's house on the night before Thanksgiving, after a man was pulled over for speeding nearby, according to court and Internal Affairs records. That man told police someone at Thompson's family home had pulled a gun on him, prompting cops to visit the West Philadelphia residence. Thompson's cousin, Kyle Felix, had a dispute with Officer Anthony Washington near the entrance: According to Washington, Felix refused to let officers into the house, pushed Washington, and then a threw a punch, which Washington ducked. Washington then said he "tackled" Felix "to the ground."  (Felix's cousin, Genae Felix, insisted that he was simply requesting that Officer Washington bring only a small number of officers into the house because there were children inside.)
Felix was charged with assault and other crimes. The judge in his case, however, apparently didn't believe Officer Washington, finding Felix not guilty after making what was called a "credibility decision." It was while this commotion was taking place that Clarence Thompson says his dispute with Officer Outlaw began.
"I was asking him why [Felix] was being arrested, and he began to start being belligerent with me, not trying to tell me anything," Thompson testified about Outlaw during his criminal trial. "All I asked him was [about] the charges that was being given to my older cousin. He then tried to grab me by my neck. I jumped down and I took off running."
Thompson said he ran away from the house before returning and standing across the street. This was when, according to the two other officers, Outlaw pointed Thompson out, and the trio gave chase. The two officers got to Thompson first and placed him under arrest.
Then Outlaw caught up to them.
"Clarence, well within the law, questioned the use of police force on a relative of his. Outlaw didn't like it and ran Clarence down with the assistance of other officers," Steenson, Thompson's lawyer, told me.
Watch the VICE News Tonight segment on a young recruit grappling with the systemic racism of the Chicago Police force.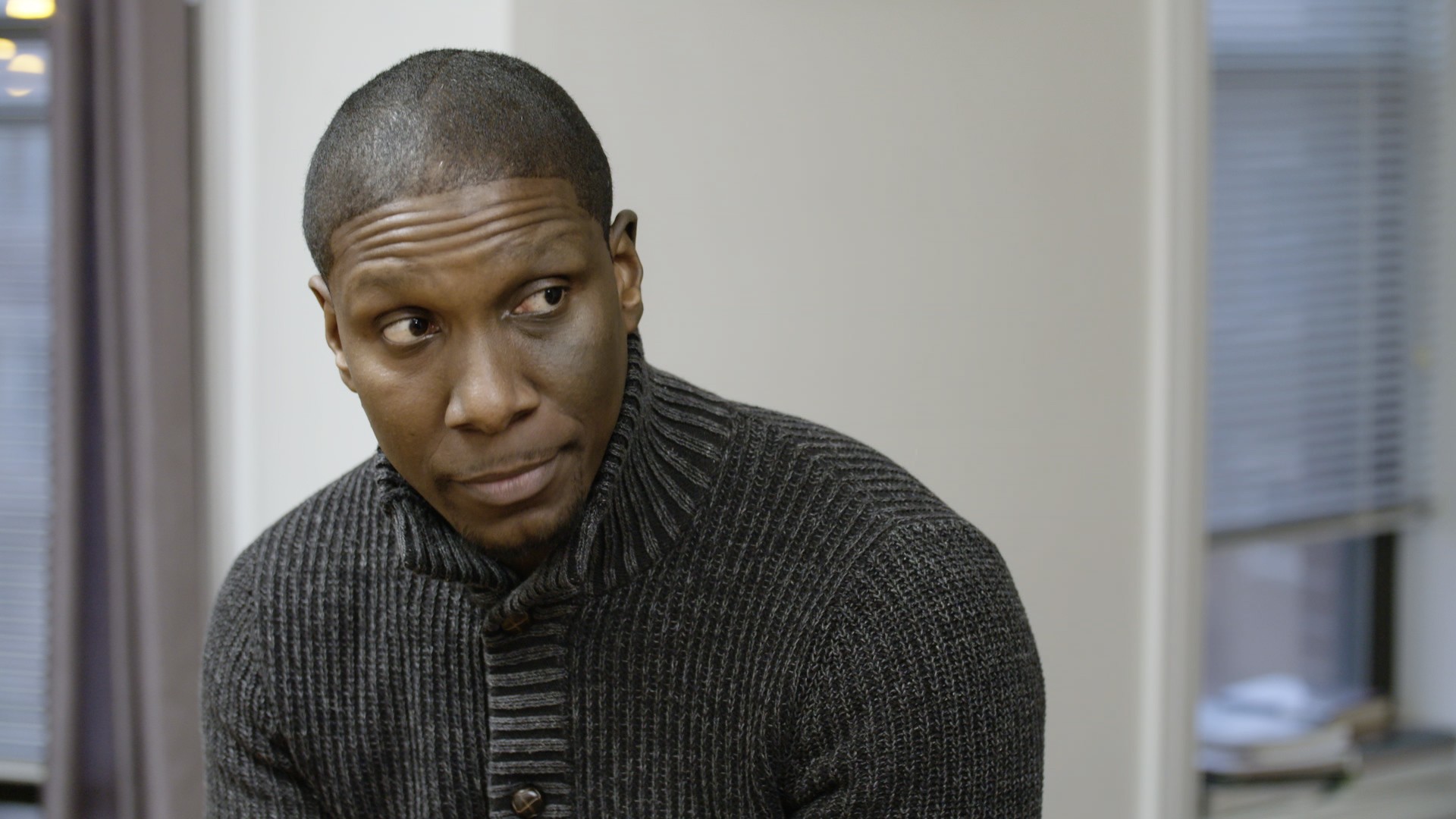 Outlaw, of course, had a different story. He testified that he had tried to stop Thompson from leaving the property and saw a bulge in the pocket of his hoodie. Thompson responded, he said, by pushing him, saying, "Get the fuck off me!" and running away. It was at that point, Outlaw testified, that the chase began. According to Outlaw, after being caught, Thompson "was on the ground, and he was kicking around on the ground, and I assisted in arresting him." Outlaw insisted under oath that Thompson's "hands were not behind his back at that time."
"I hit Clarence Thompson in the back with my free hand and told the male to put his hands behind his back," Outlaw told Internal Affairs, according to a transcript of his conversation with investigators. "He was still kicking. He was more on his side than laying facedown. I struck him again with my hand and said, 'Why did you run.' At which point I heard the officers say that they got the cuffs on him. They said it repeatedly that 'he's cuffed.'"
We now know that Outlaw's story was false: Two other officers confirmed Thompson's own account: that he had complied with orders. "I order the male to show me his hands and get down on the ground," one officer told Internal Affairs. "The male complied with my orders." Then, he said, "Outlaw punched the male once or twice."
(Thompson also accused a fourth officer, Julius Caesar—yes, that's his real name—of punching him in the face after he was placed in the cruiser. Caesar couldn't be reached for comment.)
Thompson was charged with assault and resisting arrest, and ultimately found not guilty. But it's unclear whether prosecutors even bothered to speak to the two officers who witnessed Outlaw's attack on him. What we do know is that the prosecution successfully prevented one of the arresting officers who witnessed the assault from taking the stand.
"It makes you wonder what they knew on the day of Clarence's trial," Steenson told me.
When first reached for comment, DA spokesperson Cameron Kline insisted that "Officer Outlaw's story was not false." But when I provided the Internal Affairs report, Cameron changed his tune. "We were not aware of that file," he wrote. The next day, he wrote again. "Sorry but we can not make any further comment on what may be an open investigation at this time."  A second report provided by Steenson suggests another man had previously accused Outlaw of handcuffing him, punching him in the head and jaw, and using "his foot to push the complainant, head first, into the back of the wagon." Internal Affairs did not sustain that abuse allegation, but the city did settle a lawsuit with the man for $55,000.
According to Professor Yaroshefsky, the DA's implicit concession that its office fails to search out evidence favorable to defendants in police files could leave it vulnerable to a federal lawsuit down the line. But Kline, in a statement, shifted the burden to the police department, saying they all "must rely on the department and on other sources to identify appropriate cases for review. We note that the premise of your inquiry appears to be that all internal police discipline is automatically Brady material. The expert you quote does not say that, and we do not believe it is the law."
Meanwhile, Philly DA Seth Williams is on his way out, and Larry Krasner, a longtime civil rights attorney, is hoping to succeed him with a campaign premised on rooting out some of the police misconduct local prosecutors have long countenanced.
"I've seen first hand how dirty they can get," Thompson said in his Internal Affairs complaint. "Even if they don't like the tone of your voice they are not God."
This story was reported in cooperation with Harvard Law School's Fair Punishment Project.
Follow Daniel Denvir on Twitter.