MacKenzie Davis in 'Always Shine.' Photo courtesy of Oscilloscope Productions
"My number one thing about being tall is when my body becomes a measuring stick," actress Mackenzie Davis tells me, over the phone, describing her reaction when men will ask to stand back-to-back with her. "I'll say, no, we're not going to use my fucking body that I live in to prove that you've been lying your whole life about how tall you are and I don't think it's fair for you to ask me to do that."
I identify, but for the opposite reason. "It's the same for short people," I tell her. "Only it's men who are really excited to take pictures with me because they'll look so much bigger." "How do they not see that it is inappropriate to make a woman's body an object to reference themselves against?" the five-foot-ten Vancouver native replies, laughing. "It's bizarre. I think the thing that interested me about my height, was just the comfort people have to comment on my body, just using a statement of fact about my appearance as an opening line: We all own women and so we're all OK to comment on and edit them and implicitly dictate to them whether they are succeeding or failing."
The erasure of a woman's sense of self—both in mind and body—is a forceful thread stitched throughout Always Shine, a stylish thriller from director Sophia Takal arriving this Friday in theaters in New York and San Francisco receiving wide-release on December 2. The film tells the story of best friends Anna (Davis) and Beth (Caitlin FitzGerald), who learn just how much resentment is embedded in their friendship while vacationing together in Big Sur, California to strengthen a friendship that has become strained by competition. Takal creates tremendous discomfort simply by letting the camera linger on long, close shots of the two women, forcing viewers to watch as flickers of longing, admiration, jealousy, and hurt ripple across their faces, betraying their interior selves to the other.
While these scenes paint an intimate portrait of a specific friendship, the larger frame reveals a social commentary about how constricting it is to be a woman in a society that props up a narrow set of physical features and behaviors as the ideals of femininity—ideals that Anna is all too aware she can't access while her best friend embodies them effortlessly. "Sophia took this suffocating experience—an experience that's hard to even relate to another woman sometimes—and made it external, urgent, and active," says Davis. "She put it in this genre piece of cinema the anyone could go see."
Physically, both Beth and Anna represent a version of an often exalted beauty ideal: young, white, tall, thin, blond, glowing skin, and bright eyes. The two women look unnervingly alike and, in fact, are mistaken for the other at a point in the film. This choice of casting allows the film—to the possible frustration of viewers—to skip a discussion of how their appearance influences their privilege, in favor of a focused and nuanced look at how their behavior separates them.
"Beth is an archaic archetype," says Davis, who won best actress at the Tribeca Film Festival for her role as Anna. "She represents ideas that are communicated to women when you're growing up—to be this sort of lovely, always graceful, beautiful thing. Not too aggressive, not too loud, the kind of woman who never finds herself talking louder than anyone else in the conversation."
Anna—impulsive, powerful, unflinching, erratic—stands outside of this behavioral ideal and pays the price, both professionally and romantically, for being unable to conform. "I relate to Anna," confides Davis. "I grew up watching girls who seemed to speak a native language that I was struggling to learn. I would watch the way their bodies moved and try to mimic it because it wasn't natural to me to try to articulate a language in my body that way and I would watch how they laughed and flirted in a way that really didn't feel intuitive to me. I was always two steps away."
In an early scene, Anna and Beth go to a bar where an older man buys them a drink and begins faux-casually relating a story of being detained in China, saved only by his double-agent translator and suitcase of cash. Anna leans in, eyes-wide. "Wow," she says, but Beth is silent, staring awkwardly into her drink, smiling sweetly. The man is focused on Anna, his attraction palpable. "I'm old enough to be your father," he says, but Anna bats her eyelids and coquettishly says, "I like a man with a little salt and pepper in his hair."
---
VICE Meets: Marina Abramović Still Doesn't Give a Fuck: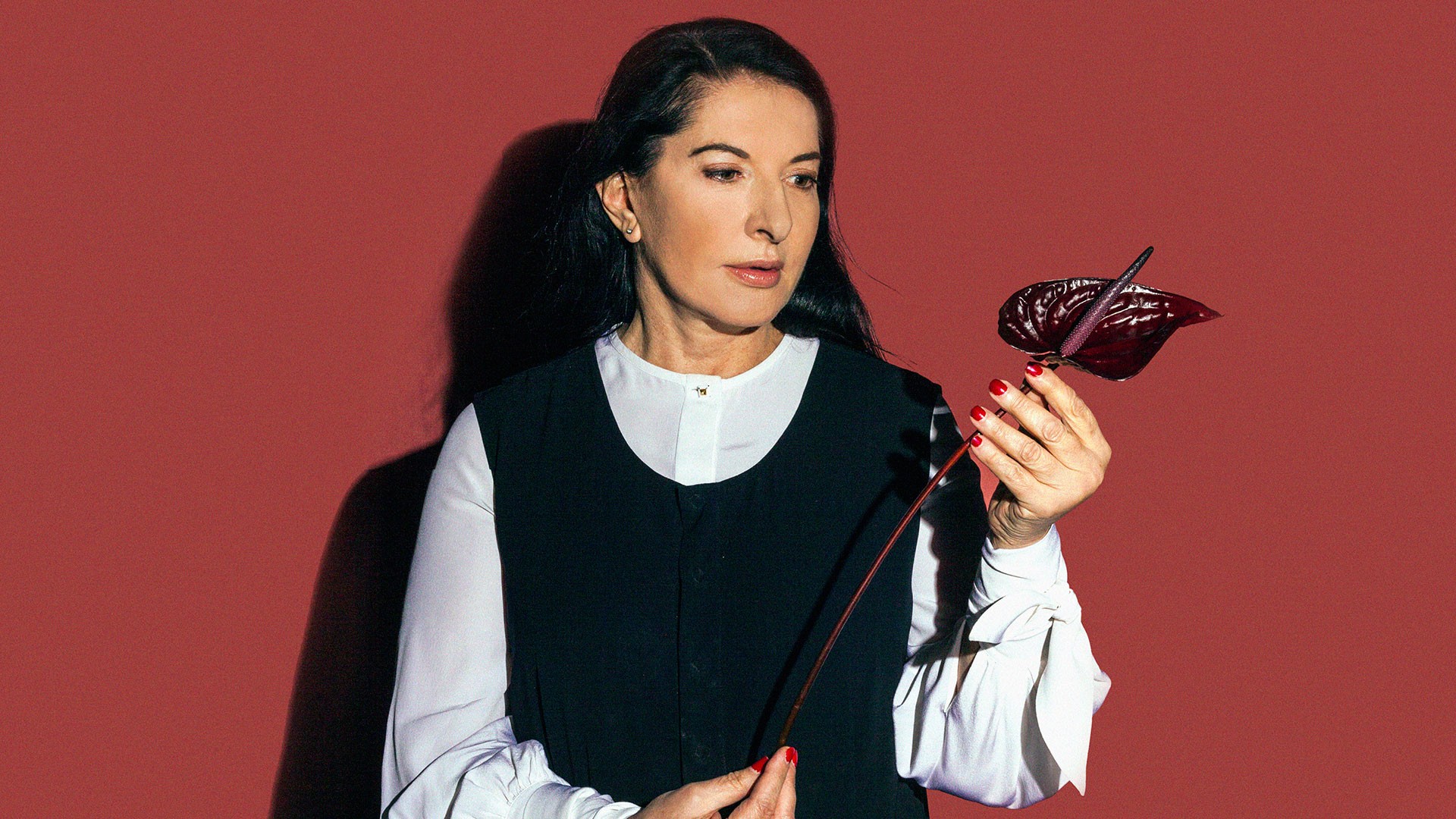 ---
But that's as far as Anna can hang on. The burden of deferring to this man's desires becomes too heavy, and she fumbles the flirtation by teasing him too aggressively and loudly asking him too many questions. "The base feelings, the sadness," Davis says of this scene, "the frustrations—to not be good at the game and to not want to play the game at all—were so embarrassing to read in the script for the first time and identify with and then be like, Oh, now everyone will know that I feel this way." In the scene, Anna doesn't immediately get that the game is over and continues an attempt to flirt, but the man is visibly turned off by her and is now favors the beautiful, speechless Beth sitting just behind Anna. He asks Beth, "Is she always like this? Your friend? Is she always so," and he pauses here to ensure the subtext behind his words effects the intended punishment for Anna, "so curious?"
The painful lesson of the scene is driven home when, later, Anna tries on Beth's demure personality traits and is met with immediate approval from the outside world. "She becomes a blond, tall, empty vessel," Davis explains. "The less identity you have, the more you can reflect whatever your interlocutor wants you to be for them because your own personality and opinions and selfhood don't interfere with what they want to see about themselves."
"Generally, if you are a tall, thin woman, you're succeeding. Although then you feel this pressure to conform to a version of your body, a very narrow path of acceptability that's been laid out for you." —MacKenzie Davis
Several of the roles Mackenzie Davis has portrayed this year might be hard for women to watch. She also stars as computer prodigy Cameron Howe in AMC's excellent Halt and Catch Fire, which just wrapped its third season in October. The show is set at the beginning of the tech boom in the 1980s, and while it's fun to see how far tech has progressed in recent decades, it is less fun to be reminded that, for women attempting to lead in the workplace, very little has changed. Right before the results of our recent presidential election, Davis starred in "San Junipero," an episode of Netflix's Black Mirror centered on an interracial lesbian love story.
"While we were filming ["San Junipero"], it felt like, yes, we were still in the midst of the struggle for equality, but that we were moving forward and I, however naively, thought we'd continue to struggle on a path that moved forward," Davis says. "But now it feels like that progress actually just incensed a lot of people. And that any moves forward made people angrier and angrier and this is the explosion of all that, a reaction to those brief moments of progress."
For some, Always Shine may provide some much needed catharsis: "I think it's cool to have this interior experience treated as thrilling and important for women to go see—or anyone to go see—and I don't think gender pressures are exclusive to women, but I also don't care if men take away anything from this film. I think it is cool for women to have a space to rage."
Follow Chloe Cooper Jones on Twitter.
Always Shine opens in New York and San Francisco on Friday, November 25, and elsewhere on December 2.