Salt-N-Pepa performing in 2016. Photo by MediaPunch Inc / Alamy Stock Photo
The women met at college, where they worked at Sears department store alongside Martin Lawrence and Kid 'n Play. With the help of Haitian producer Hurby Azor, they started a musical revolution at the ages 21 and 19 respectively. Sixteen-year-old DJ Spinderella joined the duo in 1986. After their major hits "Push It," "Let's Talk About Sex," "None of Your Business," and "Whatta Man" pushed them to global success in the 90s, Salt decided to quit. They reformed in 2007 to tour their biggest hits and haven't really stopped since—and are even "in conversation" with Ava DuVernay about directing a potential biopic.
We spoke to Salt-N-Pepa about their iconic spandex outfits, rolling around in bed with Tupac, and why they still think it's stupid not to talk about sex.
BROADLY: How did you choose your wardrobe back in the 90s?
Salt: We really just went with what we liked to wear, basically. The most famous look obviously is the eight-ball jacket with the spandex underneath and that look kind of inadvertently came together. We got the hats from this lady in Harlem and the jackets, interestingly, were designed by Play from Kid 'N Play. At that time eight-ball jackets were all the rage and so we made our own style. The spandex? I don't know where that came from!
Pepa: Spandex for girls is just—hey! It's just right!
After the Straight Outta Compton movie I heard you got offered some movie deals for your life story. Have you taken up any offers yet?
Salt: There's been some offers on the table and we're considering one right now. It was something we always wanted to pursue. But, yes the Salt-N-Pepa movie is finally in the making!
---
Watch: British Comedy's Rising Star Michaela Coel on Swapping God for Filthy Jokes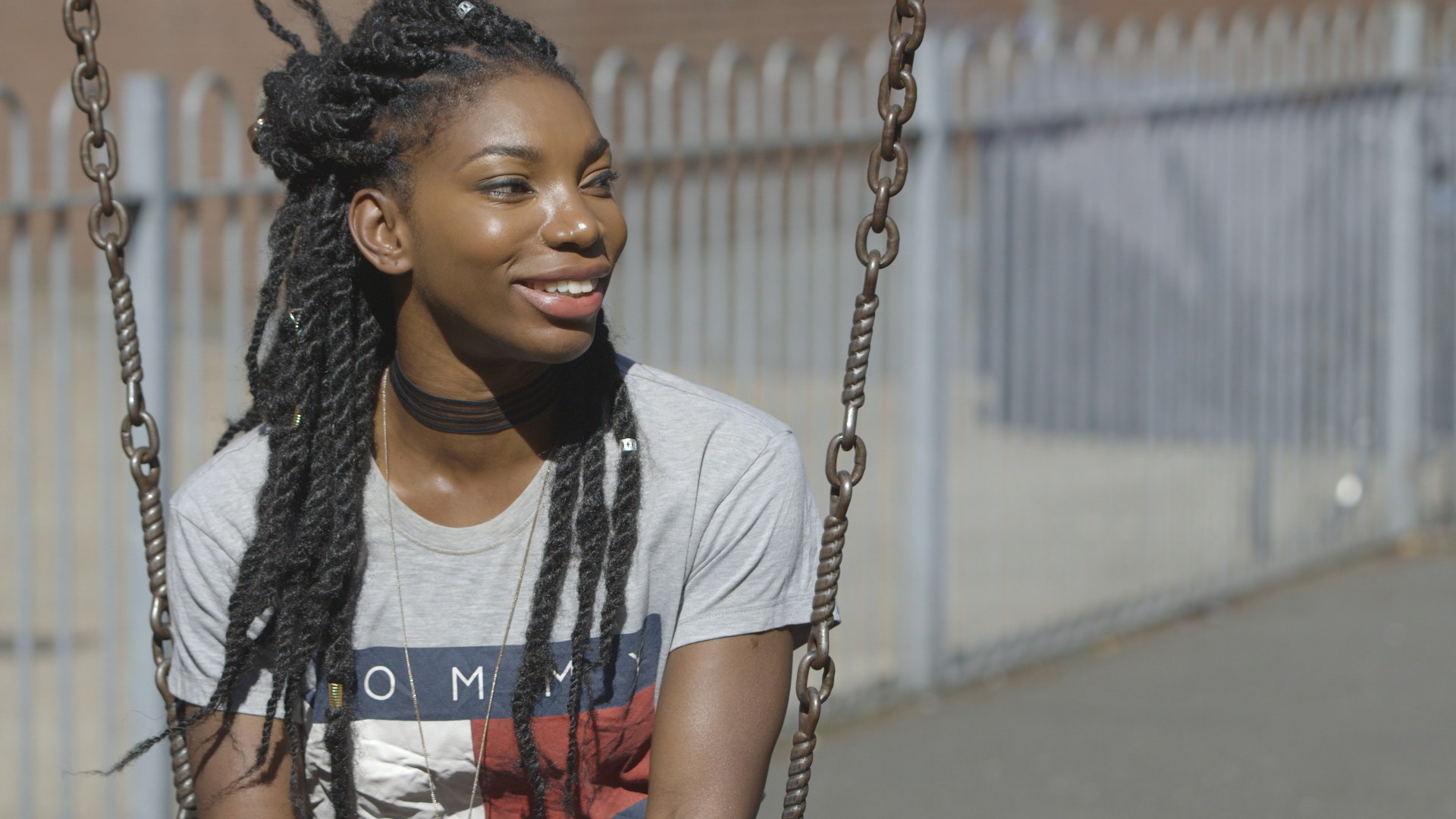 ---
Wow! That's great news. I envision it as a powerful story of female friendship…
Salt: That's exactly the angle that everyone is interested in because it is an extraordinary friendship and we weren't a made-up group. We were friends before and even Hurby, our producer, was my boyfriend. So this all came from relationships that came together and made a group. We say in our show actually that we've been through hell and high water together. We've broken up, we've gotten back together, we still love each other tremendously but we still argue a lot as sisters do. We've actually raised each other and taught each other a lot. Pepa's taught me a lot because we're so opposite. I'm the more conservative, quiet one, she's the loud, outrageously bold one. I think we've balanced each other out over the years. We've triumphed through all the misogyny in hip-hop and maintained our success.
Who would you like to direct it?
Salt: There's actually been a conversation with Ava DuVernay so we've got some interest over there. She's really trailblazing right now as a director. She's deep. She made that Netflix documentary, 13th, which I think everyone should see.
Which of your music videos are you most fond of or do you have good memories of making?
Pepa: I would go with "Shoop" first and then I would go with "Whatta Man" with En Vogue. Prior to "Shoop," Salt and I was a little chunky! And Salt's a little chunky now! Just a little bit. There were these comedians who were making jokes about us, calling us meat and potatoes. So we went away to Russia preparing for the Very Necessary album and we were not really into the Russian cuisine! It worked out for us because we came back skinny.
Salt: Making the video for "Whatta Man," obviously because Treach was in it and Tupac was in it. And then we had En Vogue. All that girl power in one room was explosive.
Pepa: I was with Treach at the time and I remember all of us sitting together trying to pick our leading man. I was so jealous because Salt got Tupac. They had to choose their leading man and I had to be with Treach. I didn't get a chance to live! I knew those hands all over me already.
Salt: I was in bed with Tupac. I lived!
Do you think you've had a positive impact on women in terms of being honest about sex and desire?
Salt: Yes definitely. We were a voice for women. We've been through a lot, we've experienced a lot. We were very outspoken. We expressed ourselves. To this day we stand by that, we freely talk about sex and relationships. Pepa goes way too far. I have to reel her in! It really is her favorite subject.
Pepa: It really is!
Salt: It begins to get really graphic and personal until I'm like hey, hey, hey! But as far as Let's Talk About Sex, the record, it's monumental. It is stupid not to talk about sex. It is stupid not to communicate with your spouse and your children. It can't be a taboo. The song was just about communication which is necessary.
Salt-N-Pepa will be joning Vanilla Ice, Tone Loc, Coolio, Young MC and Colour Me Bad on the I Love the 90's tour, which hits the UK this autumn. Tickets via ilovethe90s.seetickets.com.