Standing Rock's main camp is growing, and its leaders say they won't be moved.
The day after the Army Corps of Engineers warned thousands of people to vacate their encampment near a disputed pipeline route in North Dakota by Dec. 5, a group of Native American leaders held a press conference to send the message: we're not leaving.
"We will no longer give you what you want. When rocks stand together, the river goes around them. We will never be moved by you."
Protesters at the camp, who call themselves water protectors, are opposing the construction of the Dakota Access Pipeline, which they fear will contaminate the water supply in the region and disturb sacred Indigenous burial grounds.
"The Army Corps of Engineers — they aren't our landlords," Isaac Weston of the Sioux Nation told media in the main Oceti Sakowin camp. "This is our land. They can't remove us. They need to respect our treaties and respect our rights."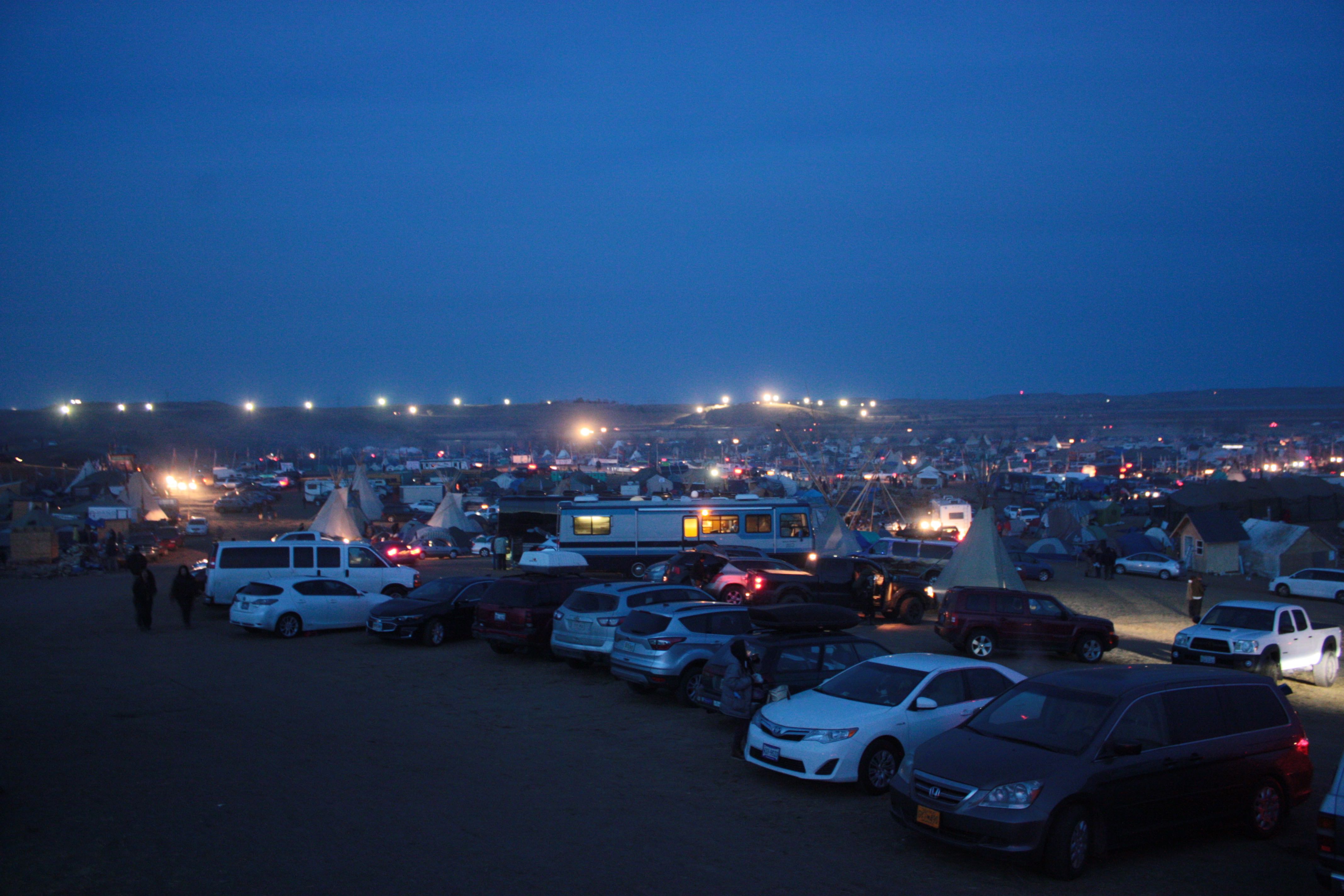 Images circulating of police deploying water cannons, tear gas, and rubber bullets on protesters in freezing temperatures have only led the camp to grow larger over Thanksgiving weekend. In the earlier chaos, one woman nearly lost an arm.
Vehicles lined up at the camp's entrance Friday as new allies arrived. The main camp, Oceti Sakowin, is now thousands strong.
"We will no longer give you what you want," Thomas Lopez of the International Indigenous Youth Council told reporters "When rocks stand together, the river goes around them. We will never be moved by you."
With police using force on protectors and winter nearing, safety has become an issue. The main highway to the closest town, Bismarck, is currently blocked by police, forcing both campers and emergency vehicles to travel another 25 minutes to reach the camp.
The Army Corps of Engineers had not previously told the protectors to leave but now says it must close the land due to safety concerns.
The letter from Corps of Engineers Colonel John Henderson reads:
"This decision is necessary to protect the general public from the violent confrontations between protesters and law enforcement officials that have occurred in this area, and to prevent death, illness, or serious injury to inhabitants of encampments due to the harsh North Dakota winter conditions …. The necessary emergency, medical, and fire response service, law enforcement or sustainable facilities to protect people from these conditions on this property cannot be provided."
The Corps also says it has established a "free speech zone" on land south of the Cannonball River, which has better access to emergency vehicles.
But Sioux Tribal Council Chairman Dave Archambault II believes Army Corps of Engineers sent the letter because they want to reduce their liability if more violence happens.
"I haven't gotten notice that forces are coming [to evict the camp]," he told media Saturday. He believes the protectors can stay as long as they remain peaceful.
As he drove toward the camp on Friday, the chairman gestured to a 50-acre area of tribe-owned land across the street from a gas station he owns. As winter nears, he said it's becoming a safety issue, and he plans to build earth lodges for those who want to move away from the current camp. Now that the question of liability has come up, he hopes this will show the tribe is taking responsibility for the safety of its guests.
The term "camp" feels inaccurate now. Instead, the area resembles a densely packed small town. There are still tents and camper vans, but increasingly, wooden structures insulated by hay bales are springing up. People are digging in.
The summer days of Standing Rock are gone and winter is knocking. Smoke from chimneys and fires cloak the camp in a veil of smoke. Bundled in parkas, hats, scarves and gloves, protectors and allies huddled around one of two sacred fires Saturday morning. One woman clutches a sheepskin around her. They sip steaming mugs of coffee, brewed by volunteers at a nearby stand.
As comforting as the sacred fires and hot coffee may be, many still consider this place a war zone. Helicopters circle above during the day, and at night, stadium lights on nearby hilltops glare down on the camp.
The Indigenous Environmental Network says 1,500 veterans have RSVP'd to come to Standing Rock to support the camp on Dec. 5 — the day the Army Corps of Engineers warned people to vacate the camp by. It remains to be seen what they will be up against.