1. Your Monthly Reminder That 32-Year-Old LeBron James Can Still Be The Scariest Defender Alive
Every possession tells a story. And like any collection of stories, some are more exciting, meaningful, and memorable than others. If we were power ranking the NBA's by the thousand each week, what happened at the end of Cleveland's seventh straight win would rank somewhere in the top five.
The action begins with consternation. Instead of crowding the strong side as Kemba Walker and Dwight Howard run their pick-and-roll, Frank Kaminsky should stand over on the opposite wing. His presence doesn't let Walker attack Kevin Love, as Kyle Korver essentially walks into help position without having to move.
Walker dribbles over to the empty space himself, but can't shed LeBron James, who cuts the All-Star point guard off and forces him to reverse it back to Jeremy Lamb. Walker's thought bubble as soon as he gives it up reads "pass it back right now!" but Lamb decides to jack up a wild three instead. It clangs off the rim, and Dwyane Wade flies in out of nowhere to punch it away so the clock can expire.
Instead, it serendipitously lands in Walker's hands with exactly one second to go. Here's where James turns into the alien we all know him to actually be. Watch the clip again and focus on the closeout. The universe's best basketball player—still, in his 15th season!—somehow sprints in from the paint, leaves his feet and doesn't come close to committing a foul. Walker's shot has about no chance of going in, and Cleveland wins.
James doesn't bring this much intensity to every possession but that's perfectly understandable given his age and offensive duties. When games are on the line, he's a security blanket unlike any other. Throw him at the opposing team's most devastating weapon and watch him neutralize it in real time.
2. Marcus Smart Always Knows The Score
There is no non-All-Star I enjoy watching more than Marcus Smart. He makes the phrase "rock solid" feel so inadequate. Nothing gets past him. Nothing seeps through him. Smart not only turns little things into big things, he's makes them worth the price of admission. You know what you're getting when Smart enters the game. He never stops moving, from box outs—where he often looks like he's surfing—to assaults on the offensive glass.
Unless the Boston Celtics are able to combine Semi Ojeleye and Terry Rozier into one human being, letting Smart walk as a restricted free agent would be a mistake.
I'm not here to point out that the same people who ignore a good glass of water can't appreciate Smart's value, or admonish those who're allergic to his shooting numbers and use them to bookend any argument about his worth. That'd be petty. (But these people are wrong.)
According to NBA.com, Smart's three-point percentage when the scoring margin between both teams falls between zero (aka it's tied) and 10 points, is 37.6 percent (26-for-69). When the margin is higher than 10 points, it drops to seven percent (2-for-28!). So, in layman's terms, to quote the great Shaquille O'Neal, Smart will make his threes when they matter. (To make this even spicier, Smart is 2-for-26 when the Celtics are ahead by at least 10 points. Those shots don't not matter, but, like, when you have the best defense in the league and are up double digits maybe missing a three-pointer isn't the end of the world).
Moving on, here's a clip of Smart nudging Boston's odds for victory in a positive direction. His defense appears improvisational even though he's a really an actor who memorized the script 10 minutes after it was first handed to him.
After Ojeleye and Rozier switch the screen, Smart notices the mismatch and quickly directs Rozier out of the lane so Aron Baynes can match up against Marreese Speights and Smart himself can defend Orlando's pick-and-roll after they reverse the ball. This particular sequence isn't rare—Boston's defenders regularly stamp out self-inflicted mismatches before an offense can attack it—but it's overlooked nonetheless.
It's no coincidence that the Celtics are outscored by 0.2 points per 100 possessions when Smart is on the bench, and outscore opponents by 11.2 points per 100 possessions when he plays—a 12-point difference exceeded only by Al Horford.
3. The Houston Rockets Are Going to Win The Title
Let's break this bold statement down into a few separate categories, shall we?
A. James Harden is a Samurai
So, yeah, Harden is once again the most valuable player in the league, and arguably its most impressive and dominant singular offensive force. The guy is regularly throwing pocket passes between his freaking legs, canning contested step-back threes, and paying no mind to a rule change that was essentially designed to hamper his game and keep him from the free-throw line.
Try and read this sentence out loud without taking a breath: Harden currently leads the league in points (per game average and total), assists (per game average, rate, and total), threes, free-throw attempts and makes, usage, Win Shares per 48 minutes, and Real Plus-Minus. He's a one-man avalanche off a high screen and has unofficially made more "there's nothing we could do" baskets than anyone in the league. It's getting to the point where I could list half a dozen fake stats about Harden's season and you'd have to believe them all. Like, he's launching 11 threes a night and making over 40 percent of them. How is that real?
For those who're curious, here's the long list of players in NBA history who've been as efficient as Harden currently is with a usage rate of at least 36 percent. (Spoiler: There's only one player on it.) Remember last year, when he should've won MVP and led the Rockets to 55 wins and the third-highest point differential in the league? Houston outscored opponents by 6.3 points per 100 possessions when Harden was on the floor. Today, his net rating is over twice as high (+13.0!).
This season has so far been Harden's very own Bitches Brew, a valiant rhythmic experimentation that's blowing people's minds. If he somehow keeps this up, we won't forget it anytime soon.
B. Chris Paul's "Evolution"
The word evolution is in quotes because Paul is 32 years old and fundamentally the same icon he always has been. But that isn't to say he isn't adapting to/enjoying life in Mike D'Antoni's revolutionary bubble.
Over the last two seasons, 37 percent of all the shots Paul launched were long twos. Right now, in Houston, that number is 10 percent. Ten. Per. Cent. Paul's presence is about so much more than where he gets his shots up from, though.
During a recent win against the Grizzlies, he screamed at his teammates to huddle up after gifting Clint Capela with an and-one opportunity. On Wednesday night against the Indiana Pacers, he saw Victor Oladipo huddled in the paint and screamed at the referee until a three-second violation was called. The guy's personality is borderline-domineering (in a good way?); he effortlessly dictates the tempo that nine other players will experience whenever he's on the court.
In the second quarter of a recent blowout win against the Denver Nuggets (amazingly Paul's home debut in a Rockets uniform), the first-ballot Hall of Famer spent the entire 24-second shot clock marionetting Denver's defense from a few feet in front of half-court, directing Capela to abandon a ball screen and stand near the baseline before waving P.J. Tucker on a loop—dragging Nikola Jokic from the corner to the opposite block, up near the free-throw line.
With three seconds left, Paul crossed away from Tucker, zipped past his man and kissed a runner off the glass. It was fine art. Two plays later, he did this:
How do you devise a strategy against someone who can cut through you both in slow motion and the blink of an eye? Paul's usage and shot efficiency are down, but those will bounce back. More importantly, when Harden isn't on the floor and Paul is, the Rockets have outscored opponents by 34.3 points per 100 possessions. That is a Mt. Kilimanjaro number.
In Paul's first season with the Los Angeles Clippers, back in 2012, their pace with him on the floor was 91.6. Right now Houston's is 102.4. It took D'Antoni zero seconds to realize staggering his two best players was the way to go, and Houston is settling into a seemingly unbeatable routine where Eric Gordon will sub Paul out in the first and third quarters at about the five or six minute mark and then put him back in at the start of the second and fourth quarters to conduct a bench unit while Harden rests.
Through it all, the Rockets' offense has yet to skip a beat.
C. The Tucker, Trevor Ariza, Luc Richard Mbah a Moute Threesome
Houston's offense makes opponents lose the will to live. Its defense prevents them from breathing. In the 140 minutes this aforementioned trio has shared the court, the Rockets have allowed just 96.2 points per 100 possessions—aka they play like the best defense in the league. It's a like-sized versatile group that can hang with four or five positions anywhere on the floor.
Each is smart and long. They know, as help defenders, when to cut off drives and slide into the opposite corner to pick off passes. They clog lanes, move on a string, and, of course, switch at will.
D'Antoni has yet to really experiment with a lineup that doubles down on that versatility by adding Harden and Eric Gordon into the mix (that group has only played five minutes all season), but when he does Houston should hit an even higher plane. Most of them (i.e. Harden, Gordon, and Tucker) are strong enough to switch onto heftier opponents, leverage their low center of gravity, and let help defenders stay home. If they need to double, they're fast enough to do so, rotate, and swarm.
4. Russell Westbrook's Free-Throw Routine is *Kisses Tips of Fingers Emoji x Infinity*
I have no fresh opinions about Westbrook outside the belief that Oklahoma City's struggle isn't primarily his fault. This team's collective hardship will either wash away or smash into a dead end that was constructed by a predictably disagreeable combination of Type A on-court personalities. Carmelo Anthony should bend to Westbrook's strengths and not the other way around. Paul George is too anodyne for his own good.
But I digress! A personal takeaway that's unrelated yet still very enjoyable whenever I watch the Thunder play has been the air purification exercise that doubles as Westbrook's free-throw routine. For those unaware, last month Westbrook complained about the NBA's new rule prohibiting players from straying behind the three-point arc in-between their free throw attempts. This threw Westbrook off and was, according to him, a good explanation as to why he missed 12 of this season's first 28 shots at the line.
The drama ended up being drama for drama's sake (Westbrook has made 77.1 percent of his free-throws since those comments were made), but his routine remains gold. The reigning MVP has long calmed himself down with a deep breath before he shoots, but this year, for whatever reason, it feels at least 10 percent more theatric; he reminds me of Frank Costanza pleading to a God he doesn't actually believe in. Serenity now. Serenity now.
It's reason number 97,483 why I love the NBA.
5. San Antonio's B-Team
The silver lining from any long-term injury that sidelines a superstar is the opportunity for others to up their duty, minutes, touches, and, most importantly, show what they can do. That's what's taken place with Kawhi Leonard in San Antonio, where several youngsters have spent the early part of this season assuming a larger role than they expected.
LaMarcus Aldridge and Rudy Gay still lead the team in usage, but 21-year-old Dejounte Murray has been able to run San Antonio's primary and secondary offense—though that could end now that Tony Parker is back, looking spry as ever—Bryn "Sparty" Forbes has time to shine as a mutated cross between Danny Green and Patty Mills (while being about half a decade younger than both those guys), Kyle Anderson is second on the team in minutes and has started every game while posting career highs per 36 minutes in every meaningful category. (It's sort of like the youth movement going on in Toronto, except far less intentional.)
San Antonio has a negative point differential whenever Aldridge, Pau Gasol, or Green take a seat, but they still have no business holding the NBA's eighth-highest net rating or a league-average offense. Leonard's absence could've crippled this team.
Instead, they've instilled confidence in young role players who won't look like a deer in the headlights when games really start to matter. This past month and a half was a blessing. Gregg Popovich probably loves it.
(Quick aside: Whenever a defender has to switch a screen and go from defending Mills to Anderson, it's almost like trying to catch up with 100 mile-per-hour gas during your first two at-bats and then having to whack at a knuckleball pitcher in the sixth inning. The adjustment a defender must make sliding between those two must be so much harder than it looks.)
5. Rondae Hollis-Jefferson's Silent Improvement
Before he sprained his ankle on Sunday in Memphis—a game in which he got chewed out on the floor by Nets head coach Kenny Atkinson for getting beat on a baseline drive by JaMychal Green—Rondae Hollis-Jefferson was having a miniature breakout season. If the first thing you think when someone says his name is "athlete who can't shoot threes" that's still very true. But RHJ has upped his aggressiveness and efficiency this year, spending more time in the frontcourt and even moonlighting as a small-ball five on occasion.
While he's still bashful beyond the arc (particularly from the corners), Hollis-Jefferson has become more confident and effective taking slower bigs off the bounce, and either pulling up from 10 feet or displaying refined touch at the rim. He enjoys taking defensive rebounds the length of the floor, seeing how far his man is willing to backpedal, then springing into an open jumper. Sometimes Brooklyn will feed him the ball at the right elbow, simulate a dribble hand-off, and then let him sledgehammer through a momentarily-fazed defense with his left hand.
Here's how this year's shot chart compares to last season.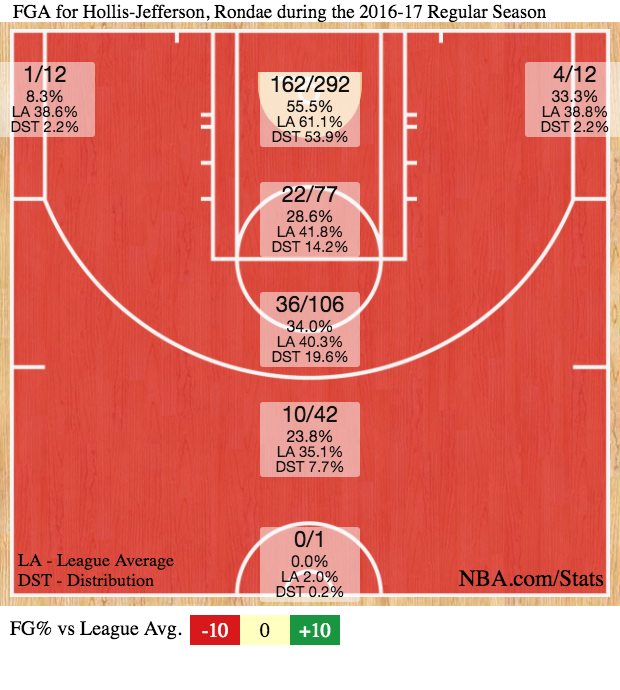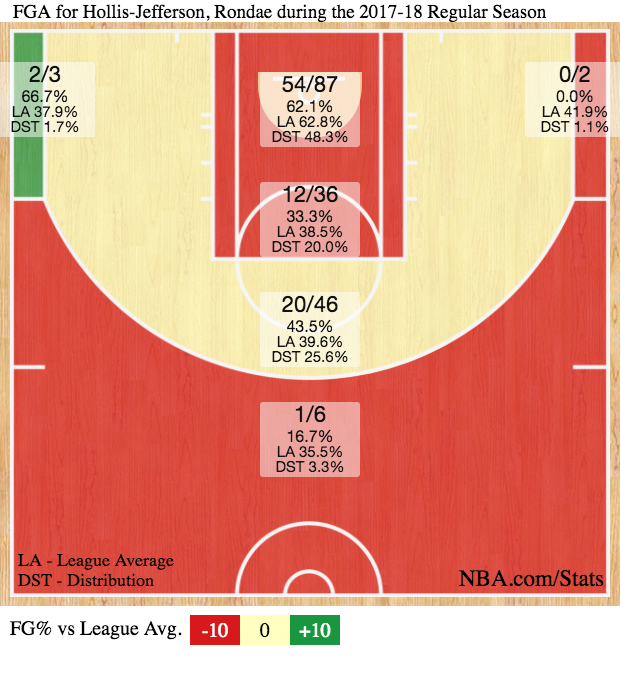 Better!
Hollis-Jefferson's post game has been a pleasant surprise, as well. According to Synergy Sports, he ranks in the 92nd percentile, with post-up opportunities nearly doubling from last year's output. It's a herky-jerky combination of spin moves, step backs, and physical force. Defenders who give him space to shoot have been punished by his steadily improving accuracy.
He probably won't ever be a stretch four, and that can be frustrating for teammates who don't have the space they'd like when he's on the floor (the Grizzlies abandoned him in the strongside corner a few times in David Fizdale's final game). Brooklyn has a bottom-10 offense when he's in the game and are right around top-seven when he sits, but it's still fun to see someone carve out their own niche and push their own limitations without falling off a cliff.
Hollis-Jefferson isn't firing up incoherent long twos anymore. He's attacking within comfortable pockets, and, in the process, improving. Whether or not he can have a positive impact on the Nets, let alone a playoff team, remains to be seen. But he's still only 23 and clearly interested in getting better.
6. A Brief Check Up on Malcolm Brogdon
It's been nine games since the Milwaukee Bucks traded for Eric Bledsoe and demoted the reigning Rookie of the Year to the bench. Since, their offense has been terrible with Brogdon on the court, whether he's sharing the floor with Bledsoe or Giannis Antetokounmpo.
These numbers don't exactly line up with the eye test—Brogdon remains an above-average catch-and-shoot threat—whose efficiency has yet to make a significant dip despite him assuming a more influential offensive role—and he'll dunk on your face even if you're paying attention—but are worth monitoring.
(Brogdon, Giannis, Bledsoe, Khris Middleton, and Tony Snell have only played seven minutes together. This is probably Milwaukee's best five-man unit until they figure out what to do at the center position.)
7. Is Miami Unlucky or Bad?
The Heat are a tricky team to pin down. Coming off a season in which they limped from the starter's block and ended with a flurry of peak Mike Tyson uppercuts, are they good, blah, or bad? Right now they rank 22nd in point differential (according to Cleaning the Glass) with a poor offense that turns it over and doesn't get to the free-throw line. Kelly Olynyk is probably their best big man right now—though an obvious case can be made for Hassan Whiteside, especially after Miami was blown out by the New York Knicks without him on Wednesday night—while Tyler Johnson, Justise Winslow, and Josh Richardson can't make anything.
But how much of their struggle is due to bad luck? Richardson and Johnson will (probably) shoot the ball better than they have, and despite generating a ton of corner threes—as in, more than anybody else in the league, and more than they created during the Heatles Heyday—nobody can knock them down.
This sentence sounds imbecilic, but Miami is pretty imposing when it makes shots. They ended Boston's win streak and crushed the Minnesota Timberwolves in back-to-back contests. When they don't make shots, they're a horror show; the Heat tip-toed past the woeful Chicago Bulls with seven points in the opening quarter on Sunday afternoon.
Defensively they're stout, just outside the top 10, allowing the fewest "wide open" shots in the league. But opponents are still draining 37.6 percent of their threes (likely an unsustainably high number) and having surprising success in transition. If everything regresses, they'll make the playoffs and scare whoever they face in the first round. If not, humongous changes could be headed Miami's way.
8. What If Philadelphia Didn't Draft Markelle Fultz?
Every person who agrees chewing food before you swallow is a good idea also thinks labeling Markelle Fultz as a bust four games into his NBA career is idiotic. Now that we understand each other, let's imagine a world where the Philadelphia 76ers did not draft Fultz with the first pick, and instead selected one of the many impressive rookies who're currently thriving elsewhere.
Fultz might not be a bust (if he's a 6'4" DeMar DeRozan, fantastic!), but he also may not be the best fit within Philly's hierarchy, as a long-term third option behind Ben Simmons and Joel Embiid. Now that we know Simmons can run an elite offense and defend all five positions, what's required by his side may not be what Fultz brings to the table. Philadelphia doesn't need another offensive star. They need complementary studs.
Let's look at five options Bryan Colangelo might consider instead if given a chance to do it all over again.
1. Jayson Tatum. The obvious first choice given his two way impact on the Eastern Conference's best team, Tatum does splendid things without the ball and is currently shooting 47.8 percent from deep. Picture him in a switch-happy defense beside Simmons and Robert Covington. Envision Philadelphia's second unit with him as its eventual first option, able to prop the offense up whenever Simmons and Embiid need to rest. He's only 19 years old. This is all so horrifying to think about.
2. Kyle Kuzma. He's 22 and was selected with the 27th pick. So what. Kuzma has scored more points than anybody in his class, can shoot threes, function inside flexible lineups, and make life easier for Philadelphia's two franchise players by coupling his off-the-bounce pep with a natural understanding of his responsibilities. He's a consummate role player, which is exactly what the Sixers need. (Dario Saric is great, but slot Kuzma at the four in their starting lineup and…yikes.)
3. Lauri Markkanen. I'm not sure Markkanen's career could possibly be more pleasant beside any other big man. Use him as a stretch four with Embiid, and a backup center who's surrounded by shooters, and the possibilities are endless.
4. Josh Jackson. I thought about placing Jackson in the two hole but am still a tad unsure about his long-term willingness to accept a stunted role. Shooting is also a serious drawback. But this dude can really pass the ball, and in two years Philly could have four All-Defensive-caliber contributors between him, Simmons, Embiid, and Covington. He also possesses undeniable confidence. On one play earlier this week, he pushed the ball in transition, forced a one-on-two finish over Shabazz Muhammad and Gorgui Dieng, then scored at the rim. If the Sixers could harness that fearlessness, they'd without argument have the most promising young core in the league—if they don't already.
5. Donovan Mitchell. I like Mitchell a lot. His overall efficiency is lying in a dumpster because Utah has asked more from him offensively than is probably fair, but defensive intangibles, off-script flair, and underrated vision make him a nice choice.
(If this list was eight players long, I'd go with Jonathan Isaac, Luke Kennard, and O.G. Anunoby, in that order.)
Myles Turner has touch, unselfish tendencies, and enlightening physical tools. Myles Turner does not ignore any one of these things when he plays basketball, and that is why Myles Turner, a budding franchise stanchion, will enjoy multiple All-Star appearances and more than one max contract.
His pick-and-pop game is such a ridiculously advantageous tool for the Indiana Pacers, able to lure even the smartest bigs just a step in the wrong direction to unbolt driving lanes for Victor Oladipo and Darren Collison.
His step-up screens are next level, and his willingness to pass when doubled in the post or right after he grabs an offensive rebound, is special. Somehow shooting 60 percent on long twos and 44 percent beyond the arc, Turner has had a few moments this year where he does something that a player his size simply shouldn't do. Calling him a "unicorn" would be trite, but one of the sport's top shot blockers shouldn't look so comfortable running the floor to knock down a corner three.
Once he realizes just how physically dominant he can be—most notably on rolls to the rim in which he double-clutches in mid-air for no reason—Turner will become the best player on a playoff team. Until then, he's only 21 years old with boundless two-way talent and an incredibly bright future.
10. Fastbreak Layups Are a Gateway to Superstardom
A completely arbitrary, borderline nonsensical belief I have is that in order to be a first option on an elite offense, there must be 100 percent confidence in a player's ability to finish a fast break with either a dunk, layup, or trip to the free-throw line every single time exactly one defender stands in his way. It sounds dumb, but, in my head, is also a scientific fact.
This is one of the few situations in any game where nothing—not teammates, scheme, the scoreboard, the clock, etc.—matters except one player's will to score over another. It's primitive, but riveting. Think about every offensive superstar in the league and ask yourself how confident you are in their ability to finish in the open floor when only one guy is between them and the rim. How many are on that list?
Mine is constantly shifting and normally about eight or nine players long; Ish Smith might be the most recent addition.
11. Lonzo Ball is Inspiring Broadcast Genius
During a recent game against the Los Angeles Lakers, Chicago Bulls play-by-play man Neil Funk said Lonzo Ball had "the touch of a blacksmith" and it was just about the most insulting yet clever description of a player I can remember hearing on television.
Ball is probably the worst shooter in the league, but he does so many other things at a high level. His deflections, offensive rebounds, and measured decisions in the open floor are appreciated. Ball might not be a star, but he'll have a long career making everyone around him shine.