Democrats are hoping for big wins in California this November, but the party has to survive Tuesday's chaotic primaries first. California is key to the Democrats' plan to take back Congress, and Sacramento has lead state efforts to push back on Donald Trump's agenda from environmental regulations to immigration. But crowded primary fields and party disunity are going to make it hard for Democrats to win in some districts, even those that swung for Hillary Clinton, who won a stunning 4.5 million more votes than Trump did in the state in 2016.
Elections in California are decided by a "top two" system, in which the two candidates who get the most votes in the primary — regardless of party affiliation — advance to the general election in the fall. That means that in the governor's race, for example, two Democrats could in theory face off against each other, but there are also several House races with so many Democrats running that two Republicans could end up on the ballot in November.
In the 48th district, held by Republican Rep. Dana Rohrabacher, for example, former Orange County GOP chairman Scott Baugh threw his hat in the race, challenging Rohrabacher from the right. But Democrats have three well-funded candidates all splitting the vote. The national Democratic Party didn't make things much better when it encouraged a stem-cell entrepreneur, Hans Keirstead, to run, before switching course to support businessman Harley Rouda.
Democrats are especially focused on seven congressional districts where Republicans hold seats but also where Clinton won in 2016.
Read: Google listed "Nazism" as the ideology of the California Republican Party
A number of those seats are in Orange County, where the party and its candidates have already spent millions of dollars this cycle — despite the fact that the county has long been a national emblem for conservatism — following their strategy of targeting wealthy suburbs that might swing to the center and vote for moderate Democrats.
Here's what you need to know:
Gov. Jerry Brown is popular in his home state, but he's hit his term limit and can't seek re-election. He doesn't appear enamored with any of 27 (yes, 27) wannabe successor, though, declining to endorse and not offering much praise of even his own lieutenant governor, Gavin Newsom.
Newsom, the former mayor of San Francisco, is the clear front-runner in the race, according to polls. Then there's Republican businessman and lawyer John Cox, who's earned an endorsement from President Donald Trump through his hard-line immigration stance and advocating for tax cuts.
The latest polls show Newsom and Democrat Antonio Villaraigosa, the former mayor of Los Angeles, splitting the blue vote and giving Cox a spot on November's ballot. But both Newsom and Villaraigosa aren't without baggage as they vie to govern the world's fifth-largest economy.
While serving as lieutenant governor, Newsom's attention frequently appeared to be elsewhere. He started his own talk show on Current TV; pulled in some $4 million from his wineries, hotels, and restaurants; traded silver bars; and had a bad track record of showing up for state business, skipping about half of his most important meetings with state governing bodies during his term, according to the LA Times. On his talk show, Newsom was caught on a hot mic saying he only went up to the capital Sacramento "Like one day a week, tops." He went on: "It's just so dull…Sadly, I just, ugh, God."
Read: Trump 2020: Inside the machine already working to reelect President Trump
And Newsom's got a somewhat embarrassing tie to the Trumps: His ex-wife, Kimberly Guilfoyle, co-host of "The Five" on Fox News, is reportedly dating Donald Trump Jr. (she was reportedly dating Anthony Scaramucci before).
Villaraigosa, for his part, is a staunch proponent of charter schools, which has earned him the support of wealthy education-reform advocates like Michael Bloomberg — who gave $1.5 million to a group backing Villaraigosa — and the enmity of some of the state's most powerful union interests, which are instead backing Newsom.
And after Villaraigosa left his post as mayor of San Francisco, his income soared, according to tax returns reviewed by SFGate. He was working as a consultant for some shady companies such as HerbaLife and Cadiz. Herbalife was forced to cough up some $200 million to nearly 350,000 workers, on claims that the company misled them about what they would make selling their dietary supplements. Cadiz, meanwhile, wants to pump groundwater from the Mojave desert, a plan opposed by Democratic Sen. Dianne Feinstein and California environmental groups (Cadiz has also donated to Villaraigosa's campaign, which Newsom has used as an attack line).
Races packed with Democrats
In congressional races, too, races with a host of Democratic candidates may deprive the party of clear-cut wins. In Los Angeles County's 25th congressional district, for example, where Republican Steve Knight holds the seat, four Democrats are vying to turn it blue: Katie Hill, Bryan Caforio, Jess Phoenix and Mary Pallant. And the campaign has gotten heated.
Hill and Caforio accused each other of lying during a debate among Democratic candidates over whether Caforio's campaign was responsible for distributing negative literature at the state's Democratic convention about Hill's refusing to sign the "People's Pledge" to keep "dark money" out of politics.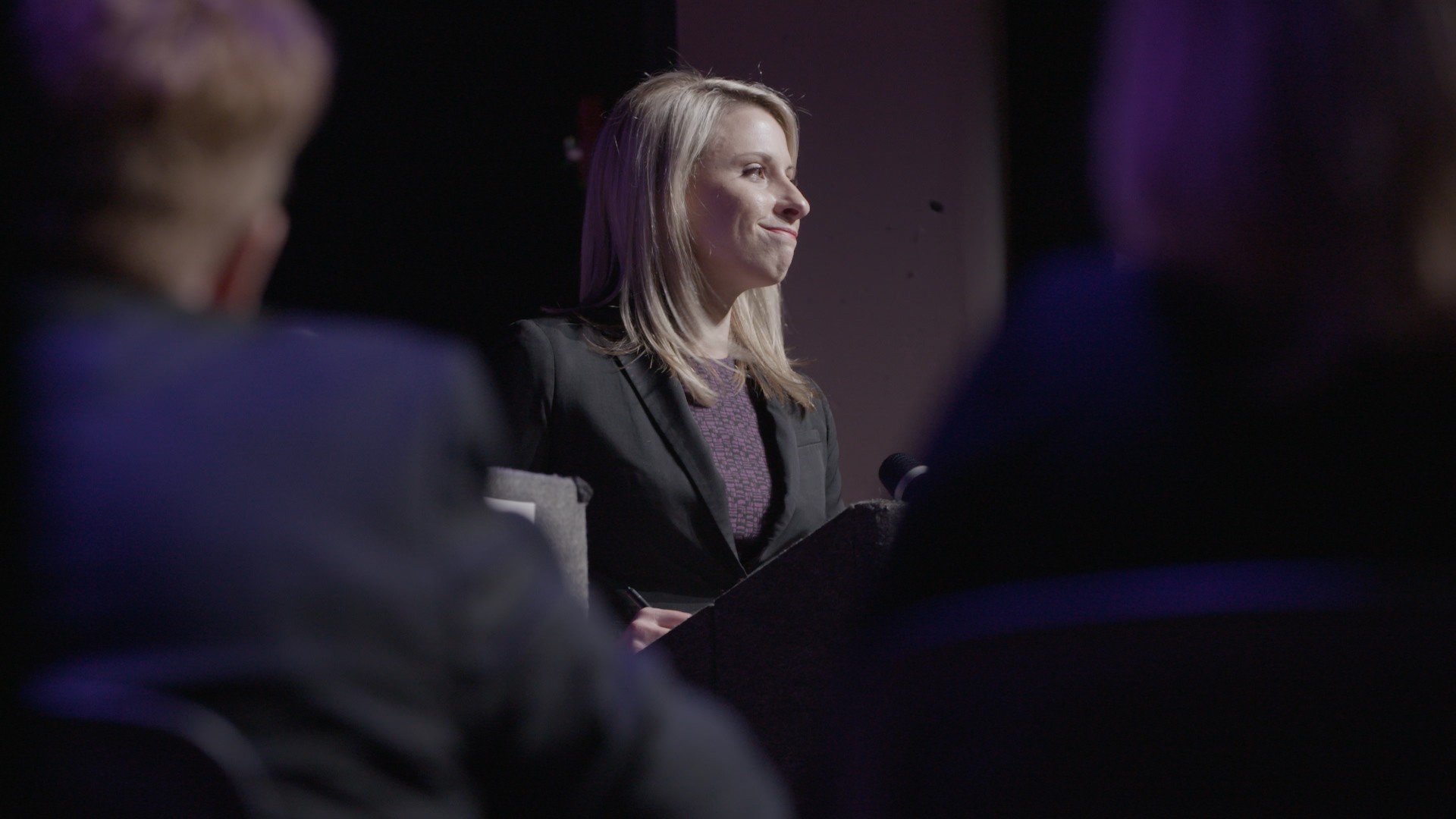 Caforio and Hill are facing off against Phoenix, a compelling candidate who happens to be a volcanologist.
Sen. Feinstein is facing a fight
Sen. Dianne Feinstein, 84 years old and a senator since 1992, has gotten pushback from the Left that she hasn't done enough to resist Trump.
She's up against state Sen. Kevin de Leon, who pounced when Feinstein said of Trump, "I just hope he has the ability to learn, and to change. And if he does, he can be a good president. And that's my hope." She was booed by the crowd at the Commonwealth Club in San Francisco.
De Léon saw his opening. He's earned the support of high-profile liberal megadonor Tom Steyer. But polls have him sliding into a close race with the Republican challenger, Republican James P. Bradley, and Feinstein is the clear front-runner in the race.
If De Léon can't hang on to the meager 11 percent of the vote that he's got, according to the polls, he could slide behind Bradley. Feinstein could very well face off against a Bradley, rather than De Léon, in November, which would almost certainly guarantee she'll keep her job.
Though California has a strong reputation for being starkly liberal, there are conservative strongholds within the Golden State.
Rep. Devin Nunes, the Trumper representing California's 22nd district, doesn't expect to lose is his seat. He's facing a challenge from Democrat, and former prosecutor, Andrew Janz, but in the red district, Nunes is likely to keep his job.
Another Trump-supporting Congressman, Rep. Kevin McCarthy who represents Bakersfield, has a pretty safe seat, too.
Cover image: Gavin Newsom, Democratic candidate for governor of California, speaks to attendees after a rally in Burbank, California, U.S., on Wednesday, May 30, 2018. (Photo: Patrick T. Fallon/Bloomberg via Getty Images)