Donald Trump has repeatedly warned that the 2016 election will be "rigged" in favor of Hillary Clinton, but so far the voters caught committing fraud have been attempting to cast their ballots for the Republican nominee.
On Friday, an election judge in Madison County, Illinois, was charged with two felony counts of election fraud for allegedly submitting an absentee ballot on behalf of her deceased husband. Audrey Cook, 88, told the St. Louis Post-Dispatch she received the ballots in the mail shortly after her longtime spouse passed away, in September. She said he'd made it clear he intended to vote for Trump.
"I was just so distraught when this came and I just voted because I knew he wanted to live so badly to see Trump straighten out this stinking mess," she said.
Who decides how you vote? VICE News Tonight reports.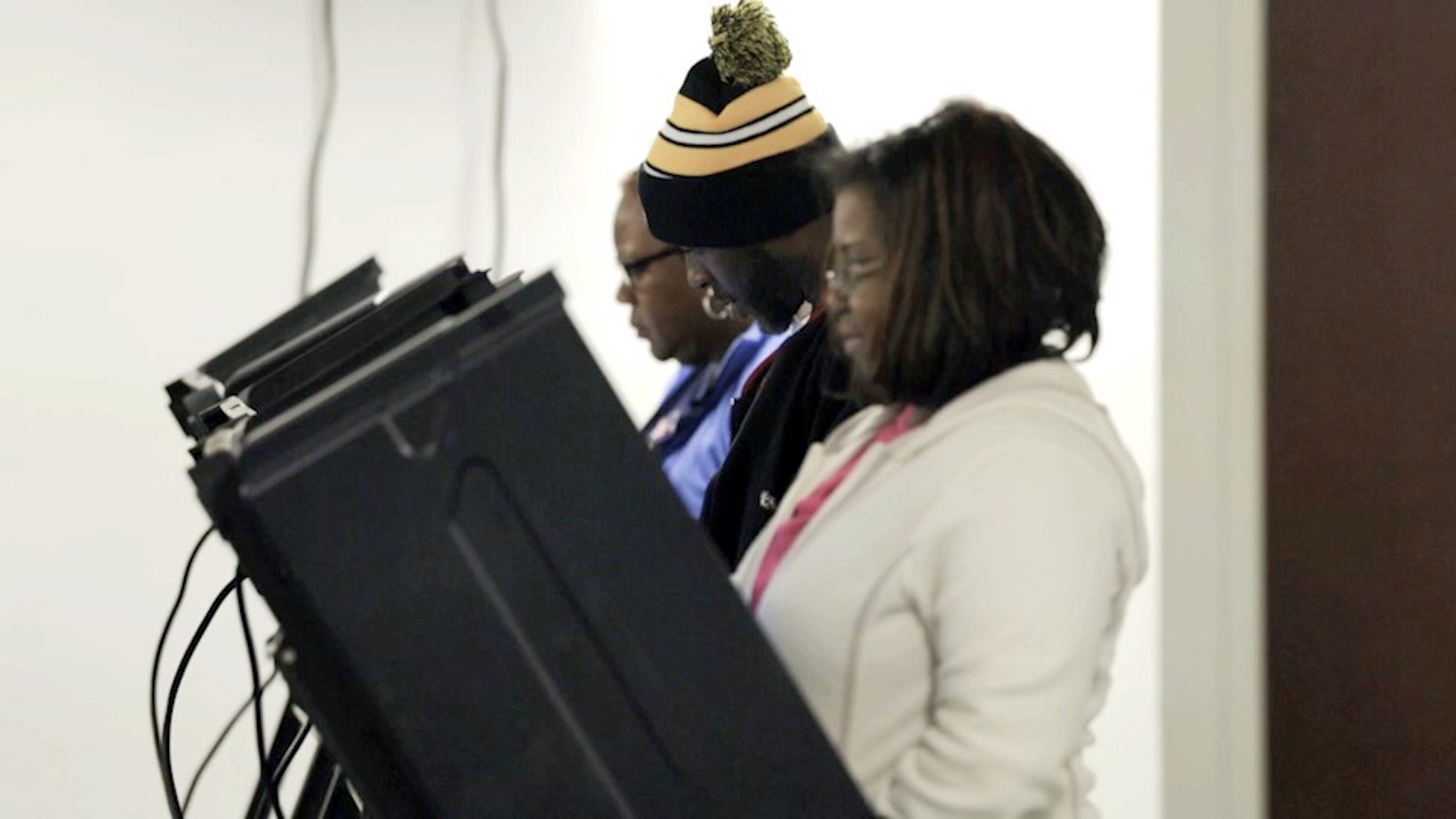 Cook's bail was set at $20,000, and she now faces up to five years in prison for each of her two felony charges. Another local paper, the Belleville News-Democrat, quoted the Madison County state's attorney as saying Cook will lose her job as an election judge.
In late October, a 55-year-old woman in Des Moines, Iowa, was arrested on suspicion of voting twice in the general election. According to police reports, Terri Lynn Rote cast an early ballot for Trump at a county election office and a second one for him at a satellite voting location in Des Moines. She told Iowa Public Radio she was worried that her first ballot would be changed to a vote for Clinton.
"I wasn't planning on doing it twice; it was a spur-of-the-moment [decision]," she said. "The polls are rigged."
Her remark echoes comments repeatedly made by Trump and his surrogates in the closing weeks of the election questioning the integrity of the vote. Both at campaign rallies and on Twitter, Trump has claimed the election will be "rigged" against him.
"Of course there is large-scale voter fraud happening on and before Election Day," Trump tweeted on Oct. 17. "Why do Republican leaders deny what is going on? So naive!"
In reality, as noted by the Washington Post, a slew of investigations over the years have repeatedly shown that voter fraud is exceedingly rare. A comprehensive analysis of more than 1 billion ballots cast in the U.S. from 2000 to 2014 found that only 31 were possibly fraudulent. But despite the facts, a Politico/Morning Consult poll released last month found that 73 percent of Republicans think the election could be "stolen" from Trump.
Two other people in Iowa face charges of voting twice, but they have not been arrested and it's unclear which candidate they supported. A Florida woman and a Virginia man have also been charged with filing bogus voter registration forms, and another Florida woman allegedly tampered with absentee ballots that had been left blank to boost support for a mayoral candidate in Miami-Dade County.
Trump has called for his supporters to monitor the polls for fraud on Election Day, but that strategy has already backfired. In Texas, a Trump supporter was arrested last month on charges of electioneering and loitering near a public place during early voting in the state. Democrats in Arizona and Pennsylvania have filed lawsuits alleging that the GOP plans to intimidate voters, and a similar suit in Ohio led to a temporary restraining order against the Trump campaign and a Republican political operative aimed at preventing harassment at the polls, according to the Associated Press.
Meanwhile, Democrats are raising their own concerns about Republican efforts to sway the outcome of the election by disenfranchising minorities and poor people by making it harder for them to vote. Writing for The Nation, voting rights expert Ari Berman noted that 14 states — mostly GOP strongholds — have enacted new voting restrictions for this election, the first since 1965 without the full protection of the Voting Rights Act, which was gutted in 2013 by the Supreme Court.
"There are far more people turned away from the polls by restrictions like voter-ID laws, cuts to early voting, and felon-disenfranchisement efforts — which disproportionately impact people of color, young voters, and low-income voters — than cases of voter fraud," Berman said.