Ben Simmons's mother taught him proper manners. "I eat with my left hand. Knife in my right," he says. "My mom would kill me if I had the fork in my right hand."
Perhaps his mother's insistence that he use his left hand to hold his fork is the reason why every single one of the 68 jump shots Simmons attempted outside the paint heading into Tuesday night's game against the Washington Wizards was released with his left hand. Perhaps being forced to hold a knife with his right hand is why nearly all of the shots Simmons attempted inside the paint was released with his right hand. Simmons doesn't really know.
"That's just the way I played growing up," he says. "Just the way I play the game."
Simmons's almost non-existent perimeter game was the subject of much discussion before he even entered the NBA. Despite the near-total lack of ability or willingness to do the one thing almost every single team in the NBA demands its guards be able to do, the Sixers have entrusted Simmons with their offense in a way few other teams in the league have entrusted anybody. Simmons leads the league in touches per game by nearly 3.5 full touches, per NBA.com. Among the 274 players with at least 1,000 total touches this season, only 18 have had the ball in their hands for a greater percentage of their time on the floor than Simmons.
He's a transcendent talent, but Simmons and the 76ers need to figure out how to work around that one flaw—or things won't work out the way everyone expects them to. In a league that has become almost maniacally focused on outside shooting, Simmons would be a rarity even if he played the same position as most of the players his size (6'10"). But as a point guard, Simmons stands almost entirely alone. Of the 307 players who've logged at least 500 minutes this season, only 13 of them have hoisted fewer catch-and-shoot shots than the 11 Simmons has attempted this season, per Second Spectrum data provided by NBA.com. All but one of those 13 players is a center.
Throughout high school and during his lone college season, Simmons was nominally a power forward. But despite his size and his lack of a jump shot, Philadelphia planned to play him at the point from the get-go.
"I'm here for a reason. Philly chose me for a reason," Simmons says. "I spoke to [76ers coach Brett Brown] a lot when I was hurt and he wanted me to run the team and be the point guard. So I know he trusts me and has faith in me. And I know I definitely trust and believe in myself."
Brown and the Sixers have placed their faith in Simmons because he is a brilliant passer who sees the floor in a way that is uncommon even among other brilliant passers.
"When you look at his ability and willingness to pass, it's rare," Brown says. "And his vision line at 6'10", his breakaway speed at 6'10", his ability to send things up the floor just changes early offense. He wouldn't be the type of person, 'Let's give Ben Simmons the ball and play slow.' That doesn't work. I think the style of play, giving him the ball and playing with that type of tempo and his ability to let others run with him because they know they're gonna be rewarded counts for something. And in the half-court game, we post him a lot. We let him play out of the post and navigate passing out of the post. There's stuff he can learn from Draymond [Green], what Golden State does. He's rare. He's a 6'10" guy that we give the ball and I think that he's an elite passer in the full-court and in the half-court. We try to tap into that."
Simmons, for his part, has rewarded the Sixers for their faith. He has been a revelation during his first NBA season, averaging 16.5 points, 7.7 rebounds, and 7.3 assists per game while shooting 52.5 percent from the floor. He has slapped together some monster performances and at times has looked like one of the 20 or so best players in the world. He is that good.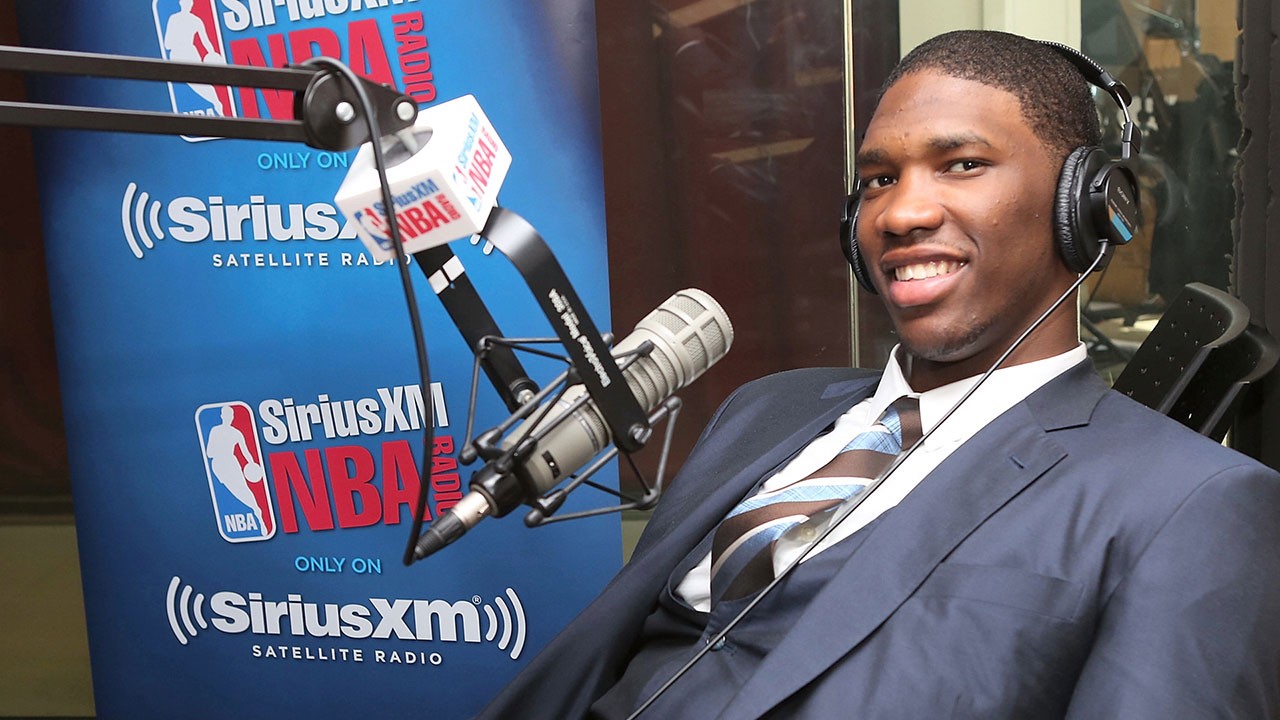 Ever since The Process began, Philadelphia has prioritized the best types of shots—corner threes, layups, etc.—but over the last few years, the team did not have a point guard capable of generating those looks enough for them to actually yield an efficient offense. During Brown's first four years, the team ranked dead last in offensive efficiency despite finishing in the top seven in "Moreyball rate" (the percentage of a team's shot attempts that come at the rim or behind the three-point line).
The Sixers check in just 18th in Moreyball rate this season, but their offense has rocketed—pun very much intended—from the basement to league average. A lot of that is due to the addition of J.J. Redick, Joel Embiid's consistent presence, and the return of Robert Covington's jumper, which went missing for much of last season. How much of it is attributable to Simmons and his unique abilities? That's debatable.
Simmons has played just over half of his minutes alongside Embiid. During those 948 minutes, the Sixers have been damned near impossible to stop, scoring at a rate of 111.8 points per 100 possessions. Only the Rockets and Warriors have better offensive ratings this season. Without Embiid on the floor to divert the defense's focus away from Simmons, though, the Sixers have scored just 100.1 points per 100 possessions.
That's worse than the Kings' league-worst offense. Even playing without Embiid but with the Sixers' two best shooters (Redick and Covington) only nudges the offense to 103.2 points per 100, which is the equivalent of the 24th-ranked offense in the league. Their half-court offense in those minutes has yielded only 89.7 points per 100 possessions, per Cleaning the Glass, which is just not sustainable for a team trying to win basketball games.
Simmons has remained nearly as productive with Embiid off the floor, but also becomes far less efficient. He's made 60.2 percent of his shots with his All-Star teammate in the game and just 46.4 percent when he's out.
Despite his prodigious talent, he's not quite capable of single-handedly manufacturing efficient offense just yet. That's no knock, by the way. Very few players in the league have that ability. You can probably count the number of players that can do that on one hand. Maybe two. But you can count the number of players that can do it without much in the way of an ability or willingness to shoot from outside the paint on one finger: it's Giannis Antetokounmpo.
Giannis presents the best path forward for Simmons. Like Simmons, he possess uncommon passing ability for a player of his height. He doesn't run Milwaukee's offense, but is a primary scoring option who holds the ball nearly as often as Simmons does. Antetokounmpo ranks tenth in touches per game, averaging just 16 fewer than Simmons; but he checks in only 74th in the percentage of time the ball is in his hands when he's on the floor. In other words, he gets the ball a lot, but doesn't bring it up the court himself as often as Simmons, because he's not a full-time point guard.
Given his immense talent, Simmons likely can and probably should get to Antetokounmpo's level eventually. He doesn't have to become the kind of scorer Giannis is, but learning how to properly leverage his rare combination of size, strength, speed, and vision on a more regular basis—without the benefit of another star to draw the defense's attention—is critical if the Sixers want to go on the dynastic run their young core's talent suggests they can.
The other thing the Sixers will have to do is build an offense that works to maximize Simmons's strengths and mask his very glaring weakness. Markelle Fultz, the apparently lost number one overall pick in the draft, was supposed to help with that. A functioning Fultz can play on or off the ball, and get any shot he wants. There's a reason Philly identified him as a player it wanted to trade up for in last year's draft—he was, in theory, a perfect complement to both Simmons and Embiid. But it's an open question as to whether Fultz will find his shot again. If Fultz does find it, Simmons should help Fultz reach his full potential, because that's just the way he plays. But perhaps more importantly, Fultz should unlock Simmons's game.
Simmons's reluctance to shoot from outside the paint leads opponents to abandon him, Tony Allen-style, far too often. He's got a keen sense of when and where to cut in those situations, but when he does so he's often darting into a painted area that is overly crowded because of how much his man has sagged off him. Defenses duck under every screen he navigates, betting that they can cut off his drive before it starts and that he won't be able to thread a pass through a thicket of limbs before they do so. Simmons has made them pay for that strategy as often as possible, but things could be a bit cleaner if there were always another high-level high-usage option (Fultz, theoretically) available as both an outlet and an attention-drawer.
In the meantime, the Ben Simmons point guard experiment appears to work wonderfully when Embiid is out there. That has been enough to make the Sixers a competitive, and compelling team. But if the franchise (and Simmons) want to take the next step, they need the experiment to work wonderfully all the time. Simmons has just about every skill necessary to be a franchise pillar; the one he lacks just so happens to be what the league values most right now.
And for the time being that's perfectly fine. As a monstrous prodigy, raised with a fork in his left hand, Simmons is comfortable dominating within his limitations.