Yegna member Teref Kassahun, whose stage name is Melat, hugs a fan. All photos by Aron Simeneh, courtesy of Yegna
It's noon in Bahir Dar, the capital of the Amhara region in north-western Ethiopia, and four young women in bright dresses sing and twirl on a low stage. Thousands of boys and girls swarm around them, singing along. Girls rarely attend public events in the country, but this is Yegna, so they came en masse.
Yegna (pronounced "Yen-ya") means "ours" in Amharic, the official language of Ethiopia. The band was created in 2013 as part of a program to try to reframe the place of girls in a country where discrimination and violence against girls and women are common.
With their distinctive personalities and nicknames, the five band members (one was absent at the Bahir Dar concert) were quickly dubbed "Ethiopia's Spice Girls " by the British right-wing press. It was not meant as a compliment. For years, the Daily Mail waged a campaign against Yegna—which was co-funded by the UK Department for International Development (DIFD)—calling it "the most wasteful, ludicrous and patronizing" aid project in Africa.
The "Spice Girls" label was misleading, says band member Zebiba Grima, 26, whose stage name is Emuye. "When I first heard it, it made me sad—not because I don't like the Spice Girls! But what we do is so much more than singing: Yegna is also a talk show and a radio drama. And we cover serious stories and issues, including migration, abuse and staying in school."
---
Watch: The Land of No Men: Inside Kenya's Women-Only Village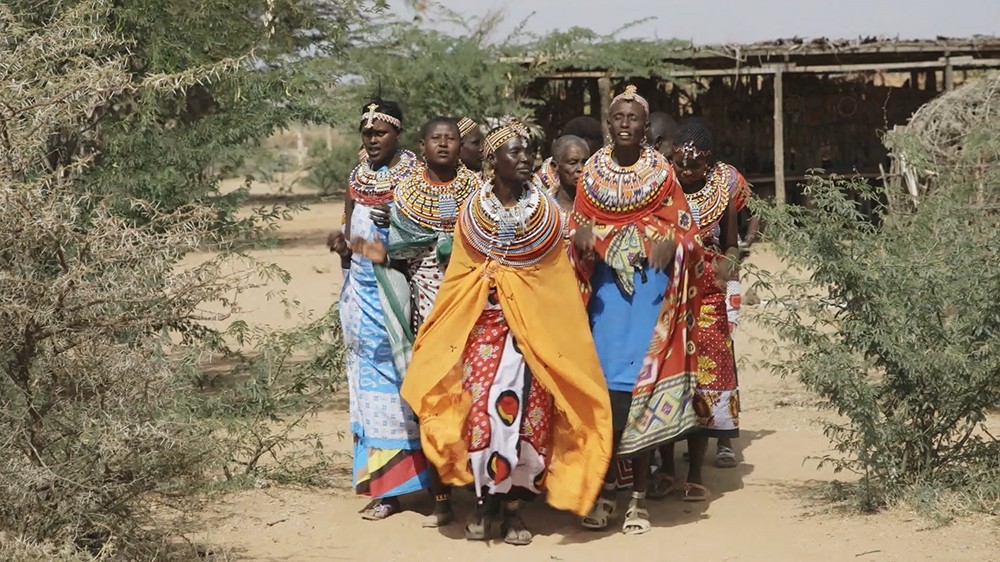 ---
Ethiopia is one of the fastest developing countries in Africa. Seventy percent of its population is under 30. It is a country full of promises, but the nine million girls living across the land are usually the last ones to benefit.
Girls are often isolated—one in three don't go to school and one in five say they don't have a single friend—and their value often centers in the home, according to research by Girl Effect, a charity which aims to empower girls through local culture and innovative media projects. Ethiopia has one of world's highest rates of child marriage and FGM remains a deeply rooted tradition there.
Girl Effect initiated Yegna five years ago to challenge the way people think about girls—and the way girls think about themselves. They do so through music, characters and storylines developed by Ethiopians for Ethiopians, and disseminated through radio drama, talk shows, concerts and community outreach—all popular platforms in a country with a strong musical and storytelling tradition.
The radio drama, also called Yegna, features the five band members representing characters with different backgrounds, facing and overcoming many of the challenges experienced by Ethiopian girls.
Take Mimi, for example. In the drama, she is a street kid who ran away from early marriage when she was 13 and had to sacrifice her education. She lives on the street and sells chewing gum and trinkets to passers-by.
"Mimi is my favorite character because she is most like me. She's very strong and does not give up," says Alemtsehay Berihun, a 17-year-old Yegna fan who lives with her aunt in Wonka, a village in the Amhara region. People in her community have low expectations for girls, she says. "If you're in 10th grade and a girl, people expect the next step to be for you to look for a husband, get married and then have children."
If a girl tries to stay in school, she is told that she will fail and is wasting her time, she adds. "It makes you doubt yourself." Undeterred, Berihun is planning to take the university exam next year in order to study health or medicine—in part thanks to Yegna. "It has showed me how strong I am."
In Amhara, where Berihun lives, and in Addis, the two regions where Yegna is distributed, one in every two people listen to Yegna, according to Girl Effect.
"In our school, I don't think there's anyone who doesn't know Yegna. You would walk into a random house in our town and find a Yegna poster inside," Berihun says.
Even Dr. Tedros Adhanom Ghebreyesus, former Ethiopian health minister and now director general of the World Health Organization, has tweeted in support of "amazing " Yegna a couple of times.
All this seems to have escaped the British right-wing media, which over the years ran articles lambasting the government for funding "Ethiopia's Spice Girls," calling the project "blood boiling waste of taxpayers' money."
The articles caused widespread outcry from MPs and taxpayers. In January 2017, DIFD, which had previously given the program high marks and had planned to give it £11.8m between 2015 and 2018, cut all funding.
DFID said that it had taken the decision after a review of the programme, and had not been influenced by any newspaper campaign. "Empowering women and girls around the world remains a priority, but we judge there are more effective ways to invest UK aid," said their official statement.
The Daily Mail gloated and many applauded the decision. Conservative MP Nigel Evans, for example, told BBC News at the time: "It is a victory for common sense."
The DFID decision came as a blow to Yegna and Girl Effect. "I just wish someone had got on a plane and come and seen it for themselves," says band member Grima.
"We were surprised and disappointed," says Gaya Butler, the Ethiopia country director for Girl Effect. The charity's work might not be as tangible as a vaccination campaign, but it is as important, she says. "Girl Effect addresses the demand for aid rather than the supply of it. For example, many organizations are building schools, but they are not filled because lots of cultural norms are preventing girls from attending school. We tackle those social norms."
Yegna's impact on social issues and how society sees girls is measurable. A 2014 audience survey, conducted by an independent local research agency, showed that 84 percent of girls listening to Yegna reported that it has helped them become more confident, while 76 percent said it has inspired them to continue their education. Sixty-five percent of all listeners said it made them think differently about girls.
Boys have also been inspired: According to a 2017 survey, 95 percent of boys who regularly listen to Yegna agreed that they would speak to someone if they saw a young girl being forced to get married.
And Yegna has helped change parents' attitudes, says Asnakech Kebede, 48, a mother of four girls and a primary school teacher. "It used to be culturally unacceptable for girls to stand up straight and speak up, but now parents see their value."
The organization spent last year adjusting to the disruption caused by the DFID pullout and sought out funding from other institutions and organizations, which have chosen to remain anonymous. Their aim, however, is for Yegna to protect itself by becoming a self-sustained media brand by building partnerships and generating revenues through its media products, Butler says.
The plans is for Yegna to go national with a TV channel in order to reach a wider audience. New and younger characters, including boys, will also be introduced, as the five girls are now all in their 20s.
"I am sure that if we show people a different way, we can inspire the next generation to make things different for girls here in Ethiopia," says Grima.