Getty Images
Jayda Fransen, the Islamophobic British political activist whose anti-Muslim videos were retweeted by Donald Trump in November, was convicted for religiously aggravated harassment Wednesday and jailed.
The 32-year-old deputy leader of the ultranationalist Britain First was convicted of three counts of harassment and handed a 36-week sentence. The group's leader, 36-year-old Paul Golding, was convicted on one count and sentenced to 18 weeks in jail.
The pair were charged in May after a campaign of harassment towards people they believed were linked to a trial where three Muslim men and a teen were being charged for the gang rape of a drunk 16-year-old.
Sex cases involving Muslim men have been a focus for Britain First and other far-right campaigners in the UK following a series of scandals relating to gangs of Muslim men grooming vulnerable young women.
Judge Justin Barron said their actions "demonstrated hostility" towards Muslims: "I have no doubt it was their joint intention to use the facts of the case for their own political ends," he said.
"It was a campaign to draw attention to the race, religion and immigrant background of the defendants."
Their campaign, which they broadcast on social media channels, affected people who were not implicated in the rape trial. They banged on a fast food shop, yelling "paedophile," "rapist" and "foreigner," while two children and a man not directly related to the case were inside.
Fransen was also convicted for similar behavior at an address she mistakenly believed was the home of another defendant in the trial, and for shouting racist abuse at the home of another defendant while his pregnant partner was inside. The woman told the court she blamed Fransen for her miscarriage two days after the harassment.
The defendants in the rape trial were convicted and jailed last year, but prosecutors said Britain First's campaign could have jeopardized the proceedings to the extent that the rapists could have walked free.
Fransen, who has a previous hate crime conviction for yelling abuse at a woman in a hijab, was unrepentant during her sentencing, speaking over the judge to say: "Everything I did was for the children of this country and they are worth it." Her supporters in the courtroom shouted abuse at court staff and journalists and yelled "No surrender."
Trump's retweets of the group's anti-Muslim propaganda videos last year sparked a minor diplomatic spat between the U.S. and Britain, after Prime Minister Theresa May criticized his actions. Trump shot back: "Don't focus on me, focus on the destructive Radical Islamic Terrorism that is taking place within the United Kingdom."
Trump said in January he was prepared to apologize over the retweets, saying he didn't know much about Britain First but just wanted to highlight "radical Islamic terror."
"If you are telling me they're horrible people – horrible, racist people – I would certainly apologise if you'd like me to do that," he said.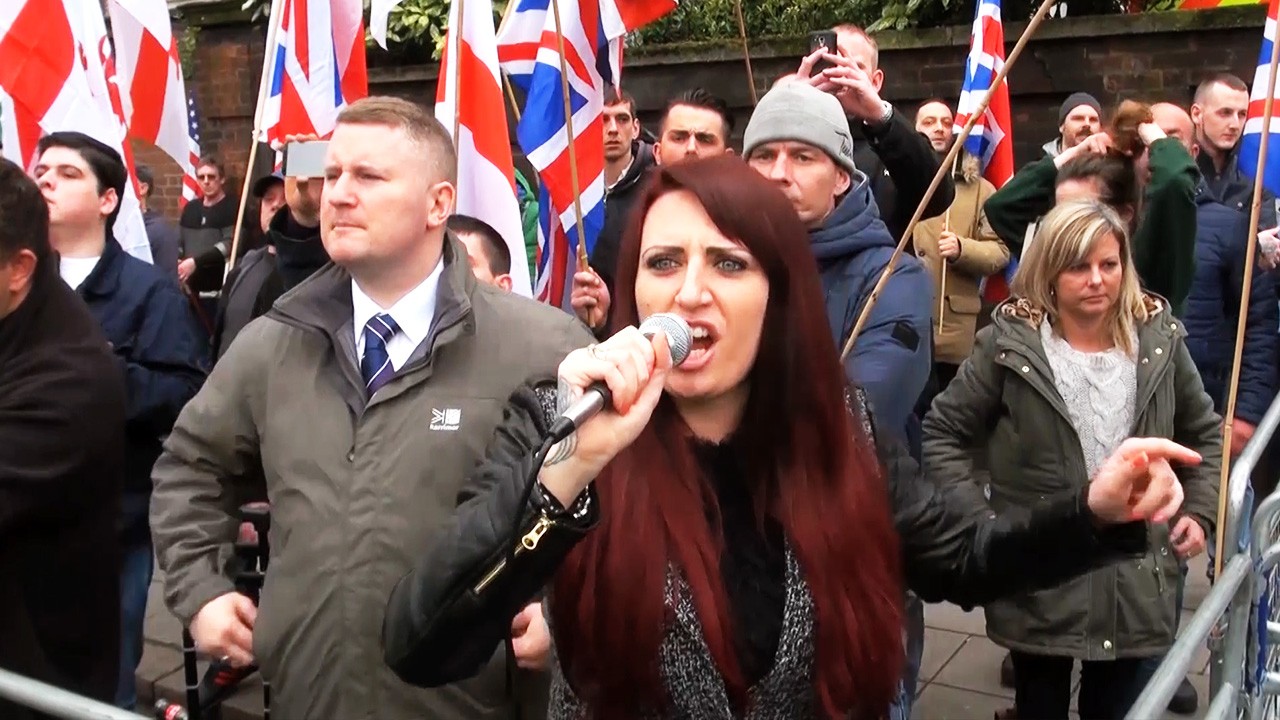 Cover image: Britain First leader Paul Golding and deputy leader Jayda Fransen talk to the media outside Belfast Laganside Courts after Fransen was released on bail on December 15, 2017 in Belfast, Northern Ireland. (Charles McQuillan/Getty Images)