David Pilgrim started collecting racist objects when he was a boy of 12 living in Alabama at the tail end of the Jim Crow era. And now, the 64-year-old sociologist's items comprise one of the largest collections of racist memorabilia in the country, housed in a college basement in Michigan.
His first purchase was a salt shaker shaped like a woman, dark-skinned, in maid's clothes and a headscarf. He smashed it to pieces seconds after buying it. "I don't think it was a philosophical act," said Pilgrim, now the vp of diversity and inclusion at Ferris State University. "I just didn't like it."
For years, the objects piled up in odd places, like spare closets and the trunk of Pilgrim's car.
Then one of his teachers at Jarvis Christian College, an HBCU in Hawkins, Texas, sparked an idea. The history teacher showed the class a chauffeur's hat and asked what it had to do with Jim Crow. After a series of incorrect guesses, the professor explained that although someone like him was able to own a nice car, driving it through rural Texas could offend local whites, so he wore it while driving, to avoid confrontations.
"I remember thinking [the professor] had just taught me something deep about race relations using an object," Pilgrim said.
In 1996, Pilgrim donated his collection to Ferris State with the intention to create a space for that kind of teaching. Fifteen years later, the Jim Crow Museum of Racist Memorabilia was born. "Name an everyday object, we probably have a racist version of it," Pilgrim said.
Tucked away in the basement of the university's FLITE Library, the museum contains $1.3 million worth of segregation signs, minstrel show programs, photos of lynchings, and postcards portraying black people as animals, or caricatured beyond recognition as human beings. Nowhere in the museum are items identified as racist, which is part of Pilgrim's strategy.
"We bring in groups of people and we ask them what is it they see," he said. "For example, someone looking at Aunt Jemima objects or other Mammie images, they don't think of that as offensive. They think of good time spent with their families. Someone else looking at those same pieces, they see the vestiges of slavery and segregation."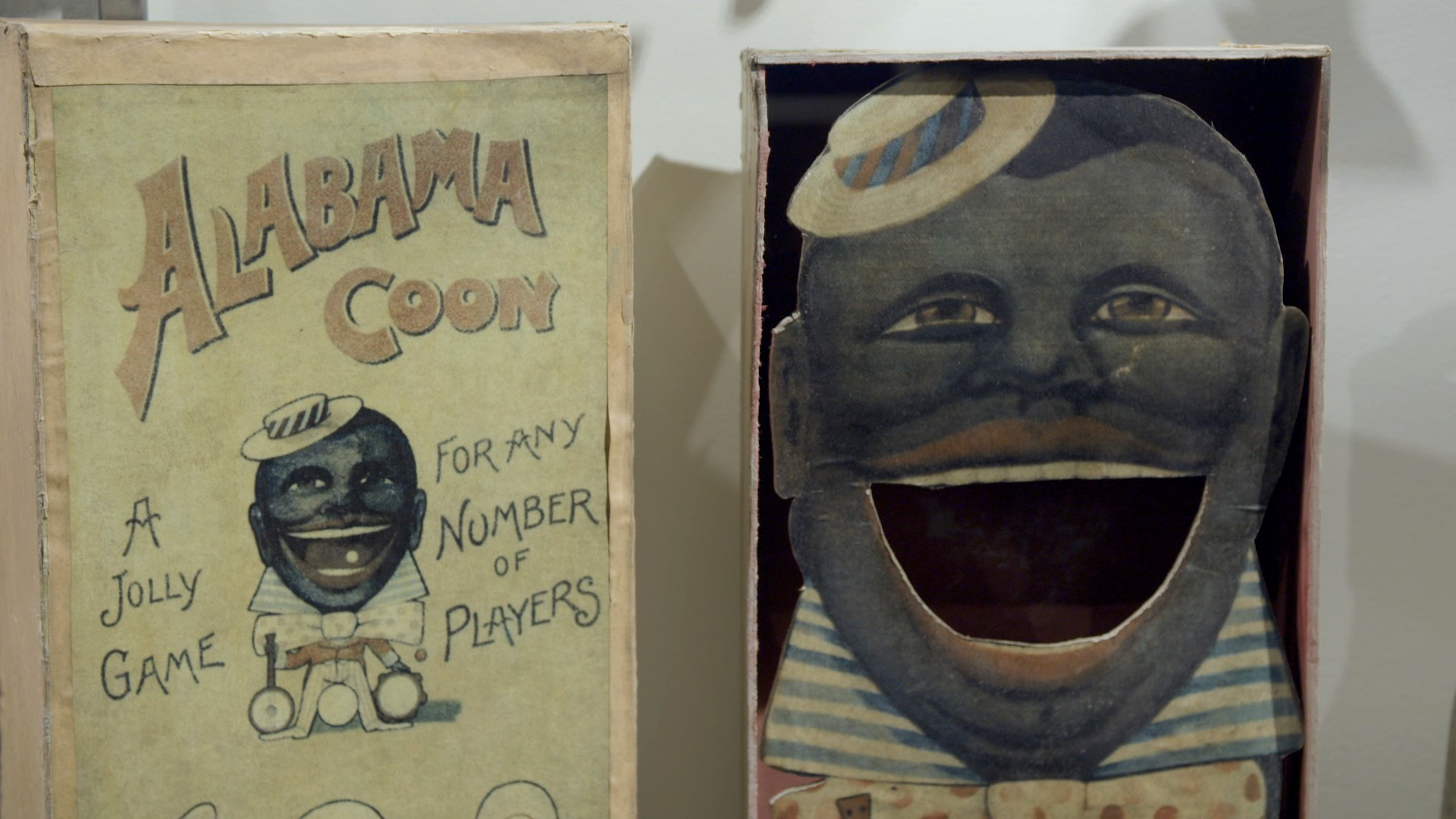 Maggie Walcott, an administrative assistant in the university's president's office, was visiting the museum for the first time. "This is quite frankly just overwhelming," she said. "I'm a parent. So the things that I saw regarding children is difficult." A framed photo of black children with the caption "Alligator Bait" stuck with her. "Someone clearly wanted to put this up in their house as something that they were proud of, which is heartbreaking to me."
Anthony Baker, a sociology professor at the school, agrees. "If we're white, we're uncomfortable with seeing items that our grandmothers gave us or using language that our grandmothers might have used."
Rodney Williamson and Floyd Breham, two students who had visited before, said they were deeply disturbed.
"History repeats itself. I see things like almost every day, all day, on social media," Williamson said. "The things that're down here… are just a reminder of what's happening in today's society."
This segment originally aired March 16, 2018, on VICE News Tonight on HBO.