Left Photo: A memorial to Alton Sterling after his death in July 2016. (AP Photo/Gerald Herbert). Right Image: Then-Congressman Jeff Landry in 2012. (Photo By Tom Williams/CQ Roll Call)
It remains incredibly hard to watch the footage of Alton Sterling's death. The gruesome images captured by bystanders outside the Triple S Food Mart in Baton Rouge, Louisiana, on July 5, 2016, show how the father of five was already pinned to the ground, his hands apparently empty, outnumbered two to one by the cops as his brown body recovered from being stun-gunned, when he was shot at point-blank range. The shooter: a white officer who reportedly intimated to Sterling, only seconds before pulling the trigger, that he was going to kill him.
The playback of the officer's gunshots is still jarring—clapping against your eardrums never quite when expected, like the loads of firecrackers that splinter the humid evening air every Fourth of July in Louisiana.
---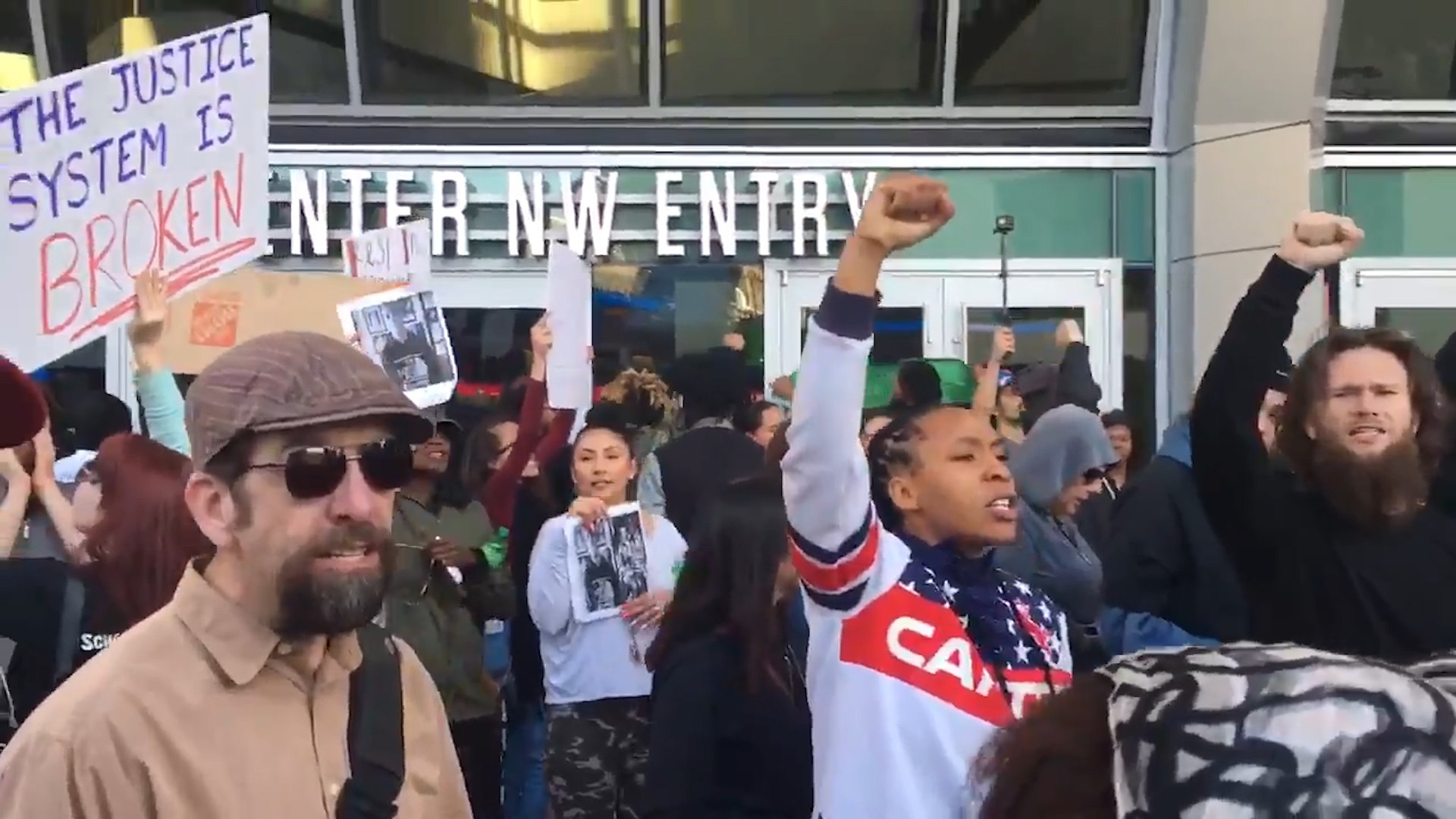 ---
Nearly two years later, state Attorney General Jeff Landry's press conference Tuesday announcing the decision not to indict either of the officers involved was almost equally hard to watch and just as difficult to hear. Landry—a 47-year-old former police officer who was briefly a US Congressman as part of the 2010 Tea Party wave—stood before the podium in a navy suit and gold tie, and, reading from his prepared statement, declared with performed sobriety that "both officers acted in a reasonable and justified manner in the shooting death of Mr. Sterling."
His full remarks, dressed in southern drawl and legalistic mendacity, were the insidious part-two of an increasingly familiar process that gaslights communities of color when their loved ones are unduly killed at the hands of police. Post-factum statements meant to rationalize police violence are an old dance, of course. But the practice has taken on a new edge under the specter of a White House that came to power by picking at the old, undried scab of "law and order" politics.
Donald Trump wasn't subtle in his racism on the campaign trail when he—among other things—angrily pined for "the old days" when protestors "would be carried out on a stretcher." Yet even Trump called Sterling's killing back in 2016 "terrible, disgusting." When he was questioned about Sterling's death and the killing of Philando Castile by a Minnesota officer (who since then has been acquitted by a jury) in the immediate wake of those back-to-back incidents, the then-candidate went as far as telling Bill O'Reilly, "I mean, the one man who was being stepped on and then shot, in particular, I looked at that and I said 'wow, that's bad. That's bad.'"
This week, though, White House press secretary Sarah Sanders deflected questions on Sterling, calling the case "a local matter." And the current Justice Department, led by Jeff Sessions—an Alabamian who was blocked from becoming a federal judge in the 80s due, in part, to concerns about his views on race—halted reform efforts credited with reducing police shootings by 29 percent. Last year, the Sessions's Justice Department cleared both officers involved in Sterling's death of federal civil rights charges—admittedly a higher legal bar.
For his part, Landry looked to cast his inaction as grounded in stubborn realities, concluding near the end of his 20-minute statement, "These are the facts." That declaration was preceded by an attempt to paint a picture of by-the-book cops pained to the core as they dutifully tried to get Sterling to comply, only to be forced to take lethal action. It was a play-by-play commentary contradicted by video evidence and the public statements of Triple S' owner, Abdullah Muhlafi, who was reportedly not re-interviewed as a witness for the state attorney general's report—even though the incident occured steps from his shop and despite Muhlafi's own claims that while Sterling was armed (a loaded .38-caliber handgun was found in his right pocket), he never appeared to try and actually use the weapon.
Anticipating these criticisms, Landry said Tuesday, "This decision was not taken lightly; we came to this conclusion after countless hours of reviewing the evidence."
Americans are told, again and again, of the quasi-religious need to value and trust in the work of law enforcement, particularly by the Trump administration. And yet, how can people respect a system that utilizes the sophisticated tools of legalese, the purported due diligence of formal reports, and the officialdom of drawn-out investigations to impugn common sense justice? These evermore rote non-indictment statements, in essence, mock the families victimized by police brutality with the old tragicomic line: "Who you gonna believe, me or your lying eyes?"
"They get away with it by putting it right in your face and calling it an official report," as the Sterling family's lawyer, Chris Stewart, put it.
These press conferences are, in practice, a confidence game meant to make the state look stoic and rational so that commentary or public protests overtly questioning the state's rationale come across as immoderate, or even unhinged. If the prosecutor declares that he feels downright awful about what happened, but is simply being reasonable, according to the letter of the law, then the press, in turn, is pressured to also be impassive, no matter the outrageousness of a death we can all see on video.
But let's be brutally honest about what happened here: The decision to not even allow for a court case to decide if these Baton Rouge cops acted wrongfully is not just an insult to the Sterling family, and to the spirit of justice; it is also an insult to our intelligence.
As Wesley Lowery reported at the Washington Post, after meeting with investigators, "Stewart, the lead attorney for the Sterling family, told reporters that evidence shows that at the beginning of the interaction with Sterling, Officer Blane Salamoni put his gun to Sterling's head, and said, 'I'll kill you, bitch.'"
Are we really to believe that Officer Salamoni preemptively yelling that he will kill Sterling wasn't enough for at least a trial? Or that the Louisiana Attorney General's office, in light of the recklessness on display in the video, couldn't have admitted that the rash actions taken by the officers were "unreasonable"—the characterization necessary to indict? And are we, as writers, observers, and citizens, willing to pull the wool over our eyes and not admit that Sterling was likely to receive different treatment from the officers if he were white?
A few years ago, the famous gun-toting Bundy family and dozens of other white militia-minded supporters faced off with federal law enforcement officers who had moved to repossess Bundy's cattle due to his noncompliance with federal law. And not only did Bundy live to tell the story, but the federal case against him was declared a mistrial due to government misconduct.
What are the odds that the family of the young California black man Stephon Clark will get justice for the reckless actions (also captured on video) that ended his life just weeks ago when he was shot at over 20 times by officers of the Sacramento Police Department in his grandmother's backyard for holding a cell phone cops suggested they thought was a gun?
At this juncture, after years of damning evidence produced by academics and data journalists, it's clear that the process for adjudicating police brutality—whether resulting in death or injury—is a systemic sham. The American state has, in essence, constructed a process riddled with what legal experts have called "ubiquitous" conflicts of interests between prosecutors and their law enforcement partners that, in the end, tends to sanction the disproportionate violence perpetrated by white officers against blacks by granting accused officers the most generous interpretation of plausible deniability that the law allows.
It is still not clear that either of the Baton Rouge police officers involved in Sterling's death, who are currently on paid leave, will even be fired. Sterling's community is hoping that, in the least, Officer Salamoni—who fired the fatal shots—will be dismissed after an administrative review. John McLindon, the attorney representing Salamoni, said he believes a decision is imminent. "I think they've already made up their mind. They're going to terminate him," he said in an interview, vowing to launch an appeal.
But even if the shooter does lose his job, the Sterling family now belongs to a long line of loved ones who have lent their politeness and patience to the official process, investing money, energy, and precious time into garnering justice, only to be told that—after very careful consideration and a thorough investigation—nothing significant will be done. "The system failed us," Alton Sterling's aunt, Sandra, said during a news conference.
"He was murdered by two white, racist police officers!" cried another distraught aunt to Sterling, Veda Washington. "He was murdered like an animal. And they said they don't see nothing wrong?"
One of the many reporters prying for a soundbite, nipping at Washington's heels as she walked to her car after the family was told of the non-indictment, asked what she had to tell Landry's office in response. She whipped around one last time towards the camera, clearly having had enough: "I told them to 'kiss my ass!'"
In light of law enforcement's disingenuous respect for the rule of law when it applies to them, who can blame her? Who, if they saw themselves in her pain, wouldn't have felt the urge to say the same?
Sign up for our newsletter to get the best of VICE delivered to your inbox daily. Follow Talmon Joseph Smith on Twitter.