Mark J. Rebilas-USA TODAY Sports
The AP has its own Top 25, but here at VICE Sports we do things a little differently. We're not just going to rank teams, we're going to give you the Top 25 things you need to know about college football each week. Yeah, yeah there have already been real games, but everyone knows this weekend is the true start, so this is still our preseason outlook.
1. Tua Tagovailoa: If you drooled over Russell Wilson at NC State and Wisconsin, you know there is something to be said about the importance of a jack of all trades, the complete package. And that's exactly what Tua is. Sporting the best left arm in all of college football, a casual fan can already point out Tagovailoa has the makings of an extremely efficient passer. Combine that with his pocket awareness and mobility and he suddenly becomes the college game's best escape artist since 2011 Russell Wilson. Now I understand most of the country was introduced to him during the last game of the 2017 season and that he has been heavily scrutinized under an extremely small sample size, but that game just so happened to be what will define his entire football career—leading a second half and overtime comeback to clinch a National Championship for the Alabama Crimson Tide. No matter what he does for the rest of his life, nothing can top that storybook moment. But looking forward, this undersized, 6'1" quarterback should be considered a favorite for everything he does the rest of his football career. Including winning the 2019 National Championship.
2. The New Redshirt Rule: As the NCAA's attempt to fix the transfer problem that has plagued the sport, the 2018 season will debut a new rule where players can participate in up to four games while still maintaining a redshirt. From a fan base's standpoint, this news is exciting as it allows notable quarterback competitions like Bama's, Clemson's, Georgia's, FSU's, and USC's to play out several games into non-conference play before head coaches are forced to settle on a signal-caller for the rest of conference play. And with actual, in-game experience, I fully expect some of these younger quarterbacks to win major quarterback battles, which means we should still continue to see transfers in the coming years.
3. The Year of the Freshman QB: Going off the new redshirt rule, a number of freshmen quarterbacks will get their opportunity to immediately start for playoff contenders. The three that I am most anxious to see in action are Clemson's Trevor Lawrence, Georgia's Justin Fields, and USC's J.T. Daniels. Lawrence and Fields are considered prodigies at the position and while there is immense pressure to take over the reigns at their respective programs, both are afforded the luxury of being on two of the most talented teams in the nation that should be repeat playoff participants. Whether or not Lawrence and Fields can win their starting jobs, Kelly Bryant and Jacob Fromm will be able to take Clemson and Georgia just as far. Daniels, on the other hand, is another Mater-Dei-turned-USC-starting-quarterback (a la Matt Barkley and Matt Leinart), except he skipped his senior year of high school for a chance to win the starting job this fall. And while USC is the favorite to win the Pac-12 South, they lose their leading passer, receiver, and rusher from last season, meaning growing pains are bound to be present early on.
4. All Eyes on Ohio State: College football headlines were dominated this month by Ohio State's investigation regarding former assistant football coach Zach Smith and his alleged domestic abuse during his time at Columbus and Florida. After an internal investigation uncovering pages of evidence and a press conference citing "poor memory," Meyer was slapped on the hand by OSU administration with a meager, three-game suspension and will resume coaching duties against Big 10 competition. He can thank his 73-8 record and 2014 National Championship for saving his job, but in the meantime, I'm sure plenty of people around the country will be rooting hard for the Oregon State Beavers to somehow knock off the Buckeyes in week 1 (Beavers finished 1-11 last year while the Buckeyes are the favorite to win the Big 10).
5. The State of the Pac-12: Just outside of the top four, once again, is the Pac-12 in its current iteration. Although it was a fluke in my eyes, this Power-5 conference missed the playoffs last season and proceeded to go a collective 1-8 in Bowl Games (thanks, Kyle Whittingham). It was a huge letdown from a conference season that saw individual talent consistently shine throughout the year. This year, the Pac-12 returns at least four bona fide Heisman contenders in Stanford's Bryce Love, Arizona's Khalil Tate, Oregon's Justin Herbert, and Washington's Jake Browning. Each will give their teams a chance to win the conference; however, Browning will be the heavy favorite to guide the Huskies to a Pac-12 title and a potential college playoff berth next January.
6. UCF Football aka #2017NATI🍑NALCHAMPS: The Golden Knights are one of few non-Power 5 programs that would actually be upset with a No. 6 ranking, because that is exactly where they finished in the final AP Poll after completing the lone undefeated campaign of last season. And while they enter this season without former head coach Scott Frost or former conference defensive player of the year Shaquem Griffin, they return star quarterback McKenzie Milton. Still not convinced by the Golden Knights? Watch highlights of Milton dismantling UConn last night.
7. A Defensive Heisman Winner: The defensive line is not a statistically sexy position (unlike cornerbacks who can kick/punt return and occasionally play on offense), but you do not need to look far to find defensive linemen that can dominate games. This season boasts two of the best we've seen in recent memory: Houston's Ed Oliver and Ohio State's Nick Bosa. I think both players will wreak havoc all the way to top-5 selections in next year's NFL Draft, but it still remains to be seen how the rest of the Heisman candidate field plays out and if either player will have a legitimate shot at winning the award. For now, Houston's schedule looks too weak for serious consideration and no one will feel sorry for Ohio State, but both of these players will deserve some serious consideration by year's end.
8. Michigan vs. the Media: Ever since Michigan football seemingly figured out their coaching situation by naming beloved alum Jim Harbaugh as the Wolverines' head coach, Ann Arbor has been restless for a winner. Repeatedly tabbed as a preseason favorite, they haven't come close to winning anything significant… yet. Last season was a disaster as the team slumped down the stretch with key injuries. A defense this good shouldn't go to waste and it looks as though with the addition of Shea Patterson at quarterback, the Wolverines will finally have an offense to match. Though I excuse Harbaugh from any of the shortcomings his team has had so far, this season will absolutely dictate the rest of Harbaugh's tenure as Michigan's head coach.
9. Kyler Murray: It's not easy to replace one of the most accomplished quarterbacks in college football history. It's also not easy to put aside a professional baseball career for another year of unpaid collegiate athletics, but that's exactly the situation Kyler Murray finds himself in. What he will be able to take solace in is the fact that his baseball career with the Oakland A's will still be waiting for him and that Lincoln Riley is his head coach. Oklahoma will always contend given the depth of their talented roster and the relatively weak (ten-team) Big 12 conference they currently find themselves in. On top of that, they have an offensive mastermind as their head coach and one of the most talented, versatile quarterbacks running the show. Murray doesn't have to be Baker Mayfield for them to succeed. Just being himself might be good enough to lead Oklahoma to a National Title, something Mayfield was never able to do.
10. Lane Kiffin: "They hate him cause they ain't him"—the most polarizing head coach in college football is back for his second season at FAU and their first game on tab should be a fun one: at No. 7 Oklahoma. It would be the shocker of the year if the Owls actually pull off a win against one of the best teams in the nation, but even in defeat, I still think star running back Devin Singletary will shine as FAU empties their bag of tricks and puts the country on high alert before a big-time program comes calling to take a chance on Lane Kiffin, again.
11. Corn-fed Men Cannibalizing Each Other: Hear this now: the Big 10 will not be sending a team to the college football playoff. And it's not to say that I don't think the conference has enough talent to get there, it's almost a case of too much of the same talent. Both the Big 10 and Pac-12 missed out on last season's college football playoff as the conference winners racked up too many losses to justify a playoff invitation. I have a feeling this will happen to the Big 10 again, even though all contenders return teams that are capable of being some of the best in the country. Wisconsin returns Alex Hornibrook and Heisman sleeper Jonathan Taylor, Michigan adds Shea Patterson to a team that already bolsters a tremendous defense, Penn State returns Trace "All the Marbles" McSorley, and Ohio State returns Urban Meyer. My problem with this conference is that given the Big 10's infamous physical nature, a repeat of last year will happen where the conference winner will have at least two losses. There is far too much strength vs. strength to pick a decisive winner that will run the table; however, my sleeper to win this conference is the Michigan State Spartans.
12. Deondre Francois is Back: Combine Cam Newton with Kurt Warner and you get Deondre Francois. Those are probably the two most different quarterbacks one can think of, but Francois has a combination of unlimited quarterback potential (size, arm strength, and natural athleticism) and a special knack for hanging in the pocket to deliver big throws in the face of tremendous pressure. And he will be under considerable pressure this season when he assumes the starting job in Tallahassee with fellow quarterback James Blackman breathing down his neck. The FSU quarterback room suddenly became crowded when Francois went down with a season-ending knee injury in last year's opener against Alabama (note: never play Alabama unless you absolutely have to). What followed was a disastrous 2017 campaign, with backup quarterback James Blackman's valiant performances and gradual development proving to be the only silver linings. To make matters worse, the Florida State program was figuratively slapped in the face during the offseason when head coach Jimbo Fisher left the team for Texas A&M. This ripple effect led to FSU poaching one-time USF and Oregon head coach Willie Taggart, who will be tasked with immediately turning the Seminoles back into a contender and competing against the likes of Clemson and Miami for the ACC crown. But while their pride might still be hurt, FSU fans can take comfort in the fact that they have the quarterback to become relevant again.
---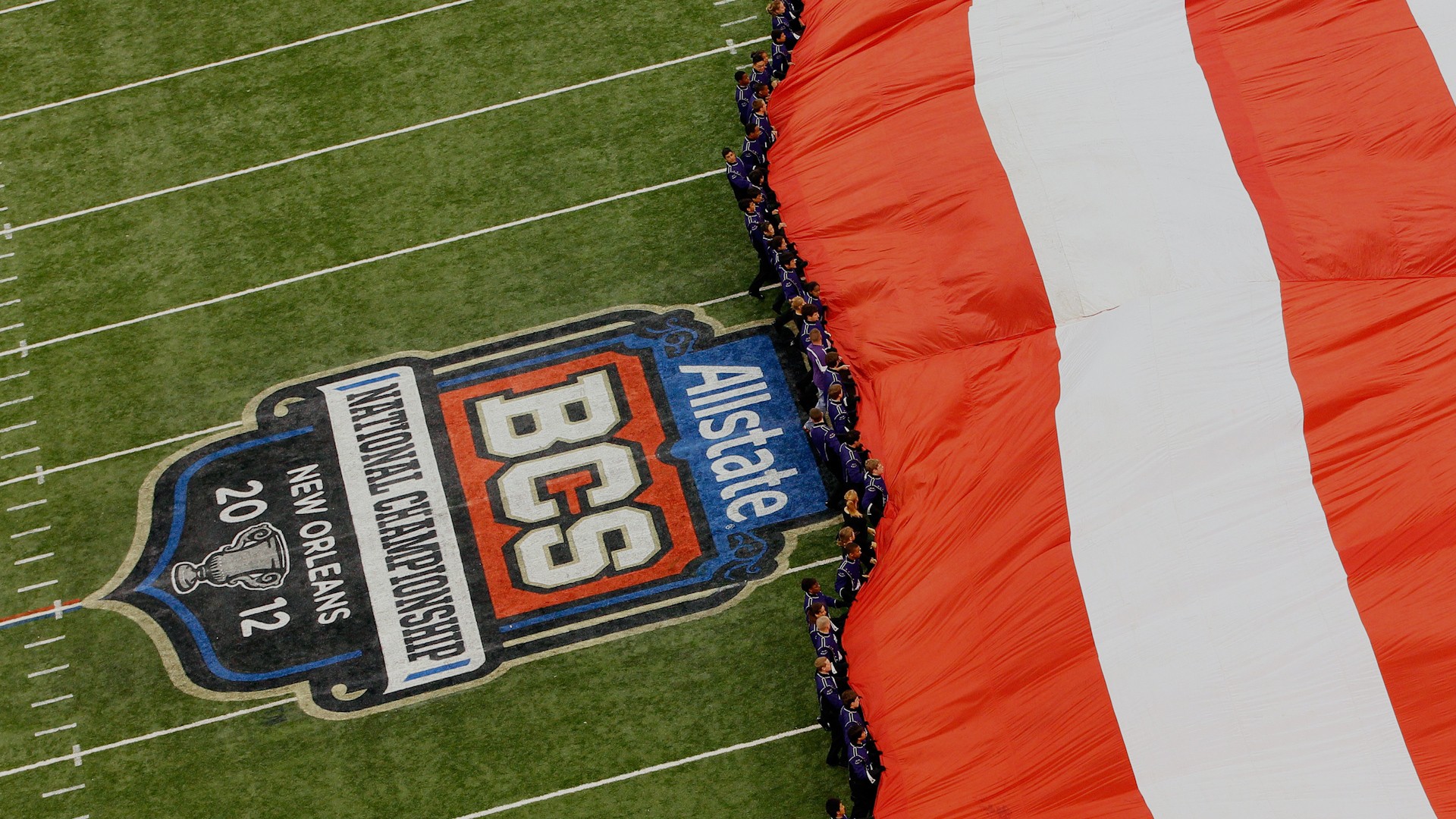 ---
13. Oregon Football Will Be Back: Speaking of that ripple effect, Taggart left a void in Eugene that also felt like an even bigger slap in the face to the Ducks fanbase. What was once the sexiest brand in all of college football was rendered a stepping stone for a coach to leave for an even bigger program. This slight, and losing the school's all-time leading rusher, would spell doom for most programs, but not Oregon. They promoted their offensive-line whiz Mario Cristobal to head coach and more importantly return one of the best quarterback prospects in all of college football—Justin Herbert. Herbert spent a considerable amount of last season on the bench nursing a broken collarbone, but when he was on the field, the Ducks were an impressive 6-1. The Ducks have a considerably difficult schedule, but if they can somehow navigate a challenging Pac-12 North, the Ducks could realistically find themselves back amongst college football's elite programs and Herbert may wind up in New York City as a Heisman finalist.
14. Getting to Watch Khalil Tate Again: Like I mentioned earlier, the Pac-12 has several legitimate Heisman contenders and Arizona quarterback Khalil Tate might be at the very top of that list. Ever since EA Sports and the NCAA discontinued their video game franchise in 2013 (PAY THE PLAYERS), Tate is the closest we've gotten to a college football video game. In his first meaningful action last season, he came off the bench for the Wildcats in a game at Colorado and proceeded to run for 327 yards and 4 touchdowns on 14 carries while going 12-13, passing for 154 yards and another score. That's insane. And this year, he'll be paired up with quarterback guru Kevin Sumlin, who was cast off by Texas A&M before they nabbed Jimbo Fisher (Hey! There's that ripple effect again). Sumlin's team will probably finish 8-5 (again), but this version promises to be must-watch, late night television.
15. "YOU PLAY TO WIN THE GAME": If you need another excuse to stay up late, but prefer compelling dramedies as your go-to TV entertainment, switch the dial to Arizona State football. Apart from stud receiver N'Keal Harry, the roster itself doesn't offer much and no one seems to think this Sun Devil team will do especially well this season. But they immediately became THE program to follow during the offseason when they named Herm Edwards as their head coach. Edwards hasn't coached football since 2008 and hasn't coached college football since 1989. So just as you might think Herm doesn't know what he's getting into, there is actually legitimate reason to believe he doesn't know what he's getting into with the Arizona State Sun DEVILS:
"Devil's Digest, huh? Where are you located my man?"
"Right here in Tempe."
"Okay, Devil's Digest, Okay… I'm Catholic, I'm a Christian, watch out them devils… Just saying."
"There are Devils all over the place."
"We're good brother, we're good. I ain't takin it personal."
"Uh…" *sudden realization that Herm Edwards doesn't know what he's gotten himself into*
16. Chip Kelly is Back Too: At this point, it must seem like I'm desperately trying to convince readers to stay up until 2:00 AM to watch college football. It's cause I am. The Pac-12 offers many tantalizing narratives this season and none are more significant than the return of Chip Kelly to college football. He left the game faster than when he found it, and this time around, he's in charge of a sleeping-giant program in UCLA. With some of the best talent right in his backyard, we could see an exceptionally quick turnaround in Westwood because, this time around, Kelly wouldn't have to convince star high school players like De'Anthony Thomas to leave sunny Los Angeles for wet Eugene. Case in point, Kelly has the perfect dual-threat quarterback prospect at his disposal with true freshman Dorian Thompson-Robinson. I'm just eager for the eventual Oregon vs. UCLA (Nike vs. UnderArmour) wars to come.
17. David Sills and His Unlikely Career's Next Chapter: One of the better storylines to play out last season was David Sills's return to the limelight as a receiver for West Virginia. The former quarterback savant famously flamed out as a future USC recruit, but he bounced back in a big way on the college football scene as one of the country's best deep threats at wide receiver. He returns for one final season in Morgantown, where he'll pair up with battery mate and Heisman hopeful Will Grier as the Mountaineers will look to compete for second fiddle in the Big 12. And if Sills can sustain the success he had early on last season, we could be looking at one of the most unlikely, roundabout careers take its next turn at the 2019 NFL draft.
18. The Next Josh Allen (only much better): And while I'm still on the subject of the 2019 NFL Draft, I would be remiss not to mention one of the best quarterback prospects in college football: Drew Lock. Missouri doesn't figure to be a true contender this season, but that shouldn't affect his draft stock one bit. As this year's version of Josh Allen, Lock will be the number one prospect football old-timers drool over for his size and arm strength. Except unlike Allen, the hype is tolerable and his play is palatable. Lock doesn't play in Wyoming against Mountain West competition, he plays in the SEC and will be tested by Georgia and Alabama's elite defenses this year. If you root for a bad NFL team that will likely be selecting a quarterback in next year's draft, do yourself a favor and get familiar with Lock (same thing applies for Herbert, Grier, Jarrett Stidham, and Ryan Finley for that matter).
19. Good Luck, Idaho! Okay, back to college football in its purest form: FCS 1-AA. DOUBLE-A FOOTBALL BABY. This opens up a whole can of worms that I quite honestly don't have the time to get into right now—including an actual college football playoff system that not enough people are aware of—but every season, colleges move up or down between FBS 1-A and FCS 1-AA in a system that somewhat resembles a relegation format. However, this year no teams got promoted. The Idaho Vandals will be the lone program to drop down the college football ladder as they move from the Sun Belt to the Big Sky conference. Personally, this move makes too much sense because, for the life of me, I could not understand why a college football team in IDAHO was in the SUN BELT conference. So instead of flying cross-country every other week to finish with a 4-8 record, Idaho will be facing off against teams like Southern Utah, Eastern Washington, Montana State, and Idaho State. And who knows, maybe the Kibbie Dome, which was the smallest FBS-1 A stadium in America, can become the next Fargo Dome in the FCS.
20. Bronco Nation is Alive and Well: Staying in the state of Idaho, Boise State's a program that has (somehow) become a consistently successful program year after year. And while the Broncos haven't been the same college football Cinderella they were when Chris Peterson was in Boise, the Broncos will have a great opportunity to climb back in the Top 10 by the end of the season. There isn't a single game on their schedule where they aren't favored to win and on top of that, they return senior quarterback Brett Rypien and head coach Bryan Harsin for one final season together. Harsin has guided the Broncos to a New Year's Six Bowl win before (2014 Fiesta Bowl) and it is entirely possible that the Broncos get back there in what will be Rypien's, and might be Harsin's, last year in the Mountain West.
21. The Best Quarterback You've Never Heard Of: At the beginning of last season, you would be excused if you had never heard of quarterbacks like Tua Tagavailoa, Khalil Tate, or McKenzie Milton. But there was another quarterback who silently made waves among college football analysts and scouts alike. Nathan Rourke is the best quarterback you've never heard of and since he plays for the Ohio Bobcats of the MAC, there's a good chance that he will continue to remain relatively unknown. So if you're down to watch some Wednesday night football later in the season, tune in to one of the most efficient and complete quarterbacks in the country.
22. It's a New Year for Everyone! Last season wasn't so good for UTEP. The only possible excuse to watch them was if you were a New York Giants fan scouting Will Hernandez or a fan of their opponent, in which case you would've left the game happy: UTEP finished a woeful 0-12 last year, the only FBS team without a win. But there's always a new year and cause for hope! In Week 1, the Miners will host the Northern Arizona Lumberjacks to try getting back in the win column. And from a mascot matchup alone, a Miner fighting a Lumberjack sounds like something I have to see.
23. … and it's over for these guys before it even got started: And even if UTEP loses every game again this season, at least they're not Ole Miss and Baylor. These two programs face (potential) sanctions which rule them bowl ineligible. The Rebels (who desperately need to change their name) were handed a postseason ban for a recruiting scandal from five years ago. They have since resorted to Hunger Games antics to hand out the remaining scholarships they still have.
On the other hand, Baylor hasn't officially received a ban from the NCAA, but they were allegedly considering a self-imposed bowl ban because of the fallout from the widespread sexual assault scandal. And it wouldn't be much of a show of contrition anyway—a team that finished 1-11 last year is not going to magically become a bowl team over the course of one offseason.
24. Texas Is Back? We'll keep things in Texas. In 2016, Joe Tessitore couldn't wait to famously declare, "TEXAS IS BACK" when they knocked off a Top-10 Notre Dame team. They proceeded to finish 5-7 that year and Tyrone Swoopes, the quarterback who scored the game-winning touchdown, is currently a tight end trying to crack the Seattle Seahawks roster. This is all to say that Texas has never been able to legitimately resolve their quarterback situation ever since Colt McCoy led this program to a title game appearance in 2009. However, there is reason to believe that Tom Herman's squad finally has their quarterback room figured out with last season's emergence of Sam Ehlinger. So for the time being, Texas is NOT back, but keep your hopes up. This could (finally) be the year.
25. The Cheez-It Bowl: Ever since the introduction of the College Football Playoff, I've found myself caring less and less about most other bowl games. And this is unfortunate, especially for someone who remembers watching perennial Top-10 teams square off in postseason games like the Holiday Bowl at the end of the season. But now we've entered the age of obscure and bizarrely named bowl games. For the most part, these names are beyond stupid and the quality of play is terrible—a 5-7 team should NEVER be eligible for a bowl game. But every now and then, you stumble across a gem, a bowl game you didn't know you needed. And that's exactly what you get with the Cheez-It Bowl, formerly known as the Cactus Bowl. Played in Chase Field (a baseball stadium the size of most NFL stadiums, with a swimming pool), I simply cannot wait to watch equally mediocre Pac-12 and Big 10 teams go head-to-head while I lounge on my couch and dig into a box of Cheez-Its. This simply screams, "BOWL SEASON." (And who knows, maybe the winner will finish in the top 25.)
Honorable mention: Rest in peace, Tyler Hilinski.