Jimmy Butler's cell phone is shaking. We're plopped down in the last row of his home theatre on a couch that feels like a velvet sponge, a blanket covers his outstretched legs.
Butler leans over, looks down, smiles. He picks the phone up, shakes his head, then turns it around to reveal who's on the other end. Coach Thibs. "See?" Butler says. "It's crazy, right? He's always on my phone."
Everything about Butler's place in this exact moment and time can and should be described as "crazy." From the majestic hillside villa tucked away in Malibu—a remote paradise where the 27-year-old lives with a tight crew of friends, family, and paid aides (a photographer is sleeping in the guest house)—to the sudden reunion with Tom Thibodeau, the tireless coach who helped turn Butler into one of the least probable success stories in NBA history, to the Chicago Bulls needlessly trading Butler earlier this summer…the list can go on forever.
Butler's origin story is absurd. Small town Texas kids with no scholarship offers out of high school don't become NBA role players, much less superstars. They aren't oddball country music-loving characters who pal around with famous actors. And they certainly don't accomplish all they have while going out of their way to stand tall as a positive figure off the court. Butler won the NBA Cares Community Assist Award last April, and says he aspires to use his broadening platform to navigate the contentious social issues that plague the country. But his rags to riches past and lavish present are not as moving as what promises to lie ahead.
Butler was voted onto his first All-NBA team last season, with scoring, assist, and rebound averages usually associated with someone headed to the Hall of Fame. (Butler tallied more Win Shares last year than Larry Bird when he won his first MVP). But there's still room for improvement, and next season Butler will be surrounded by players with enough talent to relieve some of the pressure he's felt in years past.
It's been an intense, course-altering summer for Butler, whose reward for establishing himself as one of the world's 15 best basketball players was the trade, three months ago, from Chicago to the Minnesota Timberwolves, a franchise that's perpetually struggling to stand on its own two feet. But Butler—alongside Karl-Anthony Towns and Andrew Wiggins, two Rookie of the Year winners who can fill an ocean with their talent and upside—is poised to change all that.
Already one of, if not the, most physically fit individuals in a league overcrowded by the most athletic specimens on earth, Butler dedicated his summer to figuring out a way to get into even more ridiculous shape—the better to handle one of the NBA's toughest workloads. (According to NBA.com, he ran more miles per game than all but two other players during 2016-17, and led the entire league in each of the previous two seasons.)
"The man, simply, is addicted to working," says Butler's personal skills trainer Chris Johnson.
His weekly schedule consists of approximately nine hundred thousand hours of on-court basketball drills, spliced with a grueling workout plan that made my eyes water when I first heard it. Without an alarm, Butler is out of bed by 5:45 AM and on the court by 6:00.
"He's a serial killer's dream. He does the same shit every fucking day."
Meals hardly deviate. It's scrambled egg whites, turkey bacon, turkey sausage, and a protein shake for breakfast. Lunch is Chipotle, with plain white rice, double chicken, light lettuce, and half a cup of vinaigrette (no cilantro). At night, his chef will prepare a dish around fish or chicken. He hasn't had red meat in years and steers clear of alcohol.
When Butler isn't drenched in sweat, most of his free time is either spent in his theatre watching the same movies over and over (Friday is a favorite), or escaping into never-ending games of Spades or dominoes. Yoga is on the docket. Nightclubs are not.
"He's a serial killer's dream," says Butler's personal strength trainer Travelle Gaines, who counts NFL superstars like Antonio Brown and Demaryius Thomas as clients. "He does the same shit every fucking day."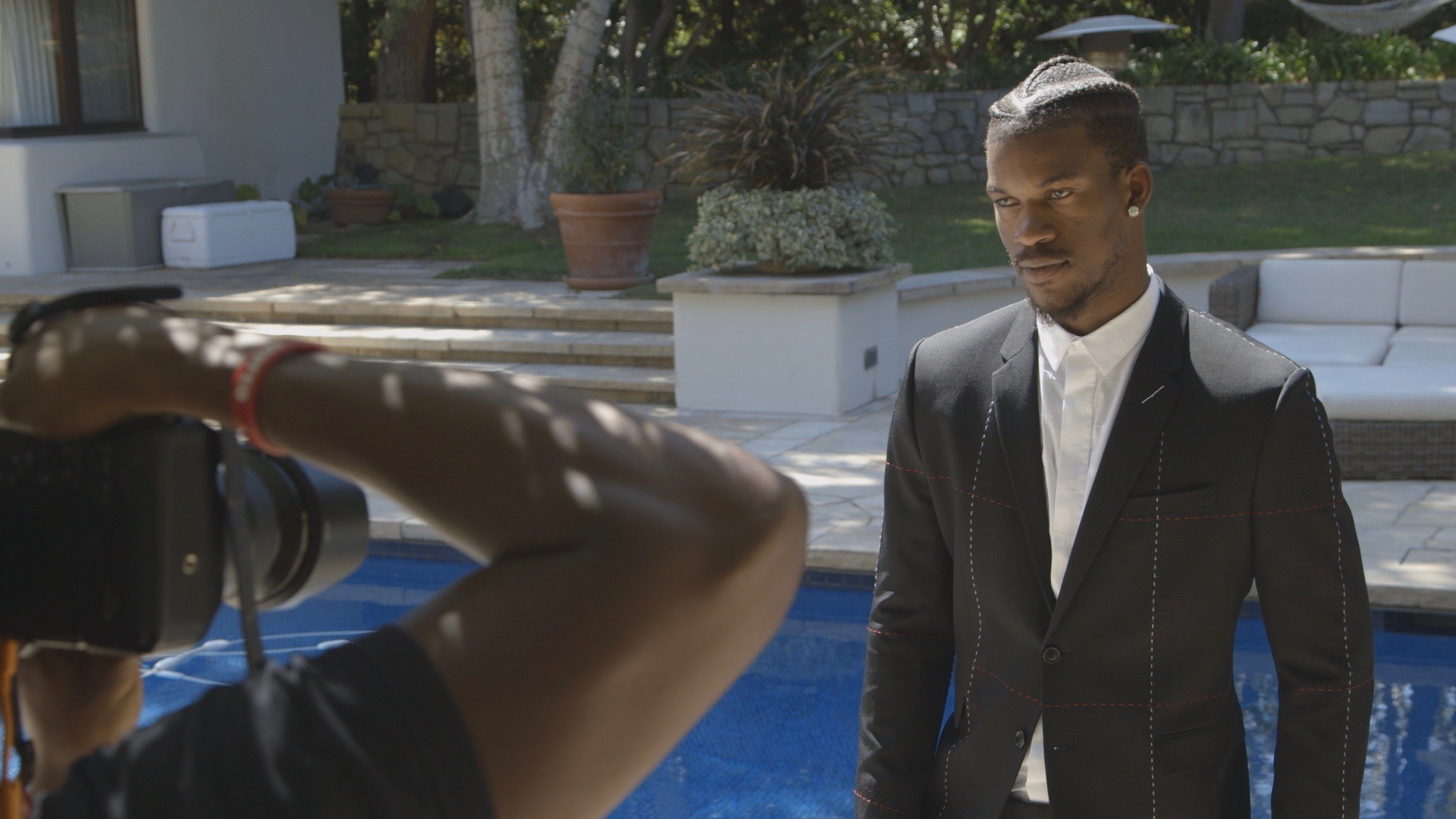 ---
Butler is shirtless in tan pants and Jordan slides when we first meet outside his pool house. "Want a beer?" He reaches into a brown Albertson's bag and removes a cold can of Michelob Ultra. His hair is braided tight like a crown, and it's impossible not to notice how much his chest looks like gladiator armor. This is also a reminder that our interview (and a photo shoot he's doing) have pushed Butler out of his usual routine, but he doesn't seem too worried about it.
"I'll just make it all up in a short period tonight and be really tired in the morning when I wake up and start my schedule all over again, but it's part of it," he says.
The mood when Butler enters a room somehow relaxes and tightens at the exact same time. His personality glides from standup comedian to superintendent. He's genuinely curious, cerebral, and a little mischievous. Ultimately, everything, from his schedule to his diet to the people he chooses to spend every waking minute around, is about efficiency. Even in this wonderland, with potted lemon trees at every turn, a hoard of wicker patio furniture, and a Southern California sun that dares anyone under it to do nothing but sip gin and tonics on end, Butler's playfulness has limitations.
"I'm confrontational. I feed off of confrontation. It makes me go."
The conversation turns to his work ethic. He understands not everyone is as driven as he is, but can't comprehend the thought of someone (especially another NBA player) not doing all they can to reach their full potential. It bugs him, even though he knows it shouldn't.
"I think it's wrong for me to think that people want what I want because in reality they don't. Some people are OK with getting drafted. Some people are OK with playing two years in the league, four years in the league, six years in the league. Some people are OK with just scoring a basket in an NBA game. I'm not OK with any of that. I'm not satisfied until I win a championship," he says. "I want everybody to work the way that I work and it's wrong for me to think like that because people don't do it! But in my mind I'm just like why? Why don't you want to chase greatness the way that I do?"
Last January, after a humiliating loss in Atlanta that saw the Bulls blow a 10 point lead with three minutes left, Butler was fined for publicly dragging his teammates through the mud. After he was traded, former NBA player Antoine Walker called Butler a "bad locker room guy." A recent report suggested the Boston Celtics had concerns about trading for the three-time All-Star because Butler might clash with Gordon Hayward, who they eventually signed in free agency.
"Even as a first-semester freshman, he wasn't gonna let guys drift through practice," says Mike Marquis, Butler's coach at Tyler Junior College. "He is very, very competitive, and he is great when he finds an enemy. I think that's one of his charms. He knows how to psychologically find an enemy and attack it."
I ask Butler if he's a difficult person to be around.
"Yes," he says.
But it's not as simple as that. Difficult is in the eye of the beholder, just like laziness.
"But then again it's bad on my part because I know better," Butler says. "It's kind of contradicting itself. It's like, 'Well Jimmy you know better, don't do that.' But then the other half is just like, 'Well, if you can do it everybody can do it.' But then it goes back again. 'You know that it don't work like that, right? Yeah, I know, but I think that it can so everybody needs to work like this.'"
"I think it takes a very special person to deal with Jimmy Butler," says Gaines. "He's actually too smart for his own good."
---
Once the photo shoot ends, we migrate down to the main house. Ready to play Spades, Butler is hunched over a square folding table that's been pummeled by thousands of domino tiles. He's flanked by Phil Ducasse, his newly appointed personal photographer, Ifeyani Koggu, a former Arkansas State guard who Butler introduces as his brother, and Mike Smith, Butler's mentee, of sorts, from Chicago who's about to enter his sophomore season at Columbia. A chandelier the size of a kiddie pool hangs overhead. Boxes of Size 14 retro Jordans are stacked against the dining room wall, with loose jewelry and designer clothes casually spread across the table and floor.
Nearly two hours later the card game ends and Butler recedes to his theatre. He acknowledges that his whirlwind ascent altered relationships and transfigured his behavior in Chicago, but doesn't feel taken for granted by the Bulls organization. Still, an old truism lingers: the one about how those who start in the mailroom can never shake how co-workers perceive them no matter how high they climb within the company. There's a sense, from the outside looking in, that the Bulls didn't appreciate how awesome Butler truly is.
He didn't crack 400 minutes his rookie year. By his third season—his first of three straight appearances on the NBA's All-Defensive second team—Butler averaged a team-high 38.7 minutes per game. That year he averaged 13.1 points. Two seasons later he was up to 20.9.
"I think they maybe expected me to stay the same, and I don't think that that's right. Like, I have changed. I will tell you that. But I think that I've changed for the better," he says. "When I say for the better, whenever I was a rookie, averaging 0.8 points per game or whatever it might be, it wouldn't matter if I scored that 0.8 because it wasn't going to win or lose us a game. Now, you go forward a couple years when I'm averaging 20 points per game, that's more than likely gonna cost us a game. It's gonna be the difference between winning or losing. Am I right? So now I don't give a damn about pressure, but if someone's going to take the blame for something, who they gonna point to? Me. So yeah, I've changed, because I want to fucking win. I want to show that I can win. So the way I go about things, it's not gonna be the way I went about things when I was a rookie, [when] I'm not gonna say anything. Now I've got something to fucking say."
This is what he has to say. Or at least some of it:
"I'm confrontational. I feed off of confrontation. It makes me go. Not everybody's like that. [Bulls head coach Fred Hoiberg] is not that coach, and there's nothing wrong with that. There are different coaching styles and people are gonna say—which is what they did say—'It's gonna be Jimmy's team or it's gonna be Fred's team.' Two total opposite ends of the spectrum. They're either gonna try to win it now or they're gonna go young. And you see which way they went with it. Completely fine. Yo, it's y'all's business. It's y'all's organization. It's cool. And now I'm in Minnesota and couldn't be happier."
Despite elevating his game to an all-time high last year, too often he was forced to be MacGyver, constantly scraping for useful contributions from his scanty supporting cast while refusing to let constant double and triple teams minimize his impact. The Bulls struggled to boil water whenever he rested on the bench.
Chicago ranked 28th in three-point rate and 24th in three-point percentage yet Butler still dragged them to the playoffs. The floor opened up a tiny bit when Nikola Mirotic played the four, but aging, antiquated guards like Dwyane Wade and Rajon Rondo too often made the offense feel claustrophobic. It wasn't an ideal environment for a wing scorer to thrive, but somehow Butler did.
From 2015 to 2017, the percentage of Butler's two-point field goals that were unassisted increased by just over 20 percent, but his True Shooting percentage didn't fall. He finished with more Win Shares than LeBron James, Russell Westbrook, and Kawhi Leonard last year, and was third in "Real Plus-Minus Wins," a stat that estimates how many wins a player contributes to his team's season total, behind only LeBron James and Steph Curry.
"You can't put somebody in a box and then have them think outside the box. Jimmy thinks like there's no box, so he has no ceiling. Every day we wake up to break boundaries," Johnson says. "I'm able to develop him as a point guard, as a shooting guard, as a small forward, as a power forward, and as a center. He's a basketball player. He's a scorer. He's not a shooter. He's not just a primary driver. He can do pretty much anything that is asked of him from his coaches because he allowed me to prepare him for every single situation. The only person who can stop Jimmy is Jimmy. He don't have a flaw."
---
Even for a person as motivated as he is, Butler's journey to the NBA was a miraculous tightrope walk. There were no AAU connections or free sneakers. Butler is from Tomball, Texas, a slight town about 30 miles outside Houston. After his mother kicked him out of the house when he was 13, Butler couchsurfed through his teenage years before finding relative stability when his friend's mother agreed to take him in. The story has been told often, but remains too incredible to be sensationalized.
For the typical prospect, coming to average 20 points in the NBA is less likely than purchasing a winning Powerball ticket. For Butler, it was less likely than holding said ticket while riding in the backseat of a limousine with Beyonce, eloping in Vegas.
Butler didn't receive any scholarship offers out of high school, but he did get noticed by a scout named Alan Branch. Branch identified qualities his colleagues missed, and started to chirp in the direction of any coaches who'd listen. You guys are missing a steal. But no offers were made even after Butler played well in a couple spring tournaments. Nobody thought he was Division-I material.
"The biggest thing I can say is he wasn't flashy, he wasn't a freak talent, and he was in the bushes," Branch says.
So instead of preparing for his first year at a school like Texas Christian University or Morehead State, Branch introduced Butler to Coach Marquis at Tyler Junior College, about three hours north of Tomball. He spent a day working out in their gym, scrimmaged with some of their players and local high-school competition, and was offered a spot right away.
"Mike never saw him shoot the basketball," Branch said. "Jimmy played like four or five possessions, made the right passes, got a rebound. He was just solid. You could just see the IQ."
It's impossible to know what would've happened had Branch never brought Butler to Marquis's attention. There were other junior colleges in the area that might have granted Butler a chance to walk on, but a few critical variables would've spun in unpredictable directions had he played anywhere else. To start, Tyler was very good, and good teams draw Division-I eyeballs.
Up until that point in his career, Butler mostly operated in the frontcourt. He crashed the glass, defended well, and offered a tenaciousness that probably wouldn't have the same effect against bigger, stronger competition. But thanks to the team's roster construction, Marquis shifted Butler to the perimeter on a full-time basis, forcing him to showcase a more appealing and varied skill-set.
"I didn't think people would draft him out of junior college after one year, but I thought he was draftable," Marquis said. "I called [Bulls general manager] Gar Forman, who I had known since he was coaching at Iowa State and New Mexico State, and said there's something special about Jimmy. If they just continued to watch his progress, they'd really, really like him."
Far and away the longest lasting benefit from his time in Tyler was who he met while there. Butler's roommate that season was a 6'7" wing named Joe Fulce, who was recruited to play for Marquette University by the school's then-assistant coach Buzz Williams.
"Every time I went to go see Joe, of course, I would say hello to Jimmy," Williams says.
Fulce—who's now a graduate assistant coach under Williams at Virginia Tech—and Butler were like a pair of Siamese fighting fish (who also happened to be friends). They competed in everything and played countless games of one on one, after practice, before games; even at random times in the middle of the night—whenever Butler wasn't hypnotized by his eight hundredth viewing of The Lion King.
"I don't know how many times I'd either wake up in the morning or wake up at night and his ass is sitting in bed, eating some snacks, with his feet crossed, with a cowboy hat on, watching the damn Lion King with some country music softly playing," Fulce said to VICE Sports. "His ass is weird." (Butler still really loves country music.)
Butler led Tyler in scoring and guided them to a 24-5 record. All the while, Fulce relentlessly pitched Williams on his roommate's all-around potential. A little while later Williams became Marquette's head coach. Butler was the first player he signed. His letter of intent was famously faxed over from a nearby McDonald's, and his first day on campus doubled as the first day of school. Butler still had Fulce as his roommate, but never visited Milwaukee beforehand.
"I think from day one until the day he graduated, he became much more confident in who he was on and off the floor," Williams says. "I think he became less distrustful. His personality showed more often. He was much more comfortable. Obviously, that was an extended period of time where his environment and the people in his environment were stable."
In three years, Butler never dropped a class, skipped a meeting with his tutor, or showed up late to a weightlifting session. In large part due to Butler being Williams's first signing, there was inescapable pressure on them both to perform. And through some tough times early on, a mutually beneficial bond was formed.
"What can I say, in some ways I'm proud of it and in other ways I'm not proud of it," Williams says. "I was hard on him. I was hard on him in every way. I never gave him any relief in any facet of his life, and to his credit he never wanted one. I think as our time together transpired, he expected that. He wanted that. He wanted that as an example to everybody else on the team."
Butler says the lessons learned in three years at Marquette still resonate, and his relationship with Williams remains strong. Now the head coach at Virginia Tech, Williams gave Butler a journal during his second year in the league. He still writes in it.
---
Next year, the journal will be different. He'll be in a new city, with a new team, and a new set of expectations—at least externally. Internally, Butler still has a bottomless urge to be great. He's forever that serial killer's dream. He rolls out of bed each morning focused and ready to go for a 90-minute session with Johnson. It's the first of two workouts they fight through every day. They start by zooming in on ball-handling, finishing, floaters, runners, one-legged jumpers, off-balance jumpers, side pick-and-rolls, middle pick-and-rolls, pick-and-roll passing, and so on and so forth.
He's already one of the craftiest and effective downhill playmakers in basketball, but for Butler to truly max out his potential in the coming seasons, that jumper needs to stabilize. Last year, he knocked down 36.7 percent of his threes, which is right around league average and an improvement on the previous season. But a higher percentage of his field goal attempts were launched from the inefficient mid-range, where he only canned 38.2 percent. On the whole, that's not an atrocious number, but it badly trails positional peers like Kawhi Leonard, Paul George, and Kevin Durant.
Later in the day, the second session with Johnson is devoted to shot mechanics—how he can better himself shooting on the move and off the bounce. They study preferable ways for him to create separation and sharpen his technique on fadeaways. Every workout is filmed, allowing Butler and Johnson to obsess over ball and hand placement. They really dig into the finer details that are necessary to make him a more potent all-around weapon.
After the morning workout, Butler rewards himself with a five-minute break and then embarks on a soul-crippling hour with Gaines. Gaines and Johnson work with other professional athletes but have still met with Butler almost every day for the past four years. They will continue to do so in Minnesota. When Butler goes on vacation, be it to Europe, Canada, Mexico, or Mars, Gaines and Johnson come along for the ride.
"I'm not cheap," Gaines says. "But he pays whatever it costs and whatever it takes to keep his body right."
Monday, Wednesday, and Friday are reserved for corrective exercises, movement prep, movement training, and strength training. Tuesdays and Thursdays are for conditioning work and agility training. Saturdays and Sundays are strictly conditioning. Sometimes they race on the beach or hop on a football field to sprint 110 yards at a time.
Sometimes they'll get back on an actual basketball court just to embrace the delightful sensation that a gasser can have on the human body. Gassers are timed sprints where, starting on the baseline, Butler has 17 seconds to go half the court and back, then dart to the opposite end line before returning to where he started. "We'll do 10 to 15 of those," Gaines said. It sounds like torture, but for Butler the entire process is more vital than oxygen.
There are obvious reasons to think the hard work will continue to pay off. This year, Butler may find that instead of doing more with less, he'll have the chance to do more with more. In Minnesota, defenses will have to worry about Towns, Wiggins, and Jeff Teague, the kind of score-first point guard Butler hasn't played with since Derrick Rose's body broke down. He'll be able to allocate more energy towards the defensive end—Butler failed to make an All-Defensive team for the first time in three years last season. Despite just four percent body fat hanging from his 230-pound frame, Butler still gets tired every once in a while.
If he can hunt for more open opportunities behind the three-point line instead of settling on tough, contested heaves, he can be one of the most efficient players in the entire NBA.
That won't necessarily be easy. The Timberwolves actually finished behind Chicago in three-point rate last season. And given how their roster is built, Thibodeau will likely lean on dated lineups that can be exploited when up against modernized rotations. Gorgui Dieng and Taj Gibson will platoon the power forward position, even though they're both better suited as backup fives. Life on the court may be cluttered once again.
But if Towns leaps forward on the defensive end, Thibs could deploy more versatile units that will accentuate Butler's strengths. The floor will open up and, if that's the case, it's hard to see how he won't be a legitimate MVP candidate. According to Synergy Sports, Butler ranked in the 77th percentile as a pick-and-roll ball-handler last year. He was 95th in transition, 92nd in spot-up situations, and 91st in the post.
The Timberwolves boast a core that can, in Towns's words, evolve into a dynasty. Butler likes the fit and is confident he can teach Thibodeau's system to younger teammates who struggled to grasp it last season. But he's also understandably cautious when it comes to attaching any bold claims to a group that ranked 26th in defense last year.
"I don't like the word 'Super Team'," he says. "I think everybody's human. That's [what] people label Golden State. They're a really really, really good basketball team. Super team?…On any given time they can be beat, too. It's all about who's playing basketball the best at the right time."
Dethroning the Warriors is goal number one. But even if the Timberwolves fall short, Butler will certainly use his time in Minneapolis to expand his fame over the next few years. With the league's popularity increasing every day in countries all over the world, a genuine superstar's brand is worth exponentially more than the $19.3 million Minnesota owes Butler this season. Off-court opportunities are constantly nipping at his attention. Three years ago, he took a 75 percent pay cut to go from adidas to Jordan, joining Blake Griffin, Carmelo Anthony, Kawhi Leonard, Russell Westbrook, and over a dozen other NBA stars. (During our day together, Butler poked fun at a camera operator wearing adidas tennis shoes.)
Bonobos, a menswear company that was recently bought by Walmart, made Butler their brand ambassador last August. And just this month he released his own signature underwear line with PSD, a company Kyrie Irving and Chandler Parsons are also affiliated with. (Butler's photographer Phil envisions a coffee table book. "If Kim Kardashian can do it," he says. "Why can't Jimmy?")
Last year, he dipped his toe in Hollywood by appearing in Office Christmas Party, a comedy his life guru Mark Wahlberg helped put him in. Butler met Wahlberg in 2013 while the actor was filming a Transformers movie in Chicago. They've been close friends ever since, with Butler citing the 46-year-old's vigorous work ethic as one of the biggest inspirations in his life.
"He's already one of the best at what he does, but he works as though he's not. The guy wakes up at 3:30, 4:00 AM to work out. Then he'll go take his mind off of stuff and play some golf," Butler says. "He eats healthy and spends time with his family and he's reading scripts and he's in meetings and he's on phone calls. Before you know it, it's time to do it all over again the next day." (Butler's all-time favorite Wahlberg movie is Shooter. "Bob Lee Swagger is that dude," he says.)
Butler played himself in Office Christmas Party, alongside Jason Bateman and Olivia Munn. He wasn't stiff in his only scene; the film's two directors, Josh Gordon and Will Speck, were impressed by his initial foray into a brand new field. "LeBron surprised everyone in Trainwreck by being so fully formed as an actor," Gordon told VICE Sports. "If Jimmy wanted to [act in the future], he could do it. He's got that kind of charisma. It's up to him."
Butler isn't sure how much longer he wants to be an NBA player, but hopes to squeeze in at least seven years, two championships, and widespread respect as one of his era's greatest stars before his body cries uncle. (No big deal.) If he opts out of his player option in 2019, the former Most Improved Player can experience unrestricted free agency for the very first time; just about every team that can afford a max contract will be interested. Even though that level of courtship is something Butler has never gone through before, he's yet to think about what it'll feel like.
"I'll tell you one thing. I'm gonna go or I'm gonna be or I'm gonna stay wherever I'm wanted, man. Because that's all anybody ever wants," he says. "To be appreciated."