Giving a whole new meaning to your aunt's novelty "I Comté Believe It!" T-shirt business, a British cheese festival held in Brighton last weekend ended in disaster after the event's organizers failed spectacularly to provide enough cheese to avoid widespread shortages and massive lines.
In what is undoubtedly now the Fyre Festival of the food world, Cheese Fest UK, which bills itself as the "UK's biggest touring cheese festival," is under attack. The cheese-loving public is saying that they were charged £6 each to deal with "90-minute queues"—and very little actual cheese. Social media sites are being barraged with complaints that the festival organizers simply didn't provide the fromage-based satisfaction they had promised. One British columnist even accused the festival of censoring any negative comments made on its Facebook page.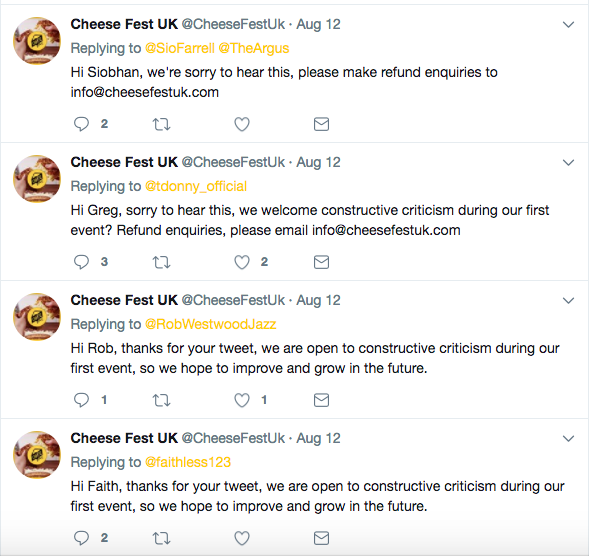 Forget dealing with $10 water bottles while rolling harder than you ever thought possible; it's the cheese fans who have proven to be the truly ornery ones.
A Facebook group with the spectacular name Brighton Cheesefest Sucks has sprung up and a YouTuber, @brackersTV, even made a parody song lampooning the festival titled, "Where's The Camembert?"
Even British food icons like Jay Rayner, the famed food critic, couldn't help but hop on the bandwagon. He voiced his bemusement on Saturday, when he tweeted, "It's a cheese festival and they didn't anticipate a demand for cheese."
When MUNCHIES reached out to Cheese Fest UK for comment, a spokesperson said they were "currently in communication with the local Brighton promoters and event team" and thanked everyone who attended the Brighton event. They went on to say, "We would like to take the time to apologise for the queues on the Saturday of the event, which were as a result of our dedication to selling hot and fresh food to order.
"Although we are extremely sorry for those who were hoping for a traditional farmers style market of cheese, we stand behind the event as being marketed as a contemporary festival of modern cheese and street food such as mac and cheese waffles, halloumi fries, raclette and more."
What a truly an un-Brie-lievable outcome. In the words of brackersTV, "It's just not fair, woah, where's the Camembert? / It's just no gouda, you feta beware."