As the Gathering of the Juggalos arrived last month in Lost Lakes, a waterpark and music venue in Oklahoma City, you would think that something terrible was about to happen. Local news asked in a poll if residents were "concerned." Police were on high alert. According to Rob Bruce-Encarnacion, who organized the Gathering, the cops told Lost Lakes that if they saw anything—nudity, drinking after 2 AM—arrests would be made.
Bruce-Encarnacion sighed. "When the owners of the venue sat us down, I was like, This is what happens every year."
Few subcultures are subject to more scorn than the Juggalos, as fans of Insane Clown Posse are known. Before I went to the Gathering, long before I even listened to ICP's music, I had read stories about gruesome murders, crazed Juggalos wielding hatchets and demanding to hear their songs on pop radio stations, and of course the Waffle House brawl. If someone commits a crime and happens to list ICP among their interests, "JUGGALO" will be in the headline, guaranteed.
The FBI has dubbed Juggalos a "hybrid gang," a designation ICP and the ACLU have been fighting in court since 2014. A recent dismissal of their suit prompted the organization of a march on Washington, DC, set for September 16. On the march's website, there's testimony from Juggalos who say they have been harassed by cops, had their kids taken away, gotten fired, and denied the chance to serve in the military because of prejudice fueled by that gang designation.
The Gathering is supposed to be the one time of year when thousands of Juggalos from across the country can get away from that sort of persecution. They struggled to find a venue for the 2017 Gathering and turnout was down, but Lost Lake seemed an ideal place to host: a big lake, water slides, shade to hide under. Sure, the roads were dusty (I lost my voice due to dust inhalation), and, yeah, the lake was murky—but the fish were alive, water dispensers were plentiful, and you could travel around the venue via the "Trippin' Trolley," driven by the Scrub Care Unit.*
But even here, many Juggalos felt harassed. Bruce-Encarnacion was under the impression that there would be only two cops stationed near the entrance of the festival in case a situation got hairy, instead we were treated to low-flying police helicopters, drones spying on us at all hours, and parades of cops through the campgrounds.
"Some people have been calling 2017's event the Gathering of the Undercovers because of all the undercover cops there," said Jason Webber, director of public relations for Psychopathic Records, ICP's label. He added wryly, "you're not going to hear about undercovers at a Jimmy Buffet concert." (A spokesman for the Oklahoma City Police Department confirmed that undercover officers were present, but did not respond to questions about surveillance.)
---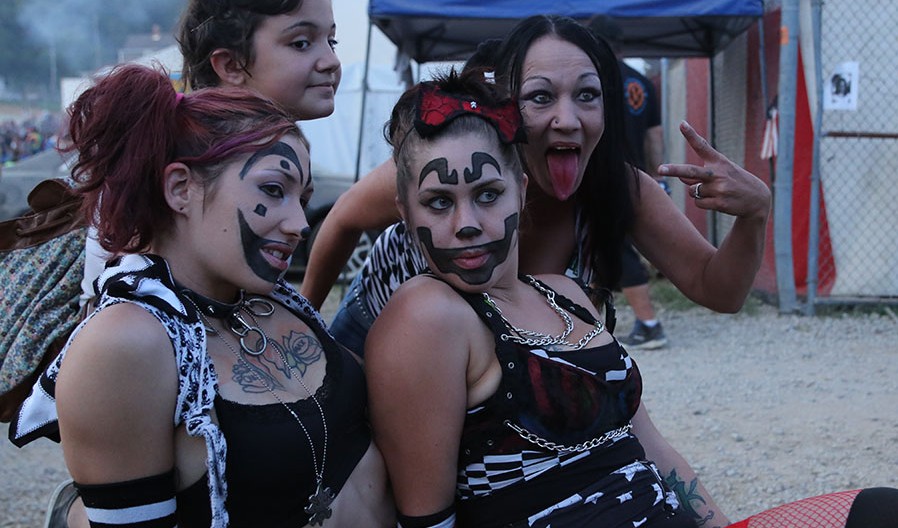 ---
When the police were asked by Lost Lakes ownership why they were flexing their muscles, the response, a representative of Lost Lakes told me, was "to make our presence known."
That presence had Juggalos worried. Some feared undercover cops and distrusted any stranger they met as a result. There were rumors of cars being searched and towed from the parking lot, among other sorts of police harassment.
Other complaints centered around security. Bruce-Encarnacion told me that Juggalo security focuses on "spray-painting, or like, people hurting each other, which is really rare." This time, though, he saw event security "mimicking" the cops.
Carl Kovin, a 26-year-old Juggalo from Colorado who has attended six Gatherings, told me that security physically restrained him and told him he might spend the night in jail because he was playing with a laser pointer. Kovin was eventually released, but the rest of his Gathering took on a different feel after that incident.
"This is not why I Gather," he said. "I am there for the freaks and the weirdos, and they were all told to hide. I didn't feel like I was at a Gathering, more like some ninjas camping at a lake, trying to have fun."
Webber of Psychopathic Records echoed Kovin's sentiments. "The Gathering of the Juggalos stands for family, being a safe place for outcasts, a place for them to let their hair down and relax," he said. "Juggalos are good at ensuring that their fellow revelers mind their Ps and Qs. Certainly, there's a measure of outlaw culture to any Juggalo event, but there's a strict moral code Juggalos hold to."
Past Gatherings have also faced issues because of anti-Juggalo bias. Bruce-Encarnacion recounted the story of the 2014 Gathering, which was slated to be at the privately owned Crybaby Campground in Kaiser, Missouri. Contracts were signed, tickets were selling, everything seemed on track. After the location was publicly announced and the media got hold of it, however, Kaiser rebelled. A Republican state representative got involved, neighbors started petitions, locals began arming themselves in a panic to prepare for what the media repeatedly reminded them was considered a "gang rally."
"The lady who ran the campground was like, 70—she ended up in the hospital for stress and called me to ask to pull out of the contract," said Bruce-Encarnacion. "I tried to warn her that the first year would be like this—after the first year at a new venue, people tend to understand that Juggalos are cool, things go smoothly, and people will be receptive." But Kaiser was having none of it. "They celebrated shutting us down," Bruce-Encarnacion said.
Even given that history, a lot of Juggalos were angry about how they had been treated by security and cops at the 2017 Gathering. Attendees blamed the venue for the cop harassment and gave it bad reviews on Google. "Worst venue I've ever been to. Security were obnoxious and rude," said one. "It might become a cool spot but in this stage of life it's wiggity wiggity whack son," said another.
Lost Lakes was also unhappy. "As far as the police presence, we were just as upset as the crowd," a representative from the venue told me. "We felt the Juggalos were singled out and treated unfairly, and we even had our lawyers on site to try to handle the police, but to no avail. If the festival were to come back next year, we will take measures to make sure that doesn't happen again."
The representative told me that Lost Lakes hoped to see the Juggalos return. "We want everyone to know we enjoyed having the festival—from our perspective, it was an incredible event that was professionally produced… and we would welcome you all back again." The message ended with the Juggalo mantra of friendship and family: "Whoop Whoop."
Juggalo-friendly spaces can be hard to come by. "My local mall, to this day, does not allow anyone to wear hatchet gear on their property, yet two of their outlets sell Psychopathic merchandise," Kovin told me. "So if I buy a new shirt, go to the bathroom and wear it, I will then be asked to leave the property with security escorts."
"We're oppressed year round," said Bruce-Encarnacion. "You say you're a Juggalo, people look down on you. Law enforcement looks down on us. When we Gather, it's supposed to be an escape from all that. We're supposed to be able to hang out with our family at the greatest family reunion on earth, and instead, we have cops barking at our door." He sounded weary. "When you work this long on something, it's really hurtful to see outsiders come in and ruin something that's really beautiful."
Webber agreed. "Juggalos are good for the community, for the economy—we rent hotel rooms, we buy gas, we eat food. If you were to talk to the people at Legend Valley (site of the Gathering from 2014-2016), they would tell you that certain mom and pop owned gas stations will make more money selling Faygo during that one weekend than beer all year long. It's funny that because of a few bad apples that have given Juggalos a bad name, the public has chosen to focus on those bad apples—not the food drives, the Scrub Care unit giving free food and water to people. I mean… It's an extremely Christian gesture to give food to the hungry and water to the thirsty, right?"
Their frustration made a lot of sense to me. When I told my fellow campers at Gathering that I was a reporter, they were understandably concerned about how I would portray them. Historically, the media have taunted and ridiculed Juggalos. A fellow writer (also a Juggalo) shared with me that she was trying to cover the upcoming march on Washington, but was shut down by multiple publications that told her "everything that needs to be written about Juggalos has been."
But I think there's a lot that Juggalos do that the media often fails to highlight when covering the subculture: memorial benefit shows for Juggalos who have passed away, concerts where the entry ticket is two cans of "not bullshit food" for local food banks, the sending money and presents to an eight-year-old burn victim whose Juggalo dad died in a fire. There are LGBT Juggalos, and Lette's Respect, a feminist Juggalo movement. Yet look up Juggalos online and you'll mostly see shaming, fear-mongering, and hatred from the media and the public—much of which betrays classist attitudes, given how many Juggalos are working-class.
The hope among some Juggalos is that this latest Gathering will inspire fed-up ICP fans to march on DC come September.
"It was kind of a final reminder, just slapping you in the face yet again, this is the kind of oppression Juggalos deal with on a daily basis. A lot of people have been dealing with this on a personal level - if you're a family, even if you're not personally affected, that's all our problem," Bruce-Encarnacion said. "It was all up in your face blatant discrimination, a final reminder of why we're doing the march. It was really ugly. To me, it's important for everybody to go to support your family and support Juggalos everywhere. Even if you're not a Juggalo, are you going to allow the government to do this?"
"I think Jesus would be a Juggalo," said Webber with a laugh. "You can quote me on that."
Correction: An earlier version of this article said that the Scrub Care Unit provided transportation around the venue. In fact they were just the drivers of the Trippin' Trolley.
Follow Kitty Stryker on
Twitter
.