Indigenous youth who are mobilizing to support Wet'suwet'en hereditary chiefs say they're standing up for the safety of Indigenous women and girls. Photo courtesy of Lauren Sortome.
Linda Watson, a Cree woman who worked as a cook at the Site C dam near Fort St. John in northeastern British Columbia, was killed by a Quebec man who moved to the region to live with Watson and find work there. Several of her female relatives, including her mom and sister, have since said they've been sexually harassed and abused by resource development workers.
The Watson women aren't the only ones who say they've experienced violence at the hands of industry workers. Resource development in and around Fort St. John has resulted in an uptick of violence against Indigenous women and girls, said Connie Greyeyes, a Cree woman who works closely with the families of missing and murdered Indigenous women and girls (MMIWG).
"When people come into a community and they're faceless and nameless, they can come in and no one knows who they are," said Greyeyes. "We have women who come into our (Fort St. John) resource centre who have been harmed by people who are working."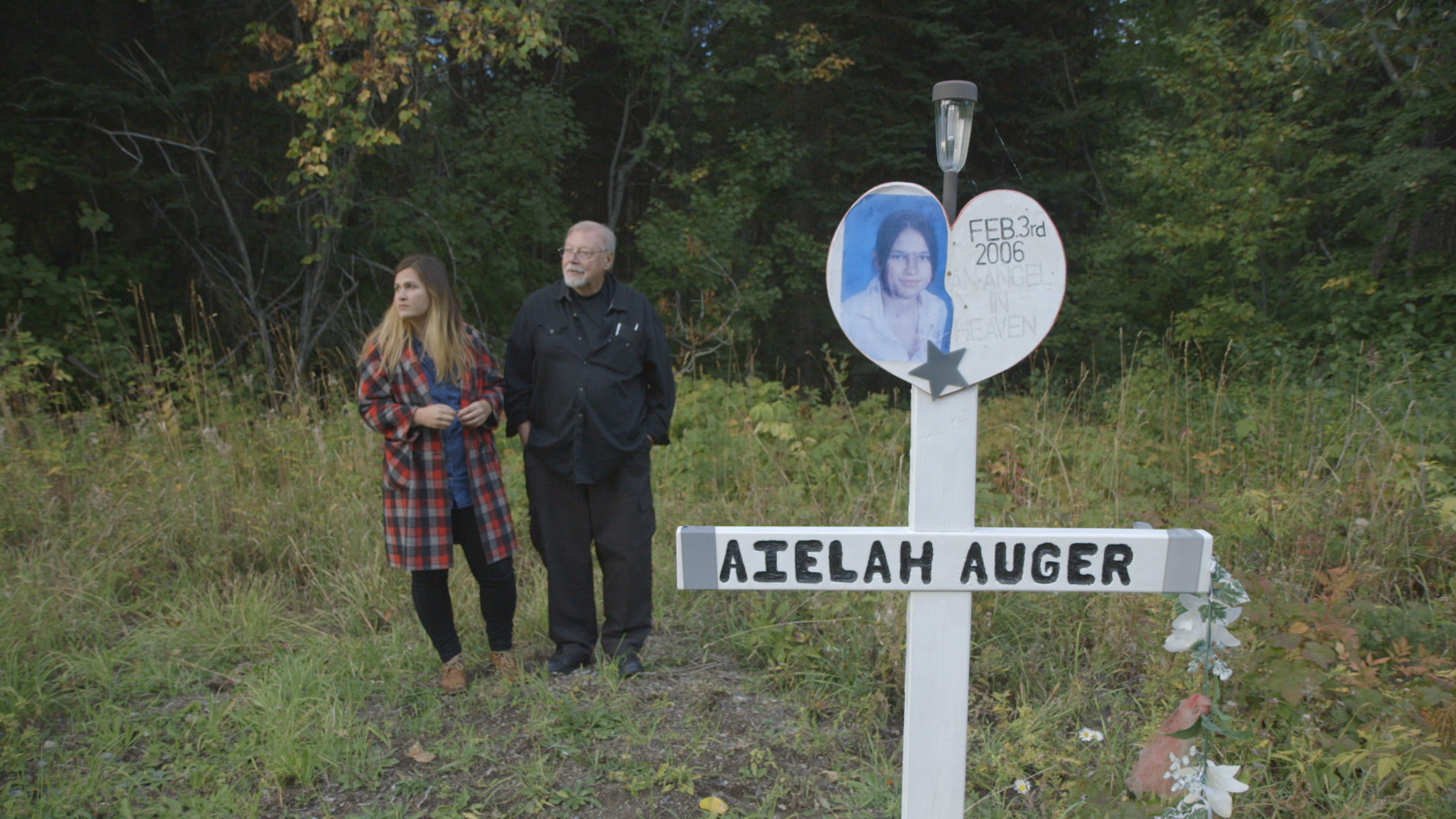 Greyeyes collaborated with Amnesty International to publish a report in 2016 that found a strong link between resource extraction and MMIWG cases.
"For many Indigenous women and girls in (northeast B.C.), domestic violence, violence in the workplace, and violence at the hands of social acquaintances and strangers, is so pervasive it has become normalized," the report said.
Red dresses float above many pro-Wet'suwet'en marches, sit-ins, and blockades across Canada, commemorating missing and dead Indigenous women. They act as a subtle reminder of the tragedies that occur when Indigenous safety isn't prioritized, which is exactly what land defenders are trying to prevent by blocking the Coastal GasLink Pipeline project that's supposed to pass through Wet'suwet'en territory—a region that sits at the Highway of Tears, a 725-kilometre corridor in B.C.'s interior and site of dozens of disappearances of Indigenous women.
One of the camps blocking the pipeline, Unist'ot'en, has a statement on its website saying the group does not condone the development of "man camps"—temporary housing for transient workers—on Wet'suwet'en territory.
Man camps house "up to thousands of mostly non-Indigenous male workers brought into different Indigenous communities for industrial work," the statement said. "They create the social conditions for an increase of violence against Indigenous women and children."
According to Unist'ot'en, man-camp culture and work conditions "exacerbate isolation, drug and alcohol abuse, violence, misogyny, hyper-masculinity, and racism among the men living there."
"When these projects come into community, not only does it destroy the ability for women to practice ceremony on the land, there's an imposition of all these white men in their space," said Nikki Sanchez, an Indigenous woman who has been organizing in front of the B.C. Legislature in Victoria for almost a month. "Many of those men regard Indigenous women as objects. These women are fetishized and hyper-sexualized."
Youth who are occupying Victoria's legislature are planning a ceremony in honour of MMIWG on Wednesday night, Sanchez said. They will hoist more red dresses and trace bodies on surrounding pavement to represent lost women and girls.
The final report from the National Inquiry into Missing and Murdered Indigenous Women and Girls devotes an entire section to resource extraction projects, saying that they increase the risk of harm in Indigenous communities.
"Resource extraction projects can drive violence against Indigenous women in several ways," the report said. "Federal, provincial, territorial, and Indigenous governments, as well as mining and oil and gas companies, should do a more thorough job of considering the safety of Indigenous women and children when making decisions about resource extraction on or near Indigenous territories."
Manitoba Hydro's Keeyask, a 695-megawatt hydroelectric generating station, is facing scrutiny for alleged abuses in and around the development, and the RCMP is now investigating nine sexual assault cases at Keeyask's construction site over the past four years. Allegations of ongoing racism and sexism spurred four Manitoba First Nations to demand an inquiry into human rights violations at Keeyask.
Wet'suwet'en hereditary chiefs say there hasn't been enough consultation between industry, government, and the Wet'suwet'en Nation to ensure the protection of traditional culture, territory, and Indigenous safety.
"People want jobs at the expense of our human rights," said Greyeyes. "I'm trying to tell them this isn't just about a pipeline; it's about safety. We all have a right to feel safe in our communities. Period."
A spokesperson with the Canadian Association of Petroleum Producers (CAPP) told VICE that the organization recognizes safety concerns of Indigenous women, while TC Energy, the company in charge of the CGL pipeline, said it's committed to safe and respectful work environments. Neither organization provided specifics.
Jackie Hansen, who co-led the Amnesty investigation, said companies and governments can implement several initiatives to improve community safety, including "vehicle tagging."
"Making sure every company vehicle has a decal on it, so if you see someone picking up a community member or speeding through town, you can report it," Hansen said. "It's about taking away anonymity from transient workers."
She added that community-specific competency training that teaches temporary workers how to respect the Indigenous communities they're engaging with is paramount.
"We need a safety plan, like, here's what we will do to prevent bad things from happening," Hansen said. "The cost of doing business can't be the health and safety of Indigenous peoples."
Follow Anya Zoledziowski on Twitter.