This story appears in VICE magazine and Noisey's 2017 Music Issue. Click HERE to subscribe to VICE magazine.
Blunt smoke clouded the front yard of a house in New Orleans as young folks dressed in Juvenile tour tees and health-goth looks spilled out onto the sidewalk and street, snapping group photos for Instagram. It was a breezy August night, and about 300 people had descended on a corner house in the Seventh Ward to see the show going on inside. It seemed like the type of scene—loud, majority black crowd, late at night—that the police would shut down, but people I met assured me that I shouldn't worry about cops coming to this part of town.
"You ain't seen NOPD not one time," a short, dreaded dude said to me while we traded pulls of a blunt. "They down the quarters. You see who down there?"
He was referring to the French Quarter, the city's oldest neighborhood and biggest tourist attraction, where every two doors you can find a ridiculously strong daiquiri or a po' boy sandwich. "That's that bullshit," he told me with a stoned smile. "This the real New Orleans."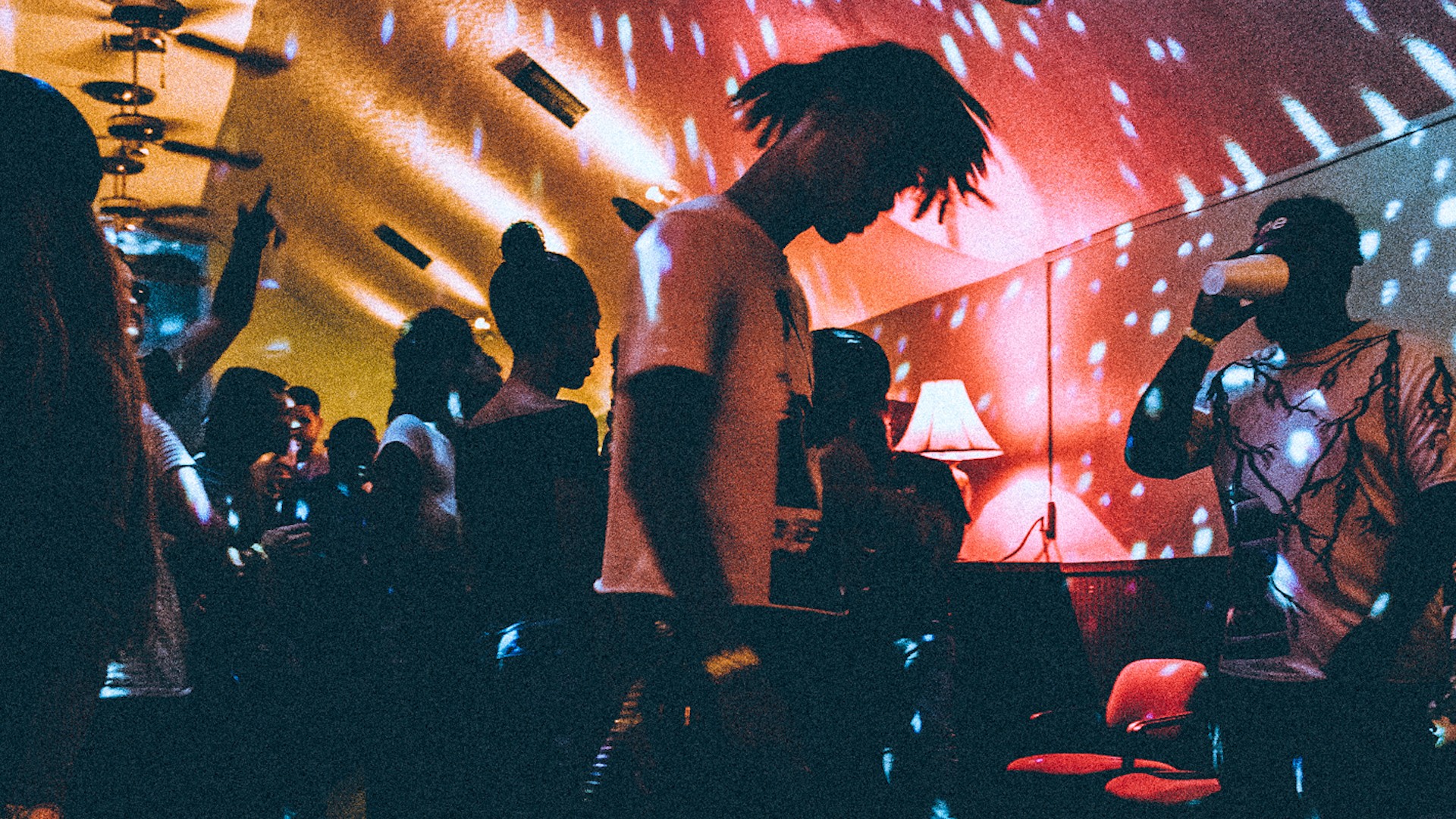 The "real New Orleans" didn't quite line up with pop-culture depictions of the city: brass bands, white girls flashing cameramen for beads during Mardi Gras, and the housing projects that Cash Money and No Limit rapped about. In front of me, rather, was a scene I'd encountered many times before, at house shows in cities like Brooklyn, Baltimore, Los Angeles, and Virginia Beach, places where gentrification and the internet have engendered a collision of cultures and realities: streetwear-rocking black kids, hood dudes with white tees and crisp taper cuts, white art-school types, and khaki-wearing university students. The crowd felt familiar, but the excitement radiating from it felt fresh.
Over the past few years, New Orleans has become a popular vacation spot for young Americans—and for some, the temptation to relocate is high. In 2017, TIME and the Urban Land Institute found that between 2010 and 2015, New Orleans had the fifth highest influx of millennials to a US urban area, proportionate to its population. Despite its vulnerability to catastrophic storms, New Orleans is a warm-weather city with a romanticized history of inclusivity and entire houses that go for half of what some pay for an apartment in cities like New York, DC, and LA. As a nexus of black American, Haitian, and Louisiana French culture, it's got a rich tradition as a musical melting pot, one younger generations are eager to carry on.
The Pink Room Project, an artist collective founded by city natives Keith Cavalier and Brandon Ares, is one of the entities helping to push that heritage into the future. The Pink, as it's called for short, hosts monthly parties and weekly DJ nights in various corners of the city, spanning a number of styles associated with its hometown, including bounce, rap, and house. To attend this particular show in the Seventh Ward, concertgoers had to text a Google Voice hotline. Kids flashed confirmation codes on their phone screens to get in, unless they were homies of whichever door person was on duty.
Around midnight, Ares came outside to warn everyone that he'd be performing soon. "Yo, I'm about to go on. Everybody go inside!" A sweaty red tee drooped over his wiry frame, and he kept whipping his head back to flick his dreads out of his eyes. After 15 minutes passed and nearly no one budged, he popped his head out of the door again. "If y'all don't go in now, I'm locking you out."
Just 12 years ago, Hurricane Katrina made landfall in Louisiana and rolled through the Gulf Coast, downing trees and power lines and flooding the city of New Orleans with up to ten feet of water. Levees that were thought to be secure broke down. National newscasts looped scenes of people riding through the city in canoes, pieces of homes floating about, and residents standing on roofs, awaiting rescue. By its end, Katrina had claimed up to 1,800 lives by some estimates. According to a report published by the National Hurricane Service, it was the third deadliest hurricane in America since 1851.
As the city continues to pick up the pieces, its rich cultural history has proved to be one of its greatest assets. Tourism is post-Katrina New Orleans's most profitable industry, and it's growing fast. According to the French Quarter Business Association, tourists spent $7.41 billion there in 2016, compared to $2.9 billion in 2006, the year after the storm; it also welcomed 10.45 million visitors, its highest number since 2004. Judging from conversations I had with locals, the city also seems to be an increasingly popular destination for musicians and other creatives. "It was still music everywhere in the city before then," Derrick Freeman, a local jazz drummer who moved to New Orleans from Houston in the early 90s, told me. "It just wasn't as saturated as it is now. It's so many musicians."
Attracting young people from different walks of life to party together is how the Pink is contributing to that renewal. Keith Cavalier, a.k.a. Lil Jodeci, a 29-year-old producer, and rapper Ares, who is 25, met in early 2015, through mutual friends. After they collaborated on some music, Ares moved into Cavelier's shotgun house in the Gentilly neighborhood, an 80 percent black, once-rural part of the city full of ranch houses, shotguns, and bungalows. In the house's pink-painted common space, the two mastermind their music and events. "It was my ex-girlfriend's decision," Cavalier said of the wall color that inspired the collective's name. "We was just fucking around. Once we started making music together, we just ran with that name."
Cavalier, who goes by "Cav" among friends, is solidly built and keeps a thin mustache and thick dreads that he pulls back to a high ponytail. He grew up in Gentilly and started producing "alternate, chill shit" in his early 20s, inspired by electronic acts like SBTRKT. Deep house is his specialty, and by playing it, Cav said he has been able to access different scenes in New Orleans from the ones he grew up in. Ares, who is slighter in frame and has short dreads that are seemingly always covering his eyes, was raised in eastern New Orleans—the East, as locals refer to it—a former suburban enclave for middle-class black families that transformed after Katrina into a place where most don't want to be, if they can help it. The beats he learned how to make on his PS2 in tenth grade laid the groundwork for the techno-tinged rap that he makes now.
On the Thursday afternoon before the house party, Cav and Ares invited me to their home. Rain was coming down on the street, which was lined with cornflower-blue and mustard houses, willows, and palm trees. As we sat around in the tidy pink room, I asked who played the trumpet that was sitting on the floor next to the couch. Ares explained that he'd picked up the instrument in seventh grade, then dropped it, adding that in New Orleans, it's normal to see a "hood nigga playing the trumpet" outside.
In 2015, they started throwing shows wherever they could, pushing a genre-blending atmosphere that reflected the city's musical diversity, in addition to DJing at local bars and releasing Soundcloud mixes.
The city's musical heritage is one of parallel legacies. On the one hand, it's one of the meccas of American jazz music, the hometown of legendary figures like Louis Armstrong and the Marsalis family. On the other, there's the city's storied hip-hop scene, which has produced national acts like Lil Wayne's Hot Boys crew under Cash Money Records and Master P's No Limit Records roster. Bounce—a local style of dance music that features call-and-response vocals, whistles, and repetitive melodies—has produced crossover star and LGBTQ icon Big Freedia, in addition to forming the basis of early material from local legends like Juvenile and Birdman.
"I don't think there's any difference—I just think it's an evolving thing," Freeman said of the blurred roots of bounce, rap, and traditional New Orleans jazz over the phone. To Freeman, who moved to the city when heralded jazz pianist Ellis Marsalis recruited him as a mentee, New Orleans music is still too young to start drawing lines in the sand: "If you think about the classical eras, the Baroque era is 300 years old. Jazz is just now 100 years old, so I don't know if traditional New Orleans jazz leading up to New Orleans bounce is even much different. It's a continuation of the same thing. We're still in the beginning stages."
Back in the pink room, Ares clapped as he and Cav played me videos from one of their favorite local rappers, Mary Gold. A black-and-white video for the song "Prayer" showed the singer practicing BDSM and lounging in the tub nude. In 2013, Gold gained some national attention when she signed with hometown hero Curren$y's Jet Life Recordings and appeared at the end of the extended version of Drake's "Worst Behavior" video, posted in a car and smoking a blunt with the rapper. Later that year, her Sex Hormone'd Druggie mixtape displayed her hypnotizing raspy voice and varied deliveries. "At the time," Ares recalled, "it was like, you can be popping and do this? Like, I don't have to do bounce or gangster rap? I can do some other shit and pop off? OK, bet."
Before Gold, with the exception of a reinvented Curren$y, most of the New Orleans artists getting national looks were street rappers who didn't stick around long. A moderately weird black girl who challenged the gaudy expectations of a rapping woman, Gold was also the sign of a new guard in the city's music scene, in tune with that moment's Tumblr-informed rap aesthetics.
Cav and Ares say Gold's rise inspired them to view the possibilities for young black creatives from the city in a different light. In 2015, they started throwing shows wherever they could, pushing a genre-blending atmosphere that reflected the city's musical diversity, in addition to DJing at local bars and releasing SoundCloud mixes. Artists orbiting their inner circle include Hirakish, an androgynous-looking, rock-inspired vocalist who got a taste of the national stage when Hood by Air recruited him to be a model for the brand in 2016; Free Trial, a New Orleans native who produces house edits of popular rap records and co-hosts Pink Room Radio, which airs on Tulane University's FM station; and riq50, who makes intentionally muffled, lo-fi rap songs and adopted New Orleans as a home after he and some friends got stuck there during a cross-country road trip from Seattle. There's also Yves, a local Cuban food truck owner and photographer who captures most of the collective's parties.
For the most part, the Pink throws its monthly parties in houses and warehouses in the Seventh Ward and Bywater neighborhoods—spaces offering a rawness and freedom you can't get in a commercial club. Its reach isn't going unrecognized outside of its immediate scene: Cav said that in late 2015, New Orleans resident Solange Knowles reached out to him to start spinning at parties for her Saint Heron company—a label and lifestyle brand described, on its website, as "a haven for R&B lovers and listeners"—at a warehouse space in the Bywater. He was also invited to be a bimonthly resident at the city's Ace Hotel, which opened in downtown New Orleans in 2016.
One of the artists taking advantage of this new infrastructure is rapper Delish da Goddess, who started to collaborate with Ares and Cav after some of the DIY spaces where she'd been playing in the city, many of them warehouses, shut down. Her music is a mixture of punk and rap, taking the unapologetic rage from both genres. In videos of her performances, you can see her screaming at the top of her lungs over a combination of grainy trap and industrial sounds.
Delish still lives in her hometown of Violet, about eight miles outside New Orleans, but she makes regular trips to the city to play shows and attend parties. "Violet is a very different place from the city," she told me over email. "It's a very hush-hush town, but I get so much respect in Violet—not because who my mama or daddy is, but because I'm walking around being 100 percent me and doing it without fear, which isn't normal." As she described it to me, Violet is a slower, more conservative town than New Orleans, though the Crescent City isn't the most progressive place either.
"New Orleans is the most flamboyant city probably in America when it comes to sexuality, race, and all that," Ares told me back at his place. "But it's still a red state, and it's still fucking Confederate and very racist as fuck." In May, the city took down the last of its four Confederate monuments, but only after citizens protested the racist implications of public works honoring defenders of slavery. In 2014, the Greater New Orleans Fair Housing Action Center released a report that revealed that prospective black renters were being disproportionately turned away from properties in the city's upscale neighborhoods. While there, I found that if I stumbled into a po' boy shop where there weren't many black patrons, I'd get the subdued side-eye from white customers. It's an energy that can still be felt in the New Orleans area, and artists like Ares and Delish have been maneuvering around it for their entire lives.
According to Delish, the spaces the Pink is creating are crucial for young black musicians looking to find their voice. "The outlets for black artists are expanding more and more in New Orleans," she said. "We have to keep putting together our own shows and have the mind of an entrepreneur. Never let the white man tell us who we are!"
Transplants have taken note of the shift in the city as well. "What they do is something that didn't exist in any real way in the seven years that I've been here," the R&B-altering DJ Chinua, a.k.a. Lenny Raney, said of the Pink over lunch in the city's Faubourg Marigny neighborhood. "Maybe it did before, and Katrina washed it away."
A New Jersey native who daylights as an education professional, Raney is another DJ in the scene who has caught the eye of Solange, who has booked him to play music at a number of her Saint Heron events. That's how he and Cav initially crossed paths. "It's real hard in this city as a DJ, because this is a live music city," Raney said, dipping his fries into ketchup. "People go out and see brass bands. There have been a couple nightclubs, and almost all have failed. There are choices now. When I first got here, there weren't very many choices within my group of friends."
Before the Pink, Cav explained to me, "You might have had one or two spots that were different, but it was really concerts that brought people together—like a Kanye concert or an artist you're familiar with, that'd bring out different walks of life." If there were outlets for young artists pursuing boundary-pushing music, they were so underground that very few knew about them. "New Orleans is just not accessible," he said, adding that currently the Pink's events are one of the rare places in the city "where people of color can get that alternative scene. The kids who grew up on the internet are now old enough to go out and dictate where they wanna be at."
Just as people like Cav, Ares, and Raney are building the scene on the grassroots level, the city is having something of a pop-culture moment. Much of Beyoncé's platinum visual album, 2016's Lemonade, was shot in and around the city, with "Formation" featuring an introduction from Big Freedia.
New Orleans was also in the spirit of Solange's third album, A Seat at the Table, released later that year. Lil Wayne delivered one of his best featured verses in years on the album's "Mad," where he opened up for the first time about attempting suicide. Pioneering businessman and rapper Master P served as the album's conscience, periodically checking in to deliver messages advocating black ownership and knowing your worth as a black artist. It was a timely record, coming on the heels of two black men's documented deaths by police officers: Alton Sterling, from neighboring Baton Rouge, and Philando Castile from Minneapolis, whose slaying was captured on his girlfriend's Facebook Live stream. Both deaths sparked heated protests from the public, and sent yet another deafening message that American law enforcement does not value the lives of the black citizens they are appointed to protect. The album spoke to the frustrations and concerns that many black Americans share, from dealing with depression to claiming the right to be a black woman who's angry without being the Angry Black Woman.
In a 2016 interview with Vogue, discussing her recent move there, Solange confessed that her soft spot for New Orleans and its culture went far beyond articulation. "I really, really love it there," she said. "It is also one of those things you can't put into words. You can't really put your finger on what is so magical about it."
New Orleans has a way of sucking people in. An Uber driver who took me to my hotel said that he'd lived in eight cities around the world, but New Orleans's dedication to its customs made him a permanent resident. "It was a magnetism, and I felt drawn in," Freeman, the local jazz drummer, remembered of his first year in the city, in 1992. "It wasn't really a choice. We just found each other." Raney, the DJ transplant from New Jersey, has no intentions of leaving, either. "I live in the Seventh Ward—an old traditionally black neighborhood," he told me. "My neighbors, I see them and talk to them. I feel like I know them, and they make me feel like I'm part of their community. I think black people are always craving that—a refuge from all the bullshit everywhere else."
"I can take two!" a man screamed as he paddled toward us in a yellow canoe outside of Willie Mae's Scotch House in the city's historic Tremé neighborhood. A family photo swayed in the knee-deep water while branches and soda cans smacked my shins. "Walk up five blocks, and you'll get to a street that's on higher ground."
Some friends and I had been there eating the highly recommended fried chicken when a restaurant employee opened the side door just behind our table. "Whoa!" A typical midafternoon shower had escalated to a three-hour downpour, and St. Ann Street was now covered in almost a foot of water. After leaving Willie Mae's and treading through the flood for about 20 minutes, we finally made it to dry ground.
"New Orleans is just not accessible," Cav said, adding that currently, the Pink's events are one of the rare places in the city "where people of color can get that alternative scene. The kids who grew up on the internet are now old enough to go out and dictate where they wanna be at."
Conversations with locals pushing through the flood revealed that they'd never seen so much water from non-hurricane rainfall. There was no sign of the rain stopping, and the water was getting deeper. For the first time in my life, I felt completely vulnerable to Mother Nature—especially when I considered the city's track record when it comes to natural disasters.
Katrina was catastrophic in its own right, but the failure of the local and federal government to adequately prepare and respond to it exacerbated the storm's effects. A year earlier, state and federal agencies had participated in a five-day training exercise as part of a simulation of a slow-moving Category 3 storm they called "Hurricane Pam," and which they projected to cause 60,000 casualties. When Katrina came, it was less intense than the fictional hurricane, though unreliable communications systems and mismanagement of resource pipelines and personnel hampered relief efforts for weeks after landfall. Ray Nagin, the mayor at the time, was criticized for sending the emergency evacuation order less than a day before the storm hit, at which point it was difficult or impossible for many residents to leave.
The flood I experienced that Saturday demonstrated the extent to which the city's archaic drainage system—which largely relies on screw pumps invented by engineer Albert Baldwin Wood before the First World War—needs constant vigilance and regular maintenance. City officials initially said all pumps had been operational, but at an emergency city council meeting held the following week, officials admitted to having been dishonest. An engineer who looked through the city's logs found that some of the pumps in areas that were hit hard by the rain that day, like Tremé, were being repaired as the storm occurred, while others didn't have enough staff to operate them. In total, 16 pumps were out of service, and in the aftermath of the incident, according to WDSU New Orleans, one public official resigned, and three were fired.
"The flood fucked everything up, man," Ares said later that night, looking out onto the mostly drained street outside of Hi-Ho Lounge in the city's Marigny neighborhood. It was Cav's first night as a weekly resident DJ at the club, and they'd been hoping for a crowd at least as big as the one at the house party in the Seventh Ward. Still, the water wasn't enough to stop about 70 people from dancing and chatting on the floor, where Cav was playing edits of Solange's music, deep house, and Baltimore club.
While standing outside on the sidewalk having a beer, I heard a woman shriek, "Mannie!" I glanced to my right and saw legendary New Orleans producer Mannie Fresh, wearing a long tee and jeans and greeting people as he walked in. A few minutes later, hoping that he was about to do a surprise set, I went inside to find him tucked away in the corner of the bar, drinking and laughing with friends.
It was a needed endorsement from the city's older guard, and an indication that despite the day's flood, people were still out living their lives. That's the beauty of New Orleans: a city so rooted in tradition and having a good time that it's barely fazed by three-hour rain showers or waist-deep floods. People pick up and continue on with their night, not letting the water take up more space than it already has.
Lawrence Burney is a staff writer for Noisey. Follow him on Twitter.
Shaquille Dunbar is a New Orleans-based photographer. Follow him on Instagram.