"Share Location" is a new interview series in which we speak to musicians, actors and public figures about their younger years and formative experiences.
It's so rare for us, in the UK, to have actual British pop stars who a) have a personality beyond saying "for me, the music is the main thing" to Annie Mac once every six months, and b) enjoy hanging out in Britain and not jumping at the first opportunity to move to LA or wherever.
Jessie Ware is one of those pop stars, and has traversed the streets of London for most of her life, snogging, eating and singing her way from Clapham to Herne Hill and on to east London. Since the birth of her daughter a year ago she's mostly put the partying behind her (which made this Share Location a bit different to the one we did with Shaun Ryder), but she does have some excellent tips on where under-fives can catch hot new music in east London.
In the week her third and most personal record Glasshouse is released, we got her to tell us about some places in the UK that played a pivotal role in her upbringing.
VICE: Where did you have your first snog?
Jessie Ware: I think it was at a disco in Dulwich, at Dulwich College Pavilion. It was a Saturday night disco. I only knew how to put eyeliner on and had an amazing shirt from Miss Selfridge. I think I kissed a boy outside. I mean, how middle class do I sound? Dulwich College cricket pavilion.
That's a classic first snog location
Oh yeah? Okay, good. While Spice Girls was playing upstairs. Weirdly, I remember my friends slow dancing to "Move Closer", which I felt was slightly mature for our age. I think it was either that or "wanna make love to ya baby" – the Spice Girls one ["2 Become 1"]. Back then, everybody liked to say they were into Offspring and Nirvana, so it was like the boys bussing up their mouths with braces, trying mosh to "Smells Like Teen Spirit".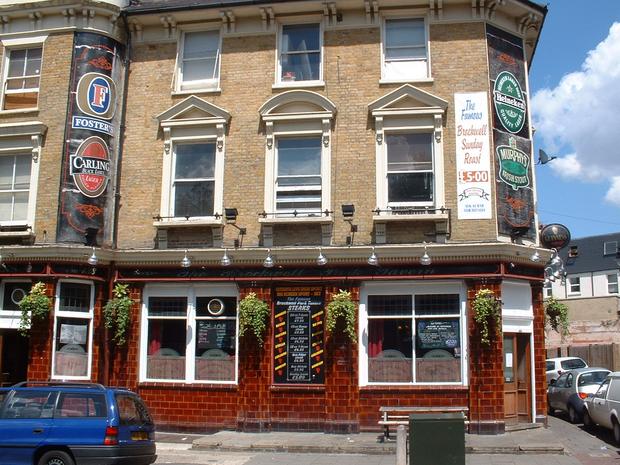 What pub did you go to when you were underage?
It used to be called the Brockwell Tavern, but now it's called The Florence, and it's in Herne Hill. It was an Irish pub and it had a jukebox and we used to put on "Red Red Wine" by UB40 all the time and get really pissed. We couldn't get pissed with red wine, so we got Southern Comfort and lemonade or Malibu and pineapple. Then there was one that used to be called the Hobgoblin, but now it's called Hootenanny, and we'd dance there, or we'd go to a place in Clapham – not it's called the Goose and Granite but then it was called SW4 – and it was horrific. Or we'd just go to Wandsworth Common and then everyone would cop of with each other.
What was your classic date spot?
Pizzeria on the Green in Clapham Common. Have you ever been? It's the best pizza. It's fucking great. They had "crazy month", when it was half-price for one month, but this one crazy month went on for like 15 years. I went back recently and asked the waiter, as a joke, "Is it crazy month?" and they were like, "Oh no, it just finished three months ago."
Where do you go when you're really hungover for breakfast?
I mean, you can't be hungover and have a child – it's just not a good combination. Where do we go when my child is up at six in the morning and nowhere is open? Yeah, it's a real fucking struggle. I really like Dandy Cafe [in Stoke Newington]; it's the best almond croissant I've ever had in my life. The fucking pastry chef had to go off work because of the pressure and stress of having such a demand for the almond pastry. That's what I heard. It was too much, he had to go off for stress.
The Good Egg [in Stoke Newington] pisses me off now, because it's just too much of a queue. Drives me mental. I'm impatient, so it's just not gonna work for me.
"The best Turkish in London is FM Mangal in Camberwell. Nowhere else does good sweaty meat bread."
Where did you live when you first moved out of home?
Brenthouse Road in Hackney, just off Mare Street. I lived with my mate, Joel, and my mate, Felix. We tried to make it nice by filling it with Ikea things. I think I had a really cute magnet board, instead of a chalkboard, in the kitchen. I managed to shift my now-husband into the equation. We'd just got back together and, within a week, I was like, "He has nowhere to live, do you mind him living with us?" Thank god, Felix and Joel were cool, but it involved a lot of potato waffles, and Felix used to get given hampers by the record label [his band was signed to], so we used to have lots of Godminster cheddar in the fridge, which was amazing, and black bomber [cheese]. So it was either potato waffles or fancy cheddar. Then a lot of lamachuns and [food from] Tad, the Turkish restaurant. Tad isn't good any more, though. The best Turkish in London is in Camberwell, FM Mangal. It's the best. Their meat bread is like crack. Nowhere does good sweaty meat bread like FM Mangal in Camberwell.
Where did you have your first shitty job?
I worked in Peter Jones in a perfumery counter. Is that a shit job? I was in the men's fragrances. Used to get a mouthful of it.
Where have you thrown up in Britain?
It's more like where have I pissed, because when I have to go, I have to go, and I'll have no qualms about squatting behind a car. Honestly, especially after motherhood. It's not a good look, but like, when you need to go, you need to go. That's really gross, isn't it?
No, it's good, I think.
Throwing up – where have I thrown up? I remember once throwing up in Brighton, during uni, at Concorde 2 at a jungle rave, and it just working a treat. I got back in there and it was brilliant – it sorted everything out and I raved till six in the morning. We were at Glastonbury recently and there's this amazing picture of all my girlfriends throwing up at different angles. It was at the end of the night. We had basically had enough of partying.
What's your favourite place to perform?
I'm really looking forward to going to Newcastle, because last time I was there a 14-year-old shouted at me, "Get your tits out for the lads," so I'm really looking forward to seeing those grown-up kids now. Hopefully they'll still be chanting out to me.
Let's say your mate is coming to London and they've been here once and did the touristy thing, and now they want three recommendations and they are from, I'm gonna say, America. Where would you tell them to go?
I don't do anything. I'd be able to tell them really good children's entertainment, every day of the week. I feel like Americans love tea. The notion of tea. So I guess you could do a tea somewhere, like The Wolseley. I love The Wolseley anyway. I love the National Theatre. The Barbican is amazing, and it's one of my favourite buildings. I think The Barbican would be good for a bit of culture. And then dinner. I like a tasting menu. I'd probably get something like a tasting menu somewhere like Lyle's, or Clove Club, or Perilla.
Actually, [American super producer] Benny Blanco came over, and me and him rival each other with foodie-ism, and he was like, "Pick your best places to take me," because that's what he likes to do when we're in LA, and I really fucked up. I took him to [iconic Whitechapel Punjabi restaurant] Tayyabs, cos it's near, and he went to [iconic Indian restaurant] The Regency, in Wembley, and said it shat on Tayyabs, and now I need to go to The Regency.
Where's your daughter's favourite place to go in London?
Frog Prince at Hackney City Farm. He's this really amazing man called Stefano, who's, like, a music man, has a harmonica strapped to him, drums, and he does this amazing festival intro. He plays "Smells Like Teen Spirit" and then goes into Rolling Stones, singing, "Pleased to meet ya, don't forget my name." He'll mix, like, Janis Joplin and "Wheels On the Bus". He's given her rhythm. Her with a wooden shaker or a maraca, she's unstoppable.
Jessie Ware's third album Glasshouse is out now.
Previously: