Synthetic cannabinoids were available in shops until changes to the Psychoactive Substances Act in 2014. Image
via
Hamilton's Pharmacoepia: The Synthetic Marijuana Steampunk Rock Opera.
Had things gone another way, the Psychoactive Substances Act (PSA) might be the grand pillar of Peter Dunne's parliamentary legacy, a progressive piece of legislation in the tradition of Homosexual Law Reform Bill and the Prostitution Reform Act, a test case for the world to watch. Unfortunately for Dunne, as it stands, the act sits on the books basically unused, while New Zealanders continue to die from one of the drugs the act was designed to protect them from: synthetic cannabinoids.
"Very frustrated," is how the former Associate Health Minister and leader of the United Future party describes his feelings towards the legislation that once dominated his political life. "We took a step that was bold and different. It was the right thing to do in the circumstances," Dunne says.
---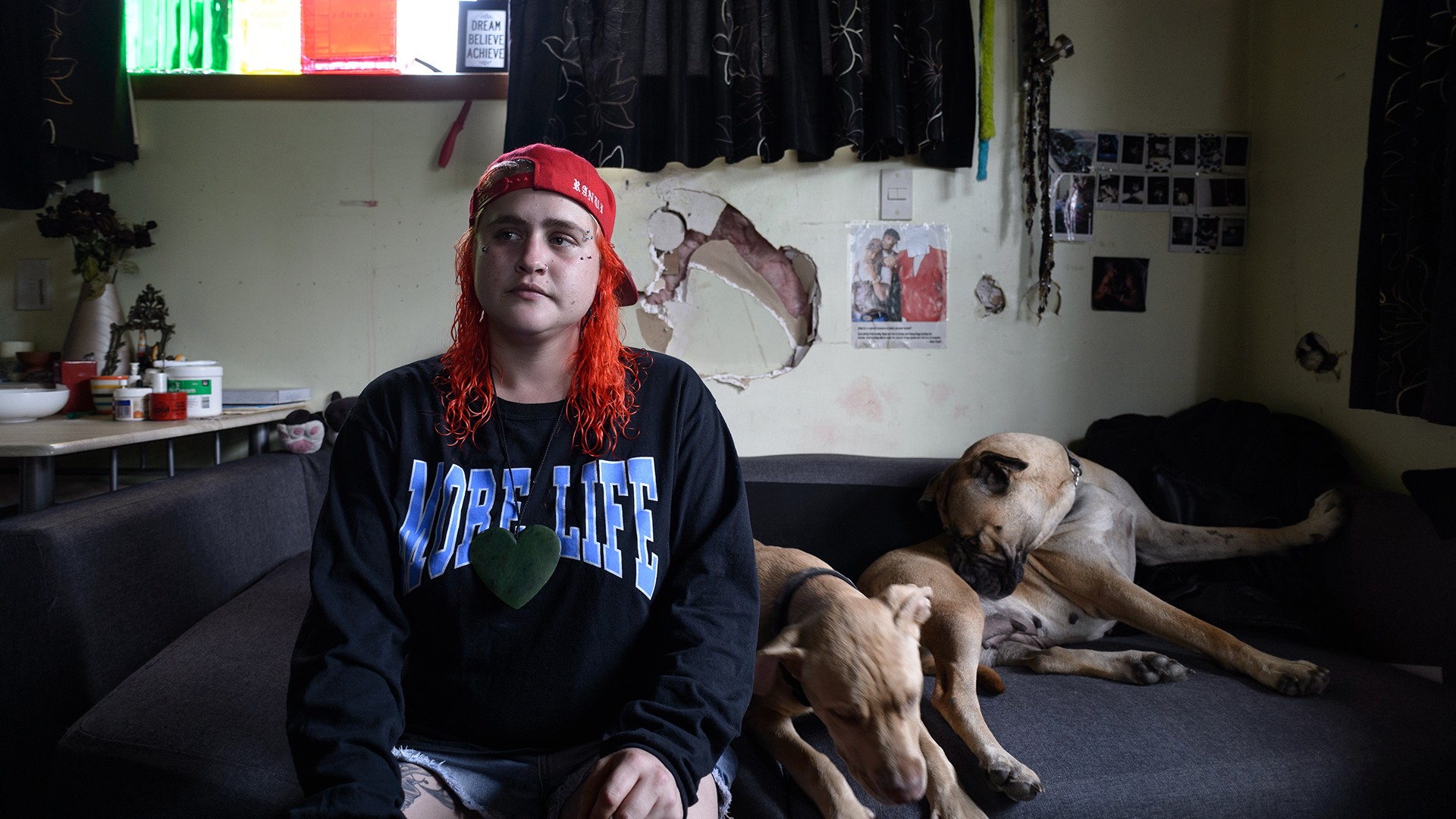 ---
It's worth revisiting those circumstances. When brands of synthetic cannabinoids such as Spice and Kronic began to enter New Zealand, the existing legislation—in the form of 1975's Misuse of Drugs Act—was too clumsy a beast to keep up with the fluid nature of the new market. Under that act, each individual drug has to be banned; the problem with synthetics is that as soon as one was made illegal, another—altered chemically, however minutely—would be there to take its place. As Dunne puts it: "I can ban what I know exists today, but what do I do about tomorrow and next week and the stuff that I don't know exists?"
Inspired by conversations with British lawmakers, Dunne proposed the basic tenet of the PSA: instead of the government finding each of these basically endless combinations illegal after they had entered the black market, producers that could prove the safety of their product could be granted a license to sell them legally. That testing would have to be to the same standard as regular pharmaceutical products, the cost of which—estimated at about a million dollars per product—would be borne entirely by the applicant. Products would be limited to sale in designated stores and only to over-18s.
Dunne says that the day before the act was passed in 2013, something in the vicinity of 4,000 stores nationwide stocked up to 350 products; the day after, only 153 properly licensed stores were legally able to sell the 41 products deemed safe enough to have been granted interim exemption from the legislation until the regulatory regime was in force and products could be placed before it for consideration.
And that, Dunne says, is when the problems started. Paradoxically, the reduced number of retailers only increased the public's awareness of the drug, when provincial centres started to see lines of customers forming outside local R18 retailers. "That drew attention to them in the most unsavoury way from the point of view of the local citizenry, who suddenly thought, 'My God these things have been imposed on us, they're selling drugs left, right and centre. This is an outrage.'" Community indignation solidified into political opposition. And in the face of that, the government decided to withdraw those 41 exempted products.
"Had we had the regulated market in place, then I think we would've driven away demand for the underground product."
If the regulatory regime, the Psychoactive Substances Regulatory Authority, had been up and functioning by the time of that withdrawal, we may not have seen the trade driven underground—but that didn't happen until November 2015, until nearly three years after the passage of the PSA. And, regardless, by the time that regime had been put in place, it had been shorn of much of its power. "There was a lot of noise," Dunne says, "about getting rid of animal testing full stop. And it became clear that there was going to be an amendment moved to the legislation to do just that. The upshot was that the clinicians said, 'Well, we can't now do any tests to prove these products are low risk and we're going to take time to develop alternatives.'"
Those alternatives don't yet exist; the consequence, of course, is that synthetic cannabinoids no longer have a viable legal route to market. And the consequence of that, Dunne says, is the scenario that has played out over the past year: a mounting death toll and terrible harm meted out to marginalised communities. "It's what I was worried about happening all along. If we didn't have a regulated market we would end up with a completely unregulated underground market with stuff appearing that was literally made up in the backyard and all sorts of huge consequences."
"Had we had the regulated market in place, then I think we would've driven away demand for the underground product."
Simeon Brown is the National MP for Pakuranga. He calls the rise of synthetics a "big issue across the country". To fight it, he lodged a Private Members Bill before Parliament in December last year, calling for harsher sentences for the manufacture and supply of synnies. "In my view," he says, "a two-year maximum sentence [under the PSA] is out of line with where it should be. For example, Class C drugs under the Misuse of Drugs Act, get an eight-year sentence. My view is it should be aligned with that… That sends a message to those who are illegally supplying these products."
The legislation contains a clause stating that only "fit and proper" people can be granted a license, which Dunne says would eliminate the criminal element from the production of legal psychoactive substances. Those who are currently producing synthetics are obviously doing so against the law—thus making them criminals. Even so, Brown says there's "an opportunity for the people who are creating these drugs to subject themselves to the regulation. They've chosen not to. We haven't got prohibition, we've got regulation, and they haven't subjected themselves to the regulation in place."
By Brown's admission, his bill only takes aim at one part of a problem with many interlinked issues, and he recognises there is a lot of work to be done to help, for instance, those already suffering from addiction. Dunne told VICE that Brown's bill was a "part solution but it'll be trumpeted as a great step forward, and it's not."
Ross Bell, executive director of the New Zealand Drug Foundation, says the philosophy behind Brown's bill is misguided. "Assuming that will create a deterrent effect is not going to work. It has not worked. Our Misuse of Drugs Act has that as its underpinning premise. You get a life sentence for manufacturing and trafficking methamphetamine and New Zealanders are some of the highest meth users in the world."
Bell calls instead for a community health response, effective outreach, and harm-reduction services. He says the synthetics battle was lost when those 41 exempted products were pulled from the shelves: "As soon as we took them off we lost all control. The substances causing deaths—and this has been proved by ESR reports that we commissioned and that the police commissioned—are new. They weren't among the substances that were previously regulated under the Psychoactive Substances Act."
"Just by making something illegal, you don't stop it." - Peter Dunne
Instead, Bell wants a comprehensive overhaul, noting that the five-year review of the Psychoactive Substances Act—written into the legislation—is due to take place this year. "Maybe we don't need a Private Members Bill to tinker around with it. The law has to be comprehensively reviewed. We haven't heard from the government about when that review is going to start or what it's going to look like. But that has to happen."
His faith in the basic mechanism of the PSA, however, remains undimmed—it just needs to be given its teeth back. Does animal testing need to be reintroduced, VICE asked? "I think all cards need to be put on the table… [Look at] what are the barriers for that law to work now, and the testing regime is certainly one of those barriers."
Dunne, too, still believes in the legislation. "What we've got to work on doing—and again it hinges on this issue of animal testing—is make the Psychoactive Substances Act workable; that will in turn reduce some of the pressure for illegal product."
Which he believes is the best way to limit the flow of synthetics into the community. As he says, "Just by making something illegal, you don't stop it."
Follow James on Twitter.