Photo via INDECLINE
The activist collective known as INDECLINE was founded in 2001 by a handful of artists barely out of high school with a penchant for defacing corporate billboards. Since then, it's expanded to 25 core members and more than 100 auxiliary filmmakers, photographers, and visual artists, and its actions have likewise grown in risk and notoriety.
Before the last presidential election, they were probably best known for producing Bumfights (they told me the team that shot the first of that controversial and ugly video series sold the rights within months of its release and haven't had anything to do with it since). But they've more recently made news for their political art, which is usually as crude as it is effective in attracting media coverage.
In the past two years, its members painted a "Rape Trump" mural on the border wall between the US and Tijuana, covered the stars on Hollywood's Walk of Fame with the names of African Americans gunned down by police, and, in the group's most infamous stunt, erected life-size naked Donald Trump statues in five US cities. Along the way, the group has attracted criticism for being "childlike in their superficiality," to quote LA Weekly. Not that that has dissuaded them: Last week, it hung clown effigies cloaked in KKK robes from a tree in a Richmond, Virginia, park named after notorious slave trader Joseph Bryan. (Local African American leaders have condemned the stunt.)
I talked to the group's anonymous spokesperson (who is also one of its founders) about its goals, how it draws the line between art and vandalism, and the real purpose of the naked Trumps.
VICE: In recent years, you've taken on more sensitive national issues and staged actions at more high-profile locations. How do you assess risk versus reward when it comes to breaking the law?
INDECLINE: The first sign of danger is when we decide to schedule a lunch with our buddy who is a criminal defense attorney, which we rarely do. As much as we would've liked to have gone to Richmond and cut the head off the Stonewall Jackson monument, it's better to figure out how to do something safely. We had the same fears with the Trump statues. We were worried someone would think they were bombs, or that we would put one up near a school and get hit with some sex offender charge. Even with the action in Richmond, we wondered if there could be some ironic situation where we hung them and then got hit with a hate crime.
At this point, if we're not on a government list, I don't know what we need to do to get on that list. There's no chance that those statues flew over Trump's head. You know he woke up that morning and had his breakfast ruined. Considering that he's been very blatantly thin-skinned, we try to take every precaution to protect ourselves. There've been so many movements that get away with so much until they become the scourge of law enforcement, and by the time they get caught, they're just fucked. If we don't pump the breaks, which we don't plan on doing, it will be a rotten ending for us if we do get caught.
---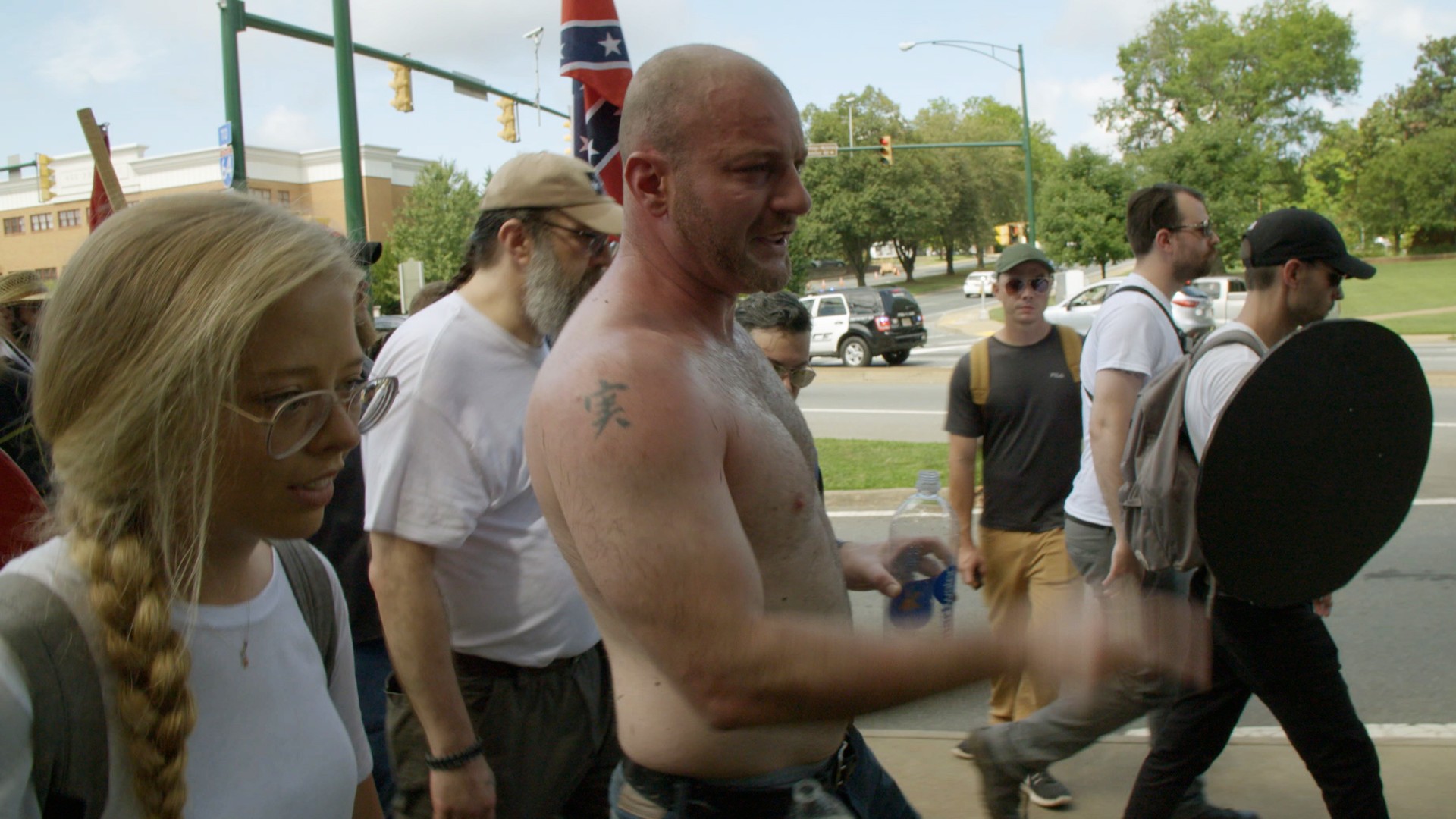 ---
Last summer's Trump statues received the most press of any of your actions by far. Do you think the statues had any impact besides pissing off the president and providing photo ops for Trump haters? Who was your intended audience?
It's hard to say we weren't trying to connect with people who hated Trump, but the statues were really dedicated to people who were on the fence. I met a lot of really intelligent, independent thinkers who weren't sure who they were voting for. Ironically, the sculptor started out a Trump supporter. We had enough conversations that he went from pro-Trump to on the fence to anti-Trump.
We wanted to display Trump for what he was, though at that point, we thought he was benign, just a sociopathic delusional figure. But we were kind of hoping to sway those indecisive voters.
Were the KKK effigies a direct response to Charlottesville, or were they already in the works?
In May, we put together the visual element but hadn't decided on the city. Then Heather Heyer was killed, and that day we booked tickets for Virginia.
Why the clown costumes? What do you think they added?
We generally try to think of something that's either overtly illegal, shocking visually, or a combination of the two. We use levity as a tool as well. The shocking element is the hanging bodies from a tree, and underneath that, there's the clown robes, indicating that these guys are clowns and not to be taken seriously.
Are you ever concerned, with the clowns and the naked Trump for instance, that you're using too much levity in these pranks given the seriousness of the issues you're addressing?
One of the hardest things for us to do is include that levity. We really do that against our will, because it's tough to tap into our funny bone in these moments. But the easiest way to ruin a project built for the masses to enjoy is to take the humor out of it. If you look at any form of entertainment, you have to hit either sorrow or joy, and then you're good.
When we sit down, we always ask, "What's it going to take to get our mom and dad to pay attention?" We know the pissed-off 17-year-old straight-edge punk kid is going to be all about this, but what's it going to take to get the cop or the 60-year-old retiree who doesn't give a shit to look at this? Humor is a good way to go about that.
Though they're documented on video, most of the installations are dismantled within a few hours. What do you see them really accomplishing?
We operate in a certain segment of political culture. We're not the kind of group that's going to buy signs from Michael's and put fucking puffy paint on them and walk around and shout shit. That has its own effectiveness, but at the same time, because everything is moving so fast right now, we don't want people to get sidetracked. We've seen it so many times. It was really disheartening to see the Black Lives Matter movement struggle so hard to keep people invigorated, to keep people fighting against these homicidal cops.
The main objective is to keep the conversation going, using humor, using shock, and presenting something that has some artistic credibility to it. We want someone to sit around the office with a group of people and have a conversation. People watch the videos and see the risk that we take, and it's kind of a call to action. You can criticize our tactics, but at least we are actively fighting.
Where do you draw the line between art and vandalism? Do you feel like destruction of property is necessary or just an unfortunate byproduct of activism?
I don't think we've ever really drawn that line. I don't know that we've ever sat down and thought, "We can't do this."
We're good at destroying property, and it's a good way to get people's attention. I completely welcome any criticism in terms of tactic, but if you believe that breaking the law is not an effective way to get your opinion across, I would encourage you to look at history. A lot of prolific law breakers have worked wonders. We're a little heavy-handed, but that's the point. Sometimes you've got to kick the door in.
Follow Jessi Phillips on Twitter.