Photo via YouCaring.
DJ and producer Jasmine Infiniti and rapper London Jade were reportedly attacked Friday night in the Bushwick neighborhood of Brooklyn. Infiniti is currently hospitalized after sustaining injuries. Infiniti was set to perform in Brooklyn tonight with Discwoman's Shyboi and Jaqi Sparro.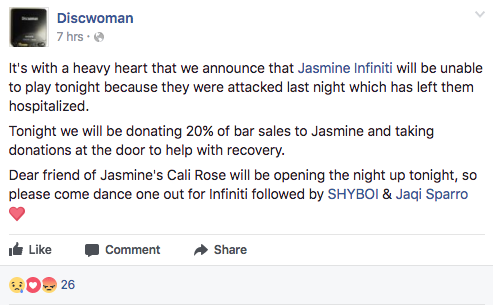 Screenshot via Facebook.
According to a You Caring page set up for the two, Infiniti has suffered a fractured jaw and Jade was cut. Infiniti will also reportedly be going into surgery this week, according to a fundraiser update on the You Caring page. Thus far, more than $14,000 has been raised toward a $25,000 goal for Infiniti and Jade. According to a statement posted by Discwoman to Facebook on the page for tonight's event, Infiniti's friend Cali Rose will open tonight's show in their place, followed by sets from Shyboi and Jaqi Sparro. Twenty percent of bar sales from the show tonight will go toward Infiniti's recovery. Discwoman will also be collecting donations at the door to help in their recovery. Donate to the Jasmine Infiniti and London Jade emergency fund here. Earlier this year, we exclusively streamed Jasmine Infiniti's Club Chai one-year anniversary DJ set.