Photos courtesy Krept and Konan. Composite by MUNCHIES Staff.
For Krept and Konan, opening their first restaurant has been no minor feat. The British rap duo have spent the last two years searching for a location, designing interiors, and curating menus; meticulously overseeing every last detail. This weekend, their vision comes to life as Crepes and Cones opens in South London.
It all started with a tentative idea—one that Krept prophesised on Twitter back in 2014. "Me and @konanplaydirty will have a desert chain restaurant 1 day called crepes and cones," he wrote.
"It just came into my head and I tweeted it," Krept tells me. "I thought, 'Let me see what people think of this.'" The replies starting rolling in and the excitement from respondents was palpable. So much so that the two decided to pool their resources and start hunting for potential locations.
With Krept hailing from Gipsy Hill and Konan coming from Thornton Heath, you'd be forgiven for assuming that Crepes and Cones' Croydon location was part of the plan from the very beginning, but it was more fate than intention that brought the pair back to South London.
"We were looking everywhere for the best place," Konan says. "We looked at Stratford, Camden, Shoreditch—either we just couldn't find anywhere or when we did it was so expensive," Krept adds. "Then my friend Nash, rest in peace, he passed away a few days ago, but he found two buildings within a week. One was here and one was in Thornton Heath. The Thornton Heath one was a bit smaller so we decided to go for the bigger one."
The decor inside Crepes and Cones is unapologetically London: takeaway customers wait for their food next to a mock bus stop sign on exposed brick, and I spot red telephone and post box-shaped salt and pepper shakers on the tables. The artwork hanging on the walls is vibrant, featuring everyone from Obama enjoying an ice cream cone to Konan's late father, reggae musician Delroy Wilson.
It's hard to believe that the space was an empty shell before the pair took it on, not to mention the fact that they transformed it into a restaurant while recording their most recent mixtapes 7 Days and 7 Nights last October.
"We were doing everything at the same time," explains Konan. "Basically, we were recording in our house so whenever one of us wasn't recording we'd be here. There's two of us and we've got an advantage and we just split up the roles."
"[We were] literally just multitasking and not sleeping," explains Krept. "People look at all of this and think, 'This is it,' but the amount of thought and notes and researching that you have to do is crazy."
Once they'd secured a location for Crepes and Cones, they could finally focus on the fun part: the food. Both admit to being food-lovers, so wanted to create their own versions of the dishes they enjoy most.
"These are the kinds of things that we'd go to a restaurant and get ourselves, so we just applied it to here. We bring business to a lot of other places, so we wanted to have our own," says Konan.
Krept continues: "And I've noticed when we post food on social media, people always wanna know what we're eating, so we thought, 'Why not draw this attention to our own place and do everything we love?'"
The menu, which was originally exclusively desserts, has blossomed into a full selection of halal and vegan dishes including burgers, chicken wings, hotdogs, and fries. The sweet side spans red velvet pancakes, deep-fried Oreos, and the signature "Crepe and Cone Crumble"—which Krept and Konan both name as their favourite dish.
Crepes and Cones head chef Julio-Cesar Hooton and pastry chef Victoria Idowu were instrumental in the creation of the menu, with Idowu taking sole charge of the dessert recipes, none of which use ready-mix packets.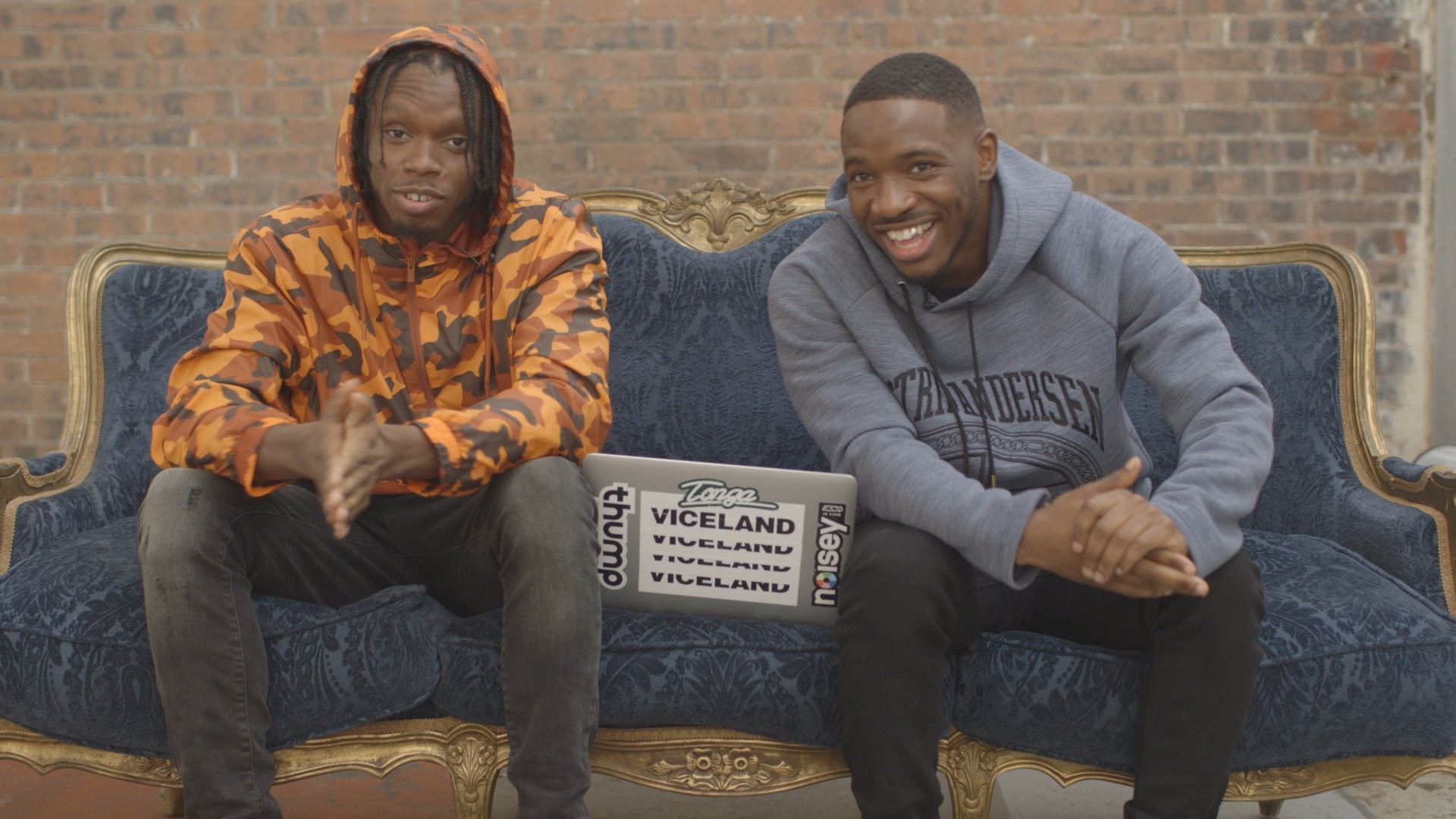 "We wanted to make sure ours was all from scratch," she tells me. The same goes for everything else in the kitchen. "Anything you can think of is fresh," confirms Hooton.
The result of a two-year-long labour of love, Crepes and Cones is now ready for its opening weekend. Despite owning the place, Krept and Konan want to be in attendance to support their front-of-house staff as best they can.
"I want to experience what people who are working for me go through and get to grips with the pressures of it so if I'm ever upset with them for doing something wrong, I can understand what they're going through," says Konan.
He adds: "We don't even look at it like we're the bosses, it's just like we're a team. That's how we approach everything. This is a team and we're all gonna win."