It was only after her husband threatened to kill her and hurt her two children that Maria decided to flee Honduras and seek asylum in the United States. Maria, a former school principal from Tegucigalpa, said she suffered years of abuse at the hands of her husband: she was raped, starved, imprisoned, punched, and kicked. She constantly feared for her life.
"The truth is that the violence was very extreme. It started with pushing me, then he would pull my hair. Then with time it got worse," Maria, now 30, said. VICE News has changed Maria's name, for her protection.
Maria was granted asylum in the United States last year under an Obama-era policy from 2014 that made domestic violence survivors and victims of gang violence eligible to apply for permanent residence. But she may be among the last group of domestic abuse victims to qualify; last week, Attorney General Jeff Sessions ruled that gang violence and domestic abuse are not grounds to grant asylum to immigrants who arrive in the United States asking for safety.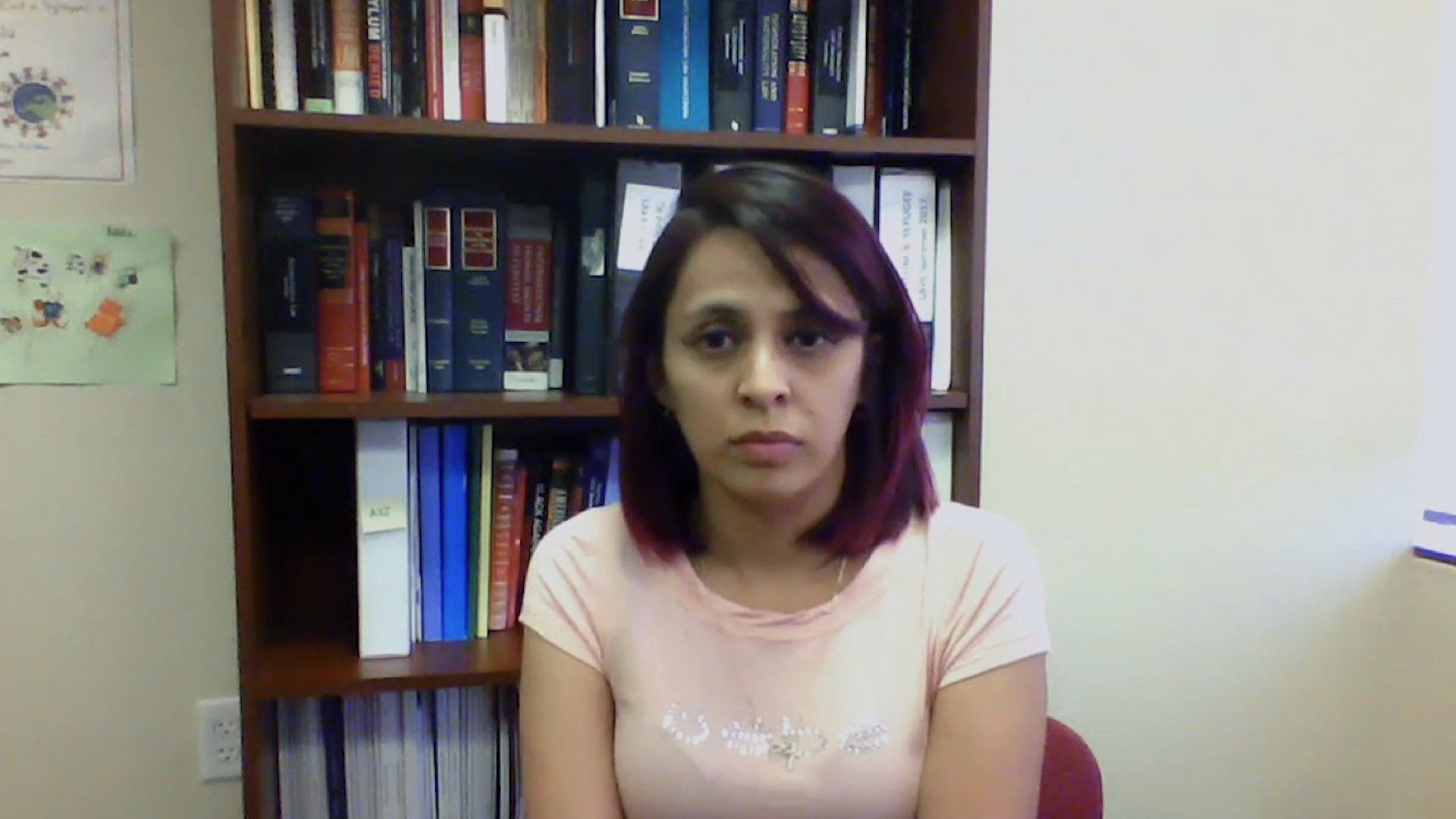 "The mere fact that a country may have problems effectively policing certain crimes — such as domestic violence or gang violence — or that certain populations are more likely to be victims of crime, cannot itself establish an asylum claim," Sessions wrote in his binding directive. He repeatedly referred to such crimes as "private violence," a term that evokes an era when American police believed domestic abuse was a matter best left to spouses to sort out.
But immigration lawyers and advocates argue that the U.S. has a clear moral and legal obligation to grant refugee status to women like Maria. Sessions' decision, they argue, will mean people will die.
"The reality is that women like 'Maria' arriving at the border today will in all likelihood — unless they're very lucky — be immediately deported," said Lindsay Harris, co-director of the Immigration & Human Rights Clinic at the University of the District of Columbia. Harris' organization helped Maria secure asylum. "Without a doubt, if a woman in another country is going to be killed because she's a woman, that's exactly what the refugee convention is supposed to protect."
The U.S. government doesn't break down asylum claims by reason, so it's impossible to know just how many people ask for asylum due to gang-related or domestic violence. Jorge Barón, director of the Northwest Immigrant Rights Project, which provides legal services to asylum seekers, estimates that claims of gender-based violence — or violence that happens to women because they are women — likely stretch into the tens of thousands nationwide.
Even before Sessions' decision, asylum cases were hard to win and often left up to the discretion of immigration judges. As a result, denial rates vary widely. About 61 percent of all 30,179 asylum cases were denied in fiscal year 2017, according to a University of Syracuse analysis. Five years ago, only about 44 percent were denied.
"'You like to be hit,' they told me"
Maria spent months trying to get the Honduran police to help her. She says the police did nothing when she reported the attacks. "They make fun of you, or they tell you, 'We'll fill the report because you are here, but you are going to go back to him either way. You like to be hit,' they told me."
After another violent episode, she made the difficult decision to leave her country to find sanctuary for her family. After a nightmarish journey through Mexico, where she and her traveling companions were harassed by the notorious Zetas gang, she finally crossed into the U.S. at Laredo, Texas, in 2015.
She and her two children were transferred to the Texas Family Residential Center in Dilley, where they were detained for three weeks, before having a credible fear interview to determine if she was eligible for asylum. She was released to wait for her asylum case to work its way to a judge.
Maria and her two children were eventually granted asylum on the grounds of domestic abuse in 2017.
Alejandra Rios sobbed, hard, as she recounted why she came to the United States.
Gangs besieged her neighborhood in her hometown of Felipe Zelaya, Honduras. They often stopped her teenage son in the street, threatening him with a gun. Eventually, she said, a gang kidnapped, tortured, strangled him, and slashed his face.
Eventually, they killed him, on March 7, 2017. Rios identified his body at the morgue the next day.
"That was the worst, the most horrible thing. He was just 16," Rios told VICE News, in Spanish and through tears. "Every time I tell the story, I live it."
In April 2017, Rios and her two still-living sons fled Honduras, headed to the United States, and applied for asylum on the basis of gang-based violence. A year later, their asylum was granted; Rios and her family today live in Pflugerville, Texas.
Jeremy McKinney, an immigration attorney in North Carolina whose asylum cases primarily deal with claims of domestic abuse and gang-related violence, recently worked with a client whose husband had stabbed her in the stomach in her home country. The injury left her hospitalized for a month.
"It happened over a decade ago," McKinney said. "And so the judge concluded, 'Well, if he was going to come after you, he would have done so by now.'"
That case is now on appeal.
Another woman told VICE News that she fled Honduras after being raped and beaten multiple times by her husband and his friend. (VICE News is not naming the woman, as she fears her abusers will find her.) The woman said she realized, "If I stayed there, I wasn't going to be able to take care of my kids. I was going to end up dead. I thought I would come to the U.S., and at least have the opportunity to see them in videos and photos."
Her journey to the United States was brutal. "I was in a van with other mothers and their children," she recalled in Spanish, crying. "There was no air. The children cried and cried because they couldn't breathe."
Eventually, she said she was dumped at a house in Texas crammed with dozens of other people. It was so crowded that she couldn't lay down or find a time to use the bathroom. She ate just one meal each day. After the woman finally arrived in the United States, she said she fainted from exhaustion after walking for hours alongside a highway.
Immigration officials soon found her. After spending nearly two years in immigration proceedings, she received asylum in January 2018.
Today, the woman says shes talks to her sons, who are now 11 and 7 years old, over WhatsApp. She's excited to be able to do everyday things, activities that are easy to take for granted, like going to the doctor and being paid for her work as a cleaner and dishwasher.
"If you decide to come, do not lose hope," she said. "The truth is that this is a country with opportunities. Everything can change with effort and patience."
"This decision is going to result in a number of women dying"
In the United States, asylum can be granted for reasons of race, religion, nationality, membership of a particular social group or political opinion. But the law is complicated by the fact that the U.S. isn't a full signatory of all facets of the 1951 U.N. refugee convention. Immigration advocates argue that gender should be included as a category that could allow for asylum protections under U.S. law.
Michael Hethmon, senior council at the Immigration Reform Law Institute, a conservative legal advocacy firm that supported Sessions' decision, argues that broadening asylum laws could lead to a flood of claims. "If people believe that a similar regime of humanitarian law should be set up then that needs to be acknowledged and lobbied for. Trying to shoehorn it [domestic violence claims] through the asylum system is going to be fatal for the asylum system itself," he added.
Harris, co-director of the immigration clinic at the University of the District of Columbia, disagrees. "I don't think it's too much of a legal leap to say we have an obligation to protect women, just as we have an obligation to protect Muslims, or Christians or Jews when they are being targeted or persecuted. "
Sessions' decision doesn't alter any past case law, and several immigration lawyers told VICE News that they're hopeful that a federal court will one day overturn Sessions' ruling. But that litigation could take years.
"If we can get these women out of detention, some of them may give up their fight and go home to the abusive situations they left," Baron warned. "This decision is going to result in a number of women dying."
Christianna Silva and Milena Mikael-Debass contributed reporting.