Screen capture via YouTube/UFC
Penniless and with no prospects, Francis Ngannou left Cameroon for France. Ngannou worked as a laborer and harbored dreams of becoming a boxer to break out of poverty. After wandering into the MMA Factory in Paris in hopes of joining a boxing class, Ngannou was convinced by Fernand Lopez to try his hand at mixed martial arts. This weekend, he fights for the UFC's heavyweight title—the world's absolute prize in fighting—and reports that he is being paid $500,000 just to take part. However you look at it, Francis Ngannou is already a massive success.
The UFC seems to be wholeheartedly in the Ngannou business. With a story like his, and a body like his, who wouldn't be? He's six-foot-four, 250 pounds with abs, and he knocks people out. Consider his path to the title—through the two most knocked out fighters in UFC history—and the way that the UFC has played up his punch as almost magical. Ngannou's punch is allegedly the hardest that the UFC performance center had ever tested. But that isn't a world record any way you look at it—it's a record on a machine that a handful of people at the UFC's performance center have used—yet you will still see it advertised as though it is. Dana White stretched even the most gullible of fans' credulity when he announced that Ngannou was proven to hit as hard as a truck. Then look at the UFC's social media accounts and hype footage which focuses on Alistair Overeem on the ground after he has been knocked out by Ngannou. There is nothing unusual about a fighter being on the ground for a long while after being knocked out, but broadcasts cut away from that image almost immediately to focus on the celebrating winner because it's extremely uncomfortable. The UFC really are pulling out all the stops to make Ngannou their Tyson.
That is the job of a promoter though, and it is good to see the UFC actually investing in someone who isn't Conor McGregor. For the educated fight fan there are still a great many questions clouding the image of the unbeatable Ngannou though, and hopefully his bout against Stipe Miocic will be able to give us some answers.
Hypothetical Gameplan: Miocic
For Stipe Miocic the path is clear. Francis Ngannou is a man who does well in exchanges or in combinations when his opponent is covering up and static. In this regard, the Miocic opponent to whom he is most similar seems to be Mark Hunt. (Check out yesterday's Stipe Miocic: King of the Heavyweights for a look through the gameplans that Miocic has shown against each of his opponents in the UFC.) Hunt was looking to counter Miocic whenever he stepped in, Miocic used the jab and feints to make Hunt reconsider. This isn't a "will it work on Ngannou?" notion, this is just an absolute must against good counter strikers. Every counter striker has had a hard time against convincing feints and good, non-committal jabs. The reason is simple: he can keep swinging at every look he's shown—exhausting himself and throwing himself out of position—or he can wait a little longer, try to ascertain whether the strikes are real or not before he throws, and start eating strikes he otherwise wouldn't have. From Anderson Silva to Joanna Jedrzejczyk, it has worked.
Of course in the above instance we were talking about "convincing" feints. If a fighter starts to second guess himself, or throws three or four feints without stepping in to show the legitimate strike, any doubt they implanted into the counter-striker's mind is quickly going to fade. This is the human element of scientific striking and to see that in action you need only watch Alistair Overeem's bouts in the UFC heavyweight division. You can witness Overeem perform in-and-out fighting clinics against Junior dos Santos and Mark Hunt, surge to an almost victory over Miocic, and then clumsily swing for Francis Ngannou, Sergei Kharitanov, and Ben Rothwell—obviously too worried to commit himself to anything but the most off-balance charges.
The only fighter that Ngannou has met who put a passable jab in his face was Curtis Blaydes and on that occasion, Ngannou took each jab flush and returned a right hand over the top. Blaydes beat him to the mark regularly with his quicker punch, but ate the harder, slower punch just the same in the aftermath.
This is a constant theme in mixed martial arts: a fighter tightens up the form and increases the speed of his blows, gets to the mark first, and gets hammered immediately afterwards. Kazushi Sakuraba surprised Wanderlei Silva in their third meeting by shooting straight punches down the center, but was clattered around by the windmill of blows which followed. John Moraga beat Sergio Pettis to the punch surprisingly often, but Pettis realized that Moraga was doing nothing to make himself scarce afterwards and quickly began landing counter combinations.
Blaydes's problem was that his jab was predictable, poorly hidden, and that he made no defensive considerations afterwards. This is the entire purpose of the double end bag: it makes the fighter move immediately after his straight punches—the fighter hits the bag, it bounces back and that is supposed to represent the opponent's return. It is easy to get distracted by top boxers tapping the bag hundreds of times without losing track of it and miss the entire point of the exercise—watch Ronda Rousey use the double end bag for that. But Stipe Miocic has shown himself capable of very solid jab work—or "jabbery" for the seasoned fight fan. Against Mark Hunt, Roy Nelson, and Fabricio Werdum, Miocic was able to get in and out unharmed by feinting before his jabs and moving to a position from which he could defend himself afterwards. Whether that be dipping at the knees, slipping, getting down behind his lead shoulder, or obstructing the path of his opponent's right with his lead hand.
One of the beautiful things about the double jab—and you can see this from Ray Robinson vs. Randy Turpin right up to Vasyl Lomachenko vs. Guillermo Rigondeaux—is that it covers ground, forces the opponent to move, and doesn't require the jabbing fighter to open up too much. When an opponent usually gets out of the way by bending at the waist or leaning backwards, the double jab forces him into his most crouched or craned position before the right hand has even left its holster. Since he arrived in the UFC, Ngannou has shown a lot of leaning back and throwing when the opponent steps in—getting cracked with a good straight right in this position can be disastrous.
Of course, Stipe Miocic's good jab and outfighting are a means to an end. His jab sets the table for God's own right hand and this is where things get dangerous, not just for the recipient but for Miocic as well. His right hand has a mind all of its own. Sometimes he is capable of beautiful scientific hitting wherein he will land his right hand, anticipate a return and move to a new angle to keep hitting. Other times he will fumble—looking to hold onto his opponent with his left while he swings frantically with his right. These are the ones which could easily get him into trouble on the inside with Ngannou. The longer Miocic is in the mid-range the more he opens himself up.
Sneaking the "two" in after the "one" should be Miocic's main goal in this bout. Faking the level changes to make Ngannou work and move, using feints to get his finger off the trigger on the counters, scoring the jab and eventually sneaking through the right hands—always cutting the combination off, exiting by "closing the door" with the left hook, or moving to a clinch proper to limit the chances of Ngannou smashing him on the return.
Another way in which Miocic can likely score the right hand is by drawing kicks from Ngannou. Ngannou is not a skilled kicker and this really showed in a couple of his early UFC fights, wherein he would plod around—stop—and then throw a labored, full power right low kick, absolutely naked. Drawing the kicks out can be done by outfighting, not just with the jab, but with the inside low kick which Miocic used so excellently against Fabricio Werdum. Miocic had a lot of trouble with outside low kicks from Junior dos Santos but in drawing round kicks from Ngannou he should look to step up the center with the right hand while Ngannou is one on foot. This intercepting counter as the opponent is on one leg, when timed correctly, is one of the most severe in all of striking and when it doesn't result in a knockout it offers a great chance of a knockdown or takedown.
---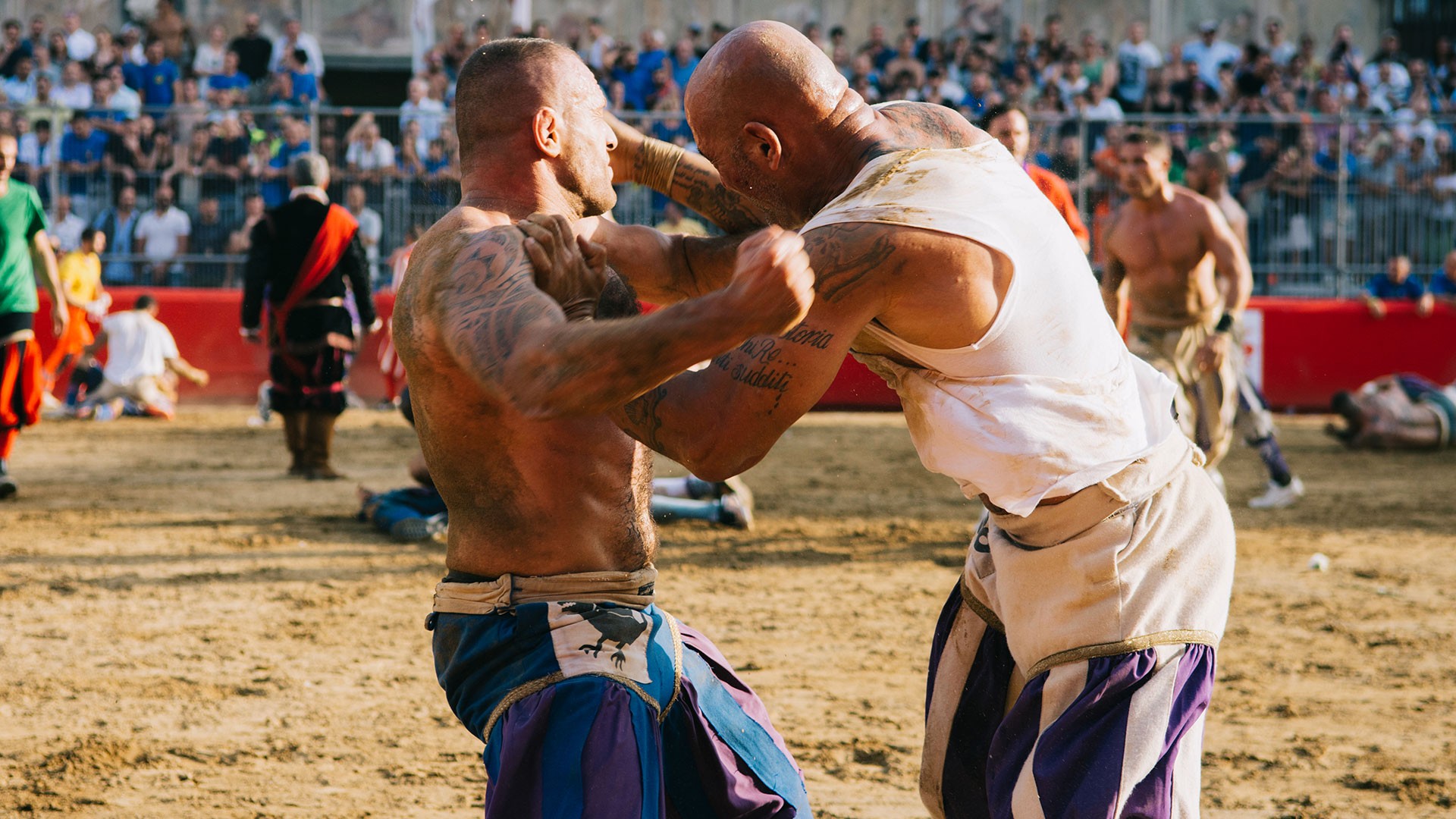 ---
Hypothetical Gameplan: Ngannou
Francis Ngannou's close range weapons are well advertised. The left uppercut on a lunging, badly out of position Alistair Overeem has been replayed ad infinitum, and the counter right uppercut against Andrei Arlovski is well remembered.
While the old lean-back-and-counter might work a treat if Miocic offers up exchanges as readily as Arlovski and Overeem did, it's always best to plan for a competent, savvy opponent and be pleasantly surprised if they make a mistake. Therefore Ngannou's focus should be on forcing these exchanges and finding the weapons he does possess which can compete with Miocic's work at range.
Firstly, Ngannou might do well to constantly work to cut the ring. While Miocic has been very good at circling off the cage and avoiding men who want to trap him there, consciously and consistently working towards it should yield results eventually. In the course of ring-cutting, Ngannou could look to make use of the double jab to straight right hand that he threw repeatedly against Blaydes. Miocic has a tendency to give ground with his head way up in the air and has been caught on the end of swings by Nelson, Werdum, and dos Santos. Ngannou's reach, combined with a double jab, could make for a worse connection than when those gentlemen caught Miocic backtracking.
The alternative, and one which every ring cutter should have in the back pocket for a prolonged bout, is to take a step back and have Miocic come to him. If Ngannou refuses to engage for a minute or so the chances are he can get Miocic over-stepping the mark and running onto blows. Miocic came within a hair's breadth of losing the title when he got a little too keen while walking Alistair Overeem down, running onto a gorgeous left straight and being dropped to his rump.
But Ngannou's footwork—as with so much of Ngannou—is a bit of a mystery. When he came into the UFC he didn't even have the fundamentals of footwork down, shortening his stance and advancing with his rear foot first—a method which is only really useful if you have an excellent lead-leg kicking game you want to show off, which Ngannou Taekwondon't. More recently he has held his stance well and shown neater, phasic movement, but the fights have been so short it's hard to know how well it will hold up—especially if he is dragged three rounds deep into a title fight.
Miocic's trigger happy right hand seems the most likely thing to get him caught and there are a couple of ways that Ngannou could draw that out. The first is to trap him against the fence and jump on him before he can circle out—that's the trickier way. The second is to show him something he thinks he should be capitalizing on. Most often this is a failed shot. Every time Roy Nelson ducked in on Miocic's hips, Miocic found himself pushing Nelson off—left hand on Nelson and right hand trying to swing, with no defense in sight. It was an area of absolutely woeful defensive striking in an otherwise masterful performance, and it kept happening. The same happened with Miocic off-balanced Werdum with an inside low kick—Miocic's hands shot out in front of him like a mummy and he began swinging the hammer again.
Ngannou has shown himself a strong man in the clinch, if he can duck in on Miocic he can either start a trade by breaking on his own terms or know that whenever Miocic makes some space he's going to start swinging that right hand from down by his chest. That would be a great opportunity to open up with the counter combinations. Also, while Miocic is an upright boxer who offers little target for the uppercut, as soon as he sees a shot coming he throws his hips back and his head remains firmly in the path of the uppercut.
Both these lads hang their power hand down by their nips until they have thrown it, and then reel it in like the cord on an old vaccum cleaner—both are begging for the counter left hook and eating one post swing could be disastrous for each.
One massive question mark is Ngannou's takedown defense over the rounds. In fact Ngannou's anything over the rounds. Many were impressed when Ngannou reversed position on Overeem in the clinch and smushed him into the fence, but that was a minute-long fight. Good wrestling is like good boxing, you don't expect to score on 100 percent of your attempts. Miocic has always been good at reaching for snatch singles and simply making his man work, then picking up takedowns later on. In Ngannou's most recent two-round fight, against Curtis Blaydes, he slowed badly and was taken down straight into side control in round two. Blaydes let him get the underhook and come up, but it was intriguing nonetheless and the bout was stopped due to the swelling around Blaydes's eye before the third round could commence.
Perhaps Francis Ngannou comes out and starches Stipe Miocic in another quick fight which tells us nothing more about him, but Miocic at least seems the kind of fighter—with the kind of team around him—to actually attempt to test Ngannou in his least proven areas. Either way, it is hard to imagine the two not meeting a second time. Both competitors are positively youthful by the standard of the heavyweight top ten and along with Blaydes and Tybura finally offer some hope for the future of heavyweight MMA outside of the stars from ten years ago.
Jack wrote the hit biography Notorious: The Life and Fights of Conor McGregor and scouts prospects at The Fight Primer.