Image: quickmemes
Internet memes have come a long way from Richard Dawkins original definition, with the exchange of GIFs, video clips, and captioned photographs a staple of almost all messaging applications.A core part of these are dank memes, online viral media and in-jokes that have been overdone and have now taken on a life of their own. The most infamous example is Pepe, the frog infamously used by the alt-right movement in the US.
Like Pepe's various avatars, dank memes in India run the gamut from lame to malicious. Dank meme communities on Reddit, 4chan, 9GAG and GIPHY, are inspiring Indian Facebook users to spam popular pages such as Laughing Colours, RVCJ Media, Sarcasm, and All India Bakchod with rape jokes, sexist, and casteist jokes not to mention jokes that are aimed at offending religious sensitivities. Even victims of horrific tragedies such as Jyoti Singh aren't spared.
They've also formed their own hubs, where socially acceptable humour is strictly not tolerated and users who indulge in it are mocked as "normies". Secret Facebook groups, such as HOUSE OF ILLREPUTE, operate on an invitation-only basis, remaining restricted to friends of friends who have been vetted by administrators. House of Illrepute has nearly 9,000 members, who are warned against normie behaviour in a list of guidelines that state "Don't be a prude", and "Survival of the fittest."
Jansher Singh, one of the group's administrators, told me that most members are under 30 urban working professionals or students. Just over half, 53 percent, are male he told me. "Admins check publicly visible profiles of requests received, and membership in other meme groups," Singh said. The content circulating on House of Illrepute ranges from innocuous to plain disturbing: a video of Sachin Tendulkar requesting pillion riders to wear helmets, a video of a kid addicted to huffing correction fluid, and a sinister pornographic video of what looked like two minors having sex.
Policing the boundary between hate speech and humour is a difficult task. In October 2017, a viral meme appeared, mocking student activist Gurmehar Kaur's feminist stance, on a now defunct page called Squint Neon. Kaur messaged the page administrator reminding them of her right to file a complaint with the police's cyber cell. Kaur told me that "There is a bigger issue at hand than just some stupid boys making memes or some silly trolls typing abuses. I don't care about the memes. I care about the impact they are having and the conversations they are starting. In a country where there is one rape case registered every day"—it's actually more like a hundred—"we cannot let this kind of slander against women go unnoticed."
One woman I spoke to disagreed. "We understand social pressing issues, but being triggered at everything isn't the solution either," said Maryam Mahmood*, a language teacher who felt her personal life would be "jeopardised" if she used her real name. "When a male member makes a pro-rape or demeaning meme about women I just ignore it or reply with an equally offensive joke on men and go about my day." Mahmood justified her support of dank memes, saying "Most of us are decent people, some work for NGOs, almost everyone supports LGBT rights and equality for all sexes. People have been sharing offensive opinions forever. Now politicians like Trump and Modi have made their entire careers out of it."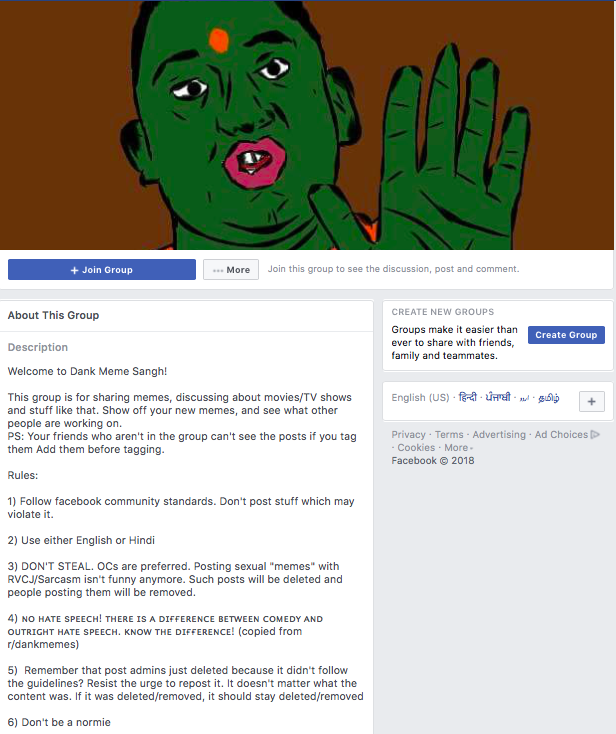 Members have occasionally come out of the darker corners of the internet—for example for an event organized by ShitIndiansSay: "Shouting 'Bol Aunty Aau Kya' in CP". The event called people to gather in Connaught Place, Delhi and sing the lyrics of a sexist viral song by rapper Omprakash Sharma. The event spread, with hundreds of fans shouting the lyrics to "Aunty Ki Ghanti" in public, despite several media outlets calling out the song's inherent violence.
Taaran Chanana, a co-founder of ShitIndiansSay, thought the critiques were an over-reaction in an over-sensitive country. "The basic idea of memes and offensive humour is still at level one in India, and it has a long, long way to go," he said. "Sadly, Indians get offended very easily. Being at 650k-plus on FB, we've experimented and built a community, which I'm happy to say doesn't get offended with the content we post. We never make memes on caste or religion because we know that can land us trouble and it has for other small dank pages." Yet such memes are still shared on his page and others.
Kaushal Sinha*, a content creator for an advertising firm who wished to remain anonymous, is a an active poster in CCM - Contagious Curry Memes, which has over 6,000 members. "Would you call George Carlin offensive when he makes fun of Christians?" Sinha asked me over Facebook messenger. "Or Bill Hicks, when he describes oral sex in graphic detail? We are not normalising offense. People have been having regressive opinions and making jokes about it since forever—my mother would warn me to stay away from feminine male friends because they are so queer, but she wouldn't say that out loud in the public would she?"
"Sadly, Indians get offended very easily."
Sinha has twice been temporarily banned by Facebook for abusive posts—the first time he couldn't post for a week, and the second was a complete block for 24 hours. Groups sometimes get zucced too, then reopen with similar names. Contagious Curry Memes, for example, was once called Stinky Curry Memes.
"I think dank memes also cater to the introverts and asocial people," said Tarun Ahuja*, a technical writer at an international bank, who belongs to groups like Dank Meme Sangh and Smoke Meme Not Weed. "It gives them something to relate to and feel good about themselves. And having that common ground with others is great feeling."
One person's common ground, however, can be another's sacred territory. Last March, an atheist Facebook and Instagram page called The True Shit posted a picture of the Sikh Guru Nanak spangled with cannabis leaves, saying "wahe guru ji da lighter/ wahe guru ji di weed." The True Shit often posted similar images of other religious icons, but this time, Sikhs scrambled to shut the page down. The page closed, but the_true_shit on Instagram is still going but now reduced to 600 or so followers from its once numerous 70,000.
In the strange case of a meme inside a meme, last August, the Hindutva activist Deepak Sharma posted a video for his thousands of Facebook followers, of beating a young boy for promoting anti-Hindu memes. Later, Sharma told reporters that the entire video was simply a gimmick to warn others.
The state has issued its own warnings: In July last year, the comedy group All India Bakchod faced defamation and charges under the IT act for tweeting an image of Prime Minister Narendra Modi with a dog filter, and the hashtag Wanderlust—a dig at the PM's frequent foreign tours.
Behind heavily subsided extended data packs on their smartphones, India is busy camouflaging a politically correct outlook in their public posts, with disturbing dank memes in closed groups
*Names changed at the sources' request.