Add the roads of the Faroe Islands to the long list of places forever immortalized in Google Maps Street View. Except, well, these photos were taken by sheep.
Visit Faroe Islands, the country's tourist bureau, has equipped a fleet of sheep with solar-powered 360 cameras for "SheepView360" to walk across the rocky mountain terrain. Keep in mind, this is an archipelago of 50,000 people, a population outnumbered by sheep (there are currently 80,000 sheep on the group of 18 islands). By no surprise, "Faroe Islands" translates into "sheep islands" in Faroese.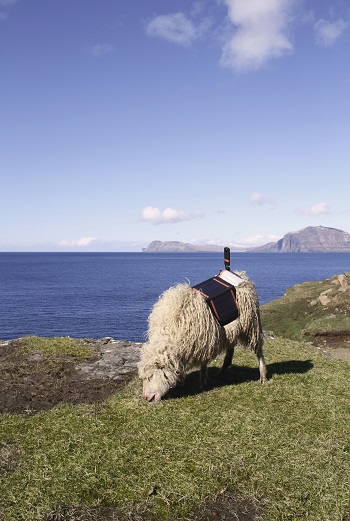 "When we started this project, we wanted Google Street View available in the Faroe Islands so we could share our beautiful country with the world, and with all the people who do not have the means to visit," said Durita Andreassen, a local resident who had the idea to map out her country with Google Street View. She spent months mapping out the roads with sheep by strapping cameras on their backs. It was a gimmick, a way to make a splash in the media when it was first announced in August, and it worked: It garnered hundreds of articles, which, according to the tourism board, was worth around $42 million in "PR value." Not bad for a project funded with only $289,000.
But even with all the press, they still wanted to convince Google to get involved. Andreassen created an online petition and got local residents and tourists to sign on the virtual dotted line. Luckily Google responded shortly after being pitched.
David Castro González de Vega, the Google Maps program manager, said when he heard about the project, he thought it was "sheer brilliance." That led Google to loaning the islands several 360 cameras so local residents and tourists could help create their own street view with selfie sticks, sheep, bikes, backpacks, cars, kayaks and ships.
The project seems to have had an effect on tourism. According to Levi Hanssen, the content manager at Visit Faroe Islands, there has been a surge of flights and hotels booked for this summer that is higher than usual. But Sheep View isn't even online yet, as Google is still in the process of uploading the material to Google Street View. Hanssen said they don't have a date yet for when it will be finished, but they're hoping by the end of the year.
Once Sheep View does launch, it will help adventure travelers who are interested in hiking around the mountains, as well as those who just want to poke around the island online. "Hopefully people will enjoy browsing around the Faroe Islands on Google Street View and also enjoy seeing the Faroe Islands through the eyes of sheep," said Hanssen.