Despite whatever the hell is going on in Washington, DC right now, it can still be a great place to sip whiskey in a low-lit room with your friends, or kick back with a slice of pizza and a cheap brewski.
From blues bars to Midwest-vibes watering holes to low-ceilinged cellars with top-notch jukeboxes, here are the best places to get divey in DC.
Don't forget to check out the complete MUNCHIES Guide to Washington, DC for the best places to eat on a budget, grab a coffee, or feel fancy, too.
Galaxy Hut: Despite not actually being in the District, Galaxy Hut is kind of a DC institution. The 28 rotating taps are specifically dedicated to non-commercial brews, the menu is a solid assortment of well-crafted sandwiches and appetizers (all of which can be made vegetarian/vegan friendly), and the weekly live music is focused on small, local acts and only requires a $5 cover. Just make sure you arrive early—once they hit their capacity of 66 seats, you're out of luck.
The Pug: On a street where many of its neighboring businesses seem to be competing for the title of "Spent the Most Amount of Money on Hip Interior Design", the Pug is as cramped and as dark as ever. Frankly, it's kind of a relief. The Pug is great because it hasn't capitulated to the ridiculous rolling trends of the DC dining scene, and its ethos is well summarized on their website: "No idiots. No bombs. No shooters. No specials. No politics. Relax. Drink. Be cool. Behave." The Pug don't give a shit, and that's exactly why you should drink here.
Ivy & Coney: This Shaw watering hole, which comes to us from the team behind the inventive BBQ joint Kangaroo Boxing Club, is singular in both design and purpose: to be a cheap place to eat and drink for expats from Chicago and Detroit. It accomplishes this goal well. With a Rust Belt vibe so strong you might need to get a tetanus shot (both figuratively and literally, as the building looks like it should be condemned), it's a glorious shithole. The straightforward menu is an inexpensive rogue's gallery of hot dogs, sausages, and fried carbs; the drinks are cheap and limited in scope and imagination; and they serve Italian beef, Chicago's most beloved sandwich. It's a place for hard-won sports victories and thick accents, and you'd be hard pressed to find a dive with more heart.
Raven Grill: The oldest operating bar in the District, The Raven is a pretty classic example of a neighborhood dive: a place desperately in need of a renovation, a little sticky, surly, cheap, and cash only. It's exactly the kind of place your mom would tell you to stay away from, which is in itself a compelling reason to drink here. Hit up an ATM before, prepare your ass for some lumpy cushions, and crack open a tall boy.
Quarry House Tavern: Few bars in the DC area are as beloved as the Quarry House. Forced to close its doors after the Indian restaurant above it, Bombay Gaylord, suffered a severe fire in early 2015, it's now resurrected on Georgia Ave in a space formerly occupied by a failed pirate-themed bar. While the digs are different, many of the bar's former trappings (ie. random shit) have been hauled over to the new location, and it's still loud and kind-of shitty with a killer beer list. More importantly, though, the spirit has remained the same. It's a rollicking, drunken good time, and worth a visit. [ED NOTE: Yes, it's currently closed, but the owners are saying they'll be back open in "mid-late February, which is soon.]
Tune Inn: These days, people often think of dive bars as the refuge of hipsters and salmon-colored pants–wearing bros, but the Tune Inn helps to refute that image. This is a dive bar for grownups. Expect pleather booths, wooden paneling, bowling alley lighting, and wall-mounted taxidermy fish. The drinks are cheap, it's got a true neighborhood feel, and they serve a deep-fried, beer-battered hamburger. What's not to love?
Trusty's: Trusty's is the kind of bar that makes the occasional visitor wish they were a regular. It's split into two distinct levels, and the ground floor is dark, laid back, and comfortable in a "drinking Millers in your dad's half-finished basement" kind of way. Service is gruff but genuinely friendly, it's cheap, and the nachos are awesome. Head upstairs and you'll also find a wider variety of craft beer, a screened-in deck, and… a bar crafted out of an entire short school bus, with shots and beers being slung out of the still intact windows. Low key, unexpectedly weird, and easy to enjoy, Trusty's is the kind of place you'll find yourself going to again and again.
The Bottom Line: Located next to Farragut West metro station, The Bottom Line is a quintessential after-work dive with exactly what you want—it's dark, loud, and amorous. Drink specials are cheap as hell (we're talking $2 here) and are dominated by domestic beers and rail drinks, and their weirdly diverse menu covers everything from burgers and tots to quesadillas made with backfin crab meat.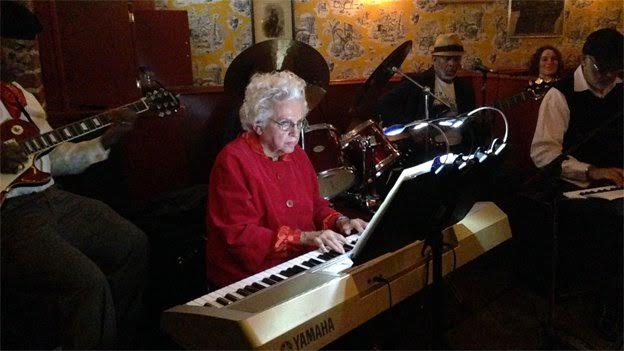 Showtime: A low-ceilinged, boxy dive located in Bloomingdale that's cheap and unpretentious, with a grandma-fronted house band and a phenomenal jukebox. Cash only, but the ample beer-and-a-shot specials shouldn't hurt you too badly.
Madam's Organ: This is the party hub of Adams Morgan, a neighborhood once known for insane drunkenness and debauchery that is only just beginning to reclaim its former glory after seeing a large number of closures in recent years. The blues bar can be a bit of a hot mess, which is likely the reason people love it so much. The live music is on point, the crowd is a happy train-wreck, and they have the bustiest signage in town. Plus, they made national headlines history after getting a noise violation when a band member cracked a window to let out a fart. If that doesn't confirm its dive bar credentials, nothing will.
For way more recommendations for where to eat, drink, and chill in DC—check out the complete MUNCHIES Guide to Washington, DC.
This first appeared on MUNCHIES in November 2016.