This article was created in partnership with Field Roast.
Roy Choi thinks of himself as a chef standing with a foot in two generations: "The first was where there was a big river between the guest and the establishment, between fine dining and everyday eats," he says. Choi helped define the second generation in 2008 with his Kogi Taco Truck in Los Angeles, "a world where we [chefs] have a direct relationship with fans," with social media bridging the aforementioned river between tasters and tastemakers.
A decade after slinging his first Korean tacos, Choi finds the restaurant world at a familiar inflection point. He's changing the relationship between chefs and consumers and their attitudes toward meat and plant-based alternatives. "That image of a chef with crossed arms in front of a whole pig? That's not as psychologically sexy as it was in 2005. It's so past-tense," he says. Similarly, the image of the plant-based meat alternative has changed. "Anyone who grew up from the '70s to the '90s remembers the stigma of [the bad] veggie burger. Things are way beyond that now, with food culture, food science, and the approach toward plant-based protein really evolving." 
The data backs up Choi's assessment. In a 2020 Gallup poll, nearly a quarter of Americans reported consuming less animal protein than they had the year before. Meanwhile, the Plant Based Food Association and Good Food Institute clocked a 45% year-over-year rise in plant-based protein sales, growing 27% faster than the total U.S. retail food market. These reasons (better plant-based options and more people looking to make a change in diet) are why Choi has partnered with Field Roast—the famed, flavor-forward industry leader of plant-based meats and cheeses—for their "Make Taste Happen" campaign, which aims to help food-lovers explore more flavorful alternatives.
Part of said campaign includes a three part video series wherein the famed chef meets up with cultural trailblazers—Jess Wang of Picklé, Beny Ashburn and Teo Hunter of Crowns & Hops, and Vicky Phouangbandith of Heart Beet Gardening—to collaborate on a once-in-a-lifetime meal, created with Field Roast plant-based ingredients. The results are as entertaining as they are delicious, and Choi adds hosting the series to his other high-profile hosting duties of Broken Bread on PBS and The Chef Show on Netflix.
"Ultimately," says Choi, "what chefs everywhere are trying to do is add flavor, and Field Roast does just that."
It's a perfect fit for a more of a flexitarian approach to diet, embodied by what Choi tells his Kogi customers: "You don't have to eat animal meat every single day. When you choose to explore plant-based protein, you don't have to make a sacrifice." On the Kogi Truck he serves the double-smoked Field Roast Plant-Based Signature Stadium Dog and swears, "If I was to do a tailgate at the Buffalo Bills or Steelers stadium, with all the condiments and the bun toasted just right, I don't know if anyone would know they weren't pork or beef. [Plant-based protein] is getting so good, it's at the internet deep-fake stage, almost where we can't tell the difference."
Habits are changing, and restaurants are again at the frontier, from fast-food joints to New York's Eleven Madison Park, which reopened in June as a meatless operation. Still, Choi wants chefs to step up and take a stronger stance. "We can change things if we make plant-based meat cool and chefs and tastemakers start to make it a part of their daily life, just like with Twitter all the way to TikTok," he says.
For Choi's part, he's been doing what he does in the "Make Taste Happen" video series, swapping in Field Roast for the meat in dishes like Zha Jiang Mian Noodles and Jamaican Oxtail stew (the recipes for which you can find below). Oh, and about those plant-based Stadium Dogs? "We took them through the crazy [test] dummy phase: chopping, dicing, slicing, cubing, braising," he says. "It's performing way better than we even thought [possible]." Ultimately, says Choi, what chefs everywhere are trying to do is add flavor, and Field Roast does just that.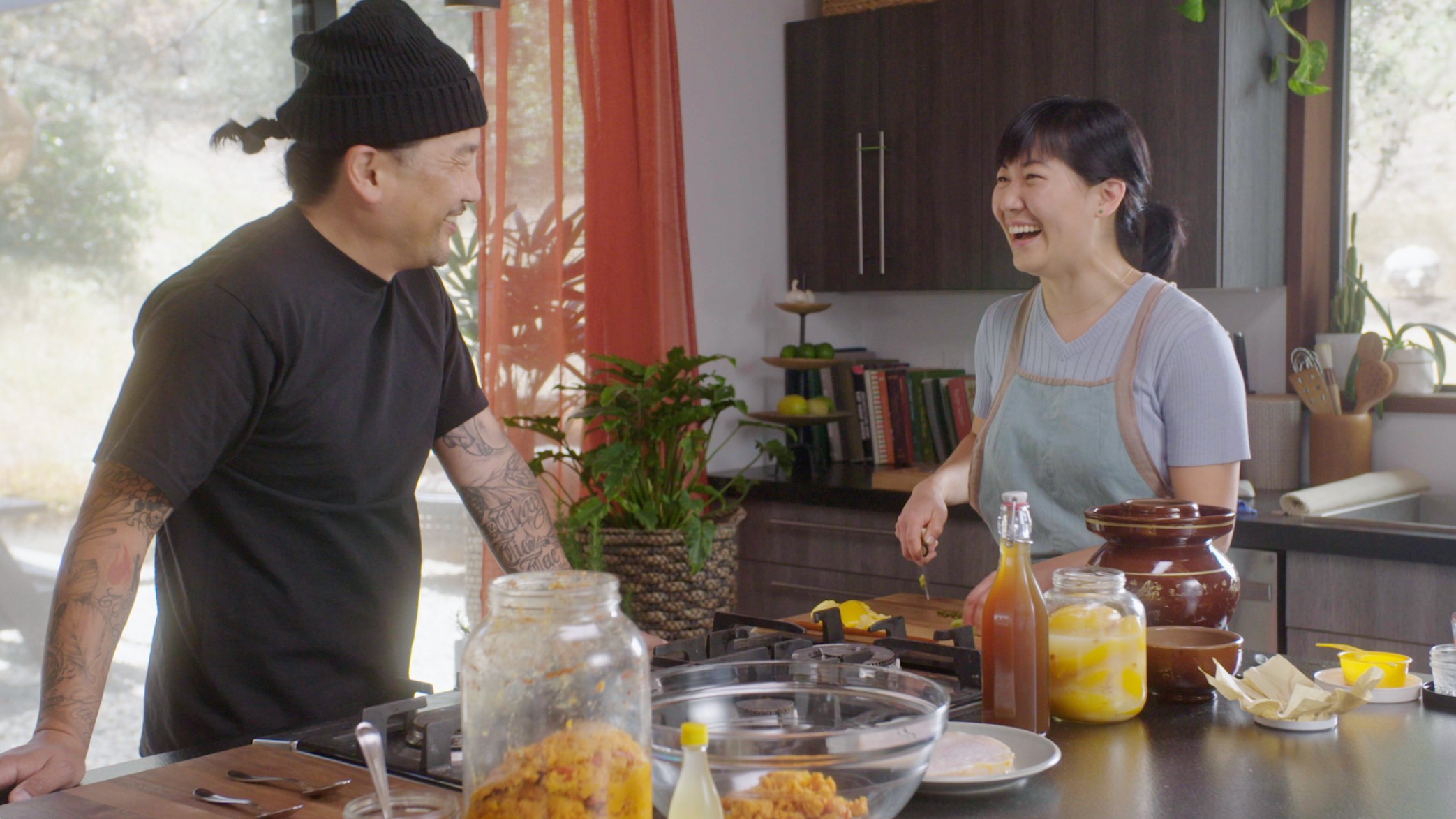 Zha Jiang Mian Noodles
Serves: 10
Ingredients:
1⁄2 lb of Spicy Mexican Chipotle Plant-Based Sausage, halved lengthwise and sliced 1/4 inch thick
1 lb potatoes, cut into 1⁄3 inch cubes
1 large brown onion, cut into 1⁄3 inch cubes
1⁄2 lb pressed beancurd (doufu gan), cut into 1⁄3 inch cubes, substitute
up to 1⁄4 lb with Xiang Gu (Shiitake) mushrooms
2 tablespoons Mustard Green Pickles, chopped fine
1-2 tablespoons preserved Mandarin "Meyer" Lemon, chopped fine
1⁄2 tablespoon chopped fermented red chilies, optional for spicy kick
1-2 tablespoons oil
1⁄4 cup of fermented broad bean paste / Douban Jiang (contains chilies)
1⁄4 cup of fermented sweet wheat paste / Tian Mian Jiang
1-2 teaspoons salt, to taste
3 tablespoons dark soy sauce
2 tablespoons light soy sauce
about 2 cups of very hot or boiling water
1⁄4 cup of cornstarch or potato starch
1 cup room temperature water
2 lbs dried wheat noodles, or 4 lbs fresh
1⁄2 lb cucumbers, cut into matchsticks
1 clove garlic, smashed + minced
pinch of salt
2 tablespoons rice vinegar or fruit vinegar, such as persimmon or apple
Preparations:
In a small bowl, toss cucumber sticks with salt and put aside.
Heat two teaspoons oil in a large pan over medium high heat. Add Mexican Chipotle Sausage slices and brown on both sides. Remove from pan.
Add 1 tablespoon oil to the pan and cook onion until fragrant and translucent, then add Mustard Green Pickles, preserved lemon, and fermented chili (if using), followed by fermented bean paste and sweet wheat paste. Combine thoroughly and continue cooking for two minutes, stirring once or twice.  
To the pan of onion sauce, add the browned Mexican Chipotle Sausage, pressed bean curd, soy sauces, and about two cups of boiling water. Stir to incorporate.
Scatter chopped potato over the sauce, cover pan, and reduce heat to low. Cook for 10 to 15 minutes. Meanwhile get a pot of water on the stove for boiling noodles.
Drain cucumbers of liquid drawn out by the salt. Toss with garlic and vinegar. Put aside for finishing dish.
Dissolve starch in one cup of water, mix into the pan of  simmering sauce, and continue to cook uncovered, until thickened, three to five minutes. Taste and adjust seasoning with salt as needed.
Boil noodles according to instructions on packaging. Portion noodles in serving bowls, top with sauce and cucumbers, and enjoy immediately!

"Urban Anomaly" Brown Stewed Jamaican Sausage with Rice & Peas
Serves: 4
Ingredients:
 4 Field Roast Garlic & Fennel Plant-Based Sausages
1 tsp salt
1/8 tsp pepper
2 tbsp adobo seasoning
1 scotch bonnets pepper
3 tbsp green seasoning (Haitian Epis)
3 garlic cloves chopped
1 tbsp thyme leaves
1 tbsp chopped parsley
2 tbsp soy sauce
1 tbsp Worcestershire Sauce
1 packet sazon (goya)
1 cup chopped tomato
2 tbsp ketchup
2 cup chopped onion
1 cup green belle chopped
1 green onion chopped
1 (16oz) can of Urban Anomaly Stout
1 cup of vegetable broth
Preparations:

Braise the Garlic & Fennel Plant-Based sausages in two tbsp of olive oil and two tbsp of brown sugar (also considered the "browning"). Split and slice, 5-8 min on each side.
Introduce the rest of the ingredients.
Marinade for 10 min on medium heat.
Add vegetable broth, 3 bay leaves cover & stew for 2-hours.
Add carrots at 1.5 hours.
Add water as needed throughout the stewing.