Remember when D'Angelo wrote a song about weed that was so sensual and rugged that it sounded like it was written about a Black woman? Phabo operates in a similar way. Call it the

"Brown Sugar

" effect.
If you've heard any of the nostalgia-driven music he's released in the lead-up to his debut album, Soulquarius, you might understand the reference. With his bass-heavy 2019 single,

"How's My Driving,"

he turned a road safety slogan into a hook filled with blushing innuendos. "It should be illegal the way you riding / You let me take the lead, but how's my driving?" he sings.
Still, it's a hell of a comparison to make. And it's one that the 28-year-old will probably be hearing often, given that his debut album is also a nod to

the Soulquarians

, a collective helmed by neo-soul artists like Erykah Badu, Common, and of course, D'Angelo in the 90s and early 2000s. But Phabo isn't worried about inviting references to his predecessors, a move that might inadvertently place him in their shadow. He seems to thrive in the mysteries of the dark.
"I'm not purposely trying to fill any shoes, but there's definitely a mantle that exists with a bunch of fire-ass, MVP, GOATed artists," he tells me over the phone, a week before the album's release. To him, The Soulquarians' neo-soul movement represented a sonic reset from the flashy rap scene that dominated much of the mid and late 90s, and Soulquarius aims to be a reset of its own. "It's no knock, but it's not pretty boy," he says. "It's not that type of R&B that's the baby oil rub down. We're coming with that same essence, in a truer sense."
Musically, Phabo is modernizing the best parts of 2000s R&B: He is a composite of the candor of Case, the sensuality of Tyrese, and the edge of Jaheim. Moments like "The Phabo Show," an original theme song for a hypothetical TV show about him, sees singer Alex Vaughn introducing listeners to the artist in a playful way, channeling the rambunctious energy of Black sitcoms like Smart Guy and The Parkers. Elsewhere, he uses the

iconic opening scene

from Belly, a 1998 film where Nas and DMX play New York City drug kingpins, as a writing prompt for "Jelly:" "I wanna see it under blue light like that scene in Belly / Hit it like traffic jam, hit it make it move like jelly." Let's be real, you've probably recreated that scene in your mind a dozen times since 1998. With "Jelly," Phabo casts you as the star.
While this sort of nostalgia can sometimes feel contrived, Soulquarius' saving grace is the way Phabo uses these cultural touchstones as vessels for the vicissitudes of personal memory—such as on "The Homie," which finds him worried at the thought of losing his on-again, off-again girlfriend to a college sweetheart. Nowhere do these references feel like a gimmick: Whether he's sharing his most vulnerable moments, or his most cocky ones, these cultural timestamps simply render his story more relatable.
Growing up, Phabo's pursuit of music was as scattered as the places he called home. Born in San Diego, where his parents gifted him with a red drum set, he moved to St. Petersburg, Florida by the time he was eight, then relocated to Long Beach, California at 16. Cycling through drum, piano, and guitar lessons, he eventually found a musical home in his school's jazz band, playing the clarinet. "Walking with that case from class to class was so square," he says. Although he could sing, indulging that talent felt socially awkward. "I started to shy away from that, but I wanted to be 'the man,'" he says. "In order to be the man at that time, you had to rap. Nobody has a doo-wop circle at lunch."
Phabo's desire to be "the man" went beyond the sporadic cyphers he joined outside of his school's library. Though he'd always been drawn to music, he looked directly to his father, a professional with job stability and the family breadwinner, as the prototype of who a man should be. Phabo considered a more stable career option like medicine, even though he knew his father would support him either way. "With him being someone who was so successful who I look up to and—in my eyes—my best friend, I didn't want to let him down."
When his father died suddenly when Phabo was just 21, he decided that pursuing music couldn't wait. For years, his father had been trying to get him to see that he could be whoever he wanted to be. And though he preferred to be behind the scenes, Phabo knew from his experiences writing songs that he could stand on his own.
"I wasn't confident, but I knew I could write," he says. "I could rest my confidence on my pen. That way I don't have to jump out there as the man who I don't even feel like I am yet." In 2016, he started writing songs for Atlantic. Though none of them were placed, you can still find remnants of this chapter online. One of them is

"Sunflower,"

a grungy ballad lamenting a failed relationship, void of the swaggering melodies fans have come to expect from the budding R&B star.
"["Sunflower"] was me being disgruntled and being like, I'ma drop it—which turned into, Damn, what is this sound?" he says. "The stories were all mine and it was a good testament to my range as an artist, but it's not where I was at."
Eventually, the disconnect between the music he was writing and the music he wanted to make led to Free, a 6-track EP he released last year. Its tagline: "Free always comes with some bullshit."
In the years leading up to Free, Phabo had been managing a CBD shop in Venice Beach, releasing the odd solo single while using the extra cash to fund the project of his dreams: Soulquarius. Holed up in the studio with producer Kyle For Now, he'd spent countless nights searching for his sound. After a brief pause, Phabo returned to the studio with more clarity on the direction he wanted to take with his music, a breakthrough that happened to coincide with fans starting to take notice of his songs online.
"Attention started coming and I'm like, Oh. People are really holding me to my word," he says. "This isn't like every other time when I was pump faking when I wasn't ready." By the time he brought on a second producer in Louie Lastic, a LA-based beatsmith who he describes as the Pino Palladino to his D'Angelo, he was ready. He was going to make an album dedicated to all of his interests: his family, his neighborhood, his love for women, and the nuances of Black culture.
Although he had hoped to come out of the gate with Soulquarius, things didn't exactly go as planned. Armed with a complete album, the engineer went on tour and took the masters with him, leaving Phabo with an unmixed project. So instead of releasing Soulquarius, he released Free, named after his irritation with an industry that didn't seem to be prioritizing his solo efforts or his songwriting. "Phabo Szn," the EP's laid back opener, sneaks us a glimpse of his writer woes: "I'ma charge a nigga five thousand just to give me three cents."
By the time he uploaded Free on Distrokid, he already had an influential support network in his court:

Soulection

, a Los Angeles radio show and record label that rose to prominence in the early 10s, incubating and championing a new generation of R&B artists. In 2016, Soulection's founder Joe Kay had featured Phabo's song

"Mike Jones" on an episode

. As luck would have it, he and Phabo crossed paths at a party the following day. "I walked up to him like, 'Phabo: 'Mike Jones,'" he says, laughing. "My homie must've peeped that I must've been slurred off the Hennessy and stepped in to say, 'This is Phabo. You featured his song 'Mike Jones' on Soulection Radio, and he's super appreciative."
Last November, Soulection Records released Phabo's

"LNF,"

a smooth offering detailing chemistry so steamy it could fog up car windows. "L-I-C-K-I-N-G your body in my whip / Finger you in traffic while we sliding to my crib," he sings. The beauty of the song is not only in the small details he scatters throughout (like a late-night drugstore run to pick up protection), but in his choice to spell out "licking" and "fucking" on the hook, almost teasing the listener.
"The premise behind ["LNF"] was the old nursery rhyme: '...sitting in a tree, K-I-SS-I-N-G," he says. "I wrote it for one person to understand, but then I realized the stuff I was talking about was hella relatable. Who doesn't go to CVS to get somebody to unlock this case for them to get [condoms]?" It's another example of the way Phabo employs memory to make music that feels fresh yet universal.
Listening to Soulquarius, which is out on July 16 via Soulection Records, there is irony in Phabo's confidence being the factor that almost prevented him from pursuing music in the first place. Though much of the songs see him wrestling with the precariousness of the business, it's hard to shake the feeling that he's become the man he's wanted to be since jazz band. "Beam" and "Palm Trees" discover Phabo with his defenses down—a man who is clearly confident enough to be vulnerable with his listeners. "I could use some therapy but I hate explaining, rehashing, remapping where the pain went / Tried to hide it deep down in my brain," he sings on "Palm Trees."
When I ask what the difference is between revisiting his pain in front of a therapist and using it as material for his music, he likens the latter to a confession box. "A priest doesn't see your face and you don't see him," he says. "You're not too worried about how they're perceiving it because you're just trying to get it off."
If Phabo's music has the cathartic quality of therapy, "John Henry" is the session that gives us the biggest window into his hopes and fears. Named after the 2000 Disney film of the same name, the song tells the story of a steel-worker who works so hard that it eventually kills him. As Phabo tells it, the song channels some hard-earned wisdom. "I found myself feeling like my work needed to be explained," he says, speaking of a period in his life when he used to fall asleep in the studio, desperate to find his sound. On "John Henry," Henry's pride becomes a cautionary tale about the dangers of prioritizing work over your personal life. "It's me reiterating that I'm working hard but it's also for you. I'm afraid of it all—I'm afraid of losing y'all, but also myself."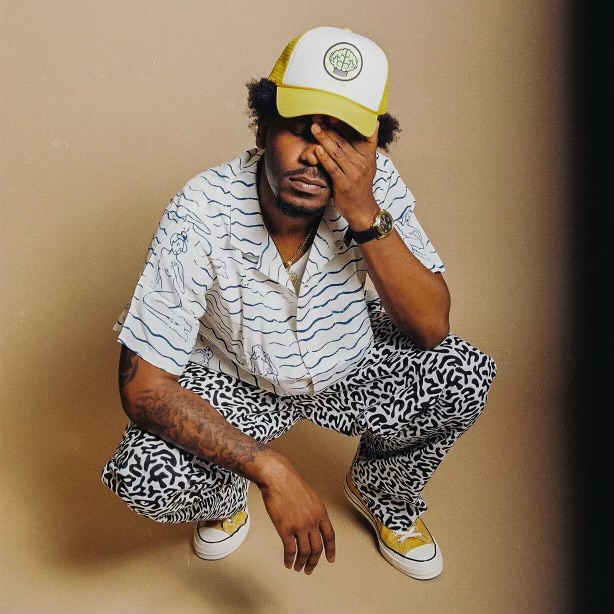 These days, Phabo's life looks a lot different than it did three years ago. He's making music full-time now, and even secured a spot at this year's Insecure's writer's camp. But he's also dealt with a great deal of loss, including that of both of his grandmothers, one of whom appears in a voicemail on the album. "I had to go back in and put some of that emotion on there," he says. "I couldn't leave that stale in time." Another thing, he says, that was therapeutic.
Partly as a way of coping in a world where nothing feels permanent, stars are a big part of Phabo's life. On Instagram, he punctuates every comment and caption with a star emoji. In conversation, he uses his sign placement as an explanation for his actions. And stars tend to be linked to a memory, just like his songs.
"My dad studied astronomy at San Diego State," he says. "I always hear him at different times during the day saying, 'Energy is neither created nor destroyed.' I remember him passing away, and certain things that were happening around that time let me know that his energy was indeed redistributed." Soulquarius may be one of those things: It even includes a gentle lullaby called "Polaris," named after the North Star, the sky's biggest and brightest.
"Wherever the North star goes, that's where we're gon' go," he says. "Your North Star is really your inner compass—that gut feeling. My gut feeling led me here."
Kristin Corry is a Senior Staff Writer for VICE.