Handguns on display at a Smith & Wesson booth at a Las Vegas trade show (2016). Photo by John Locher via AP.
Victims of a mass shooting in Toronto are suing Smith & Wesson, the U.S. company that made the gun used in the attack, for $150 million.
The class-action lawsuit was filed in an Ontario provincial court Monday. If successful this suit would hold Smith & Wesson responsible for gun safety even if the weapon is stolen.
The shooting occurred the night of July 22, 2018 on Toronto's busy Danforth Avenue. Ten-year-old Julianna Kozis and 18-year-old Reese Fallon were killed and 13 others were injured. The shooter, 29-year-old Faisal Hussain died by suicide via gunshot after a shootout with police. He had a long history of mental health issues and violent tendencies. The handgun he used was made by Smith & Wesson and was reported stolen from a Saskatchewan gun dealer in 2015.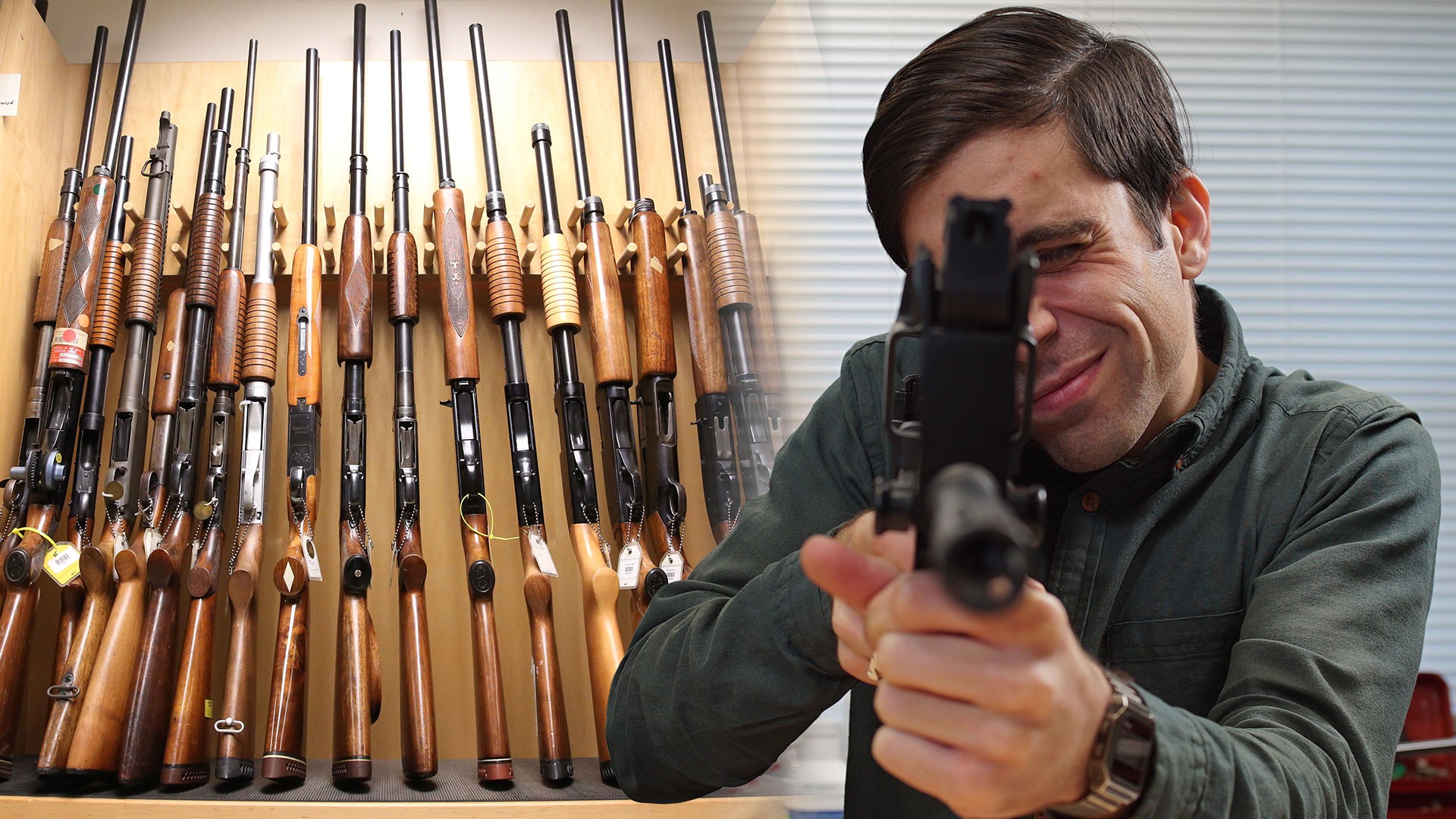 The lawsuit claims that Smith & Wesson failed to install smart technology in the weapon, which would have prevented its unauthorized use.
"It was reasonably foreseeable that (the) defendant's handgun products, like the handgun used in the Danforth shooting, would be in the hands of unauthorized users cause substantial harm to, or kill, innocent third parties," the lawsuit reads.
Ken Price, whose daughter Samantha is the lead plaintiff in the suit, said on CP24 "Why isn't there more technology that helps to secure the usage of that gun so that somebody can't arbitrarily get ahold of it and use it as a weapon of hate?"
The suit refers to an historic agreement that Smith & Wesson reached with the White House under then-president Bill Clinton in 2000. It was a huge deal because it was the first time that a major gun manufacturer committed to changing the way that guns are made and sold, to improve safety. In the agreement, Smith & Wesson acknowledged the threat of stolen weapons and said it would use technology that would limit gun use to authorized people, on all new guns starting in 2003. Think of touch ID, which you probably have on your phone, but on a gun.
But the American gun lobby fought back—and won. A PR blitz and boycott by the National Rifle Association (NRA) nearly drove Smith & Wesson out of business.
That Clinton-era gun control agreement became toothless in 2006 under president George W. Bush. He enacted the "Protection of Lawful Commerce in Arms" legislation that shields gun makers from being sued for liability. But that doesn't apply to Canadians. That's why this suit could be a game-changer when it comes to gun control and gun safety in North America.
VICE has not received a response from Smith & Wesson. The Globe and Mail reported that a company spokesperson said it does not comment on pending legal action.
The suit is open to anyone who suffered physically or emotionally as a result of the shooting on the Danforth. Price's daughter Samantha was out with friends getting ice cream and celebrating a birthday when the gunfire began. Her friend Fallon died and several of her friends were shot. "Samantha's been brave and fierce and I want to do right by her," he said.
Follow Anne Gaviola on Twitter.