This article originally appeared on i-D.
Repurposed photographs are all around us. They're on the covers of books (see: Hanya Yanagihara's A Little Life, which brilliantly employs Peter Hujar's 1969 portrait Orgasmic Man). Increasingly, they're in fashion campaigns, like Patrik Ervell's spring/summer 15 imagery that used never-before-seen 80s Hujar images. And, naturally, these recycled images appear on album covers.
Iconic photographers have teamed up with musicians to create artwork since, well, forever. But the partnerships we most often remember have been commissions: Herb Ritts and Madonna ( True Blue), Jean-Paul Goude and Grace Jones ( Island Life:modergb():quality(90)/discogs-images/R-1065896-1262991657.jpeg.jpg)), Robert Frank and The Rolling Stones ( Exile on Main Street), Richard Avedon and Simon & Garfunkel ( Bookends:modergb():quality(90)/discogs-images/R-707930-1495439278-7720.jpeg.jpg)), Irving Penn and Miles Davis ( Tutu.jpg)), Ari Marcopoulos and Jay-Z ( Magna Carta Holy Grail), Annie Leibovitz and Cyndi Lauper ( She's So Unusual). Perhaps most importantly, a then un-famous Robert Mapplethorpe and Patti Smith ( Horses).
Strangely, though, it seems we're less able to identify photographs when they're appropriated and reincarnated as record sleeves.
Recently, I stumbled across an auction listing for a photograph I recognized instantly. The image, by Nicholas Prior, appears on the cover of Brand New's album The Devil and God Are Raging Inside Me. I was in peak middle-school-emo-era when the landmark record arrived in 2006; trust that I've spent far too much of my life studying the masks and slippers on its cover. So why hadn't it occurred to me that this image existed prior to, and independently of, Brand New's melodic melancholia?
Here are 10 photographs that have been appropriated as record covers. You may be familiar with them as works of art, or as album art.
Brand New, The Devil and God Are Raging Inside Me
Brand New's 2006 major label debut (the band's third LP) is still regarded as its best, and one of the most defining efforts of the emo era. The Devil and God Are Raging Inside Me shifted Brand New's brash pop punk sensibilities into a new, existential place — contemplating theology, death, and depression. The record's title is reportedly lifted from a conversation Brand New frontman Jesse Lacey had with Daniel Johnston, a celebrated songwriter who suffers from schizophrenia. The cover image was made by Nicholas Prior in 2003.
Untitled #44 is part of Prior's Age of Man series. This body of work is inspired by Freud's writings on the uncanny, "and the idea that an adult cannot look back on childhood as a child, which implies a mysterious and impenetrable chasm between adults and children," Prior explains. The photographer believes the band discovered the image when it was on show at Yossi Milo Gallery in New York. When Interscope contacted him about licensing, he initially declined. But Brand New's persistence (and listening to an advanced copy of the record) persuaded Prior to give the band his blessing.
Layo & Bushwacka!, Night Works
For its sophomore record, 2002's Night Works, London tech-house duo Layo & Bushwacka! used a Nan Goldin photograph. The work — Gigi in Blue Grotto with Light (Capri, 1997) — appeared in Ten Years After, a book of photographs Goldin published following her Whitney Museum retrospective in 1996. She'd visited Italy with muse Cookie Mueller in the late 80s. A decade later, after Mueller's death, Goldin returned. It remains unclear why or how the picture appeared on Night Works. Goldin set her iconic slideshow, The Ballad of Sexual Dependency, to music, but to artists like The Velvet Underground and The Creatures. Who knows: maybe she's a secret fan of breakbeat house?
Blood Orange, Freetown Sound
Each of Devonté Hynes's three Blood Orange albums is fantastic in its own way. Something the records have in common: repurposed cover photographs. Hynes's Blood Orange debut, 2011's Coastal Grooves, features a 90s Brian Lantelme picture of Exotica taken outside Sally's Hideaway (a Times Square club where the opening and closing sequences of Paris Is Burningwere filmed). Cupid Deluxe's cover was also made in Times Square, by Bill Butterworth.
Hynes's most recent record, Freetown Sound, features a portrait by Deana Lawson: Binky & Tony Forever, made in 2009 at her apartment in Bed-Stuy. The photograph "started out with an idea I had [wanted] to represent," Lawson told The Fader upon Freetown Sound's release, "love between a young couple." The photographer explained that Hynes reached out and invited her to his studio. "We didn't know each other, and it was totally based on the work. I thought he was so prolific and the music was just so beautiful."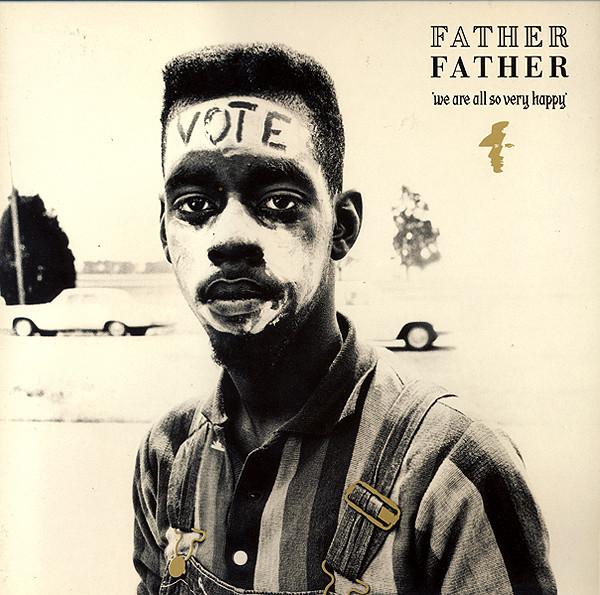 Father Father, We Are All So Very Happy
There's not much information about this record floating around on the internet. It was released in 1991 by Swedish label Metronome Records. According to Discogs, We Are All So Very Happy is a hip-hop venture with soul, funk, and R&B influences. Its only single I could track down, "What is a Soul?", flexes an evocative choral section and swelling strings. One thing's for sure: the album's cover is a portrait by Bruce Davidson made during the Selma marches in 1965. Davidson captured the protests, which over three days grew from 300 to nearly 25,000 participants. Lead by Dr. Martin Luther King Jr., the demonstrations for black suffrage directly influenced the passage of the Voting Rights Act, a landmark piece of Civil Rights legislation. It's unclear why Father Father used the image, but here's a guess: "What is a Soul?" contains the lyric, "Look at our brothers in South Africa." Released in 1990, the single arrived as the nation fought to end Apartheid.
George Michael, Listen Without Prejudice Vol. 1
The late pop icon's sophomore solo album was recently re-released as a four-disc offering (featuring Michael's MTV Unplugged concert, B-sides, and rare cuts). The album followed his 1987 smash Faith, and its shift to acoustic instrumentation and bossa nova flavor didn't win as much enthusiasm among critics and consumers Stateside. (In the UK, the record was a hit, thanks largely to its anthemic single "Freedom! '90").
The record's cover is a cropped version of a 1940 photograph Weegee made on Coney Island. Today, the Ukrainian lensman is regarded as one of the most influential New York street photographers. His urgent and gritty snaps of Lower East Side life and crime proved particularly inspiring to Diane Arbus. Listen Without Prejudice 's crop removes the Wonder Wheel and boardwalk from the background, creating instead a flat, densely packed image of smiling, happy sunbathers.
Big Star, Radio City
Iconic photographer William Eggleston is widely celebrated for his pioneering use of saturated color in pictures, and for his ability to capture the beauty (and, often, the sadness) of everyday things. This an album cover king makes. Eggleston has licensed his work to Spoon, Primal Scream, David Byrne, Cat Power, Joanna Newsom, and Jimmy Eat World among others. Big Star's sophomore album, Radio City, features one of Eggleston's best-known photographs, The Red Ceiling.
"It's just a picture I offered out of the blue," Eggleston told The Guardian. "I ­happened to run into Alex [Chilton], and he said, 'I'd love to use it.' I said, 'You're welcome to.' There's no more to that story." Which isn't true. Eggleston has known Chilton's family long before the short-lived power pop outfit released Radio City in 1974 (he'd shot the record's back sleeve hanging out with the band at a TGI Fridays in Memphis). Eggleston also licensed Chilton a picture for his debut solo record, 1978's Like Flies on Sherbert.
Also, The Red Ceiling isn't "just a picture." According to the Getty Museum, Eggleston considers it one of his most challenging works. "So powerful that, in fact, I've never seen it reproduced on the page to my satisfaction."
Antony and the Johnsons, I Am a Bird Now
The sophomore album by Antony and the Johnsons (Anohni's avant-pop project) won the Mercury Prize in 2005. It features a star-studded roster of collaborators including Rufus Wainwright, Devendra Banhart, Lou Reed, and Boy George. Its cover features one of Peter Hujar's best portraits: a powerful and aching picture of Candy Darling on her deathbed.
In 2007, Anohni wrote a tribute to Hujar (who died of AIDS-related complications in 1987, and whose work has been earning overdue critical acclaim in the past decade). "He took pictures of outsiders from an insider's perspective. The experience of extreme alienation and private soulfulness is what Hujar seems to have shared with his subjects, and elevated in his portraits of them," she explained. In its review of I Am a Bird Now, Pitchfork called the cover, "the perfect complement to the ghostly hymnals that flit and sigh behind its black and white shadows."
SNFU, And No One Else Wanted to Play
Canadian hardcore punk band SNFU (Society's No Fucking Use) landed in hot water when it used Diane Arbus's 1962 picture Child with Toy Hand Grenade in Central Park on the cover of its 1985 debut album, without license. "We were totally naive," one of its members commented in 2005. "We found the picture in the library and used it. Jello contacted us and told us Crucifux almost got sued. Sex Gang Children also wanted to use some Arbus material and were told no way. So we made adjustments. Pretty negligent."
Those "adjustments" first meant having an artist draw a version of Arbus's famous snap. But the illustration was too similar to Arbus's original image to avoid another legal scuff, so a third cover option was put together quickly. The fourth and final cover features an illustration of a Christmas slaughter, with an elephant-headed child in the background sporting the recognizable sailor shorts worn by Arbus's Child with Toy.
The Smiths, The Smiths
What would a story on album artwork be without The Smiths? NME once dug deep into all 27 of the Manchester marvels' record sleeves (each designed by Morrissey himself). The report's findings: Moz most often drew inspiration from celluloid, and his records feature actors including James Dean, George O'Mara, Jean-Alfred Villain-Marai, and Coronation Street's Pat Phoenix. The covers also use stills from films including Vietnam War doc In The Year Of The Pig, Russia's The Enchanted Desna, Jean Cocteau's Orpheus, and 1964 French noir The Unvanquished.
The cover of The Smiths's self-titled 1984 debut LP is a still from Andy Warhol's 1968 film The Flesh. It features actor and Warhol Superstar Joe Dallesandro, recolored in an eerie reddish purple. This wasn't the first album cover Dallesandro had appeared on, either. Warhol was behind the Rolling Stones's iconic Sticky Fingers design. While many fans presumed (or hoped) the cover bulge belonged to Mick Jagger, it was Dallesandro who filled out those jeans.