The Here/There camp in Berkeley California. All photos by Stephen Loewinsohn
On Saturday, October 21, police officers with Bay Area Rapid Transit (BART) roamed twin slivers of land on the border of Berkeley and Oakland, California, occasionally stopping to post notices of eviction. The area is known as Here/There, thanks to the eponymous steel sculptures on site, and members of the "intentional community" comprised of roughly 25 people known as First They Come for the Homeless (FTCFTH) were told they had 72 hours to leave.
For Adam Bredenberg, a 29-year-old homeless man who'd been a member of the community since October 2016, the scene wasn't anything new. "I've been seeing that shit all my life," he told me.
Over that time, Bredenberg said, he's been party to 12 evictions of homeless encampments in Berkeley. The process tends to play out in the early morning hours, he said—"usually 2 AM"—often with with flashlight-wielding police and city workers yelling for residents to pack up and leave. It's a frenzied period that sometimes doesn't allow time for people to collect their thoughts, let alone belongings. "Anything a person isn't standing over, cops consider abandoned," Bredenberg recalled. "If my [stuff] is in a pile, and I run and protect the library, they'll take my items."
Homeless camp eviction is a fact of life in American cities where, according to one report, there were 550,000 homeless living on any given night in 2016. While their stories vary, with lack of affordable housing and stagnant incomes comprising two of the most common threads, many homeless people seek the comfort and stability of community in these urban-tent encampments.
Berkeley's Here/There, which won a court order blocking its eviction last week but is due back in court on Tuesday, is one of them.
---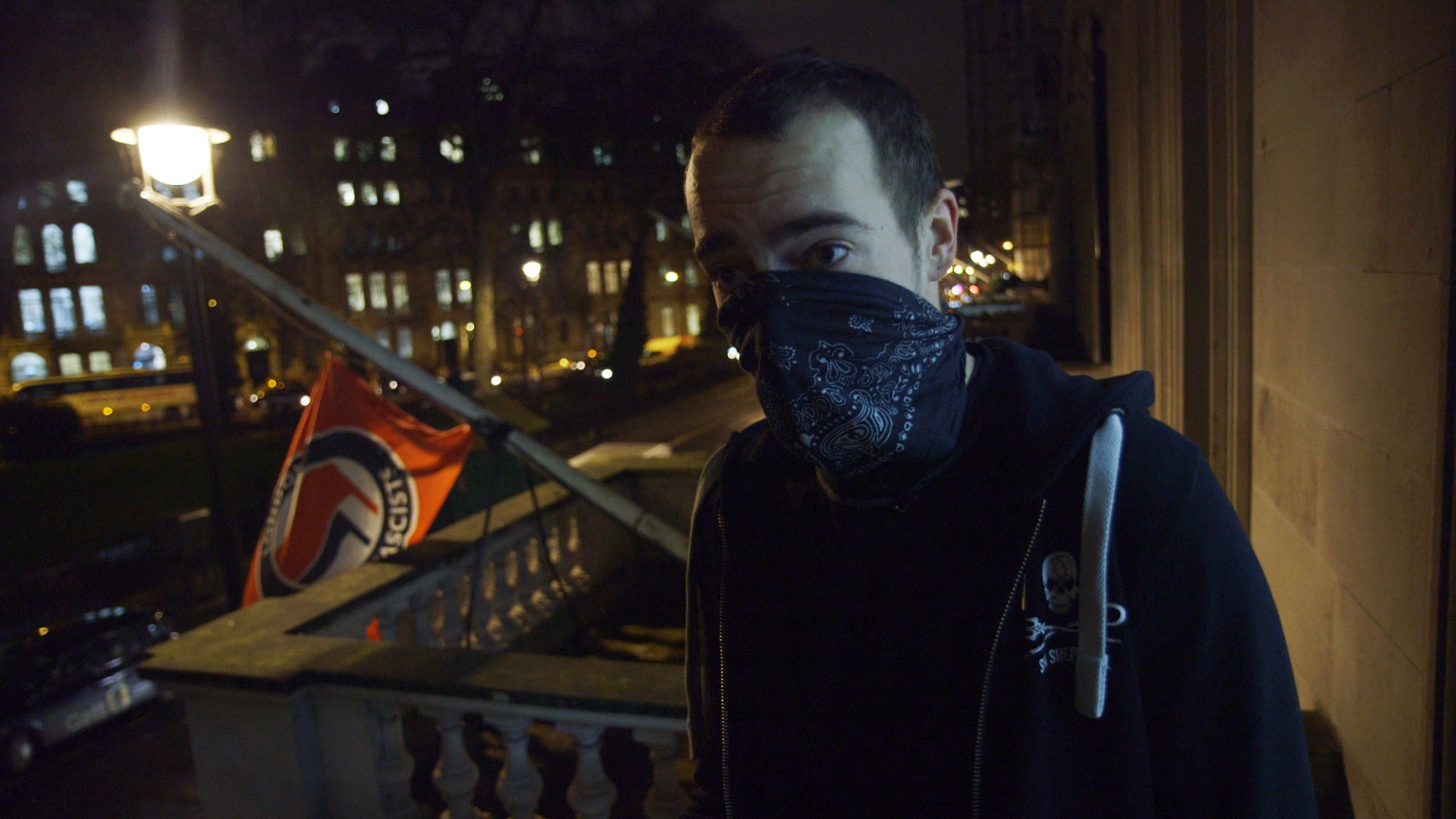 ---
That BART police—a public transit agency's law enforcement arm—are taking the lead here speaks to the peculiar logistics of this particular chunk of land. It's a grassy expanse buffering the main thoroughfares of Martin Luther King Jr. Way and Adeline Street from which the BART tracks, positioned aboveground in Oakland, dip underground as they enter Berkeley city limits. The arrangement is the result of a politically charged battle back in the 60s pitting the public transit agency against Berkeley voters who didn't want the "eyesore" of extensive above-ground track. The tunnel magnifies the train's whir, which has left the property undeveloped and, at least in my own experience as a longtime nearby resident, rarely used.
The locale eventually became the latest stop for FTCFTH, a collection of homeless activists who've been pitching tents in, and then getting evicted from, public spaces throughout Berkeley since 2014. They call it "The Poor Tour."
But unlike some other homeless camps, members said, this group has codified a set of rules and procedures that include a ban on drugs or alcohol, a strict noise curfew between 9 PM and 9 AM, and a policy against overnight guests. Rule-making works through graduated consensus: 70 percent approval is needed for a rule to last a month, 80 percent for three months, 90 percent for six, and 100 percent approval allows an action to continue until brought up again. "You're always striving to get higher levels of agreement," Brendenberg explained.
When there's space available—the group maintains a "loose" limit of 25 people and a strict limit of 30, according to Brendenberg—prospective residents make their case. If a probationary period passes without incident, they can become official members. But if they develop behaviors not conducive to the camp, they can be voted out.
This system has made the camp a safe environment, according to residents, one that's particularly appealing for those with physical problems. Kent Dull, a retired 61-year-old who's been at Camp Here/There for three months, chose to settle there for assistance with his Parkinson's. "I've had some offers to stay at other places but turned them down for this," he said. "It's a good environment for me."
Before settling in Camp Here/There, the FTCFTH group was involved in a messy eviction from land outside of the Hub, Berkeley's homeless services processing headquarters. Months after settling in, two of the group's leaders, Mike Zint and Mike Lee, found indoor housing, and, according to reporting from Berkeleyside, the camp's new leadership "ran into obstacles, and conditions deteriorated."
But in their new home, those issues have apparently been addressed: The area seems to have been kept tidy and, and with the help of a neighborhood group, residents even raised enough funds to install two port-o-potties nearby.
"It has been my position that the encampment at HERE/THERE should be allowed to remain," Berkeley mayor Jesse Arreguin wrote in a statement last week. "That's why I urged BART, that if it enforces, it should focus its efforts on the encampment on the eastern side... where there have been numerous health and safety problems, including assaults and a recent death."
The "eastern side" he referred to was the site of a now-defunct second camp on the far side of the BART tracks. As opposed to the wide avenues Camp Here/There faces, the second camp was smacked up against a residential neighborhood, and did not appear to have strict rule-making procedures or drug restrictions in place. The recent death mentioned by Arreguin was apparently that of deaf 40-year-old Ariana Ruiz, whose body was found in the eastern camp.
When reached for comment by VICE on this story, BART pointed to a previously released statement explaining it was "working in partnership with the city of Berkeley and the community to address two homeless encampments on BART property in the South Berkeley area after receiving over 50 complaints about unsafe and dangerous activity from nearby neighbors and school parents." The statement continued, "Activity reported on the site included a fatal drug overdose, fires, and an assault with a deadly weapon."
But while the official line was that the two camps were equally dangerous, the separation between them grew evident after the eviction notices were posted. Almost immediately, FTCFTH filed a temporary restraining order to stop the process, and last Tuesday morning, hours before eviction could theoretically have taken place, a judge gave the camp a one-week extension to build its case. It was scheduled to be heard on Halloween.
Meanwhile, in the early hours of last Wednesday morning, maintenance workers and police evicted the eastern campsite. When I arrived at 8 AM, the area had been cleared, the space by then behind a fence declaring "No Trespassing." On the sidewalk outside, someone had written in chalk: "WHERE DO THEY GO!!!" Some residents scattered to wherever they could; at least two talked their way into Camp Here/There.
"We let in a couple who were sober and responsible," Brendenberg said. "But now we're full."
While the Here/There group that remains encamped in the area has since filed a complaint with a demand for a jury trial, they believe the city will move forward with eviction, one way or another—even if they score another legal reprieve.
At the end of our conversation, Brendenberg pointed to a stockpile of fence segments sitting on a nearby truck. "They're going to extend that fence all around here," he swung his hand to indicate all of Camp Here/There. "You can't..." he began, before the whir of the approaching BART drowned him out. He paused with a slight grimace of annoyance, and started again when it left.
"You can't make homeless people disappear," he said. "They don't disappear because you move them out of one spot."
Follow Rick Paulas on Twitter.