Terrence Curley photo via Facebook
When I met Terrence Curley at a Vancouver overdose prevention site, the 29-year-old told me he's in a much better place than just a few months ago.
After spending six months on methadone treatment last year, Curley says he relapsed hard in August. He knew he wanted to curb his opioid habit, but he was skeptical of the typical recovery options suggested by health authorities.
"I didn't like methadone at all, it didn't really fit my lifestyle," he told VICE. "I started looking for alternatives and different kinds of addiction maintenance that didn't involve an opiate."
After two overdoses and a thorough "self-education" on Reddit, Curley says he finally started on a new path that gave him hope. He looked into CBD, a pain-relieving non-psychotropic cannabis extract, and kratom, a non-opioid painkiller that acts on opioid receptors in the brain. By chance he connected with Sarah Blyth, founder of the Overdose Prevention Society, who had recently launched a new project offering weed and kratom as opioid substitutes.
"I asked other people how they got off, and went down that path," Curley told VICE. "I didn't choose the Western medicine path, but what worked for other people."
Curley is one of dozens of opioid-dependent Vancouverites who are involved with High Hopes, Blyth's DIY program now operating in the Downtown Eastside for four months. Guiding his own recovery, Curley started replacing daily hits with kratom tea four times a day, and when he was injecting, he began doing it under supervision. "My consumption of opiates went way down, so I'm almost completely off now," he said.
It's hard to understate how groundbreaking it is for a project like High Hopes to even exist. Though cannabis is set to be legal later this year, and some research has shown promising opioid substitution results, there aren't clearly-established best practices around how much to take, how to consume it, how to safely taper-off opioids, and how to address compounding mental health and disability issues. But because Vancouver has been so hard-hit with overdose deaths fueled by the spread of illicit fentanyl, health authorities have been more open to user-directed replacement and recovery.
In that sense, Curley and others accessing Vancouver's overdose prevention resources are positioned to teach us a lot about opioid substitution therapies. In the coming months researchers from both the University of British Columbia and Simon Fraser University will be undertaking studies in partnership with High Hopes.
Internally, the Overdose Prevention Society has been collecting some data on the people choosing to come through their doors. VICE has reviewed four months worth of anonymous survey responses to shine a light on how users view opioid replacement, and where the therapy may be headed.
The voluntary survey of 88 people accessing overdose prevention resources found most think weed is the best opioid substitute. Nearly 80 percent of the respondents saw cannabis as a good alternative to their drug of choice.
James, a 36-year-old volunteer with the Overdose Prevention Society, says he's not surprised that so many have a positive view of weed. "When they're taking the cannabis, they're not touching opiates, they're not going to be out stealing so much for their addiction," he told VICE. "It helps with nausea, it helps them eat. A lot of people when they're using they don't eat—they're just thinking drugs, drugs, drugs."
James says he's seen deeply-entrenched users who would normally show up for their first hit at 8 AM wait until noon if they have access to cannabis edibles. Instead of quitting cold turkey as 12-step programs advise, the High Hopes substitution program appears to allow more incremental progress.
Most survey respondents cited physical and psychological pain as reasons for their drug use. Dozens reported mental health diagnoses, the most common ones being depression, anxiety and post-traumatic stress disorder.
Curley says his own anxiety and PTSD stem from his experience as an Indigenous child in BC's foster care system. "I grew up with anxiety my whole life," he said. "That's why I turned to opiates because it's an instant gratification."
According to the survey, 61 percent of people were, like Curley, actively trying to quit. When asked what methods they were using to cut back on their drug use, cannabis beat out all other options at 24 percent, compared to only five percent using methadone or suboxone, and four percent using traditional 12-step programs.
As with any drug, there are some who don't react well to weed substitution. "Some people with mental health problems get paranoid when they use cannabis," James told VICE. "If they get paranoia they don't want the cannabis."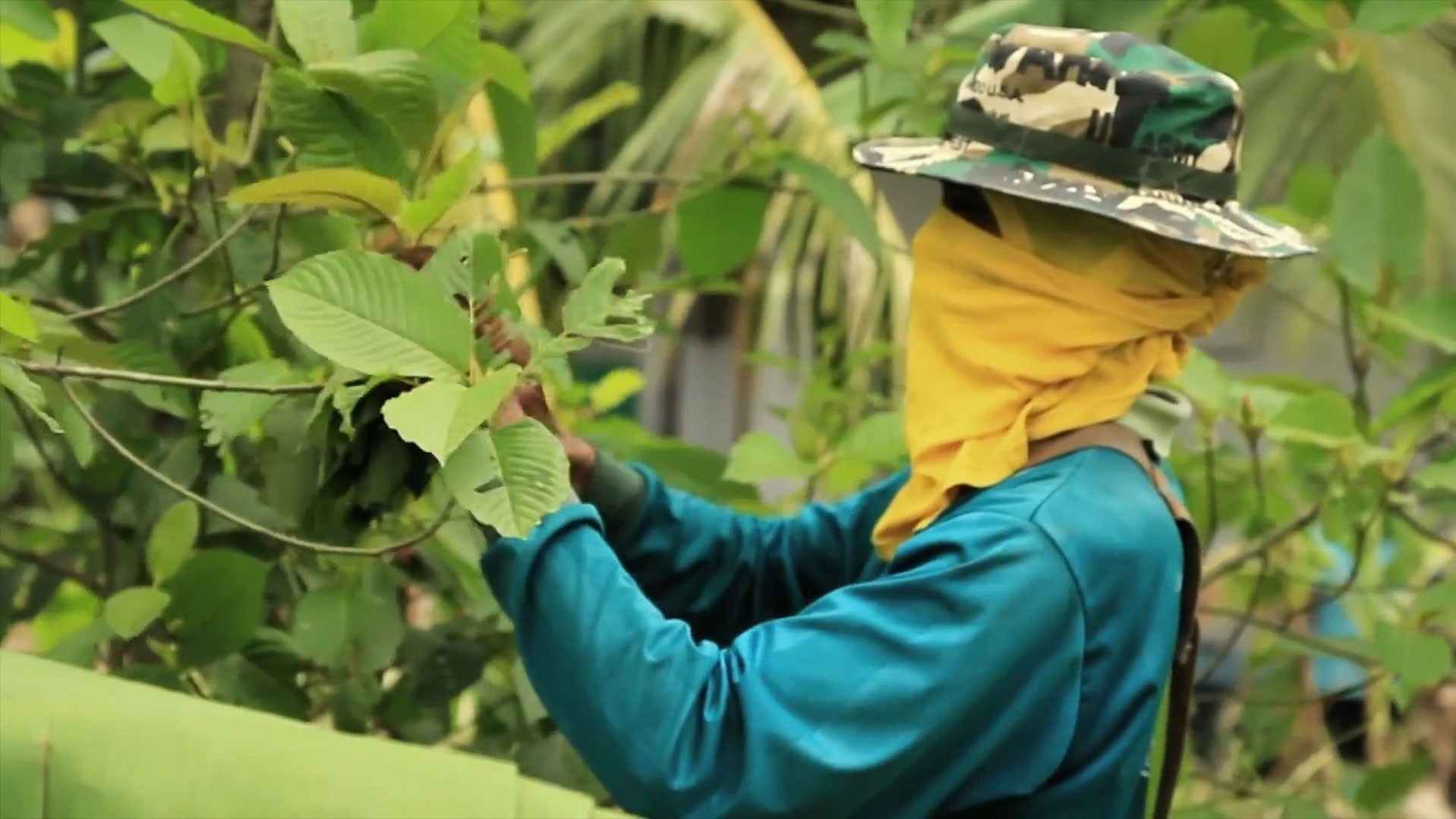 Curley is with the six percent of respondents choosing kratom as a main opioid substitute. The survey found only 29 percent knew about kratom, while most were more familiar with weed.
All these results, shared with VICE by Data for Good, are preliminary but appear to show a trend toward cannabis substitution. With information about the High Hopes program circulating for months now, James says interest is actually starting to outgrow supply. "I could give out 50 cookies a day if we had that amount," he said.
With government regulation around edibles expected to take another year, James and Blyth expect to rely on capsules and bud donated by local dispensaries for the foreseeable future. With forthcoming studies by SFU and UBC, there's hope to expand the program further.
Though it will likely be years before long-term clinical studies backup High Hopes' early findings, James says there's some comfort in knowing weed can't possibly contribute to more deadly overdoses.
"Cannabis isn't so addictive for one, for two, nobody's going to overdose on cannabis," he told VICE. "That's the biggest part of it, you'd have to eat your entire body weight in cannabis to overdose."
Follow Sarah Berman on Twitter.