Students protesting at Aligarh Muslim University today. Image: Lubna Irfan
Aligarh Muslim University has been a place of debate and political activism since its inception, but it's now at the epicentre of escalating violence—most recently the clashes between police and students yesterday, in which up to 41 people were injured.
The backdrop to the altercation was when 20 activists from the Hindu Yuva Vahini and other fringe Hindutva groups assembled at the Bab-e-Syed gate of AMU around 3 PM. Witnesses told VICE they were armed with hockey sticks and guns. Their overt demands were the removal of a portrait of Mohammad Ali Jinnah, Pakistan's founder and a life member of the Students' Union, from the union building.
A day earlier, BJP MP Satish Gautam had written to AMU's Vice Chancellor, demanding the removal of the portrait. Today, Chief Minister Yogi Adityanath reinforced this demand during an interview, even while he promised an inquiry into the violence by tomorrow, May 4.
AMU students protesting the events of May 2 at the Bab-e-Syed today.
However, AMU students told VICE they believed the groups were attempting to cash in on the media attention around former Vice President Hamid Ansari's campus visit (he had arrived an hour earlier, to receive a lifetime membership to the Student's Union). The same day, it was reported that Adityanath told members of the Hindu Yuva Vahini, which he founded, that the organisation would return to its full strength during a visit to Gorakhpur.
Student Riad Azam told VICE that the saffron groups at the Bab-e-Syed, the main gate, began chanting "Jai Sri Ram", "Hindustan mein rehna hoga, Vande Mataram Kehna Hoga", and "Remove Jinnah portrait". They also burned an effigy of Jinnah. A university security officer was threatened at gunpoint and witnesses claim shots were fired in the air.
Around 4 PM, students decided to march to the nearby Dodhpur police station to demand that an FIR be filed against the activists, and Satish Gautam. They were intercepted en route, with a lathi charge by the UP police.
Student Union president Mashkoor Ahmad Usmani, who said he was injured and knocked unconscious during the charge, spoke to us over the phone. "The police's role in this whole affair is very strange," he said. "They deliberately lathi-charged on the students who were demanding an FIR against these groups. These people had fired in the university campus using illegal weapons and the police just let them go without filing an FIR?"
"One student received injuries on the head, while many others received major injuries. They were admitted to the university hospital," Usmani said. According to reports 13 police were also injured. Usmani added, "I personally see this as their reaction to Hamid Ansari being made a life member of the Students Union. Those hooligans came out with hockey sticks, katte [sawed-off shotguns] and tamanche [crude guns], scaring the students going to their classes, and it's us who ended with broken legs and hands." The university cancelled Ansari's felicitation.
AMU has been a focus of both government and Hindutva attention for several years now, even as debates about its non-minority status continue. In 2014, the BJP-led government announced its controversial plan to hold birthday celebrations of a Jat king on the campus. Last May, wild rumours spread about food distribution during Ramzaan. In October the University Grants Commission proposed dropping "Muslim" from the institution's name.
Last November, Mohammad Amir Rasheed, AMU graduate and president of an RSS-affiliated Muslim group—called actor Kamal Hassan anti-national and offered Rs. 25,000 to anyone who would "blacken his face". This March, students protested over President Ramnath Kovind attending the convocation, due to his previous remarks that Christians and Muslims were alien to India.
Just a week ago, Rashid wrote to the AMU Vice Chancellor Tariq Mansoor to demand the opening of a Hindu "shakha" on campus. VICE was unable to reach him, Gautam, or other members of Hindutva groups for comment.
AMU teachers issued a statement yesterday, condemning the "brutal action by police against the students" and "deliberate criminal activity carried out by aggressors who came from outside the university". They have asked the government to take note of the serious security lapse during a visit from a former vice president.
Professor Mohammed Ayaz, a member of the AMU Teachers Association, told VICE that his colleagues are against the politicisation of every issue related to the university. "They are trying vitiate the atmosphere of the university," he said. "We advise the students to be calm in such a situation and settle the matter peacefully."
Today, while teachers and student leaders held an emergency meeting, students held protests on campus. They also expressed their anger on social media, using #WeStandWithAMU.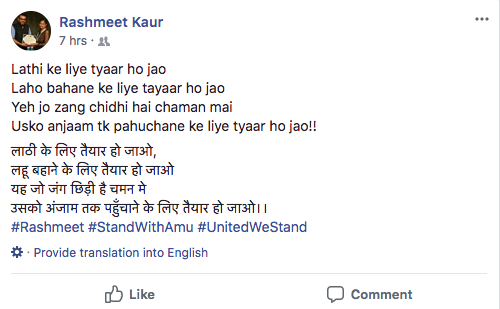 Rashmeet Kaur, 19, a second-year law student at AMU told VICE she was extremely saddened by the events. She has been sharing shero-shayari poetry and videos to protest the police action. "I consider the campus our chaman, which should be protected, she told us. "Some of my friends are in hospital, which make us angry and sad at the same time."
Recent graduate Omer Ghazi wrote on Facebook: "These are just desperate measures to create a distraction from relevant issues, divide the country on communal lines and make way for the next elections."
Mohibul Haq, an assistant professor of English who participated in the meeting today told VICE that "certain sections" are trying to portray AMU as an anti-national institute. "It's not a Muslim institution, nor run by Muslims. The Jinnah portrait has been saved to curate history. We are not in the business of rewriting things according to convenience of others."
He alleged that there is "a strong nexus" between the UP Police and the Hindutva groups who tried to enter the campus. "I won't feel safe while going to work when there are ruffians with guns," he said. "No matter what your politics is, you have no authority shooting guns in a campus. They should be put behind the bars for that."
Students from others universities have expressed solidarity with AMU, organising protests today at University of Hyderabad, Tata Institute of Social Sciences, Jamia Millia Islamia and Jawaharlal Nehru University. The JNU Students' Union released a statement on WhatsApp condemning the "pattern of attacking students opposing the sangh giroh by physically abusing them." A demonstration at Uttar Pradesh Bhawan in Delhi is also planned tomorrow.
Follow Zeyad Masroor Khan on Twitter.