Darren Harrison campaigning with Conservative Party Deputy Chairman James Cleverly
A Conservative Party council candidate has shown support for a racist, far-right group whose leaders are banned from the UK, VICE can reveal. The candidate has shown support for Islamophobic hate preacher Tommy Robinson and is close to a network of alt-right vloggers including Tommy Robinson's camera operator.
The candidate has been suspended by the Conservative Party following VICE's investigation.

Darren Harrison is the Tory candidate for Watford Borough Council's Tudor ward. Pictures on Watford Conservative Party social media show Harrison leafleting, enjoying drinks with party colleagues and taking part in Tory organised community litter picking. He is pictured campaigning with Party Deputy Chairman James Cleverly and attending an event with Conservative Party Chairman Brendon Lewis. Harrison has called Cleverly "The man himself". "If getting @JamesCleverly across to Watford doesn't get me voted in, nothing will!" he tweeted.
When he's not knocking on doors for the local election with high profile Conservatives, Darren is attending events organised by Generation Identity, a racist group that wants to repatriate migrants. Our investigation shows that Harrison attended numerous events by the ethno-nationalist group.
The revelations will come as an embarrassment to the Conservative Party during a week in which it has been revealed that Theresa May's "hostile environment" migration policy was thought of as "almost reminiscent of Nazi Germany", by some ministers. Theresa May had to apologise to Commonwealth leaders because "Windrush generation" migrants who were in the country legally had been deported.
Generation Identity have been described by anti-fascist activists as "Nazi Hipsters", but its UK branch could be more accurately described as a weird mix of poshos and football lads who use a bogus idea that white people are oppressed in order to peddle race hate.
Pictures show Harrison in a London pub with GI activists last weekend after he had attended a speech at Speakers' Corner. The speech was by a German activist from "120db", a GI offshoot that is an opportunistic attempt to use the #MeToo movement to hate on refugees. After the speech, GI activists were herded into the pub by police when they were confronted by antifascists. Harrison seemed to think it was a great laugh being holed up with a bunch of racists, tweeting, "That feeling when the police enforce a lock in".
The day before Harrison was pictured with GI, the group's UK chapter held held its first conference. The event took place in Sevenoaks, in a location which GI attempted to keep secret. Attendees were vetted by GI to show they could be trusted. Speakers gave far-right speeches about "The great replacement" – a softer version of an absurd far-right trope: "white genocide". They also talked about "The Islamisation of Europe" and the "Globalist agenda to destroy our nation states [and] our heritage". After the event there were violent clashes between conference attendees and anti-fascist activists. GI leader Martin Selner could not attend the event because he was refused entry to the UK for being deemed by the Home Office as a "threat to one of the fundamental interests of society, namely countering extremism and protecting our shared values."

Harrison described Selner's detention (which was not his first) as "embarrassing yet again".

He also tweeted some handy advice to other extremists wishing to come to the UK to spread racism: "A message to all 'foreign' commentators, bloggers and & YouTubers. If you are on the right, fly to Ireland and get the boat across, at least you'll make into the UK!"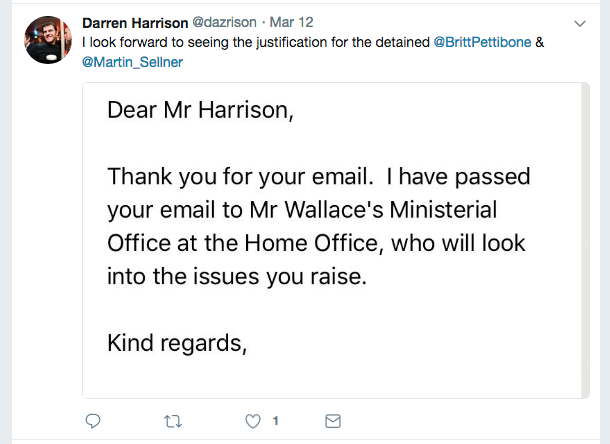 When Selner and his girlfriend, alt-right commentator Brittany Pettibone were refused entry before another GI event back in March on the grounds their presence could inflame tensions between communities in the UK, Harrison wrote a letter to the Home Office about it. "I am looking forward to seeing the justification", he tweeted. He produced a video about the event – a "free speech" demonstration at Speakers' Corner in which a speech of Selner's was read out – and tweeted that the video "sadly" did not feature Selner or Pettibone.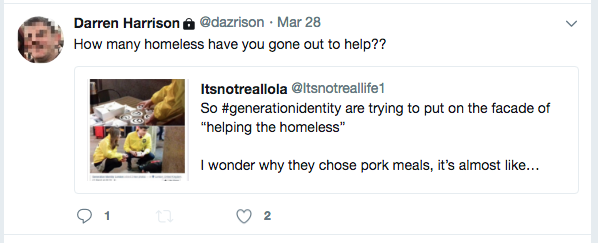 In another tweet, he defends a racist propaganda stunt by Generation Identity. A Twitter user criticised the group's anti-refugee "homeless outreach" activity that involved giving "warm pork suppers" to rough-sleepers. Despite this extremely loud racist dog-whistle by the openly Islamophobic group, Harrison asked the critic, "How many homeless have you gone out to help??"
Not only has Harrison shown support for Generation Identity, but he is also part of a dodgy alt-right vlogger scene.
A picture posted on social media in January shows him having a "well deserved" drink with Lucy Brown, a vlogger who is camera operator for Islamophobic hate preacher and former EDL leader Tommy Robinson. She also used to work at Canadian alt-right publisher Rebel Media alongside Robinson, and is a commentator in her own right. Harrison is pictured wearing a red "Make America Great Again" cap as Lucy Brown holds up an American flag. The picture was taken in January after Brown and Harrison attended the Women's March – called to protest against sexism including that of Donald Trump – in order to make a piss-taking video in which they confront feminists while provocatively holding a Trump flag.

Harrison also appears to think that obsessive Islamophobe Tommy Robinson was kicked off Twitter in March for telling "the truth". This was after the outgoing head of UK anti-terror policing said, in February, that there was "no doubt" material posted online by Robinson had contributed to the radicalisation of Finsbury Park mosque attacker Darren Osborne.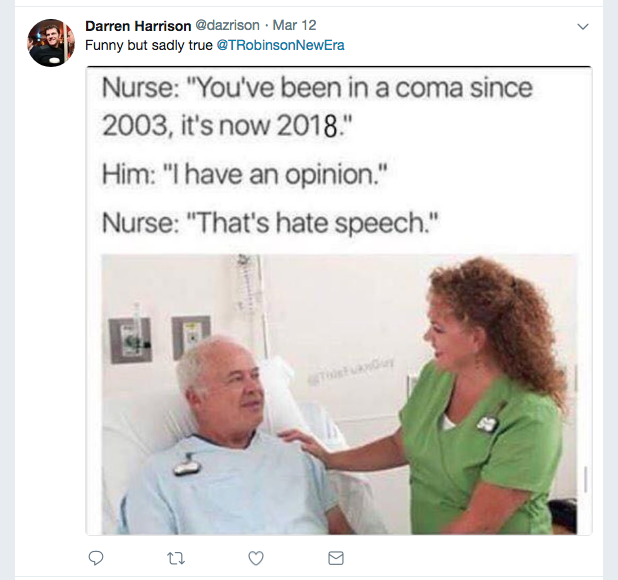 He also shared a meme with the former EDL leader that mocks the idea of hate speech, calling it "funny but sadly true".
VICE contacted Harrison for comment but he didn't reply. He did, however, delete his Twitter account shortly after we got in touch.
A Conservative spokesman said: "Darren Harrison has been suspended. An investigation is underway." There is no suggestion that James Cleverly or Brendan Lewis are implicated in any wrongdoing or that they hold the same or similar views to Harrison.
This is not the first Tory council candidate to hold what you might politely call objectionable views. Hillary Su, standing in Soho – a hub for gay nightlife – has called gay sex "immoral", it was revealed this week. She at first refused to deny it, replying in an email to Buzzfeed, "Who am I to judge." She later told the Mirror, "I do not make judgements about people's relationships or what people do in private and it was never my intention to suggest otherwise. As a Christian, I believe we should embrace love and celebrate it wherever it is found."
Earlier this month Calderdale councillor Mike Payne was suspended pending investigation after sharing an article referring to "Muslim parasites".
A Tory leaflet handed out in Havering in March was described as "a case study in dog-whistle racism" by a Tory peer. It warned residents that the suburban area was at risk of becoming like an "inner-city area", and Labour winning councillors would mean "Havering resembling boroughs like Hackney, Newham, Camden and Barking, rather than traditional parts of Essex" and result in "our cherished union jack flag being taken down".
And who could forget Mohammed Amin, the chair of the Conservative Muslim Forum, saying he was "disgusted" by the dog-whistle racism of Zac Goldsmith's 2016 Mayoral campaign which tried to paint Sadiq Khan as a "closet extremist"? Goldsmith's punishment for running this campaign, which senior Muslim Tory Sayeeda Warsi described as "appalling"? Being re-selected as MP for Richmond Park.
Now, with the Tories mired in the fall-out from a controversial migration policy, and with the Party pursuing a Trumpian culture-war, they may want to ask themselves why it is that one of their council candidates showed support for an openly racist group.