Photo: Netflix
Long before becoming the eponymous "guy" in every "From the guy who brought you…" movie trailer, Judd Apatow was just another comedy wonk trying to make it in the cutthroat world of stand-up in the late 80s and early 90s.
As he watched his contemporaries (and future collaborators) like Jim Carrey, Adam Sandler, and Ben Stiller transition into stars of the stage and screen with greater ease, Apatow pivoted away from performing and leaned into writing, both for other comics and for television programs. Smash cut to 2017, and Apatow is one the most successful and prolific writer/directors working in comedy today. And while stand-up always remained in his peripheral orbit—especially as he became a mentor to comics like Amy Schumer and Pete Holmes—Apatow's focus has remained behind the camera.
That makes The Return, Apatow's very first stand-up special, feel like a full-circle moment. Premiering on Netflix today, The Return finds Apatow fully confident and comfortable onstage as he unpacks his feelings on fatherhood, social media, and growing old in comedy. It's a welcome return to form.
Apatow hopped on the phone with VICE to discuss his new Netflix special, lessons learned from Garry Shandling, and how it feels getting his groove back after so many years away from stand-up.
VICE: What made you want to dive back into stand-up for The Return?
Judd Apatow: In recent years, I started missing it. I started to wonder if there was a way for me to build it back into my life after years of just writing and directing. When we did Trainwreck, I used to go do spots at the Comedy Cellar at the end of each day's shooting. I had so much fun. It reminded me that stand-up was my original dream.
Did that itch influence you to become an executive producer of Crashing, which is about the daily minutiae of a struggling comic?
When I met Pete [Holmes] and he told me about his idea for the show, I thought it was the perfect thing to do right now because I'm so interested in stand-up again. I went ten or 15 years without paying any attention to stand-up. I didn't go to the clubs, even for my own amusement. There was a time when I didn't know who anybody was. Then I thought, Oh, that's a mistake. I'm in comedy. I should be aware of who's working. Then as I started going to clubs again, I realized how much I missed performing. But I also missed being friends with all the comedians. I didn't like that there was a whole comedy world out there that I wasn't a part of. [Laughs]
When and why did you decide to leave stand-up for film and television writing?
I got really burned out on stand-up. I did it when I was 17 until I was 24. I would MC at the Improv five or six nights a week. At the time, I couldn't have been more obsessed. Then I started getting writing work, and that career just started moving much faster than my performing career. I don't think at the time I had the same passion for performing as I did for writing. I started writing jokes for Tom Arnold and wrote some specials for HBO with him. Then Rosanne asked me to write her nightclub act with her. I wrote the Grammys with Garry Shandling. Then I met Ben Stiller, and we created The Ben Stiller Show for FOX. That was so time-consuming that getting back onstage with new material seemed impossible. When that got cancelled, I got a job two days a week working at the Larry Sanders Show and then two days a week working for the animated show The Critic. I just thought, Maybe I'm supposed to be a writer, because things were going better in that area.
The Return touches on fatherhood, social media, and growing old, in very funny but sensitive ways. What made you decide to tackle these themes onstage instead of on film?
Usually when I think of an idea, I think about how it could be a scene or story. I do have to adjust my mind when I have ideas and think about them as something I would talk about in a monologue. Basically you're just not filtering it through the process of creating original characters. You're just telling people how you feel or telling them about something that happened to you. That's fun. I like when crazy things happen in the news, or the fact that I just turned 50, and I get to sit for an hour and write about it and go onstage and talk to people directly. For a movie, it takes years. Sometimes it takes half a decade to get a movie going. It's a long wait to find out if anybody relates to what you're trying to do. In stand-up, the reaction is in real time.
Your special balances traditional stand-up with experimental, alt-comedy elements, like when you present a slideshow of moments from your life.
I had been doing shows at Largo in Los Angeles, which is a great space for those experimental things. I started blowing up photographs and telling stories in front of the giant photos. Then I started thinking, Would that be something that could work in a special? I wanted to do something in the special that most people don't do. I do have these really weird stories where I actually have photographs of the incident. Like the time I embarrassed myself in front of Paul McCartney and my friend happened to take a zillion pictures of it. Or what happened when I threw out a pitch at a Mets game. I was lucky there were really funny pictures of how terrible I look doing it. That worked out really well. I'm happy with how it looks in the special.
You've mentored so many careers. Who do you turn to when you need advice on writing standup material?
Wayne Federman is one of my favorite stand-ups. I met him the first day I moved to California in 1985 at the Laugh Factory. He went on the road with me and helped produce my special and was great to write with. He's an awesome sounding board. Pete Holmes and I write jokes together a lot when we're not writing the show. We like to go onstage together and talk about our new joke ideas. That's a fun way to kick things around without feeling like you're going to die alone onstage. Greg Fitzsimmons also writes for Crashing, and he's someone I really admire who I showed the special to. Mike Birbiglia is also someone I've learned a lot from. He's so great at rhythm and telling longer stories. He had a lot of advice about how to do that.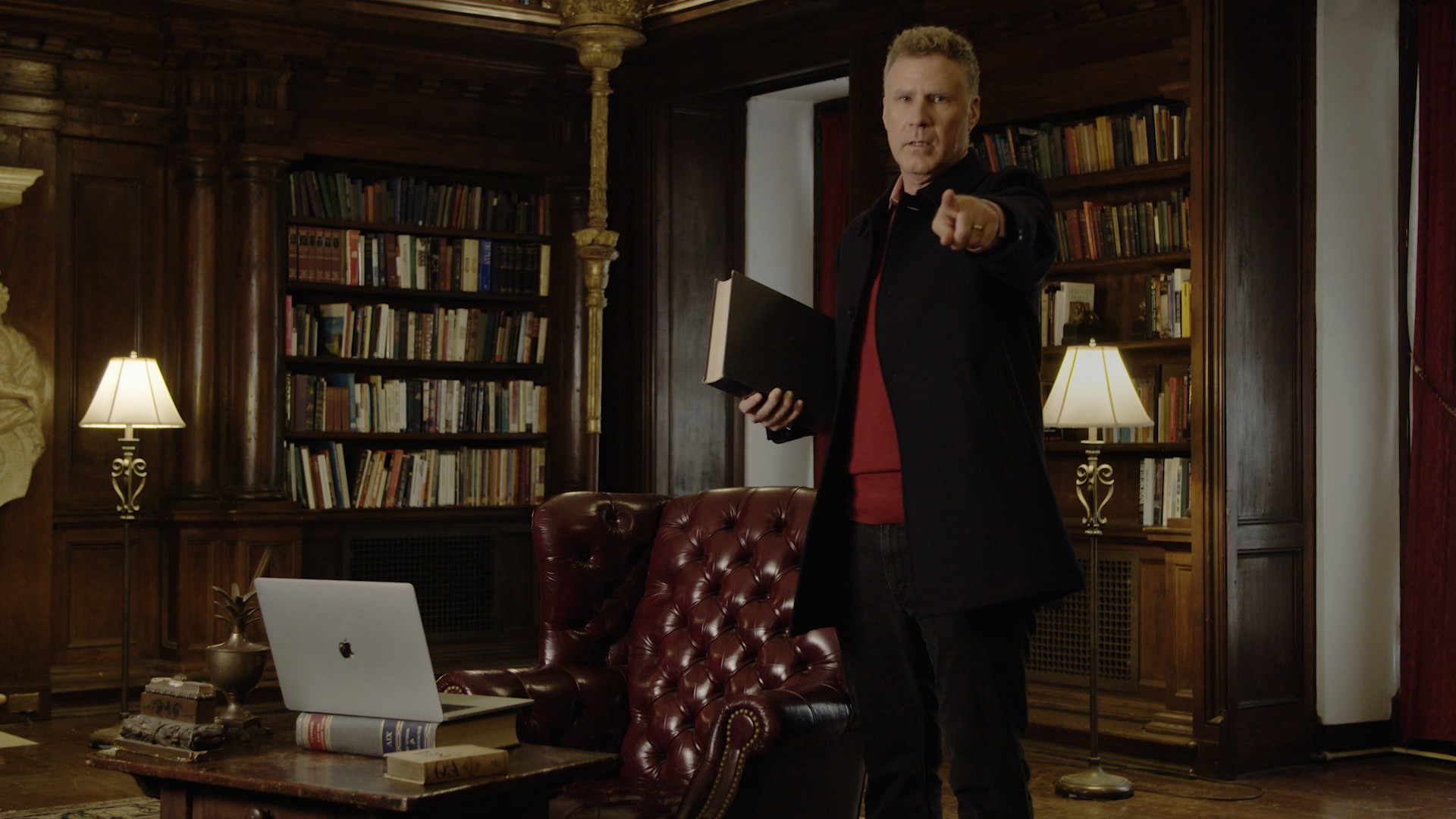 You're currently making a documentary about your good friend Garry Shandling, who we sadly lost last year. Was there any wisdom he imparted that you brought with you onstage?
Garry was always about getting to the truth. He felt like comedy was about shedding all of your protection and trying to fully reveal yourself. I used to do shows at Largo where we would go onstage together. He hadn't been doing a lot of stand-up then, so he liked to just have a conversation onstage. One night he said, "You're doing really well. The only time it's not going well is when you try to act like a comedian." That was amazing advice that I always think about.
Did writing this special give you insight into how you approach your film and TV work, and vice versa?
I think when you don't speak directly to the crowd, you can get stale. Just the act of staying in a room and talking to groups of several hundred people tunes you into what people are thinking about and what they find funny. It also tunes you into what they're scared of. In some ways, that affects writing episodes of television or screenplays or any other thing that I do. You don't want to be a person alone in your house just watching television and losing touch with what people are thinking about. I think it's really helpful to jump onstage and talk about what happened in the news that day or in my life and ask them how they feel about it. That's what stand-up comedy is all about: a communal moment.
What I really like about The Return is how it's framed around fear: the first words you say are, "It's an art form not to be terrified." As someone who's achieved massive critical and commercial success, what still scares you as an artist?
Creating anything is always scary in a good way, because any success you have had doesn't guarantee that your next thing will be successful. In a way, you're always reinventing the wheel every time. If you look at the IMDb of any director you like, some of their movies are terrible, or some of their movies bombed. That leaves you terrified. So you're going to give it your all, you're going to put your heart into it, and every once in a while, it's not gonna work because it's all an experiment. Every creative act is an experiment. That is part of what I like about it.
Do you remember the worst time you bombed onstage?
Usually you don't bomb the entire time, you have moments where things just don't work at all. You do have to learn to enjoy that, though. That's something that Jon Stewart talks about in my book, Sick in the Head. He talks about learning how to lean into the bomb. There are also people like Norm Macdonald who seem to love when the crowd didn't like something. He would slow down and luxuriate in the awkwardness. That's something that I haven't been great at but I'm trying to get better at because then that becomes really fun. The main thing that nobody wants is just for you to seem out of control and terrified. That's hard to do when you're presenting new ideas and a lot of times, the audience doesn't know what the hell you're talking about.
So we will see you back on the road anytime soon?
I think I will. I'm just not sure when and at what pace, but I'm really excited to be doing this again.
A lot of jokes have been made about the sheer volume of specials that come out every year now. Is there anything you hope people take away from The Return that they won't find in another special?
I never think too much about what people take from it. I think of it more as, I'm just sharing my life with people, and I hope they enjoy it. I never break it down like it's meant to give them a break from reality or inspire them or make them cry. I don't think about anything like that. I just look at it like, Here's an update of where I'm at, and maybe this would be fun for people to listen to and enjoy. And if not, there's always season three of Narcos.